How do dogs travel internationally? When you're planning a trip abroad, there's a lot to think about – from packing your bags to getting your passport in order.
But if you're bringing your furry friend along with you on your travels, there are some extra steps you'll need to take to make sure the trip goes smoothly.
Here are a few things to keep in mind when traveling with your dog internationally.
Check Your Destination's Entry Requirements
Before booking your tickets, make sure to check the entry requirements of your destination country.
Some countries have strict rules about bringing in animals, and others may require vaccinations or other paperwork.
The best way to know what you're facing is to check with the embassy or consulate of the country you're visiting.
They should have all the information you need, such as vaccination requirements and other rules and regulations.
what to expect from other countries
In some cases, all that may be required is an up-to-date rabies vaccination certificate from your vetrinarian.
In others, you may need to get your dog vaccinated for distemper or Bordetella.
Other countries may also require that your dog be microchipped or have a tattoo for identification purposes.
As for how long before your trip you need to get these things done, requirements vary.
It's best to err on the side of caution and get everything done as soon as possible so that you're not scrambling at the last minute.
By doing your research ahead of time, you can avoid any potential problems at customs.
Choose the Right Travel Method
There are a few different ways to travel with your dog, but not all of them may be suitable for long-distance or international travel.
If you're flying, for example, your dog will need to travel in the cargo hold – which may not be an option if they're a small breed or have health issues.
Driving may be a better option if you are able to get to that country by road.
But it's important to consider how much time you'll actually be able to spend with your dog on the trip.
If you're going to be driving for long stretches at a time, your dog may be better off staying at home.
Read our related article, How Do Dogs Survive On a Plane? for more information on flying with your pet!
Consider Your Dog's Health and Comfort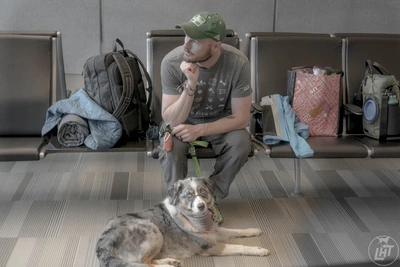 Before embarking on any trip, it's important to make sure your dog is healthy enough to travel.
This is especially true for long-distance or international travel, as the changes in climate and environment can be tough on a pet's system.
It's also important to think about your dog's comfort level when choosing how to travel.
If your dog doesn't like going to new places or sharing space with a lot of strangers, then you should consider alternative arrangements for him or her.
It won't be a fun trip if your dog is stressed out or sick.
Making Travel Arrangements
The next step is to make travel arrangements for your dog. This involves more than just flying and driving across borders. Here are some things to think about.
flying
Of course, if you're flying, you'll need to check with the airline to find out their policies regarding flying with a pet.
Some airlines allow small dogs in the cabin, while others require that all pets travel in the cargo hold.
Cargo hold travel can be stressful for your dog.
If you must fly with your dog in the cargo hold, make sure to choose a direct flight if possible and opt for a non-stop flight to reduce the amount of time your dog spends in transit.
once you are there
You'll also need to make arrangements for how you're going to transport your dog once you arrive at your destination.
This may involve renting a car or using public transportation. In some cases, you may be able to walk everywhere you need to go.
If you're driving to your destination, you'll need to make sure your dog is comfortable in the car.
This may involve getting them used to riding in the car before taking a long road trip.
You should also make sure you have everything you need for your dog while on the road, such as food, water, bowls, a leash, and waste bags.
Choosing Pet-Friendly Accommodations
You'll need to find pet-friendly accommodations. This may be a challenge in some places, so it's best to start looking for options as soon as possible.
Some people also like to bring their own pet bed or crate, which can help make your pet feel more at home in an unfamiliar setting.
You should also consider what we've written about the best GPS trackers in case your dog gets lost.
Final Preparations
Before you leave for your trip, there are a few final preparations you'll need to take care of.
Make sure to pack enough food and water for your dog, as well as any other supplies he may need, such as bowls, leashes, waste bags, and medications.
It takes a lot of careful thought, but with thorough preparation, your dog can have as much fun traveling internationally as you do.
We are sorry that this post was not useful for you!
Let us improve this post!
Tell us how we can improve this post?