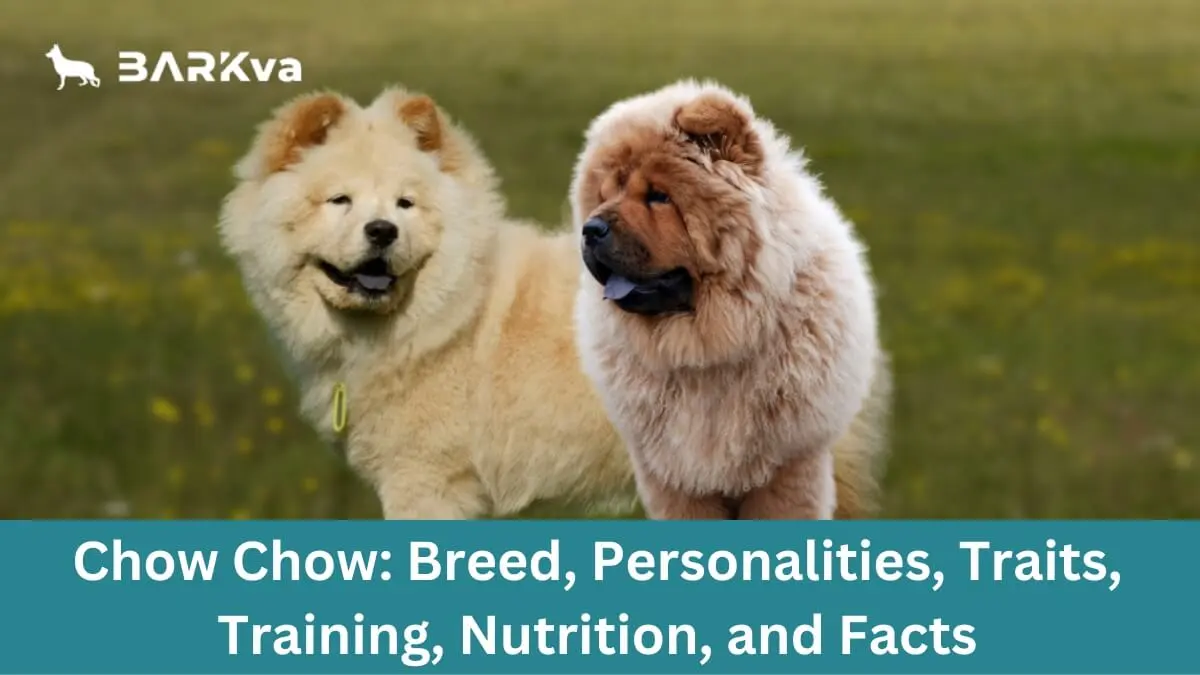 The Chow Chow (Chows or Chow) is a dog breed originating from China. They are one of the world's oldest dog breeds and are depicted in artifacts from as far back as the Han Dynasty in 206 B.C. There is also a possibility that the Chow Chow came to China from the Arctic originally. The Chow Chow is recognized as a very loyal dog and is known for its double coat, which lends to its dense fur, Chows were originally bred as guard dogs, but later on were bred for hunting, herding, and even pulling sleds. Today Chow Chows' loyalty makes them a popular choice for loyal companions and watch dogs.
Chows are a medium sized breed, typically weighing between 45 and 70 pounds (21 to 32 kg) and standing 17 to 20 inches (43 to 51 cm) tall at the shoulder. Colors include blue, black, cream, red, and cinnamon. Their thick, double coat can be smooth or rough, sometimes referred to as short or long.
Chow Chows are clean, loyal, and fastidious making them perfect protective household companions.  These traits come from their breeding as watchdogs and hunting dogs. They also frequently serve as herding dogs because they are intelligent and love to work. They are suitable pets for city life due to their size and since they don't require so much exercise, but can also be stubborn if not properly trained. Early obedience training and socialization are necessary to ensure proper integration into the family.
Chows are well-known for their strength and stiff legs in addition to their playfulness and ease of training. They are known for their herding abilities and have a history of hunting, so they do need plenty of walks and mental stimulation to stay healthy and happy, but they don't require any kind of intense or specialty exercises. They have a strong drive to herd and work, which makes them amazing herding animals.
Chows need consistent training of shorter sessions that reward regularly to become well-behaved and loyal companions. Basic obedience training must begin at an early age, and they benefit from advanced training in areas such as socialization. Ensure you create strong boundaries with Chow Chows, and don't allow them to gain control of the household. Practice consistent and rigid training techniques from the very beginning. Chow Chows are not for beginners and require a lot of time and patience. Chow Chows can be stubborn and easily lose interest so ensure you keep training sessions short and exciting. 
Chows should eat a balanced diet low in fat and high in protein to maintain their weight and energy levels. Chows also are prone to allergies and food sensitivities so make sure you know what ingredients are in your dog's food. Feeding Chow Chows high-quality dog food that is a good fit for their age and activity level is important. They benefit from supplements such as fish oil for their brain and coat, glucosamine for bone development, and probiotics to ensure digestive bacteria are balanced. Chows can get overweight, so not overfeeding them is important. 
Chows include being prone to certain health issues, such as hip and elbow dysplasia, eyelid entropion, and thyroid function. Chows are the 64th most popular breed in the United States. Chows aren't as popular as they were in the '80s and '90s in the United States but are most popular in Southern China.
What is a Chow Chow?
The Chow Chow is a breed of dog that originated in Northern China and in the 18th century began to spread to areas of Europe and then the rest of the world. These dogs are well-known for their intellectual capacity, adaptability, and herding instincts, and they are frequently utilized in a wide variety of roles. They work as herders, watchdogs, along with being household pets. The average Chow Chow weighs between 46 and 70 pounds (21 to 32 kg) and stands between 17 to 20 (43 to 51 cm) in height at the shoulder. Chows are considered to be medium size canines. They are characterized by a double coat that is dense and has two varieties, straight or rough. 
The straight coat is either slightly wavy or straight in nature sometimes referred to as short or smooth. Rough coats vary in length and are sometimes referred to as "long" fur. The coloration of the Chow Chow ranges from black, red, blue, cream, and cinnamon.
Chows are recognized for their intelligence aside from their ability to be trained and their loyalty, which makes them great herding and watchdogs. They can, however, be stubborn and protective so they need to be socialized and trained properly. Chow Chows are very lovey-dovey with the family but can be reserved when it comes to strangers. They are also protective of their owners. Chows need regular walks but don't require any kind of specialized exercises.
The Chows need to consume a diet that is well-balanced and rich in protein in order to keep their muscular mass and energy levels at a consistent level. It is essential for such types of dog breeds to provide them with high-quality dog food that is suitable for their age and the amount of physical activity they engage in. Additionally, they are able to reap the benefits of joint vitamins and supplements such as glucosamine and fish oil, which are helpful for maintaining healthy joints.
What is the History of the Chow Chow?
The Chow Chow seems to have originated in China since there is archeological evidence of its presence there from the Han Dynasty, over two thousand years ago. However, there is speculation that it originally came from the Arctic and moved through Mongolia and China. 
The Chow Chow was known for its companionship and emperors such as one in the Tang Dynasty apparently had a kennel of 5,000 Chow Chows. Marco Polo has documented seeing Chow Chows used for pulling sleds. In ancient China, Chow Chows were also considered to be a source of food in protein scarce environments and times.  
The name of the Chow Chow is believed to be derived from its introduction to the Europeans. As they began bringing Chow Chows to Europe, British traders would label their furry cargo, "chow chows", which was their typical label indicating a small miscellaneous cargo item.
The Chow Chow was featured at the London Zoo in the 1820s and labeled as the "Wild Dogs of China". Queen Victoria acquired a Chow Chow during her reign and its popularity in England took off. It was then entered into the Kennel Club in 1894 and began in the AKC's miscellaneous class in 1903. 
Where is the Origin of the Chow Chow?
Chows are a breed of dog that is Chinese in origin, although there is still uncertainty about whether it originated from there or not. Chow Chows are one of the most ancient dog breeds and are one of the most basal lineages. A basal lineage is the base of a linear tree. The Chow Chow didn't arrive in Europe until the 1800s. Chow Chows were used for herd dogs as well as watch dogs in Ancient China. 
The origin of the Chow Chow in China was found through artifacts that documented their presence in the Han Dynasty about 2,000 years ago. However, the origin of the Chow Chow may go back even further to areas like the Arctic, and more northern areas. DNA research has shown that 8300 years ago the Chow Chow originated from the Chinese Indigenous dog. An origin of colder areas would match the particular coat developed by the Chow Chow, a double coat perfect for cold weather.
What is The Dog Breed Group of Chow Chow?
The Chow Chow is a member of the non-sporting group, also known as the Companion Group, which is one of the seven groups that the American Kennel Club (AKC) recognizes as being able to produce offspring as official breeds. Smaller breeds such as the Terrier and Bulldog are in the non-sporting group.
Non-sporting dogs such as the Chow Chow and Terrier were used long ago for hunting and herding, but aren't necessarily popular for those tasks these days since other dogs are more qualified.
Particularly well-known for their adaptability, Chows are widely prized not just for their prowess in the working world but for the faithfulness and warmth of their character when kept as pets in households.
What Are the Breed Colors of the Chow Chow?
There is a wide range of color options available for Chows; nevertheless, the black and white coat is the most popular. There are 20 total colors acknowledged by the American Kennel Club (AKC) including red, cream, black, cinnamon, and blue.
Red: Red is a very popular color for Chow Chows. A red coat for a Chow Chow can range from a lighter golden red to a deeper mahogany color. The color of the nose is black. 
Cream: A cream coat on a Chow Chow can range from an off-white to a light red. Chow Chows with a cream coat have noses that start as black and turn pinkish as they age. 
Black: Black is a very popular color for Chow Chows. The black coat of a Chow Chow can range from black with light shadings of grey to a fully black coat. The lips and nose are black as well.
Cinnamon: The Cinnamon color that is common in Chow Chows is similar to the red but with a deeper brown tone underneath giving it the visual look of cinnamon bark. The nose is a dark grey color.
Blue: Blue Chows have a similar darkness to the black Chows, but they have a more steel grey color. The nose is a dark grey color. 
What Does a Chow Chow Look Like?
Chows are medium in size and are characterized by a solid and compact physique. They have a mane similar to that of a lion and are recognizable from their scrunchy face. Their coat is normally pronounced and fluffy, reminiscent of a small bear. 
They walk with stiff legs and appear dignified with their almond-shaped eyes and faces that seem to be forever in a sort of grimace.
Black, cream, blue, cinnamon, and red are the typical coat colors of Chow Chows and they have small rounded ears usually lost in their furry mane.
What are the Grooming Tips for Chow Chows?
Listed below are some grooming tips for Chows. 
Bathe Them As Needed: Chows don't need baths too often, but should be bathed once a month, or whenever they begin to smell bad or get muddy. Shampoo Chows with shampoo and conditioner made specifically for canines. It's also important to avoid getting water in your Chow's ears.
Brush Your Chow's Coat Regularly: Regularly brushing your Chow's coat will ensure there is no matting or tangling. It's important to brush the Chow Chow's double coat frequently to distribute fur oil and collect shredded fur. Brush your Chow's coat with a slicker brush and a comb.
Look for Ticks and Fleas: Inspect your Chow's coat regularly, especially after taking them outside for ticks and fleas. If found, use proper treatment methods for dogs. You can also use preventative products such as collars to prevent your dog from getting fleas.
Clean Their Teeth: Brush your Chow Chow's teeth as often as twice a week. Use a toothbrush and dog toothpaste to ensure proper dental hygiene and avoid dental health problems.
Keep Their Ears Clean: Due to their ears normally being covered up by their mane of fur it's important to keep their ears clean to help prevent painful ear infections. Use an ear cleaner specifically made for dogs to clean their ears and use cotton balls or cotton swabs to clean up any fluid.
Trim Their Nails Regularly: Cut the nails of your Chow Chow regularly to avoid any pain. Ensure you cut Chow Chow's nails gradually since blood vessels grow within their nails and can thus bleed when cut too far in. 
Visit a Professional Groomer: A professional should be hired to professionally groom your Chow Chow if you don't feel comfortable doing it yourself. Professionals have the proper skills and breed knowledge to appropriately groom your Chow Chow. 
How Often Should a Chow Chow Be Groomed?
Groom your Chow Chow a minimum of 2 – 3 times a week. Regular grooming of Chow Chow's double coat ensured the removal of dirt, debris, and shredded fur to maintain healthy skin and coat.
Use a slicker brush or a hygiene glove to remove the knots, debris, and loose hair. Bath your Chow Chow once a month or if they are dirty or muddy. Try to avoid bathing your Chow Chow too often since it can affect the production of natural oils and lead to dry skin.
Cut your Chow Chow's nails once to twice a week in order to prevent their nails from getting too long and causing pain. Ears should be cleaned once every week or every other week, to prevent infections. A Chow Chow's teeth should also be brushed every day to avoid plaque buildup and prevent gum disease.
Always check your Chow Chow for ticks after walks and regularly check for fleas, especially in the spring and summer when these parasites are most active. Apply preventive methods such as shampoos and collars to avoid fleas and ticks.
Regularly groom your Chow Chow to ensure the health and vibrancy of their coat, and to keep them healthy and happy. Proper grooming for a Chow Chow can be involved so hiring a professional groomer may be necessary. They have the proper knowledge to deal with specific breeds and the skills to guarantee the proper care.
What is the Best Grooming Tool for a Chow Chow?
Listed below are some of the best grooming tools for a Chow Chow and their uses.
Slicker Brush: Slicker brushes have tightly packed short wire pins that easily pull and collect shedded fur. The short wire pins ensure that the skin is avoided and it is tightly packed to effectively comb through a Chow Chow's dense coat.
Undercoat Rake: Chows have a lot of undercoat that needs to be raked out regularly.  An undercoat rake features teeth that are longer, allowing it to reach deeper into the undercoat without causing any damage to the topcoat. The rake should be moved in the same direction as the growth of the hair, and the areas with the densest underfur should receive special attention.
Pin Brush: The Pin Brush is similar to a Slicker Brush but has pins that are further apart and longer. The Chow Chow's undercoat is dense and benefits from a brush that can get deep in to clear up dirt and debris. 
Dematting Comb: Chow Chows have a thick coat that can often get matted. The Dematting Comb has a row of razor-like teeth that cut through and remove knots and matting that can occur in a Chow's coat.
Dog-specific Shampoo: Use a dog specific shampoo for your Chow to ensure the health of their coat and skin. Using a dog shampoo will clean up the dirt and debris to ensure better skin health. Not using dog shampoo or washing your Chow too frequently can cause issues with the dog's skin and coat.
How to Adopt a Chow Chow
To adopt a Chow Chow, there are many options. There are six essential factors to consider when adopting a Chow Chow. These include understanding the Chow Chow breed's characteristics, finding a reputable rescue or adoption agency that you can trust, taking into account the dog's age and background, setting up the home and family, selecting a healthy diet, and routinely socializing and teaching the dog.
First, understand more about the breed's characteristics. Chows are fantastic companions since they are loyal and become a part of the family unit quite easily. They can be quite stubborn and require consistent training, so it's important to keep this in mind when deciding on a Chow.
Locate a trustworthy adoption or rescue agency. Ensure you adopt from a source that takes care of their dogs, and ensure you inquire about the agency's policies and procedures. The price of purchasing a Chow Chow can range from $1200 to $2000 and can be upwards of $5000. The average dog adoption fee for a Chow Chow is $150 to $300.
Take the Chow Chow's age into account before adoption. Older Chow Chows may have a lot more health difficulties, and younger dogs have more requirements for activity and training. Understanding the age of the dog will help you to better prepare for what the dog needs. It's also important to consider the background of the adopted Chow. If they come from an abusive or neglected background you want to be prepared to treat and train them appropriately.
Prepare the household and the family. Make sure everyone is ready for the change before introducing a Chow Chow to the family. Chows demand regular training and behavior conditioning from their owners due to their high level of stubbornness. 
After you get a Chow Chow, make sure there is adequate time for both learning and socializing. Chow Chows are at their best when properly trained so make sure you have the time and the knowledge to train your dog. If you don't feel comfortable training your Chow, make sure to hire a professional who has the knowledge and skills.
For your Chow's diet, make sure you prepare your home with foods packed with protein and other nutrients perfect for a dog's diet. Dog foods such as Royal Canin, Hill's Science Diet, and Purina Pro Plan are good choices for Chows. Ensure you choose premium dog food. An adopted Chow Chow requires a balanced diet especially depending on their background..
How to Feed a Chow Chow
To feed a Chow Chow depends on six elements. These elements include picking a diet with high-quality protein, thinking about the dog's age and activity level, searching for food with few fillers and additives, buying from a recognized brand, taking into account any health conditions, and sticking to feeding requirements.
First, go for something that's high in quality animal protein. Chows have high protein needs because they need to maintain muscle development and have allergies that require them to stay away from a high-grain diet. Choose dog foods that have a substantial amount of chicken, beef, fish, or lamb.
Second, it's important to think about Chow's age and energy levels. A Chow Chow puppy's nutritional requirements are different from those of an adult Chow. A puppy will require more food more often since they are still developing quickly. Chow's aren't excessively active and in adulthood don't require as much. They are also prone to obesity so it's important to still to a high protein diet and regulate how much you feed them.
Third, steer clear of food with a lot of additives and fillers. Especially since Chows are prone to obesity and allergies, fillers and additives can trigger these conditions. Also, fillers and additives aren't good for a dog's diet in general and can cause digestive issues, especially in Chow Chows.
Fourth, pick a name brand that is well known. Purina Pro Plan, Royal Canin, and Hill's Science Food are all excellent options for feeding your Chow Chow because they contain good ingredients and are reputable companies.
Fifth, consider your Chow Chow's health concerns. Obesity and allergies are just two possible issues with a Chow Chow, but individual Chow Chows can have their own individual problems too. Check with your vet to see if your Chow's diet needs to be altered for particular issues.
Sixth, follow recommended eating habits. Follow the feeding instructions on your dog food bag and the recommendations from your vet. Chow Chow's nutritional requirements vary with age, size, and activity levels. Always follow the same schedule when feeding your Chow. Chow Chow puppies under 6 months old should be fed 3 times a day. Once they reach 12 to 18 months you can decrease feeding to twice a day. Once they are over 18 months they are in adulthood and only require two small meals a day. 
How to Choose a Fence for Chow Chows
To choose a fence for a Chow Chow there are 6 main things to consider. These factors are height, materials, digging, durability, yard size, and expert installation.
Select a fence with the appropriate height for your Chow Chow. Six feet tall is a good height in order to prevent them from climbing or jumping over it because Chows are active dogs that can jump to heights of 5 feet.
Fences can be made of many materials and your decision may be based on more style than function. Wood, plastic, metal, and welded wire are common fencing materials. Consider how long each material will last, how much maintenance it will need, and how much it will cost. Al
Choose a fence with high visibility that the dog can see. This will prevent your Chow Chow from inadvertently running into it. A solid wood fence, for instance, is better than say, a chain link fence. 
Fences should be equipped with a gate for easy entrance and exit for your Chow, but with a lock that is unable to be tampered with by your Chow Chow so they can't escape.
Consider the size of your yard as smaller yards will require a smaller fence and a larger yard a more substantial fence. Consider having a professional install your fence, especially if it's larger, since it can be a lot of work and you want to guarantee your fence is sturdy and reliable.
Another alternative is a wired, wireless, or GPS dog fence.  A wireless, also called an invisible fence, transmits a signal below or above ground to create a boundary on your property. When the dog gets close to the boundary the collar will alert the dog with a sound or physical shock to let your dog know to stay within the boundary. These types of fences also require a specific type of training to be effective.
PetSafe, SportDOG, and Extreme Dog Fence are reputable companies that manufacture these dog fences. Keep in mind the Chow Chow is a stubborn dog and will require a lot of consistent training, especially with an invisible fence.
How to Choose a Collar for Chow Chows
To choose a collar that works for a Chow Chow, consider six factors for their health, well-being, and particular size. Size, materials, width, buckle or clip, reflective or illuminated, and length are some of the most important aspects to think about.
Chows need a size collar that fits their puffy, thick neck that widens slightly at the shoulders. Take your Chow's neck measurement with a fabric tape measure and record the length that fits securely. You still want some breathing room, so make sure you can put two fingers between their neck and the collar.
Collars are made of many different materials, like nylon, leather, or chain, and it's important to consider how long those materials will last on your Chow's neck. If they are prone to scratching or pulling at it you want something sustainable.
Chows need a wider collar, not one that is too snug or narrow so that the pressure on their neck is spread out more evenly. Choosing a collar that isn't wide enough will cause pain to your Chow and mainly cause breathing issues.
Choose a collar that is easily secured with a buckle or strong latching mechanism, this prevents your dog from escaping or slipping out from the collar.
Three reputable dog collar brands are Ruffwear, Blue-9, and Kurgo. Think about the Chow Chow's needs and its walking behavior for the proper collar accessories. If the Chow Chow's behavior is to pull on the collar, consider a harness with a front clip, which will prevent tugging and stop the collar from choking your Chow.
Which Country are Chows Most Popular in?
The country that Chows are most popular in is China, more specifically Southern China. This is because it's where Chow Chows originated. In China they aren't called Chow Chows, but Songshi Quan, or "puffy lion-dogs". 
The Chow Chow dog breed is well-liked all around the world. Chows have maintained a position as one of the top 64 canine breeds in terms of popularity in the United States according to the statistics provided by the American Kennel Club (AKC) over the course of the last several decades. However, their popularity in the '80s and '90s has declined by about 90%.
Where are Chow Chows Banned?
Chow Chows are banned in some countries as well as some states in the U.S. The Chow Chow can be an aggressive dog since it's also territorial and has been the cause of multiple fatal attacks. Chow Chow is banned in Bermuda and the United Arab Emirates. 
Bermuda: The Chow Chow isn't banned in Bermuda, but is restricted. Residents who want a Chow Chow can fill out an application form for any kind of extraneous circumstances that would require the importation of a Chow Chow.
United Arab Emirates: Especially in Dubai dogs are not very common. This is due to the fact that safety is taken seriously in the UAE. People of the UAE are becoming more open to dogs, but Chow Chows are still prohibited and dogs that are allowed must be vaccinated and microchipped. 
There are also areas in the United States that have banned the presence of Chow Chows. Counties in the states of Georgia, Hawaii, Indiana, Iowa, Kentucky, Louisiana, Maine, Massachusetts, Missouri, Nebraska, New York, North Carolina, and South Carolina. The extent of these bans may be the reason Chow Chows aren't more popular in the United States.
Bans and restrictions can vary from nation to nation and in countries like the UAE owners must comply with regulations in order to keep any type of dog. It's also important that owners take responsibility for their dogs and take proper care to ensure their dogs are well-behaved and trained. Many countries ban certain dog breeds based on how aggressive and dangerous they may be.
This type of breed-specific legislation creates a lot of controversy and debate. Restricting certain dog breeds is difficult due to its discriminatory nature. Ensuring proper behavior from any and all dog breeds is crucial.
What are the Other Names of Chow Chows?
A Chow Chow is sometimes referred to as a "Chow" for abbreviation, and in China, the names are "Songshi Quan" (puffy lion-dog), "Hei Shet Kou" (Black-tongued Dog), "Lang Kou" (Wolf Dog), "Kwantung Kou" (Dog of Canton), and "Hsiung Kou" (Bear Dog). Older names include "Ti" (Red Dog), "Chao" (Dog of Great Strength), and "Mang" (Dog Wish Much Hair".
Chows are noted for their loyalty, dignity, and good looks, which makes them ideal pets. They make excellent watch dogs due to their alert and loyal nature. Their confident and regal demeanor has made them the choice of royalty from as far back as the Han Dynasty in China.
The Chow Chow has been featured in music videos such as "Sugar" by Maroon 5 and "Material Girl" by Madonna. It is also featured in films like "Kung Fu Panda" and "Turner and Hooch" and the television series, "Mad About You".
What is the Lifespan of a Chow Chow?
The lifespan of a Chow Chow is on average 8-12 years but with the right care and attention from their owners can live some years longer. A healthy male or female Chow Chow life expectancy is between 10 to 17 years, with some living even longer or shorter depending on their genes, lifestyle, and access to veterinary care.
The oldest known Chow Chow was named "Crow", who lived until he was 21 years old.
A long, healthy life for the Chow Chow requires good nutrition, moderate exercise, and regular veterinary examinations. A Chow's lifespan is going to be improved with the proper diet, exercise, and training. Remember to approach your dog's health holistically and bring them to the vet regularly to ensure they are maintaining proper health.
What are the Different Types of Chow Chows?
Chow Chows come in two distinct varieties; rough coat and smooth coat. Here is a description of both types of varieties.
Smooth Coat: A smooth coat Chow Chow has a weather-resistant double coat with a medium density short undercoat. The short overcoat of the Smooth Coat Chow Chow is usually more coarse in texture than the rough coat. The hair length is generally short and their overcoat may have slight to no feathering on the forelegs and chest. Genetics determine the length of hair in the coat. The smooth coat gene is dominant, so it may carry the recessive gene for rough coats. A smooth coated mother, or dam, and the father, or sire, may produce both smooth and rough coats because of the recessive rough gene. This is why there are more rough coated Chows than smooth coats.
Rough Coat: This Chow Chow type has what is considered the more "fluffy coat". The rough coat has a weather resistant double coat with a coarse overcoat with longer "guard hairs" and a medium-density fleecy undercoat. The length of the coat can vary from short to long and thick to thin depending on the genetics. There are more rough coated Chow Chows because the rough coat gene is recessive. This means breeding 2 rough coated Chows, will produce all rough coated puppies. 
What are the Personality Traits of a Chow Chow?
The loyalty and intelligence of Chows have earned them a well-deserved reputation as watchdogs and family pets. The following is a list of personality traits that are typically associated with Chows.
Intelligent: Although not the most intelligent breed, the Chow Chow still carries with them a lot of intelligence that can be overlooked by their occasional stubbornness. 
Trainable: Chows are frequently used as watchdogs and were used as herding dogs, because they are trainable. They require frequent and consistent training, but ensure that the training sessions aren't too long as they can become bored.
Affectionate: When in a family unit, the Chow Chow shows a lot of affection and is perfect as a family dog. 
Loyal: It is well known that Chows are extremely loyal and devoted to their masters.
Independent: Although this can be seen as stubborn, Chow Chows can be very independent and should be good alone in a home for extended periods of time as long as they are properly trained.
What are Chow Chows Good For?
Chows are incredibly adaptable dogs that succeed in a number of settings. Here are some of the most common jobs for Chows.
Herding: The original goal for breeding Chows was to utilize them as herding dogs, which remains one of their functions today.
Watchdog: Since Chow Chows are territorial they make excellent dogs to watch over property and people.
Companion: Due to the loyalty of the Chow Chow they make great companion dogs.
How Large a Chow Chow Can Grow?
Chow Chow can grow to a weight of 44 to 75 pounds (19.9 to 30 kg) on average and stand 17 to 22 inches (43 to 56 cm) tall at the shoulder. The size and weight of a Chow Chow will vary depending on whether they are male or female. Male Chows reach a shoulder height of between 19 – 22 inches (48 – 56 cm), while female Chows reach a shoulder height of between 18 – 21  inches (46 – 53 cm). Male Chows tend to be heavier at 50 – 75 lb (22.6 – 30 kg), while females are smaller at 44 – 60 lb (19.9 – 27.2 kg).
The size of a Chow Chow will vary depending on genetics, which often affects height and weight. Other factors that may affect their size include nutrition and level of exercise. Chows generally stop growing between 10 – 18 months of age. The majority of their development (90%) will happen within the first 8 – 12 months from birth.
Chows tend to be medium dogs that require a reasonable amount of space to be happy. Since they are prone to obesity, it is important to keep these healthy weights in mind, feed them a balanced diet, and keep them active. Chows require regular medical attention, physical activity, and social interaction to ensure a long and happy life.
What is the Height of a Male Chow Chow?
The height of male Chows is between 19 – 22 inches (48 – 56 cm) at shoulder height. Male Chows vary in height and factors such as genetics and diet will play a large role in how tall they get.
The Chow Chow can vary in size from smaller to medium and their height is a significant factor in assessing their entire size and weight. On average male Chows tend to be approximately 50 – 75 lb (22.6 – 30 kg) though it can vary. 
Height and weight are important factors in determining how large your Chow Chow is. Both of these are determined by anatomical factors such as muscular strength, bone density, and the overall physical structure of your Chow.
What is the Height of a Female Chow Chow?
On average the height of female Chows at shoulder height is between 18 – 21  inches (46 – 53 cm). Similar to the male Chow Chow there are a number of factors such as heredity, diet, training, and other lifestyle factors that may affect a Chow Chow's height. There are female Chows that can be smaller or larger than the norm.
A female Chow's weight and height will range from smaller to medium in size. Female Chows tend to weigh anywhere from 44 – 60 lb (19.9 – 27.2 kg) in general, though it varies from dog to dog for the same reasons as height does.
A Chow Chow's weight isn't just determined by height, but also by muscular development, bone density, and overall physical structure.
What is the weight of Male Chow Chow?
The weight of a male Chow Chow ranges between  50 – 75 lb (22.6 – 30 kg). However, weight fluctuates between individuals due to factors like heredity, nutrition, and physical activity. There are male Chow Chows that are either significantly larger or smaller than the typical size.
The strength and stature of male Chow Chow, which are medium-sized dogs, depend in significant part on their body mass. Male Chow Chows vary in height between about 19 – 22 inches (48 – 56 cm) at the shoulder, and that depends on the same factors that affect their weight.
Keep in mind that there are more factors to consider than just a dog's weight and height when estimating its size. The Chow's general build, muscular mass, and body composition are all factors that contribute to the dog's size and weight.
What is the weight of Female Chow Chow?
The weight of female Chow Chows often ranges from 44 – 60 lb (19.9 – 27.2 kg). Individual factors like genetics, lifestyle, strength training, and others cause significant variation in body weight. Some female Chow Chows are notably heavy.
Weight plays a significant role in defining the endurance and stature of a female Chow Chow, which is a medium dog breed. Chow Chow females on average measure 18 – 21  inches (46 – 53 cm) high at the shoulder, though individual heights vary depending on the same factors as weight.
Keep in mind that a dog's size is determined by more factors than just its height and weight. Additional factors that affect the dog's size and weight include their general build, the amount of muscle they have, and its overall body composition.
What are the Traits of Chow Chows?
Here are some common Chow Chow traits.
Intelligent: The intelligence of Chows is well-known, and so is their capacity for learning and remembering new orders and actions.
Alert: Chows are territorial so they are alert to any kind of intrusion, which makes them ideal watch dogs. They rarely bark but tend to bark when alerted.
Confident: Chows are independent canines, which can lend to their stubbornness but is also seen in their physical demeanor.
Trainable: Chows are very trainable, but require shorter and more consistent training sessions than some other dogs.
Loyal: The Chow Chow is recognized for its devotedness to its human family, particularly its handler.
Energetic: Although not the most energetic dog, Chow Chows still require a good deal of movement and should be taken on walks regularly. 
Affectionate: Chows are noted for their friendly demeanor and devotion to their human companions in spite of their reputation as guard dogs. They are not affectionate to strangers, on the other hand, and can be quite aloof around them.
What is the Coat Type of Chow Chows?
The coat type of a Chow Chow is a double coat with a dense, soft undercoat and an outer coat that is either a lengthier, rougher coat or a shorter smooth coat. The Chow Chow is distinguished by its double coat, which serves as protection and insulation from the weather and has a very fluffy appearance. 
A Chow Chow's coat needs to be groomed 2 – 3 times a week to keep it healthy and shining. It sheds substantially twice a year, usually in winter to spring and summer to autumn, and it sheds substantially in those times. The coat of a Chow Chow comes in a variety of colors, the most frequent of which are solid black, red, and cream, but also comes in cinnamon and blue.
The double coat of the Chow Chow is an essential component of the breed that gives warmth and insulation but necessitates frequent grooming and upkeep to maintain its good health and luster. Chow Chows are very fastidious when it comes to their cleanliness.
What is the Coat Length of a Chow Chow?
The coat length of a Chow Chow depends on its coat type and overall genetics. The rough coat type is on average 3 inches (7.5 cm) long, and the smooth coat type is on average 1 inch (2.5 cm) long. The Chow has two distinct layers of hair; the outer layer and the undercoat. The outer layer is usually rough or smooth and the undercoat is typically smooth and fluffy. Coat length and density are affected by both heredity and the environment, including things like climate and the Chow Chow's diet.
Chows with lengthier coats are commonly called rough coat Chows. Chows with shorter coats are called smooth coats. The lengthier, gentler outer coat of a rough-haired Chow Chow calls for more frequent brushing to maintain health and prevent matting.
What is the Coat Density of Chow Chows?
The coat density of a Chow Chow is considered medium-density due to its double coat. The undercoat of a Chow is normally denser and softer than the outer coat which is typically rough or smooth but of medium density and together gives them a full-bodied and fluffy appearance.
The Chow Chow's double coat insulates and protects it from the damaging elements, making it a breed that thrives in a wide range of climates, but makes it perfect for colder temperatures.
The density of a Chow Chow's coat is affected by both hereditary, coat type and environmental variables. Brushing and bathing your Chow Chow on a regular basis helps maintain a shiny, healthy coat that is free of knots and tangles.
What is the Coat Texture of Chow Chows?
A Chow Chow has what is known as a double coat, which consists of both an exterior coat and an undercoat. The outer coat has a dense and coarse texture, while the undercoat is thicker and smoother. The outer coat has two varieties, smooth or rough. The smooth fur of a Chow Chow is straight and short, while rough is longer and can be wavy. 
The Chow's outer coat serves as protection from the outdoors and has a rougher texture, while the undercoat is soft and serves as insulation. Combined they offer a strong defense against the weather for the Chow Chow, whether it be cool, wet, or both.
A Chow's outer coat is made up of lengthy or short, straight or slightly wavy protective hairs that rest close to their bodies. These are referred to as "guard hairs" and serve to protect the dog's skin from dust and debris. Guard hairs are stiff and moderately rough in structure. 
The undercoat of the Chow, on the other hand, is made up of fluffy clusters of very short, very fine hairs. The Chow Chow's coat acts as insulation and helps to sustain a comfortable body temperature all year long.
Chows shed significantly or "blow their coat," twice a year or seasonally. Their undercoat falls off in large amounts at this time, making a mess and producing a lot of dander. Regularly brushing your Chow Chow during the shedding season is important for avoiding mats and removing stray fur from the coat.
A Chow Chow's coat has two distinct layers; a coarse, straight, or wavy outer coat and a fine, silky undercoat. The dog is well-suited to a wide range of temperatures and situations because the combination gives it maximum protection and insulation.  
What is the Possible Coat Color of Chow Chows?
Different Chows have different coat colors, which are determined by their genes. Chows have one of any five different coat colors. Black, red, and cream are the most popular but they can also come in blue and cinnamon.
Chows that lean more toward gray than black are known as "blue" Chows. The coloring is usually the result of a dilution gene and is far less prevalent than the other identified colorings.
What is the Brushing Frequency of a Chow Chow?
The length, density, and texture of a Chow Chow's coat affect how often it needs to be brushed. It is recommended that the owner brush their Chow 2 – 3 times a week so that their coat stays healthy, tangle-free, and lustrous. On the other hand, brushing them every day is essential if they have a longer coat or shed more often.
The length of a Chow Chow's coat is proportional to how often it is brushed. Brushing the dog 2 to 3 times a week for smooth coated Chow, while longer-haired dogs need more regular brushing to avoid mats and tangles.
Coat density is affected by how often you brush and groom your Chow Chow. Brushing and grooming removes extra fur, dirt, and debris to make their coat lighter and softer.
The frequency with which the owner must brush their dog's coat depends on the dog's coat. Chow Chow's in general require more brushing because of the density of their coat. Brushing a Chow with a rough, coarse, or wiry coat more frequently is necessary in order to prevent matting and maintain a tidy appearance for the coat, whereas Chows with smooth coats require less regular brushing.
How is the Playfulness Level of Chow Chows?
The Chow Chow is not an excessively playful dog. They will play when you want to play, but they won't be too demanding when it comes to that. Ensure that you take your Chow Chow for regular walks as it does require some regular activity. 
A Chow Chow can be good for apartments because they don't require so much play and activity. 
How is the Barking Level of the Chow Chow?
The Chow Chow is not a big barker and is typically very calm and reserved. Their affinity for being guard dogs makes them alert and ready to bark only if necessary. Proper training and socialization are important to ensure a Chow Chow doesn't bark excessively, but they are known to be a quiet breed.
How is the Shedding Level of the Chow Chow?
The Chow Chow is a dog breed known for having a double coat, which means they shed their undercoat in a moderate amount throughout the year, and substantially twice a year. Chows have a longer outer coat for protection against the elements and a thick, dense undercoat to help keep their body temperature stable.
Chows "blow their coat" twice a year due to their double coat, which causes them to shed heavily. They will lose some of their undercoat during these periods, and it may appear that they are losing more than usual, but it is normal. As a result, be prepared with regular grooming tools and ensure you brush them daily to get rid of excessive fur, dirt, and debris.
Chow Chow's will transition to an adult coat at around 12 months. During this adult transition, they will shed their fluffy adolescent coat as they progress to adulthood, which will result in a lot of fur.
Chows of various ages, sexes, and health conditions shed at varying rates. Some animals shed more than others, such as female Chows that are in heat or elderly Chows with menstrual irregularities and health issues.
Brushing a Chow on a regular basis helps to maintain a healthy, lustrous coat and reduces excessive shedding. Owners must brush their Chow Chow 2 or 3 times a week, and ideally daily during the times of year when they naturally shed their fur. Using a dematting brush, pin brush, and slicker brush can help you get rid of excess fur and avoid mats.
Chows are a double-coated dog breed, which means they shed twice a year, with more shedding at the start and end of each season. Brushing and combing Chow Chow's fluffy coat on a regular basis will reduce shedding and promote a healthy, glossy coat. The amount of shedding can be determined by age, gender, and overall health, but it is manageable with the proper grooming technique.
How is the Drooling Level of Chow Chows?
The Chow Chow is rarely a drooler like some other breeds of dog, drooling an average amount. This is also dependent on the individual Chow, and some may drool more than others, but on average the Chow has a medium drooling level.
Drooling in Chows is caused by heredity, health, diet, and behavior, among others. Drooling is more common in some dog breeds than others, and excessive drooling in a Chow Chow can be the symptom of a larger problem. Nevertheless, the occurrence of health problems that cause excessive drooling in Chows is rare, and they are not known for their drooling tendencies.
Dogs that have certain feeding behaviors, such as eating swiftly or eating particular types of food, experience excessive drooling, as do older Chows and those with dental difficulties.
What is the Intelligence Level of Chow Chows?
Chow Chows are considered to be a moderately intelligent, but stubborn canine species. They are not very good at taking directions if not properly trained or socialized. Once properly trained they can make excellent candidates for herding, guard dogs, and general companions.
Chow Chow's stubbornness is due to their lineage. They were first bred in China for their herding and guard dog abilities but were also raised as a food source. This made their lineage untrained and workless. Their alertness and loyalty make them perfect for watchdogs and loyal companions.
Chow Chows are known for their ability to adapt to new habitats and circumstances as long as they are properly trained and socialized.
Many studies have shown that Chow Chows are one of the more stubborn dog breeds. Stanley Coren, a professor of psychology at the University of British Columbia, conducted an investigation that concluded Chow Chows ranked 76th out of 79 for the ability to follow commands and could require 80 to 100 attempts before they understood or remembered the command.  
Overall, Chow Chows, as a breed, are still very loyal and can make phenomenal household pets. If properly trained and socialized they can make great guard dogs, herding dogs, or loyal companions. Chow Chows are among the most loyal dog breeds.
What are the Behavior and Training Tips for Chow Chows?
Chows are a breed of dog that are moderately intelligent, very loyal, and stubborn so they can be a bit difficult to train. It's important to begin training them at an early age and consistently.
Loyalty: Chow Chows are a very loyal breed and form attachments with their owners. It's important to introduce your Chow to the important people early on so they aren't protective over one person in the family. This is also true with other dogs as they can be pretty aggressive or aloof with dogs they are unfamiliar with.
Exercise: Chows require regular walks to ensure they don't get antsy or aggressive.
Socialization: Chows require early socialization with humans, other dogs, and new environments in order to develop appropriate behavior. Help them feel at ease and confident by exposing them to a wide range of people, animals, and environments.
Leadership: Chows are loyal dogs that benefit from having a firm master to set boundaries and enforce rules. Establish authority as the pack leader through firm but calm and persistent training.
Consistency: Chows thrive when trained with consistency and firm guidelines. Treats and praise are excellent positive training ways to reward good behavior while ignoring bad behavior. 
Are Chows Easy to Train?
No, Chows are not easy to train. They aren't the most difficult dogs to train either, however, the ease of training is proportional to the trainer's ability. An inexperienced trainer or owner can find Chows to be frustratingly difficult due to their independence and stubbornness. Their high degree of professional trainability, allows them to perform well in many contexts, including, herding tasks and guard dog duties.
Chows' trainability is attributed, in part, to their lineage. They were bred to be herding dogs as well as sled dogs from their origin of China. They have also been bred as watch dogs so their loyalty and alertness are helpful in training them. The breed's long history has helped shape its present-day aptitude for learning and obedience.
Chows are moderately versatile and are able to adapt to new surroundings when properly trained and socialized. Their flexibility allows them to overcome difficulties and complete difficult jobs with ease.
Another advantage of owning a Chow Chow is that it is a great breed for positive reinforcement training. These techniques, which include using treats and praise, are intended to encourage desired behaviors while discouraging undesirable ones.  It can take a trainer 80 to 100 attempts before a Chow Chow can understand or remember different commands.  
It ensures that they will mature into well-behaved and balanced dogs by providing consistent training and setting clear expectations and boundaries for them
What are the Exercise Needs for Chow Chows?
The exercise needs of Chow Chows require regular walking, 45 to 60 minutes a day that can be broken up into multiple sessions, as well as a moderate amount of play that is not too strenuous or lasts for long periods of time. Ensure you don't play for too long or in hot or humid conditions as the double coat of a Chow Chow makes them susceptible to heat exhaustion. Their stiff-legged nature doesn't make them particularly athletic or agile. 
The ideal amount of exercise time for Chows is determined by their age, overall health, and level of activity. They need an average of four walks every day at a minimum, although active Chow puppies may require more.
Chows who do not get enough walks are more likely to be antsy, destructive, and overweight, among other issues. Adolescents are more likely to develop behavioral disorders like anxiety and anger if they do not get enough exercise or if they aren't properly socialized or trained.
What are the Fun Activities for Chow Chows?
Chows are an active and intelligent breed of dog who enjoys both physical and mental stimulation. Listed below are some fun activities for Chows. 
Herding: Chow Chows were once used for herding sheep and cattle in China. Playing herding games outdoors or indoors is a great way to use their herding instinct for play.
Running: Although Chow Chows are stiff-legged they still enjoy running and walking. Make sure not to let them run for too long as their double coat makes them more susceptible to overheating.
Playing: General games like fetch and tug of war are great games for you and your Chow to play. 
Hiking: Chows are great to go hiking with in the perfect weather and for the perfect length of time. Their coats make them more susceptible to the heat so going on medium-length hikes in colder temperatures is recommended.
Obedience training: Chows do very well with learning and adapting to boundaries. As long as you introduce training early and consistently they will benefit.
Relaxing: Chow Chows are content laying on the couch with you and getting love and affection. This makes them a great indoor dog for an apartment. 
What is the Energy Level of a Chow Chow?
The energy of a Chow Chow is average. They are not too excessive with their energy and are typically tame. They are known to be great at laying around and are not as playful as dogs such as the Border Collie or Labrador. Their thick coat makes it difficult for them to be active for substantial lengths of time, and their stubborn nature prevents them from engaging too long in activities. 
How to keep a Chow Chow clean?
Listed below are the steps on how to keep a Chow Chow clean. 
Groom a Chow Chow frequently by combing its coat 2 – 3 times a week in order to remove stray hairs, dirt, and other particles that become embedded in the coat. A slicker brush, pin brush, and dematting comb are all perfect choices to groom your Chow Chow. Brushing them daily is also recommended during their shedding months.
Chows' ears should be cleaned once a week or every other week since they are buried in their mane. It's important to observe for any signs of infection, like redness, swelling, or discharge, and to call a vet if you see any of these symptoms. Use cotton swabs or cotton balls to remove any kind of liquid from their ears.
Regular nail trimming is required on the Chow Chow to prevent the dog's claws from becoming overgrown, which can cause pain or even harm. Use a nail clipper designed specifically for dogs, and avoid the pick part of the nail, which contains blood vessels and nerves. Trim Chow Chow's nails progressively and be sure not to take the entire thing off in one clip.
Brushing the Chow Chow's teeth with a dog toothbrush and canine-safe toothpaste on a regular basis will help prevent dental issues like tartar buildup, gum disease, and bad breath. 
Keep the area around the Chow Chow clean by consistently picking up and disposing of the dog's waste. Don't let any kind of waste sit around for extended periods of time, and use a poop bag or pooper scooper to dispose of waste.
Bathe the Chow Chow as needed with a shampoo made just for its coat type. Using human shampoo or dish soap will strip the Chow's coat of its natural oils and cause skin irritation. It's recommended to dry a Chow Chow with a cool air dryer.
Keep the Chow Chow's living space by cleaning and organizing its toys, feeding dishes, and area regularly. Clean with a mild detergent and warm water, avoiding any kind of detergent with many chemicals to avoid allergic reactions. Then thoroughly rinse to remove any soap residue.
What is the Average Maintenance for a Chow Chow?
Barring any kind of health issues, it can cost about $2,400 annually to own a Chow Chow. The price includes expenses such as feeding, grooming, veterinary care, toys, and training. The price of maintaining a Chow Chow depends on the age, dietary needs, health conditions, activity levels, and preferences of the owner.
For instance, the annual cost of providing food for a Chow Chow ranges anywhere from $90-$100 a month, and that can depend on the type and quality of food provided. The annual cost of grooming a Chow Chow runs anywhere from $80-$150 a month since they have very specific coats. This is also depending on whether the dog's owner chooses to perform the grooming themselves or takes the dog to a professional groomer. 
The total cost of veterinary care ranges greatly based on Chow's current state of health and any existing medical conditions it has. On average the cost of preventative care is approximately $500 and that includes annual checkups, vaccines, and other preventative measures. However, the cost of treatment can be higher if your Chow has medical emergencies or chronic disorders.
The costs associated with training and socialization of a Chow Chow range anywhere from $300 to $600 a year. It's highly recommended to put money into obedience training and socialization sessions for a Chow since they can be difficult to train and stubborn.
These are merely approximations, so you should keep in mind that the actual costs of upkeep for an individual Chow Chow can be higher or lower, depending on the circumstances. Keeping a Chow Chow requires a substantial investment of both time and money, but the affection and devotion that the owner receives in return is incalculably valuable.
What are Nutritional Tips for Chow Chows?
Listed below are some nutritional tips for Chows. 
Give them a healthy, well-balanced diet: Chows require a diet rich in protein and low in fat since they are not excessively active. Try to find dog food that has meat listed as the first ingredient on the label. Steer clear of meals with fillers such as corn or soy since Chows are prone to allergies.
Think about how old the dog is and how active it is: Puppies and young Chow Chows have a higher demand for nutrients and calories than adult dogs do, whereas older Chows must consume a diet that is lower in both calories and fat content. A Chow Chow that leads a very active lifestyle is likely to require more calories than a sedentary one but keep in mind Chow Chows aren't excessively active on average.
Prevent overfeeding: There is a higher risk of obesity in Chows, which leads to a variety of other health issues. Be sure to give the dog its food in the appropriate quantity, and steer clear of giving it an excessive amount of table scraps or treats.
Supplements must be thought about: Supplements like glucosamine and chondroitin help Chows' joints, while omega-3 fatty acids help keep their skin and coat healthy.
Get in touch with the vet: Each Chow Chow has their own hereditary line and special history. Make sure you visit the vet frequently to learn about your Chow's dietary needs and health conditions.
What should Chows eat?
A Chow Chow's food must be balanced and nourishing, providing all the nutrients the dog needs to thrive. What Chows must consume is outlined below.
Carbohydrates: Carbohydrates are essential for a healthy and active lifestyle in Chows as they provide the most accessible source of energy. Complex carbs such as sweet potatoes, brown rice, or barley are most important and must be prioritized over simple carbohydrates such as corn, wheat, or soy. Since the Chow Chow is prone to allergies, look for low grain dog food.
Foods high in protein: Chows require a good quality high-protein diet to keep up their muscle mass and vitality. Check the ingredient list and select a dog food that features meat products like fish, chicken, and beef as their primary ingredients.
Fruits and vegetables: Chows benefit greatly from the vitamins, minerals, and antioxidants found in fresh produce. Blueberries, spinach, and carrots are some of the healthy fruits and vegetables a Chow Chow's owner should be on the lookout for.
Good fats: Chows should be fed a diet low in fat, but they do require some good high quality fat to maintain a healthy coat and for proper brain development.
Salts: Chow Chows have been bred with salt in their diet and they require a certain amount of sodium in order to maintain the calcium in their bones, but ensure it isn't too much as it will lead to digestive issues.
Treats: Treats are great to reward your Chow Chow for good behavior and are necessary when training. Avoid dog treats that use fillers or artificial preservatives and instead choose those prepared with high-quality ingredients.
Talk to your vet about your Chow Chow's specific dietary needs and what they should avoid. Each Chow Chow is different and may require a different diet based on any chronic illnesses or particular genetics.
How much should a Chow Chow be fed?
Age, weight, activity level, and general health all play a role in determining how much food a Chow Chow needs to be fed. Two to three cups of dry dog food, twice a day, is ideal for adult Chows weighing 50 to 90 pounds.
Keep in mind, that every dog is different, and the ideal amount of food to feed your Chow Chow may vary accordingly. The amount of food a Chow Chow needs to eat depends on its age, weight, and degree of activity. An older Chow Chow, for instance, must eat fewer calories than a younger Chow Chow and that is consistent with all dog breeds.
Chow Chow puppies should be fed small amounts more frequently, so ½ cup of food four times a day is ideal. 
It's crucial to feed the Chow Chow a premium dog food that's packed with the ingredients they need to thrive including high-quality protein. Try to find dog food that has a healthy ratio of protein to fat to carbs, with meat being the first ingredient.
It is necessary to keep an eye on the Chow Chow's size and modify their food intake accordingly since they risk becoming overweight. The owner must either reduce the amount of food they are eating or switch to a lower-calorie dog food if the Chow Chow is gaining weight or showing signs of being overweight.  On the other hand, if the dog is losing weight or seems to be underweight, or malnourished the owner must either increase the amount of food they eat or switch to a dog food that contains more calories. 
If weight still is an issue even with the adjusted food amounts it's important to visit a vet and ensure it isn't an underlying health issue.
How to Feed a Chow Chow?
Listed below are the steps on how to feed a Chow Chow.
Consider the dog's age, size, and activity level when deciding what kind of food to feed the Chow Chow. They must seek advice from their veterinarian if the owner is unclear about the appropriate amount of food to give the dog.
Choose a premium dog food that satisfies the Chow Chow's dietary requirements. Avoid foods that use fillers or chemical preservatives and opt instead for those that feature meat as the primary component and are low grain.
Feed the dog half of its daily ration in the morning and the other half in the evening. Overeating is avoided and digestion is aided as a result.
It is important for dog owners to feed their pets the right amount of food, thus requiring them to measure it out using a kitchen scale or measuring cup. The owner must make sure to follow the feeding requirements that are printed on the package of the dog food.
Choose a clean bowl that's just the right size for the Chow Chow's meal. Keep the bowl clean to avoid the growth of microorganisms.
Keep clean water available at all times for the Chow Chow. Keep the water dish clean and full for them at all times to avoid illness.
Chows must not be given human food or table scraps because of the high levels of fat, salt, and sugar that lead to gastrointestinal issues and obesity.
Check the dog's weight regularly and feed it the appropriate amount of food. The owner needs to cut back on the amount of food they feed them or switch to a meal that has fewer calories if the dog is putting on weight. On the other hand, if the dog is losing weight or seems underweight, owners must either feed him more or switch to a higher-calorie dog food.
Any concerns about the Chow Chow's nutrition or weight must be discussed with the vet. They provide specific suggestions and advice to make sure the dog is eating well and staying at a healthy weight.
What are the best dog foods for Chows?
Listed below are some of the best dog foods for Chows. 
Merrick Healthy Grains Real Salmon and Brown Rice Recipe With Ancient Grains: This dog food is perfect for your Chow Chow since it is made primarily from high quality protein, which is crucial for your Chow's health and muscle development. It also has ancient grains, which is better for a Chow's predisposition to allergies. 
Ollie Fresh Dog Food Subscription: This is a fresh dog food that is delivered to your home. It's helpful for dog owners since it arrives at regular intervals and balances proper proportions. The food requires refrigeration or freezing because it's made with fresh ingredients including fresh carrots, peas, rice, and chicken. It also includes healthy fats like cod liver oils and other fish oils to maintain a Chow's healthy coat and skin. The calorie content also helps maintain a Chow Chow's weight, which can be difficult to address. 
The Farmer's Dog Fresh Dog Food: Much like Ollie's Fresh Dog Food, The Farmer's Dog is fresh and delivered to your door through a subscription. The food isn't dried, but fresh which is healthy for your Chow Chow since it doesn't include preservatives. It has a high protein content of 41% and has hearty vegetables to help keep your Chow Chow regular.
American Journey Salmon and Sweet Potato Recipe Grain-Free Dry Dog Food: This is a perfect dog food because it has no grains, which are known to cause allergies for Chow Chow. The sweet potato gives a balance of fiber for your dog and is a healthy source of protein. Salmon also is a healthy source of protein for a Chow Chow. 
Royal Canin Puppy Appetite Stimulation Canned Dog Food: Royal Canin is a great canned food for your Chow Chow puppy. It is designed to begin your dog with proper digestion thanks to fish oil, beet pulp, and easily digestible proteins. This is best for your puppy and not a Chow Chow that has grown past 22 pounds or is older than 10 months. It also includes vitamins to help your Chow Chow puppy grow healthy. 
Blue Buffalo Life Protection Adult Chicken and Brown Rice Recipe: Designed for adult Chow Chows, the Blue Buffalo recipe has high quality, unprocessed grains to ensure better digestion and avoidance of allergic reactions. It has 24% protein content, which is crucial for maintaining a Chow's health. 
Purina Pro Plan High Protein Shredded Blend with Probiotics: This dog food is great for your Chow Chow's digestion since it's filled with high quality ingredients and real chicken. It is well balanced with protein, healthy fats, high quality grains, and vitamins to help keep your Chow's coat and skin healthy.  
Royal Canin Chow Chow Adult Dry Dog Food: The premium protein, healthy fats, and necessary nutrients in this dog food were developed with the unique needs of Chows in consideration.
Keep in mind that every dog is different, and as a result, the type of food that is ideal for the Chow Chow is going to vary depending on the specific dietary requirements and preferences of the individual dog. The Chow Chow's optimal diet is going to depend on factors such as their age, weight, and tendency towards allergies, which must all be discussed with the veterinarian.
Are Chows Allowed to Eat Fruit?
Yes, Chows are allowed to eat fruits. Certain fruits are fine for Chows to consume, but only in small amounts and under close supervision. Certain fruits are beneficial for a dog's health, but others are hazardous.
Apples, blueberries, bananas, watermelon, pineapple, and citrus are all healthy options for the Chow Chow to snack on. The high nutritious content of these fruits means they have the potential to promote health in many ways. Keep in mind that eating too many fruits causes them to gain weight or have other health problems because of the natural sugars they contain.
Due to their potential toxicity grapes, raisins, cherries, avocados, and tomatoes are among the many fruits that must never be fed to a Chow Chow. These fruits can cause digestive disorders, renal damage, and other health concerns. Make sure to remove pits, seeds, and thick skins from fruits before feeding to your Chow Chow, otherwise, the dog is going to experience digestive issues or even choke.
Adding new foods to the Chow Chow's diet must only be done after consulting with the vet. They are able to advise the owner on how much and how frequently to add fruit in the dog's diet based on the dog's specific demands and health condition.
Are Chows Allowed to Eat Vegetables?
Yes, Chows are allowed to eat vegetables. Vegetables are acceptable for Chows to eat, and many varieties even improve their health. Vegetables are beneficial to dogs because they provide beneficial nutrients like fiber, vitamins, and minerals.
Chows are able to safely consume a variety of vegetables, including carrots, broccoli, green beans, sweet potatoes, spinach, and pumpkin. These vegetables, which are eaten either cooked or raw, are beneficial to health in many ways. They aid in digestion, strengthen the immune system, and promote glowing skin and coat.
Nevertheless, not all greens are healthy for canines. Onions, garlic, and mushrooms, to name a few, are all potentially poisonous to dogs and must be avoided. Vegetables vary greatly in their sugar level, so although some are given to dogs in big quantities, others must be given sparingly. Sweet potatoes, for instance, are a nutritious food for dogs yet must be given sparingly because they contain a lot of naturally occurring carbohydrates.
Vegetables are a healthy addition to the Chow Chow's diet, but owners must introduce them slowly and keep an eye out for any adverse responses. It's best to acquire the vet's approval before giving the dog any new vegetables, just as with any new food. They are able to provide advice on how often and how many veggies to give the dog based on his or her specific demands and health conditions.
Are Chows Allowed to Eat Meat?
Yes, Chows are allowed to eat meat. Meat is a vital element of a Chow Chow's diet. Meat's high protein content makes it vital for dogs' growth and development, immune systems, and other vital body processes.
Dogs are largely carnivorous in their wild dietary context. Meat must still make up a significant portion of a domestic dog's diet, even if they are able to eat a wider variety of foods.
Chicken, beef, lamb, and fish are all good options for the Chow Chow's diet. Choose high-quality, lean cuts of meat, and stay away from meat that has been seasoned or sauced with additives that are hazardous or toxic to dogs.
The Chow Chow requires an extensive and balanced diet, which includes meat in moderation and in combination with other nutrients. Talk to the vet about how much meat a dog of a certain age, size, and health condition is able to safely eat.
It's undeniable that meat is vital to a Chow Chow's diet, but different breeds of dog have different nutritional needs. Always have a conversation with the vet before making any big changes to the dog's food, and always make sure that the dog is getting a diet that is well-balanced and nutritious, as well as one that caters to their specific requirements.
Are Chows Allowed to Eat Fish?
Yes, Chows are allowed to eat fish. Chows are able to safely add fish to their diet, and doing so is able to improve their overall health. Fish is high in protein and provides vital fatty acids like omega-3s, which are beneficial for a number of health-related reasons, including but not limited to skin and coat health; immune system support; and general well-being.
Salmon, tuna, and whitefish are examples of fish that are fine for Chows to consume. Avoid feeding the dogfish that is rich in mercury or other poisons by selecting high-quality fresh or frozen options.
It is imperative that the fish be completely cooked and any bones removed before being given to the dog in order to prevent the Chow Chow from choking or experiencing digestive issues as a result. Dogs are able to safely consume fish in either its cooked or raw form; however, raw fish must be given to canines only under close supervision due to the risk of hazardous bacteria and parasites.
Fish is fine to include in the Chow Chow's diet, but only in moderation and as part of a well-rounded meal plan. Owners must talk to the vet about how much fish your dog of a certain age, size, and health are able to safely consume.
A Chow Chow's diet benefits from the addition of fish, but every dog is different and has specific nutritional needs. Always have a conversation with your vet before making any major changes to the dog's food.
Are Chows Allowed to Eat Raw Food?
Yes, Chows are allowed to engage in a raw food diet. Owners of Chows have claimed success with a raw food diet for their dogs in recent years. A raw food diet can provide your Chow with something similar to what they have eaten in the wild.
Feeding raw food to Chows has three notable advantages. One way in which it benefits their health is by giving them access to a more nutritionally complete diet. Second, a raw food diet has been associated with more energy, improved digestion, and healthier hair and skin. Thirdly, raw bones can be chewed to eliminate plaque and tartar to improve the overall dental health of your Chow.
Nevertheless, not every Chow is able to benefit from a raw food diet, and there are several dangers to be aware of while giving your dog raw food. Bacteria like Salmonella and E. coli live in raw food and can make both humans and pets sick. Ensuring that your Chow gets all of the necessary nutrients can also be difficult in a raw diet.
The choice of whether or not to feed the Chow Chow raw meat must ultimately be decided by you and your vet. Cooking fish thoroughly is recommended and ensuring vegetables are edible by cooking them thoroughly. Use high-quality ingredients to ensure the best nutrition and observe proper safety precautions to reduce the likelihood of infection if choosing a raw food diet.
Are Chows Allowed to Eat Eggs?
Yes, Chows are allowed to eat eggs. Eggs are safe for Chows to eat and are an excellent nutritional source. A Chow Chow's diet is able to benefit from the inclusion of eggs if not given too many. Eggs are full of protein, vitamins, and minerals which are crucial for a dog's health.
Eggs have high protein and fatty acids that keep the Chow's fluffy coat and skin healthy. Active Chows are able to benefit from the energy and focus that eggs provide, as well as the benefits to their immune system and brain support.
Don't feed your Chow too many eggs, though. Too many can affect your dog's digestion and give them an upset stomach. Also avoid giving your Chow raw eggs, because of the risk of Salmonella contamination. It's recommended that eggs given to Chows be cooked fully.
Eggs are a healthy and nutritious supplement to the diet of a Chow Chow, but you should always check with the vet to make sure that the dog's food is balanced and healthy before making any significant adjustments.
How is the Health of the Chow Chow?
Many factors, including genetics, diet, activity, and lifestyle, contribute to different levels of health in Chows. A well-cared-for Chow Chow lives anywhere from 8-12 happy and healthy years, and sometimes more.
Chows, like dogs of all breeds, are predisposed to particular diseases. Chows are susceptible to a number of health problems, including the painful joint ailment known as hip and elbow dysplasia, as well as bloat, which occurs when a dog's belly becomes distended with gas and twists.
Chows are able to develop skin disorders, allergies, and food intolerances. Keep an eye on your dog's health and bring your Chow to a vet at the sign of any issues.
With the right amount of care, many of these health problems can be avoided or kept under control if found early.. Through proper feeding, exercising regularly, intellectual stimulation, and regular veterinary examinations Chows will stay happy and healthy.
The general well-being of a Chow Chow dog relies heavily on the diligence and love of its owners. Dog owners can ensure the health and well being of their Choww with the right diet, plenty of exercise, and regular trips to the vet.
What are the Health Tips for Chow Chows?
Listed below are tips to keep your Chow Chows healthy:
Doing regular walks: Chows are not excessively active but still require regular walks to stay in good health. Walking and playing with them on a daily basis helps them maintain a healthy weight.
The food must be well-balanced and nutritious: Chows need a diet high in protein, as well as other essential nutrients like vitamins and minerals, to stay healthy. Avoid feeding your Chow Chow human food and table scraps since those ingredients may be hard to track. Go for high-quality dog food that provides your Chow with a well balanced diet.
Plan for regular visits to the vet: Regular vet visits can help catch issues in their early stages so they can be alleviated before they become a real problem. This also helps maintain immunizations, good dental and vision health, and proper skin and coat care.
Provide some intellectual challenge: Chows, like all dogs, need both physical and mental exercise to thrive. Give them consistent and short sessions of play to keep their mind active.
Keep an eye out for symptoms of the disease: Certain health problems, like hip dysplasia and bloat, are common in Chows. Look out for symptoms like lethargy, loss of appetite, and vomiting. If any of these symptoms emerge, take your Chow to a vet.
Maintain a neat appearance: Chow Chows require consistent grooming since they possess a double coat that is thick. Consistent grooming will prevent matting, tangling, and skin issues. Regular brushing and bathing is important for maintaining a healthy and clean coat and skin.
Following these guidelines will keep your Chow happy and healthy.
What are the common Chow Chow health problems?
Listed below are the common Chow Chow health problems. 
Cataracts: In their older age Chows are susceptible to developing cataracts, which can result in vision loss or blindness.
Bloat: Also recognized as "gastric torsion" bloat is a disorder that is potentially fatal for a dog. Bloat happens when a Chow's stomach becomes distended with gas and twists as a result. Rapid onset of symptoms, such as nausea, diarrhea, and breathing problems, is common.
Exocrine Pancreatic Insufficiency: The Pancreas' inability to produce the appropriate digestive enzymes can cause malabsorption and weight loss. This will lead to malnutrition and Chow is dangerously underweight.
Degenerative Myelopathy: This is a degenerative disorder that occurs in the spinal cord and causes hind-limb weakening and immobility.
Skin allergies: Food, pollen, and dust are some factors that can lead to allergic reactions for Chow. This leads to constant  itching, rashes, and hot areas, which untreated can cause a Chow to scratch at the skin causing even more irritation or bleeding.
Hip and elbow dysplasia: In this condition bones rub against one another because the hip or elbow joint didn't form correctly. This can cause pain and difficulty moving for your Chow Chow.
Keep in mind that some Chows are more predisposed to certain diseases than others, and that not all are going to encounter these health issues. With the right attention and care the likelihood of health problems in the Chow Chow is reduced. Take your dog to frequent veterinary checkups and keep them on a nutritious diet and regular exercise.
What Are the Benefits of Having a Chow Chow?
Listed below are the benefits of having a Chow Chow.
Guard dog: Chows are frequently used as watch dogs because of their vigilant temperament and devotion to their masters. They are taught to guard their property and loved ones from invaders and other dangers.
Family companion: The loyalty of the Chow Chow breed makes it a good choice for a family companion. With the proper training they are a great addition to the family.
Walking partner: Chows make fantastic walking companions for their human owners because of their need for low intensity and easy activities. They are protective and are usually good to walk with those they have bonded with.
Chows can be an amazing family addition due to their loyalty and their calm demeanor. Their moderate activity needs make them perfect for hanging out around the house.
What Are The Limitations of Having a Chow Chow?
Listed below are the limitations of having a Chow Chow.
Size: Chow Chows are medium sized dogs so they do require some space, but they are also not too active. The larger Chows can be upwards of 75 lbs which may require something bigger than your New York City apartment. 
Training needs: Chows are stubborn and require consistent training starting at an early age. Due to their stubbornness they should not be trained by a novice dog owner and you should exercise great patience when training your Chow Chow. 
Exercise needs: Although not the most active of dog breeds, the Chow Chow still requires walks often to maintain its energy levels and weight. Four walks a day is the minimum requirement for the Chow Chow
Health issues: Chows, like dogs of all breeds, are predisposed to a number of different health problems, including hip dysplasia and bloat. It indicates that owners need to be prepared to face the prospect of incurring veterinarian costs and needing continuing medical care.
Protection instincts: The protective qualities that make Chows such effective guard dogs makes them more likely to be aggressive towards people they do not know or even towards other canines. It indicates that owners need to be mindful of the behavior of their dog and act to prevent any potential problems that are going to arise.
Shedding: A Chow's double coat is prone to producing a lot of shedding and pet dander. Keep this in mind for those who may have pet allergies.
The Chow Chow has some limitations, especially depending on the owner, but they are also loyal companions. With the proper training and preparation they can be an amazing addition to the family.
What are Chows Allergic To?
Listed below are the things that Chows are allergic to.
Food: There is a potential that Chows are going to develop dietary allergies or sensitivities to particular components of their diet, such as meat, poultry, or grains. Ensure that you always get low grain food for your Chow to avoid certain allergies.
Medications: Chows can have allergic reactions to antibiotics and pain medicines. It's important to check with your vet before administering medication and observing how your Chow Chow reacts to it.
Flea bites: Flea bites have the potential to trigger an allergic reaction in Chows, which can result in excessive discomfort. That discomfort could lead to scratching, which may result in rashes or bleeding.. Always observe for fleas and ticks when grooming your Chow Chow.
Environmental allergens: Like human beings Chow Chows can have an allergic reaction to pollen, dander, and plants.
Cleaning products: Chow Chows can have allergic reactions to certain cleaning products. This may result in a rash or similar reactions.
Humid and Hot Temperatures: Although not an allergy it's important to keep in mind that a Chow Chows' thick coat makes them uncomfortable in humidity and high temperatures,
It is essential to keep in mind that not all Chows are going to be allergic to the aforementioned substances, and even among those that are, some are more predisposed to particular allergies than others. Have your Chow Chow checked out by the vet if  he or she is allergic to something.
What are Chows Afraid Of?
Listed below are the things the Chows are afraid of.
Specific objects: Like many dog breeds, the Chow can be afraid of certain objects that tend to make loud noises such as tools, vacuums, and appliances. This is dependent on the dog and if you are rescuing a Chow you should inquire as to whether they have particular fears or not.
Strangers: Chows have a reputation for being protective of their owners and distrustful of strangers or persons they are not familiar with. They can be aloof around strangers and aggressive towards other dogs.
Separation: Chows are able to develop separation anxiety or terror if they are not properly trained. They have a natural independence, which can be fostered through proper training and socialization.
Loud Noises: Like many breeds the Chow Chow can become frightened from thunderstorms, fireworks, and gunshots. Other objects like power tools or vacuums that create loud noises may frighten them as well.
Other animals: There is a potential that Chows are going to be aggressive around other dogs and animals due to their protective nature.
New environments: Unfamiliar surroundings and a new home may make a Chow Chow frightened and uncertain. Be sure to give your Chow Chow time to acclimate to a new environment.
What scares a Chow Chow can depend on their history, and it's important to always ask these specific questions when adopting a Chow. Proper training and socialization can help your Chow Chow become more familiar with these triggers. Always observe your dog in novel situations and adjust accordingly.
What are The Fun Facts About Chows?
Here are some fun facts about Chows.
They Were Used to Pull Sleds in China: Marco Polo had documented his encounter with Chow Chows in China and wrote that they were used for pulling sleds in snowier climates.
Their Lost Athleticism: In ancient China they were apparently quite athletic, used in different types of sports. Although today they are rarely used in any kind of athletic capacity. 
They Take Care of Their Group and Are Protective: Chows are noted for their unwavering devotion to their people and possess a powerful drive to guard their territory. They frequently exert a tremendous deal of effort in order to shield their loved ones from danger.
Their Coats are Double-Layered: The thick and noticeably fluffy double coat that Chows have serves to protect them from the cold and other harsh conditions. The coat requires consistent grooming to prevent matting and to keep its appearance in good condition.
Chows, as a breed, have a long and illustrious history, and are well admired for their intelligence, loyalty, and good looks.
Are Chows Good Dogs?
Yes, Chows are excellent canine companions. They are famous for their loyalty and their calm demeanor, which makes them perfect for hanging out indoors. Nonetheless, as is the case with dogs of all breeds, it is essential for owners to provide their canine companions with the appropriate level of care and attention. Proper training, diet, and physical activity is crucial to fulfill their requirements and forestall the development of any possible behavioral problems.
Are Chows Kid-Friendly?
Yes and no. With the proper training and socialization Chows can be good with children. However, in general their calm demeanor and stubbornness makes them difficult around noisy and active children. Chows get along well with children if they are properly taught and socialized from a young age. They are noted for their faithfulness and protective temperament, both of which make them potentially excellent companions for children if trained right.
Nonetheless, in order to protect their children from potential danger, it is essential for parents to monitor their children's interactions with their Chows, just as they should with all breeds of dog. It's also crucial to teach your children to properly approach and treat your Chow Chow. 
Are Chow Dogs Friendly?
No, in general Chows can be pretty aggressive with other dogs. If they are socialized with a dog at a younger age they will have a better relationship, but their protective nature makes them prone to being aggressive with other dogs and animals.
The right kind of socialization and training goes a long way toward encouraging dog-friendly behavior in Chows. Nonetheless, it is critical to always keep an eye on interactions between different dogs to make sure everyone stays safe. Chow Chow owners must be conscious of their dog's specific temperament and behavior when it comes to interacting with other canines.
Are Chows Friendly Toward Strangers?
No, Chows are generally aloof around strangers. Chows are recognized for their protective instincts and are apprehensive of people they do not know, despite the fact that they are sometimes amicable toward strangers. It's crucial to always oversee encounters and provide correct direction to prevent any potential problems, even if proper socialization and training assist encourage pleasant conduct toward strangers. Nonetheless, these things help develop friendly behavior toward strangers. A Chow Chow displays increased caution or protectiveness while meeting new people because of their training as a guard dog.
Are Chows Aggressive?
Yes, Chows can be aggressive, especially around other dogs they are not familiar with. Chows have the potential to exhibit aggressive behavior if they have not been adequately socialized or trained, or if they perceive a threat to their family. On the other hand, Chows have the potential to be well-behaved and non-aggressive dogs if they receive the appropriate training and socialization. 
It's essential for owners to have a solid understanding of the specific temperament and behavior of their Chow Chow, as well as to offer their dog with the appropriate direction and training, in order to avoid any potential aggressiveness issues. It's imperative that any encounter between a dog and an unfamiliar person be constantly monitored and redirected for the sake of everyone's safety.
Are Chows Good With Cats?
Yes, Chows can be good with cats, but it also depends on training and socialization. Much like with other dogs, a Chow may become aggressive with a cat it's not familiar with. Some Chows are able to get along well with cats and learn to live in harmony with them, while other Chows have a strong instinct to hunt prey and are more likely to chase or hurt cats. 
It's crucial to observe all interactions that your Chow has with other animals and provide correct direction and training to avoid any potential issues. Good socialization and training helps foster positive behavior toward cats, but it is important to make sure that these things are done correctly. Gradually and cautiously introduce Chows and cats to one another, and give each animal their own space and resources in order to prevent any territorial behavior from occurring.
Are Chows Hypoallergenic?
No, Chows are not hypoallergenic like some other breeds of dog. Their dense double coat sheds heavily and therefore puts dander into the air. This is not adequate for those with allergies looking for a hypoallergenic dog. However, susceptibility to pet dander can differ person to person, and some people with allergies find that Chows are easier for them to manage than other breeds. 
People who suffer from allergies should spend some time around Chows before deciding if they are a good choice for them. Spending time with Chows inside will give the individual an opportunity to see if they cause allergic reactions. Maintaining a clean home by regularly brushing and vacuuming the pet helps reduce the amount of dander that is circulating in the home.
Are Chows Protective?
Yes, the protective character of Chows has earned them a well-deserved reputation. Their loyalty and willingness to defend their pack and territory make them ideal guard dogs. Therefore, it is essential for owners to ensure that their Chows receive adequate training and socialization in order to forestall any potentially violent behavior against unfamiliar people or other canines. It's crucial to keep an eye on relationships and guide Chows appropriately, as these dogs become overprotective if they feel threatened or think their family or territory is in danger.
Can Chows Swim?
No, Chows are not good swimmers. Their thick double coat makes the Chow Chow bad at swimming and they should be kept away from bodies of water. Chows also are not excessively active or playful and generally don't enjoy swimming like other breeds of dogs. Even if they do enjoy it, it's advised to keep them away from water due to their coat and their stiff legs.
Can Chows be Left Alone?
Yes, as an independent dog breed it's acceptable to leave Chows home alone for brief periods of time. The Chow Chow is a very independent breed and can do well on their own. On the other hand, it is essential to slowly acclimate them to the idea of spending time by themselves. Properly train them and make sure that they get plenty of physical activity, cerebral stimulation, and attention whenever the owner is at home. 
Dogs are pack animals that can develop separation anxiety or destructive behavior if left alone for too long or not properly socialized and trained. Ensure they are in a safe and comfortable environment, like a crate or a separate room, and gradually increase the duration of leaving them alone. Checking up on them regularly and ensuring they have access to water and supplies is crucial to their safety and well-being.
How much does a Chow Chow cost?
The price of a Chow Chow relies on aspects such as the breeder, lineage, age, and location of the dog. The average cost of a Chow Chow can range from $1200 to $2000. However, high-quality Chows purchased from responsible breeders cost significantly more, with some newborns and special breeds, such as the Panda Chow, selling for upwards of $5,000 or even more. 
Don't forget that the cost of owning a Chow Chow includes additional, ongoing costs such as food, veterinary care, grooming, and training. Prospective Chow Chow owners must carefully calculate their financial resources to guarantee they offer adequate care for their new pet.
Where Can I Buy a Chow Chow?
Chows can be purchased through a wide range of establishments, including breeders, shelters, and rescue groups. Make sure to do your research and find a reliable breeder or rescue group to find a healthy and happy Chow Chow. A reputable breeder should be able to answer the inquiries and give proof of the dog's good health and pedigree. Older dogs from a shelter or rescue group are a terrific option because they usually know a lot about the dog's personality and habits. Consider factors such as price, availability, and proximity when considering purchasing a Chow Chow.
How to Buy a Chow Chow?
Doing the proper research and finding a reliable breeder or rescue group is crucial when attempting to add a Chow Chow to your family. Inquire with other dog owners to find reputable breeders or organizations. Ask questions about the dog's health, temperament, and pedigree when visiting the breeder or rescue group. Seeing and interacting with the Chow Chow you are interested in in order to understand its personality, behavior, and character is essential. It's important to know if your perspective Chow Chow requires any essential vaccines or health checks before bringing it home. Make a choice based on your research and individual preferences, and then complete any paperwork or payments that need to be done. Getting a Chow Chow, like any other dog,  is a long-term commitment, so make sure to choose one that will thrive in the home and with the family.
Is Purchasing a Chow Chow Allowed?
Yes, buying a Chow Chow is generally acceptable in most places in the U.S. However, certain counties in certain states limit the ownership of Chow Chows due to the risk of their aggressive nature,  
Prior to getting a dog, it's smart to learn about the rules and regulations in your particular area, especially since some areas have breed specific limitations. There are some restrictions on the importation or ownership of specific dog breeds in some places, and that may include the Chow Chow. It's important to do your research and be aware of these restrictions. Another consideration is whether or not the prospective owner has the time, energy, and financial means to provide the dog the care, attention, and attention it needs to live a long and healthy life.
Is Adopting a Chow Chow Better than Purchasing One?
This depends on what the prospective owner is interested in. Those owners who believe in giving a dog a new home find that adopting a Chow Chow from a rescue group or shelter is a good choice. The cost of adoption is also lower than that of purchasing a dog from a breeder. 
Rescue groups are a great resource for finding Chow Chow's that are immunized and healthy. Adopting a dog is an honorable choice, but one must be prepared to give the new owner the time and attention he or she needs because of any behavior or health issues. 
Buying a Chow Chow from a respected breeder will give you the comfort and knowledge of your pet's pedigree and health, but it can be expensive and it increases the demand for purebred dogs. Adopting or buying a Chow Chow must be done with proper research and consideration since their behaviors are affected by their past owners and environments..
We are sorry that this post was not useful for you!
Let us improve this post!
Tell us how we can improve this post?