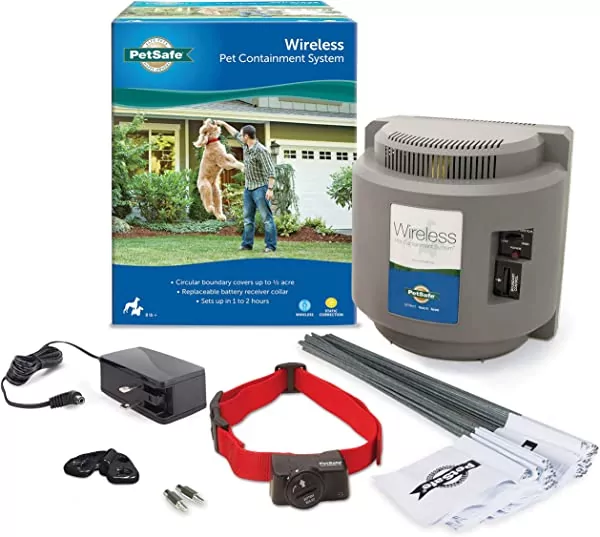 If you have dogs at home, it's only natural to want them to play out in the garden as much as possible.
Letting them roam loose in an unsecured garden is enough to keep you constantly on edge so what can you do about it?
Well, one of the most common solutions is a wireless dog fence.
You can find electric dog fences with wires you need to bury under the ground. These are also known as invisible dog fences or in-ground dog fences.
If you don't like the idea of turning over your garden and messing about with wires, you've got plenty of wireless alternatives.
You get a receiver collar to pop on your dog and then a transmitter that you set up indoors. This transmits a radio signal across a certain radius. If your pup breaches the boundaries, the collar communicates with the transmitter and he'll receive a slight static shock. Typically, this shock is not administered when your dog returns home as the damage is already done.
Today, we'll be highlighting the 3 best wireless dog fences you can find to make your life easier. We'll also be throwing in the usual treasure trove of buying guidance and usage tips so you've got everything you need in one place.
Here are the models we'll review at a glance:
BarkVA is reader-supported. When you buy via the links on our site, we may earn an affiliate commission at no cost to you.
Our Picks For Wireless Dog Fences
 
Product
Details  
 
Best Overall: PetSafe Wireless
• Up to ½ acre coverage area
• Works for all dogs 8 pounds and up
• Suitable for neck sizes to 28 inches
• Exceptional 2-month battery life
• Add extra collars to train multiple dogs
Check Price
Runner Up: PetSafe Stay and Play Compact
• Cover areas up to ¾ acre
• Ideal for small dogs from 5 pounds
• Also works well with large dogs to necks of 28 inches
• 5 progressive levels of static correction
• Unbeatable brand heritage
Check Price
PetSafe PIF-300 Wireless 2
• ½ acre coverage ideal for most gardens
• Fully waterproof collar
• Expressly designed to contain 2 dogs
• Static correction
• Detailed training manual included
Check Price
See our related articles on the best products to contain your dog on your property.
---
How Wireless Dog Fences Set Up Boundaries for Your Dogs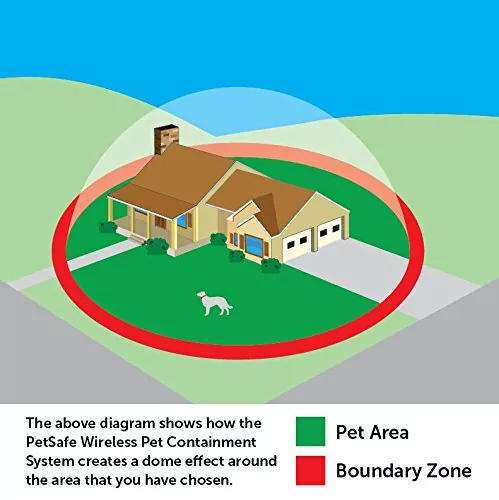 First, you'll need to fit the collar.
The prongs go under his neck and should sit flush on his skin. Make sure there is good contact between the prongs and his skin. But, remember to leave it loose enough so that it's comfortable.
For training, you'll need to put him on a lead, so attach an additional collar on top of the e-collar. It must be non-metallic so that it doesn't interfere with the e-collar. Then attach a lead to the second collar.
Have plenty of treats to hand that you know he loves may some sausages or ham? Also keep his favorite play toy to hand.
Training your dog to respect boundaries is carried out over five distinct phases.
Phase One
First, you introduce him to where the boundaries are. At this stage you will only use the beep on the e-collar. On the first day, take him out for three 15-minute sessions. You'll use this day to show him where the boundary flags and introduce the tones from the collar.
Keeping him on a tight lead, walk him up to the flags. When he gets a beep, gently pull him back to the play area. Give him treats, and make a fuss of him.
Do this for each flag. Remember to keep it fun and keep rewarding him, this is key to success.
Phase Two
Over the next two to four days, you can start to introduce the static correction.  Again, carry out three training sessions of 15 minutes each day. Repeat the same steps as on the first phase, only this time you'll use the static correction.
If he doesn't respond to the static correction, ratchet it up a setting.
Phase Three
Next, it's time to train him to stay in the play area without distractions. Play with him in the boundary area and get someone to cross to outside of the boundary, or throw a ball outside of the boundary.
Every time he crosses the boundary, coax him back and reward him with praise and treats. Keep repeating this process until eventually he stops crossing the boundary.
Phase Four
Once he stops crossing the boundary completely, even with distractions, you may start to play with him off the leash.
Stay with him at all times and start with training sessions that are 15 minutes long building up to an hour.
Phase Five
At this stage you should be free to let your dog roam but you still need to keep an eye on him. When you're sure that he's learned the boundary, you can then remove the flags.
OK…
With those basics of getting your dog to respect his new boundaries in place, what should you look out for on the buying trail?
---
Things You Should Consider
Buying a wireless dog fence is a decision with a fair few variables so what do you need to consider?
Location of Your Transmitter
To avoid any gaps in the signal, make sure there are no large metal objects obstructing the signal. Objects such as ovens, electric switch boxes, cars, fridges, and washing machines will block the signal, giving your furry chum an opportunity to perform an escape trick.
If possible, install the transmitter on the first floor.
Shape of Your Garden
If your garden is awkwardly shaped, with corners and big trees, a wireless electric dog fence system will probably not be sufficient for your dog.
If you have a precious flower bed, or a rockery you've spent ages crafting, you might be better off going for an underground wired electric dog fence system, as your dog will be free to roam in those areas. Wireless electric dog fences are best suited to smallish uniform gardens without obstructions like corners of buildings and big trees.
The transmitter is placed at the very centre of the signal radius so your boundary will be circle-shaped. If your garden is square shaped, you'll want to make sure that the invisible boundary will be within the compounds of your garden.
You Can't Leave Your Dog Unattended
It may be tempting to leave your dog to roam freely while you crack on with cooking lunch, but dogs do sometimes overcome the static correction, especially if they're particularly tempted by a rabbit or pigeon.
If your dog does escape from inside the boundary after chasing after something furry and delicious looking, he will have to come back inside. If when he gets back he receives another static correction, it could discourage him from returning leaving you with a problem on your hands.
A wireless dog fence should be viewed more as a training aid than anything else.
Your Dog's Personality
Although a static correction won't harm your dog in anyway, it's essential to assess whether your dog is suited to an e-collar. Some anxious dogs can react nervously to the static corrections, so in some cases it could worsen their nervous disposition.
Equally, if your dog has an aggressive nature, he might not be suited to a wireless electric dog fence. You may be better off sticking with a conventional solid fence instead.
The Size of Your Garden
Depending on the model of wireless dog fence you purchase, the signal should be able to reach up to 3 acres. This is fine if your garden doesn't have lots of big trees. If it's a flat area, there should be no problem. But, if there are hills or ditches, you may find that the signal doesn't work as well.
Size of Your Dog
The size of your dog will determine which e-collar you need to use with them. This is probably one of the most vital considerations with a wireless electronic dog fence system.
Always look at the manufacturers guidelines on which systems you should purchase for the size of your dog. Some are suited to dogs over 5kg, others are suited for bigger dogs of 15kg.
You cannot use a wireless electric dog fence with a puppy. They lack the maturity needed for training, and as they're so young the static corrections will scare them. Wait at least six months at an absolute minimum before you even think about introducing a wireless electric dog fence system.
What You Should Look For In An E-collar
Apart from the obvious features regarding size and fit, you'll want to look at its durability as e-collars don't come cheap. When you assess it, ask yourself, is the material long-lasting? Will it break easily? Will my pupster be able to chew it off easily? You'll want to check that the buckle is solid and won't break easily, you don't want any escape tricks going on!
Also check to see if it's waterproof. A sudden downpour could see your dog's e-collar broken due to water damage and your money washed down the drain.
Check to see what kind of batteries you need. Are they rechargeable or disposable? If the batteries are disposable see if they are proprietary. If you have to use the manufacturer's own batteries it might not be a cost-effective system, as manufacturers can charge over the odds for replacement batteries.
Another important consideration is whether the e-collar has a time-out feature. You want to be able to limit the amount of time that the collar emits a signal to keep your dog safe.
Your Budget
If you don't have a huge amount of cash to spare you'd probably be best off with a wireless system, they are far more affordable than underground dog fence systems.
You may want to spend more on the collars. E-collars at the cheaper end of the market aren't as accurate as more expensive e-collars. The problem with inaccurate e-collars is that they can administer a static correction when they're nowhere near the boundary. The problem here is that you could end up with behavioral issues further down the line.
Wireless systems cost from $50 to $350 for a complete kit with training flags and collars. In-ground systems can cost as much as $3000 if you're going to have it professionally installed. If you have multiple dogs, you'll need to buy more collars. And, due to their reliability it's best that you invest in e-collars from the higher end of the market. You'll need to ensure that you've got reliable collars if you have multiple dogs to guarantee more effective behavioral management.
Maintenance of the System
A wireless dog fence system shouldn't require too much looking after but you will need to change or charge the e-collar batteries.
It's advisable to check the contact points on the e-collar every week to check that the channel is clear. If it's dirty it could block the static correction and fail to prevent your dog shooting off.
---
The 3 Best Wireless Dog Fences

Our overall favorite wireless dog fence comes from the inimitable PetSafe. This is the parent company of the Invisible Fence brand you might see in the pet store so what do you get for your money?
To kick off, you'll benefit from a sprawling ½-acre maximum coverage area. This should be more than fit for most purposes. If you have a larger space to contain, don't worry. You can choose from larger PetSafe fences with no problem at all. As with all wireless fences, the area covered needs to be circular. Make sure this is suitable for the outdoor space you have in mind.
Where you don't have any wires to bury, set-up is fairly simple. That said, it will still take a while to get used to the feel and operation. You should also allow up to 2 weeks to train your dog properly before leaving the fence to do its work.
The lightweight and waterproof collar is built to stay the distance and your dog should find it comfortable and irritation-free. As long as your pooch weighs 8 pounds or more and has a neck size anywhere from 6 to 28 inches, you're in luck.
All the training flags you need to get started along with everything else required to start training your furball to respect boundaries.
Battery life is impressive returning anything up to 2 months of use before it needs swapping out. Note that these are proprietary batteries so you'll be locked into buying them from PetSafe.
Pick up additional collars and you'll be able to keep unlimited dogs right where they belong. If they do breach the boundaries, static-free re-entry ensures they're not dissuaded from returning home when they see fit.
Pros: Circular coverage for areas to ½ acre. Use additional collars to train multiple dogs. Reasonably simple set-up. Waterproof and lightweight collar. Choose from tonal warning or 5 progressive levels of static correction. Superb 2-month battery life.
Cons: Receiver housing a slightly fragile. Relatively sharp learning curve to deal with.
Bottom Line: PetSafe is an industry legend and this invisible containment system capable of securing several dogs is our overall favorite for price, performance, and build quality in one attractive package.
---

Another stellar dog fence from PetSafe up next in the form of the classic Stay and Play. If the previous fence with ½ acre of coverage seems slightly small, this ¾-acre model steps things up a gear.
While we wouldn't exactly describe this system as plug-and-play simplicity, you shouldn't find setting the fence up too demanding. As with all containment systems, it pays to read the instructions and any accompanying guide closely before you get started. You should pack plenty of patience and be prepared for a sharp learning curve.
The good news? Once you've got the fence installed, you should find it pretty much runs in the background while giving you peace of mind that your precious pooches are safely contained.
As you'd expect, collars are waterproof and shouldn't irritate your dog's neck. They run using a 6-volt battery.
PetSafe understands that many pet owners will never have used one of these fences before. To that end, there's a nifty guide thrown in so you should take the time to study this and you'll make your life even easier thanks to PetSafe.
If your dog does make his way outside, he'll enjoy static-free re-entry. This is ideal since he might otherwise be discouraged from returning home.
Outstanding US-based customer care completes a winning package from a highly reputable brand: what's not to love?
Pros: Cover large areas to ¾ acre. Create virtual boundary with no need to buy any wire. Reasonably straightforward set-up. Waterproof and lightweight collar suitable for pretty much any size of dog from 5 pounds upward. Static-free re-entry.
Cons: The system initially feels awkward to use but that soon improves.
Bottom Line: If you have a larger yard and you want to keep more than one pet safely contained, this PetSafe Stay and Play is the ideal solution.
---

Now, this system is designed to keep a couple of dogs from straying. The standard kit comes with a pair of collars. If you have more dogs in the house, simply add more collars and you're ready to roll.
Flexibility is the name of the game here. As long as your dog weighs at least 8 pounds and has a neck measuring between 6 and 28 inches, this fence and collar make a neat fit.
One thing to be aware of is that the static shock administered is reasonably sharp. We would advise starting out at the lowest setting to make sure it's not too much for your beloved furball.
In common with all PetSafe containment systems, static-free re-entry helps encourage your dog to return home since he knows he won't get an additional static shock when he comes back with his tail between his legs.
When you're training your dog before you leave the fence to do its work, you'll have the opportunity to play with your dog and offer up plenty of positive reinforcement when he respects his new boundaries.
The only real drawback with the PIF-300 is the stiff price tag. Compare the cost of this fence to the vet bill and headache if your dog gets knocked over by a car when he runs out of the garden and it suddenly doesn't seem quite so expensive.
Pros: Ideal if you have 2 dogs. Add more collars to contain even more dogs. Fits all dogs from 8 pounds and upwards with necks from 6 through 28 inches. Static-free re-entry. Lightweight, waterproof, and rugged collars.
Cons: You'll need to dig reasonably deep for the privilege. Even the lowest setting gives a sharp shock so start at the bottom and work slowly up if required.
Bottom Line: For anyone with several dogs at home, the PIF-300 will make sure they stay safely inside instead of scampering off down the road.
---
Guide To Setting Up and Using a Wireless Dog Fence Effectively
Plug It In
You don't need any technical knowledge of voltage when you install your wireless electric fence, just make sure that you have an electrical outlet that is indoors and has a voltage of 120.
Work Out Where To Place It
As it transmits a circular boundary, the device is placed dead center of the dog's roaming area. It can transmit through walls, but large metal objects can interfere with the signal.
Place the transmitter on a table or countertop and plug it in. It's best to place it at least two feet off the floor. When you flick the switch on, first turn it to high and turn the boundary up to the highest setting. You can adjust the boundary later on.
Prepare The Collar
The next step is to prepare the dog collar. Place the batteries inside the collar and fit it to the dog. You don't want the collar to be too tight so that it's uncomfortable, but you don't want it to be too loose either or it won't deliver the static correction effectively.
Place The Boundary Flags
You will need to train your dog otherwise the wireless electric fence won't work. The first step is to mark the perimeter of the boundary with the boundary flags. The boundary flags come with the wireless electric dog fence kit. The manufacturer's instruction manual will have their own guidelines for you to follow.
First, hold the collar in your hand at the height of your dog's neck and at the spot where you don't want him to go further. With the aid of someone else, get them to turn the dial down on the transmitter indoors. When the collar beeps, get your colleague to stop turning the dial as you'll have found the correct boundary area.
Next, place the boundary flags. Every time the collar beeps, place a flag in the ground. Space the flags approximately 10 feet from each other until you've created a visual flag fence. They'll stay there until your dog is familiar with the boundary.
Keeping The Collar Safe
It's a good idea to clean the contact points on the e-collar weekly and keep an eye out for any rashes or sores.
It's vital to remember that the wireless electric dog fence is not a solid boundary, and you will need to train your dog properly to ensure his safety.
Training Your Dog
Your wireless electric dog fence will be as useful as a chocolate teapot if you don't train your dog correctly. Your wireless electric dog fence kit should come with the manufacturer's instructions on how to train your dog. You might also have some tips of your own, as you'll know what your pup responds to.
Keep It Fun
Dog training should be fun for both you and your dog. Remember, it's essential that you are firm, consistent and fair. Keep a bag or a pocket of tasty treats at the ready, you want to reinforce positively each time he responds to the e-collar.
To keep it fun, train your dog in short bursts, say for around 15 minutes at a time. If he gets fatigued or stressed, take a break and try again later.
You'll know when he's stressed if he behaves nervously, drops his tail down, pulls towards the house, and if he goes stiff.
Adjust the amount of time training him accordingly. You may want to spend more time playing so that he's happy and receptive, or maybe you could give him a break for a day or two before resuming training sessions.
Your pup should be happy and relaxed while training. Give him lots of playtime and treats to reinforce positively. The more you praise and encourage him, the sooner he'll respond and successfully train.
Timing
Training him to learn the boundary of the dog fence can take anywhere between two days and two weeks. Every dog is different, and some will learn quicker than others. You can't rush this process, so take your time.
---
What is the history of the electric dog fence?
The first electric dog fence was invented by Richard Peck in 1973 and it was called the Sta-Put. Peck got the idea for an invisible fence after witnessing many dogs get run over when he worked as a traveling salesman. He got a patent for the concept in 1973. This involved installing a wire in the ground – just like an in ground electric dog fence. Another salesman bought the rights to the product soon after and renamed it "Invisible Fence." Today the company is named Invisible Fence Inc.
Who is a wireless dog fence suited to?
For those who have a flat, uniform garden without too many irregularities, a wireless dog fence is ideal. Easy to install, wireless dog fences don't require expensive wiring or exhausting digging. Just plug in and set the radius to the desired reach and you have an instant invisible fence. If you don't have any flower beds or rockeries that your pup can demolish or dig, a wireless dog fence will be sufficient for your needs. Wireless dog fences are ideal for those who like to go camping outdoors. When you're out camping in the forest or by the sea, your pup's going to be faced with a lot of temptation. Seagulls, rabbits, magpies, squirrels, the lot! So you just plug the transmitter in and place the training flags at the boundary line to let him know where he can or can't go. If you live in an apartment block that doesn't allow you to build a fence, a wireless dog fence is ideal. The wireless system is best suited to smaller sized gardens as they reach up to three-quarters of an acre.
How do wireless dog fences work?
Wireless dog fences are a device that can be plugged in to transmit a signal to an e-collar that you fit on your dog. Each time your dog approaches the boundary of the radius, it first emits a warning beep. If he ignores the beep and continues across the boundary, he'll get an electric shock. Don't worry, he won't get frazzled, the shock is more like static you get when you touch a car door. It's not intended to scare him, just startle him and grab his attention.
What is an e-collar?
E-collars are also called shock collars or remote training collars. Shock collars were initially developed in the 1960s to train hunting dogs. The early collars used to emit a much stronger shock. Regulations were introduced in the manufacture of early dog collars after complaints were made to the US Center for Veterinary Medicine (CVM) that dogs were sustaining severe burns to their skin. Complaints were also made about the collars being triggered by sudden loud noises such as car horns. Today the shocks that e-collars produce are not as severe and are an effective deterrent to negative behaviors rather than punishment. E-collars have two prongs that touch the dog's skin. When used with wireless dog fences, e-collars are an effective way of training a dog to stay within the boundary. The pulse of electricity that is sent through the prongs to the dog's skin is not so intense as to hurt him, but will be strong enough to deter him from going past the radius. E-collars are battery operated and the voltage ranges from 400 to 6000 volts. A remote control device is used to vary the intensity of shock to your dog. You will need to establish what level is most appropriate for your dog as you train him. If he ignores the shock, you can increase the intensity. Once he starts to heed the shock, you can turn the strength of the shock down.
What are the pros of wireless electric dog fences?
Wireless electric dog fences are affordable, much more so than underground electric dog fences as you don't need to purchase wiring and accessories.. All you need to purchase is the transmitter, boundary flags and the e-collar.  Wireless electric dog fences are simple to install and it is a stand-alone technology. You don't need wifi to connect it, it will work as soon as it is plugged into the mains.
How far will a wireless electric dog fence work?
Depending on which device you purchase, your wireless electric dog fence will reach between 10 foot up to 3 acres. You should be able to adjust the range by moving the dial up or down depending on whether you want the area covered larger or smaller.
Do wireless dog fences work?
They do work but they are not to be relied on completely. It's possible that your dog could overcome the static correction if something is tempting enough to run after. It's best to have one eye out for your dog to make sure he's not absconded to the neighbor's garden four houses down.
Can I use a wireless electric dog fence with multiple dogs?
The answer is yes. In fact, most wireless electric dog fence systems allow an unlimited number of dogs. You'll just need the right number of e-collars for each dog. But you will need to check that the number of dogs you have won't be too much for the fence. The last thing you'll want is a mass exodus of pups and a mass
---
Conclusion
By now you should have absolutely everything you need to let your dog run to his heart's content while you relax indoors safe in the knowledge he won't escape down the road.
Think closely before you invest in a wireless fence by considering how many dogs you need to contain. If you have multiple pets, many of these systems allow you to add extra collars and keep all your dogs safe and sound.
Take your time when you've got your fence set up and use the training flags along with lots of interaction and positive reinforcement so you can teach your dog it's in his own interests to stay inside the boundaries. Within a couple weeks, he should be well aware of the new set-up and it shouldn't take too many static shocks to keep him the right side of the fence.
Make sure to bookmark BarkVA before you head off. We're here to help out with all aspects of pet ownership from helping you choose the best products for the needs of your dogs to giving you all the buying assistance you need. See you soon!