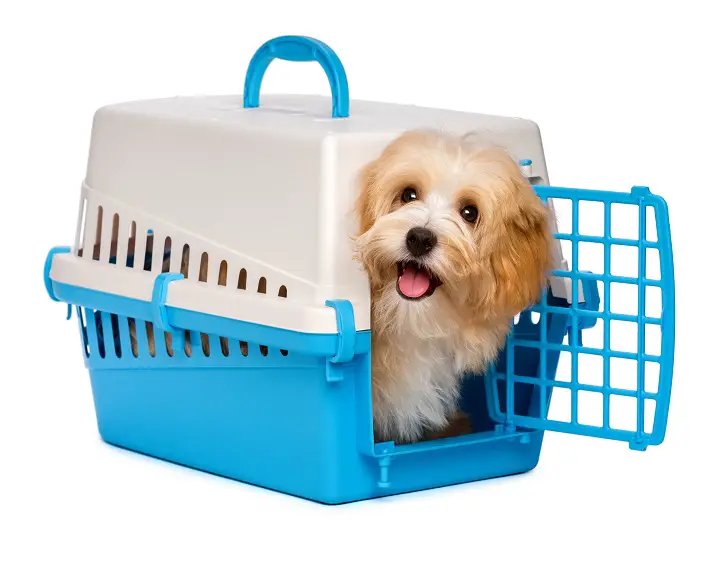 If you're heading out with your dog, you have many different options for transportation, both for you and Fido.
On a day-to-day basis, motorcycle dog carriers and dog crates for car travel are pretty easy to find and choose.
How about when you're taking a flight, though?
In this case, you'll need to focus on dog crates that meet IATA (International Air Transport Association) guidelines.
Luckily, we're here to guide you through that process today.
Choosing the right travel crate for your dog when you're making a long plane trip is not the easiest buying decision and we'd give you one piece of advice above all else – we'll be repeating this advice throughout today's guide, too. Before you purchase any crate, call the airline you're traveling with and check that the dimensions are acceptable. This small hack could easily save you from buying an unsuitable crate or, even worse, being turned away at the check-in desk.
You'll find that some airlines are actually even stricter than the IATA guidelines, so it's always worth clarifying the position of the airline you're next flying with.
While most airlines allow dogs to travel in either the cabin or cargo section, some airlines like Virgin don't permit any pets in the cabin at all.
Now, choosing a dog crate is ordinarily straightforward. After all, you just pop your dog inside and he stays there, right?
While true, you should focus on the following pointers when you're comparing the best airline-approved dog crates:
Size: The first and most crucial part of your buying decision concerns the overall dimensions and upper weight limit of the crates you're considering. Most come in a range of sizes. While manufacturer's give guidelines, you are well advised to read some user reviews, too. Sometimes, you find that the quoted weight limits are less than precise. We draw your attention to any such crates
Materials and durability: Look for a crate made from durable and toxin-free plastic. The mesh at the front should be made from metal like steel to guarantee a secure containment system. Typically, the more you pay for a crate, the longer it will last giving you better value than many cheap crates that won't stand the test of time
Ventilation: It's vital that any crate you're using to transport your dog inside is properly ventilated. All those on our shortlist perform pretty well in this regard
Wheels: If your crate has wheels, these must be completely detachable
Airline-approved: Check that the crate is airline-approved. We'll be giving you some pointers on how to make sure this is in place right after our reviews
Price/performance ratio: Most dog crates are not especially expensive, so this is not really an area where you should be shopping based purely on the bottom line. Instead, think about the experience you'll be giving your pet as you travel, and ask yourself what price you can put on that. Keeping him safe is also priceless. That said, everyone shops on some kind of budget, so rather than obsessing over the price, factor in the overall performance and expected lifespan to get a better overall idea of value. Let's face it, buying a cheap crate is no good it lets you down, and it's unacceptable if it endangers Fido for the sake of a couple of bucks!
OK, scope out the best airline-approved dog crates to see which of these takes your fancy.
Barkva.org is reader-supported. When you buy via the links on our site, we may earn an affiliate commission at no cost to you.
I. The 5 Best Airline-Approved Dog Crates
1.

Our #1 Pick:

 Petmate Sky Kennel Pet Carrier
Features
15 to 30 pound weight limit
Plastic and steel
28 x 20.5 x 21.5 inches
Petmate produce a wide range of pet accessories and equipment for dog owners just like you. This classic Sky Kennel allows you to take your furball on your next flight without worrying about whether his crate will be acceptable to the airline.
Now, while this crate does fall in line with most airline standards, we would always recommend double-checking before you fly. The last thing you want is any unexpected changes or hiccups at check-in.
This blended model of plastic and steel gives you container robust enough for your dog, and one that's built to stop him from wriggling out. The nuts and wire are designed not to corrode and they are strong enough to keep Fido contained.
Ventilation through a complete 360 degrees makes your dog's journey comfy even if you're taking a lengthy flight.
You get a decent bunch of extras thrown in as always with Petmate. As well as stickers to adorn the crate, you also get some ID stickers and a bowl so you have everything you need for your next trip.
While most users seem delighted with this airline-approved crate, a few complaints center on the weight limits which are claimed to be less than accurate. This potential flashpoint aside, this is one of the best crates you can find from a brand you can rely on.
Things We Like
4-way door for added security
360-degree ventilation
Generous bundle of accessories
Things We Dislike
Weight estimates are imprecise
---
2. Aspen Pet Porter Kennel
Features
30 to 50 pound weight limit
Plastic and metal
32 x 22.5 x 12 inches
Aspen serves up a portable dog kennel ideal for long-haul flights, so what do you get for your money?
Firstly, the choice of sizes means there's something for every dog owner. Choose a crate suitable for pups weighing up to 125 pounds. This crate is intended for dogs from 30 to 50 pounds making it a neat fit for medium-sized breeds.
The crate is light enough not to burden you when you're traveling into the airport, but it's durable enough to last for years while keeping your pooch safely tucked inside.
Ventilated on 3 sides, you'll guarantee your dog a comfy trip even if you'll be on the go for hours.
Meeting most airline specifications, you should nevertheless check with the airline you're flying with before departure to make absolutely certain of no problems when you get to the check-in desk.
If you need inspiration for more great products to make your dog's life better, Aspen has a deep bench of canine equipment well worth your further investigation.
For a highly effective dog travel crate at a very reasonable price point, Aspen's Pet Porter is an enduring modern classic giving you everything you need and nothing you don't.
Things We Like
Wide choice of sizes
Lightweight but long-lasting
Well-ventilated
Things We Dislike
---
3. Petmate Ultra Vari Kennel
Features
90 to 125 pound weight limit
Recycled plastic and steel
48 x 32 x 35 inches
Next up we have another great travel crate ideal for larger dogs. If you have encountered problems finding transportation solutions for your bigger breed, the ever-reliable Petmate is here to save the day. How does this crate perform?
Off the bat, you benefit from a generous weight limit intended for dogs between 90 and 125 pounds. Even if you have a beefy pup, he should slip inside this crate without feeling too restricted.
Made from recycled plastic, you'll be doing your part for the environment while also protecting your pooch while you travel. The metal screws and hardware and the steel mesh complete a secure package perfect for long-haul flights.
As with all of the best airline-approved dog crates, you should be in luck with most airlines worldwide. Always place a quick call or email the airline before departure and make sure you can place your dog in the cabin or cargo as required.
One area we would like to see improved on this crate is the latching mechanism. This is awkward to use and feels like it could break pretty easily. We would advise handling this with care.
In all other respects, though, this is a first-class travel crate for your dog from a highly reputable brand.
Things We Like
Perfect for large pups
Fits most airline cargo specs
Tie-down strap holes
Things We Dislike
Latching mechanism is a let-down
---
4. Petmate Compass Plastic Pet
Features
50 to 70 pound weight limit
Plastic and steel
1 x 23.3 x 26.7 inches
As you can now clearly see, Petmate dominate this vertical with a series of efficient and secure travel crates designed with your dog's welfare uppermost.
The covered doorpost ensures your furball doesn't scrape himself as he gets in and out of the crate. The lockable door keeps him safely contained inside even if you're flying halfway across the world.
There's a carrying handle to streamline your trip through the airport. Most airlines approve the dimensions of this carrier with the usual proviso: check before flying for total peace of mind. Ideally, check before buying so you can save a potentially costly error from happening.
Suitable for dogs weighing between 50 and 70 pounds, if this doesn't make the best fit, Petmate offers a spread of other sizes.
Airflow is impressive and will leave your dog well-ventilated on long trips so you can relax knowing your canine is comfortable throughout.
While designed for dogs, this crate makes a useful transportation tool for a range of small animals.
Petmate has been making products like this for pet owners like you for over half a century. Why take a chance on a young pretender when you can invest in a winning team instead?
Things We Like
Easy access
Great airflow
Works for a variety of pets
Things We Dislike
Not the most durable solution
---
5. Suncast Deluxe Pet Carrier
Features
Medium-sized dogs
Plastic and wire resin
24 x 17.5 x 18.5 inches
Suncast's crate is one of the cheapest airline-approved carriers that doesn't let you down totally in terms of quality. While you can cut corners with cheaper dog products in many areas, transportation isn't one of them. The last thing you want is to risk your pup's safety for the sake of saving a few bucks. Suncast manages to deliver a cheap crate that's also secure, robust, and meets US airline standards. What's not to love?
Well, the one drawback few users love are the plastic clamps. This seems like a poor decision on the part of the manufacturer and they feel rather weak.
The plastic is durable and the wire resin grate on the front is solid enough to keep even aggressive chewers at bay.
Sized to fit small and medium dogs, the manufacturer is not more specific when it comes to weight limits.
An integrated food and water bowl ensures you have everything you need to make your dog's flight as comfy as yours. What are you waiting for?
Things We Like
Best suited for small and medium dogs
Meets US airline standards
Water bowl included
Things We Dislike
Plastic clamps are disappointing
---
II. Airline Dog Crate Requirements
Now that you can see some of the best options up for grabs, what constitutes an airline-approved fog crate.
Well, you need to focus on the rules you need to follow as well as the things to avoid if you don't want to get turned away at the boarding gate.
What you must have in an airline-approved dog crate
The International Air Travel Association offers the following guidelines for crates you intend to take on a plane.
Size
Food and water bowls
Metal hardware
Ventilation
Pet Documents
Lining
Feeding instructions
1. Size
The IATA's baseline requirement is the dog's ears should not touch the top of your crate when he is standing.
As a rule of thumb, any crate you're using for a flight, whether domestic or international, should be one and a half times as long as your pet. They should have ample space and be able to turn and lie down with ease.
2. Food and water bowls
Your dog will obviously need food and water on his trip.
Airline crates must have separate food and water bowls, ideally made from stainless steel. These bowls should be attached to the crate so there's no risk of them flying around.
3. Metal hardware
The nuts and bolts on the crate should be made from metal rather than plastic.
Most airlines also insist that the door of the crate is made from a single piece of metal for added strength.
4. Ventilation
We cannot overstate the importance of ventilation in an airline dog crate. Flights get very stuffy, whether in the cabin or cargo section.
You owe it to your furball to provide him with a crate that gives him plenty of airflow and the comfiest possible journey.
5. Pet Documents
You should make sure that all your pet's identifying information is on top of the crate. This should include your pup's name, your name, your contact number, and your flight number and final destination.
6. Lining
IATA guidelines stipulate that a dog travel carrier needs a lining with absorbent papers and cushions.
7. Feeding instructions
You must write down all your dog's feeding instructions along with your food in the carte. You should also make it clear if your pooch has any allergies or intolerances to make sure your trip goes without a hitch and your furball arrives safe, sound, and happy.
---
What you can't have in an airline-approved dog crate
Now, just as important as what you need in an airline-approved dog crate is what you are not allowed to have.
Plastic doors
Top opening doors
Soft crates
Wheels
1. Plastic doors
You need metal nuts and bolts on the doors of any airline-approved crate. Plastic doesn't make the grade.
Travel kennels with plastic doors or plastic latches on the side are too weak to hold the two parts of the carrier together firmly.
Some airlines go one step further and insist that the door is made from a single piece of metal. While this might seem unnecessarily restrictive, the safety of your beloved furball is on the line, so it's well worth paying attention to this guideline.
Avoid plastic doors and hardware, then.
2. Top opening doors
No IATA-compliant dog crate should have a top opening door.
Most airlines, in fact, will refuse any portable kennels with doors on the top. This poses a flight risk so don't even consider one of these top-opening crates.
3. Soft crates
A soft-sided dog crate might be a great idea if you're taking your pooch for a short walk or a quick trip in the car.
When it comes to air travel, though, you should not use a crate with any kind of soft materials. This will be risky for your dog.
4. Wheels
An airline-approved crate can have wheels but they must be detachable. This prevents any chance of the crate moving around in transit, something that's understandably dangerous.
So, either use a crate with no wheels or with detachable wheels, but nothing in between.
Beyond these do's and don'ts, airline will have their own specific guidelines and sizing, so we return you to our initial advice: get in touch with the airline before you even buy the crate. That way, you can be sure you'll be spending your hard-earned money on something acceptable for your next flight.
Now, before we wrap up for the day, we've summarized a few final pointers you should consider if you're planning a flight with your dog in tow.
---
Other Points to Consider For Airline-Approved Dog Crates
Your dog should be able to stand up comfortably as well as lie down with ease
The crate should be in sound condition with no breaks, tears, or cracks. Damaged crates are likely to be rejected, so don't take the chance
Snub-nosed dogs are not allowed on most airlines
If your puppy is less than 8 weeks old, he won't be able to fly. Check with the airline to confirm the minimum age limit if you have a new puppy and you're planning to fly
Any flight is only capable of accommodating a certain number of pets. This is typically just 1 or 2 dogs for business class passengers and perhaps 4 or 5 for cabin seating. To avoid any disappointment, make your booking in plenty of time
Pets must stay inside their crate for the duration of the flight
You won't be able to sit in an exit row if you have your pet in tow. You won't be able to sit in a seat with no under-seat space either
A pet cannot travel with an unaccompanied minor
All pets coming into the US must be immunized against rabies
You may or may not be able to carry more than one dog in a crate depending on the airline regulations
All crates must be leak-proof
Crates for travel must be ventilated on at least two sides
Some airlines have varying restrictions and guidelines about accompanying pets depending on the aircraft and the destination
---
Conclusion
Now, while choosing an airline-approved go crate might seem like a headache, if you follow the guidance we lay down today, you should find one without too much time or trouble.
Remember, every airline has slightly different regulations when it comes to pets on board. It's for this reason that we have steered away from stating precise dimensions today. The safest option by far is to contact the airline before you finalize your crate purchase. That way, you can ask any questions and establish without any element of doubt whether or not the crate is allowed before parting with any money.
Bottom line, if you're planning to take your dog with you on a lengthy trip, you need to ensure he is not only comfortable from start to finish, but also fully protected against any possible injuries in transit.
Before you pop off to book your flight, take a moment to bookmark BarkVA. We're here to guide pet owners like you through all aspects of buying the best dog equipment and training your pooch the easy way. We have lots of great content planned for the coming months, so we hope to see you soon!