Invisible dog fences are a fantastic way to keep your pets contained without needing a physical fence and are a great option for many.
But, can you install an invisible fence in the winter?
In short, yes. It may vary by company and type, but wireless invisible fences can be installed in the winter.
If the ground is too frozen to fully bury the wire underground, it can be installed temporarily, left on top of the ground, and then buried during warmer months.
In this post, we'll discuss installing an invisible fence in the winter, how weather can affect your fence, and address concerns with installing an invisible fence.
Invisible Fence Installation in Winter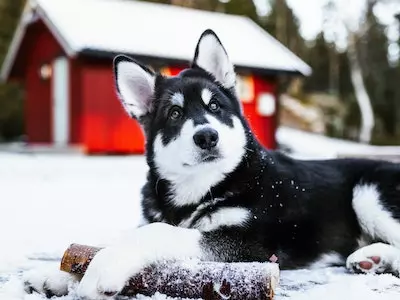 If you are looking to get a wired invisible fence installed in the wintertime, most electric dog fence installers will install it temporarily and finish the installation in the warmer months.
This makes it possible to get an invisible fence installed any time that you need. 
On the other hand, a wireless fence has no wire, requiring only setting the boundary and setting up the transmitter and collar.
Wireless invisible fences can therefore be set up in any weather condition.
However, there are a few things that come with winter weather that might affect the installation of your wired invisible fence:
The frozen ground prevents the burial of the wire
Snow or ice prevents the ability to dig in order to bury the wire
Winter temperatures that are not safe to work in
In conclusion, if you're looking to get a wireless invisible fence then this can be installed at any time, and there are a lot of kits that allow you to set them up yourself.
Depending on your location, in-ground fences will need to be temporarily installed until a full wire burial is possible. 
How are Invisible Fences Installed in the Winter?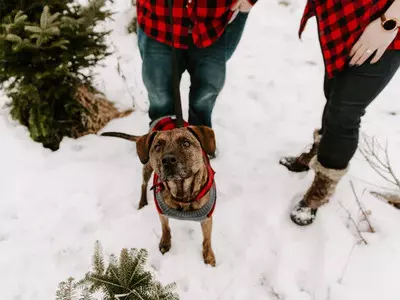 If you happen to get a professional to install your invisible fence for you in the wintertime, there is a big chance they are going to do it in separate installations. 
The problem with installing in the wintertime is that if the ground is too cold or frozen, then the wire is unable to be buried. 
To combat this issue, companies will keep the wire above ground in a protective casing, while still creating your preferred boundary line.
Then the transmitter is installed inside of your home on the ground floor allowing the signal to be reached. 
Once the weather starts to warm up, and the wire is able to be buried, the company will come out for a second visit.
This second visit includes them simply burying the wire where you'd like your preferred boundary line, which then completes the installation process. 
Here's a simpler look into the main parts of the process: 
Establish a boundary line 
Place wire above ground in the casing around the desired boundary line
Set up transmitter indoors on the ground level 
Come for a second appointment to have the wire buried once the weather warms up
If you're looking to get a wireless invisible fence then there is little to no installation process as there is no wire to bury.
A wireless invisible fence comes only with the transmitter and the receiver collar. 
In addition to setting your boundary line and training your pet, setting up those two devices is the extent of your installation process.
Here's a video demonstrating what it might look like to get your invisible fence installed:
Pros and Cons of Installing Invisible Fence in Winter
You can most definitely get your invisible fence installed in the wintertime, but there are precautions and measures that should be taken to ensure it works properly.
Pros
You can get your fence installed whenever you need it, including in the winter
You can give it as a gift for the holidays by having it installed for a family member or friend
You don't have to worry about your pet getting out in the winter months 
Cons
There will usually be two separate installation appointments in order to get the invisible fence installed fully 
Depending on your winter, installation may not be possible until the thaw.
Although there are pros and cons to winter invisible fence installation, there are many reasons you should get your fence installed.
Do Invisible Fences Work in the Winter?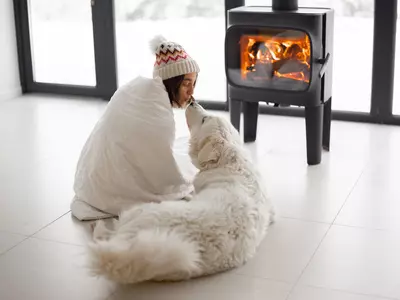 If your pets love to run free in the winter time then it's important they are safe while doing so, just like they would be in the summer months.
When it comes to invisible fences, they do work in the wintertime, but some climate changes can affect how the signal is received.
It's always best for a pet owner to be extra cautious in certain weather, but the main things that you might need to be concerned about are snow and ice.
Both of these tend to mess with signals and affect the receiving levels of many devices. Plus, either is known to cause power outages. 
Winter weather you should watch out for:
Heavy snow covering buried wire 
Thick ice covering the ground 
Freezing temperatures 
Power outages 
Snow covering the ground is one of the biggest things that can affect the signal of your invisible fence.
This is because if the snow is high off the ground above where the buried wire is, then this allows your dog to be that far away from the sensor. 
With the excess height of your animal, the fence might not actually pick up that the dog is near, causing the signal to not go off.
It is best to clear the snow near your invisible fence or be very wary when letting your dog out. 
Also, remember that if your power goes out, which is common when experiencing heavy snow or ice, then the invisible fence will not work.
One way to help combat this is to ensure that your fence has a backup battery. 
Read our related article, Do Electric Dog Fences Work in Snow? for more information on how snowfall effects electric fences (and what you can do about it)!
Tips for Having an Invisible Fence in the Wintertime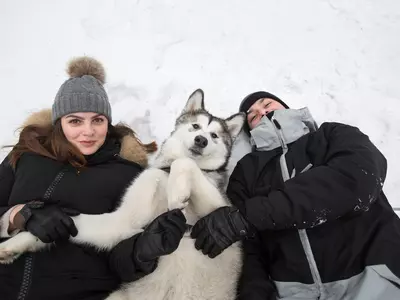 Invisible fences are a great way to let your dog out in the winter without having to worry, but there are a few tips that we have for making this experience less stressful. 
Being prepared for the winter months with an invisible fence is key.
If you live in very heavy winter climates then you will need to be extra prepared, because you are more likely to experience more snow. 
Here are some tips to keep in mind this winter when it comes to an invisible dog fence:
Know where your boundary line is 
Shovel snow away from your boundary line if it starts to pile up
Check your boundary line frequently to find breaks, gaps, or signal loss 
Don't let your pet out unsupervised in the event that the fence isn't working properly 
Consider getting alternative methods of containment, such as a retractable dog leash and collar, just in case your fence goes out 
Ensure your invisible fence has a backup battery in case of a power outage 
These tips can help you be prepared and know what to do if the winter weather starts to affect the way that your invisible fence is functioning.
Does the Weather Affect Invisible Fence?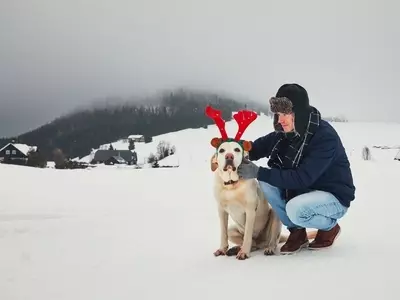 As we have established, the weather can definitely affect an invisible dog fence.
This is something that happens when a device is using a signal, so it's very normal and common, but we just have to be prepared. 
The winter weather can be especially harsh on an invisible fence system because of the potential for excess snow.
Snow can limit the signal from being reached to the underground wire, allowing your pet to escape. 
Heavy rain typically doesn't affect your invisible fence, because it's buried in the ground.
However, power outages are sure to affect your invisible fence. 
If the winter weather or thunderstorms cause a power outage, be sure that your invisible fence has a backup battery to continue usage properly.
Or, consider getting other containment methods for the time being such as one of these best dog GPS trackers or a collar and leash. 
Read our related article, Does Cold Weather Affect Invisible Fence? for more tips and tricks to winterize your system and prevent your dog from leaving the boundary!
The Bottom Line
The bottom line is that no matter if you have a wireless or an in-ground fence you can get it installed at any time in the year.
Invisible fences are a great option for anyone with a pet who needs them to be contained. 
We are sorry that this post was not useful for you!
Let us improve this post!
Tell us how we can improve this post?