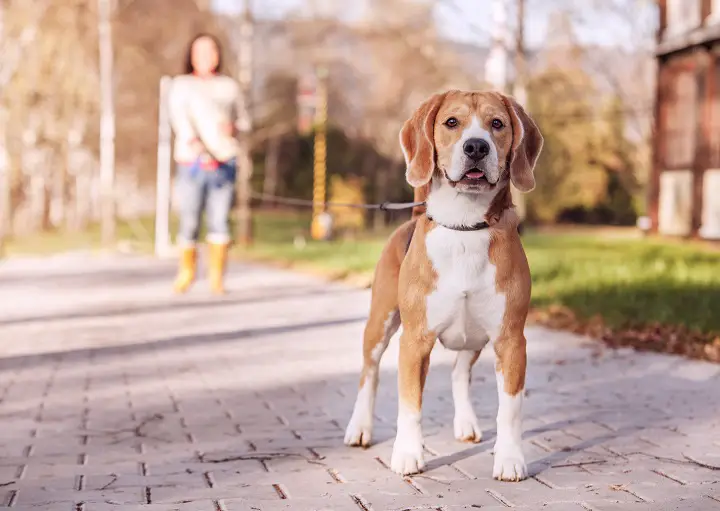 When was the last time you and your furry friend had a happy-time outdoors? Planning for a stroll in the park, why not get the Best Retractable Dog Leash for a fun-time that you both can enjoy?
These leashes give your pooch enough freedom to explore its surroundings without you losing its control.  While being one of the most controversial items, they can be quite safe if used correctly.  However, they are well-suited for spacious and open areas only.
When you pull or tug the retractable leashes, especially in crowded places, it not only startles the animal but also jeopardizes its safety and surrounding people.  There have been several accidents reported of amputated fingers, rope burns and gashes when the pet owner tried to pull strings, notably during a dog fight.
While shopping for a retractable drawstring for your dog, keep these few things in mind before making the final purchase:
Types of Leashes: They come in various shapes, designs, and materials, each offering distinct benefits. For instance, a rope leash is thicker and durable, whereas tape leash is long, easy-to-retract, and highly visible.
Length: The length of the leash defines its usability. An extremely short one can cause discomfort to your dog, while a long leash can cause obstructions in crowded places and increase the chances of accidents.
Weight: There is a different leash for different dog sizes and breeds. If you use a flimsy chain for a strong, big, and heavy dog, it is bound to break. Similarly, a sturdy leash for your poodle can, sadly, injure it. So be very careful with your choice or ask an expert.
Accessories: Typically, you can find leashes with accessories, including flashlights, bells, and waste dispenser bags. You can also find these items separately and attach it to the leash.
Tangle-Free Design: Retractable leashes with tangle-free design prevents tethering and breakage. It also improves you and your dog's safety as the risk of interlacing is minimal.
Control Designs: Mostly, retractable leashes come with various control buttons for ease-of-use. These include brake switch, locking, and recoil systems to retain your control.
The brake system prevents you from tugging the leash while the lock button lets you set its length. The recoil control system reduces strain on your hand and absorbs the impact when the dog pulls the strap too hard.
BarkVA is reader-supported. When you buy via the links on our site, we may earn an affiliate commission at no cost to you.
I. The 14 Best Retractable Dog Leashes
Retractable leashes come in different designs and features. Here, we have listed the industry's top 14 picks to help you find the best for your mutt.
1.

Our #1 Pick:

Fida Retractable Dog Leash
Our top choice is Fida Retractable Dog Leash, a perfect combination of functional features and attractive designs. Available in five different colors, this heavy-duty drawstring also works well for all dog sizes from extra small to larger ones. With its rust-free swivel hook and stretchable leash, the material ensures consistent retraction even after years of use.
Its tangle-free design provides a full swing at a 360-degrees angle without getting twisted or knotted. Its ergonomic, anti-slip features offer tension-free yet secure grip making long walks quite comfortable.
The leash features control switches, including brakes, and quick-lock features. This allows you to roll-on and off the leash and stop the dog from wandering away with a single push button.
Things we like:
It comes in 2 different lengths: 10 ft. (for extra small dogs), 16 ft. (for small, medium and large dogs)
Rustproof swivel Hook
Impact-free, ABS material Nylon Leash
Internal Coil Spring Unit for easy retraction
White Reflective Embedded material for increased visibility
Anti-slip Ergonomic Handle for strain-free grip
Quick-Lock, Pause, and Unlock buttons for easy control.
Things we dislike:
The retractable button gets stuck at times.
Its colored variety attracts dogs who like chewing materials.
---
2. Flexi Giant Tape Leash
If you have a bigger pooch at home, you'll need to invest in the right retractable leash to avoid any nasty accidents when you're out and about.
Flexi's Giant XL tape is designed expressly for bigger breeds. The manufacturer doesn't offer up a suggested weight limit for this leash, but they describe it as suitable for "large, active breeds." If this sums up your furball, what do you get for your money?
Firstly, the 26-foot leash is among the lengthiest in its class. You'll enjoy a great deal of freedom of movement when you're walking Bonzo, and he won't feel restricted either. Allow him to roam while still remaining in full control.
The belt itself is finished in neon yellow for added nighttime visibility.
Build quality overall is impressive, and many users compliment the lifespan they have achieved from this leash.
You can easily handle this leash one-handed, too. While it certainly couldn't be described as cheap, the Flexi Giant XL is one of the best retractable dog leashes you'll find.
Things We Like
Rugged leash built to last
Ideal for larger dogs
Allows for superb maneuverability
Smooth action
Super-lengthy lead
Things We Dislike
---
3. Hertzco Retractable Dog Leash
This Hertzco retractable dog leash is ideal for all dogs up to 110 pounds, giving you a great deal of flexibility.
While many poor quality retractable leashes are awkward to use, this model is the complete opposite. You'll enjoy a smooth movement and a leash that's a pleasure to press into action.
The leash extends out to 16 feet at the push of a button. While this doesn't give you the same latitude as the Flexi XL above, you should still have ample room for maneuver.
The ribbon is made from rugged nylon. This will withstand plenty of pulling from larger and more aggressive dogs without letting you down.
When you consider the performance offered by this retractable leash, you'll be amazed at the keen pricing, so act quickly and grab yourself a bargain for long summer walks with Rover.
As an added bonus, if you're not entirely happy with this leash, call in for a no-questions refund at any stage during the first month. This means you have literally nothing to lose and no reason not to give this leash a try.
Things We Like
Extend to 16 feet
Super-simple to use
Ideal for dogs to 110 pounds
Push-button retraction
No-quibbles refund
Things We Dislike
---
4. Peteast Retractable Dog Leash
The Peteast Retractable Dog Leash comes with a 360 tangle-free designs and easy control access button. Its highly durable nylon drawstring has reflective seams for easy navigation in the dark.
The easy retractable button allows you to control the distance between you and your pet to prevent mishaps in crowded places. The automatic lock button secures the leash's length, every time you release or retract it.
The easy-to-clasp, the non-toxic handle is made of ABS material to ensure a slip-free grip. Its sturdy construction also guarantees that you won't experience stress if the dog pulls the leash. This retractable drawstring comes with a portable bag dispenser with one roll.
Things we like:
Safe Reflective Stitched Seams for visibility
16 ft. extension to support all dog sizes
Push buttons for quick control
Durable Nylon Leash
Premium material, anti-slip handler
Non-Toxic and odorless plastic casing
Portable Bag Dispenser with one roll
Things we dislike:
The leash frays easily when the dog pulls it hard
Slow retraction time
---
5. Flexi Neon Leash
This Flexi Neon Leash is a classy piece with a tape ribbon for easy retraction. Its unique color makes it highly appealing for dogs and their owners while also increasing visibility.
The leash comes in different lengths suitable for the pooch weighing up to 110 lbs. It is also easy-to-use due to its single point push-button for brake-and-stop features.
While it is quite lightweight yet durable, ensuring years of use. As he explores the surroundings while keeping you in charge, its exponential length offers ample freedom to your mutt.
Its multiple features make this leash an excellent training tool and work well for long walks.  The reflective sheeting is certified highway-grade to make night strolls safe and comfortable.
Things we like:
Reflective stickers and neon color for better visibility
Convenient, stress-free handler
Easy access control button
Lightweight, retractable tape leash
Comes in three different lengths
Offers maximum safety and comfort
Made in Germany
Things we dislike:
The leash retraction button stiffens after few years of use.
The stop button is difficult to use
---
6. EC TEAK Retractable Leash
The EC TEAK Retractable Leash is ideal for dog training. Its nylon tape can be extended up to 26 ft., supporting the most powerful, large dogs. The leash comes in two different lengths to use with most dog sizes.
When you push its one-button brake-to-lock system, the leash instantly stops retraction and securely holds the desired length without further locking. The ergonomic TPE Anti-Slip handle is convenient to use even for long-distance walks or jogging.
Due to its exceptional length, the leash is suitable to use in open and lonesome areas where there's no obstruction in sight. Made of automotive safety belt material, the leash is durable and offers a noise-free mechanism.
Things we like:
Exceptional Length
Great for training dogs
Robust leash material
Suitable for mighty dogs
Safe and reliable brake-stop button
Anti-slip, stress-free grip
Things we dislike:
Long length makes it unsuitable for crowded places.
---
7. QiMH Retractable Dog Leash
It is a heavy-duty retractable leash that can reach up to 16ft., suitable for dogs having 110 lbs weight. Suitable for large, powerful, and medium-sized dogs, QiMH is highly popular among pet owners.
Its tangle-free design offers maximum freedom and comfort to the dog while keeping you in charge. The upgraded single-hand lock is quick and automatically adjusts the leash at the desired length without needing to be locked. This gives it a more personalized control as you freely extend or shorten the leash length.
Designed for a comfortable grip, this user-friendly handle offers complete command without straining your hand. The lock-and-brake button is within access that makes it much easier to use and operate. Enjoy a long walk or a jog in the park with your furry friend, with zero chances for accidents.
Its highly durable and sturdy materials guarantee years of use. The high-quality nylon leash is strong and durable to withstand daily use, whereas the ABS material plastic casing is shock-proof, thus won't break or crack on accidental falling. The reflective material on the sides of the leash glow to offer safety during night strolls.
The leash comes with a free dog collar that can fit 15.3-25.8 inches thick neck, collapsible water bowl, and a roll of plastic bags in a dog-bone shaped bag dispenser.
Things we like:
Specifically designed for large dogs
Comes with various freebies
Reflective edges improve visibility in dark
16ft. long strap
Soft, anti-slip handle
Quick lock-and-brake button
Ergonomic support
Things we dislike:
Few complained of easy breakage just after a few uses
---
8. Pet & Cuddle Retractable Dog Leash
This retractable dog leash is suitable for small and large dogs weighing up to 110lbs. But its cool design and vibrant color make it the top choice among down owners. You can find it flamboyant pink and grey color to match your taste.
Not only its design is appealing, but also the components comprise of sturdy materials. The tough casing, durable nylon leash, and heavy-duty, large clips are made to resist wear and tear due to frequent use.
This retractable leash can extend up to 16 ft., thus giving your dog enough room to play without you losing the control. The 360 degree, swift belt feeder prevents the leash from tangling, irrespective of the angle you choose.
It is an animal-conscious brand, thus donating 3% of the profit to animal shelters. It aims to protect the killing of stray animals and to provide them friendly companions. Pet & Cuddle supports Best Friends Animal Society, a sanctuary for animals that works for their safety and educates society on the importance of owning a pet.
Things we like:
Appealing design
Multiple sizes and color
Supports animal charities
Extends up to 16 feet
Single lock-and-stop button
Durable
Things we dislike:
More suitable for small and medium-sized dogs
---
9. TaoTronics Retractable Dog Leash
Next in line we have another solid retractable dog leash ideal for larger breeds. The suggested maximum weight limit for the TaoTronics is 110 pounds, meaning it's a smooth fit for most big breeds.
As you would expect from a leash designed for big dogs, build quality is impressive. The ABS plastic chassis is built to cope with heavy and sustained use with active dogs.
This leash extends out to 16 feet. While this may not be class-leading, you should find it long enough for most reasonable purposes.
Despite such powerful performance, the leash feels quite compact and lightweight, so makes a great choice if you frequently take longer walks with your fur baby.
The manufacturer even throws in a free roll of poop bags, so you have no excuse not to head off out the door and take Fido for a walk on his new leash.
Things We Like
Perfect for pooches to 110 pounds
Rugged ABS plastic housing
Free roll of poop bags
Durable nylon tape
One-handed operation
Things We Dislike
Some reported issues with lifespan
---
10. Flexi Retractable Dog Leashes
Next up is another entry from Flexi with this reliable and smooth retractable dog leash. How does it shape up, then?
Firstly, you'll appreciate the neon sticker wrapping this leash if you head out for lots of nighttime walks with your furball.
The quick-stop braking system is perfect if you walk your dog in busy environments where responsive, rapid control is key.
Extending to 16 feet, you should find you have enough room for comfort without allowing Fido the chance to wander too far off and get into trouble. If you need to stay in even closer control, this leash is also available in a 10-foot variant.
You can add the Multi Box offered by this manufacturer and designed to work with this leash. The box provides onboard storage for treats and waste bags, so look into this if you like all your dog supplies close to hand and in one place.
Things We Like
Neon tape ideal at night
Quick-stop braking
Reflective sticker
Nylon tape built to stay the distance
Optional multi-box
Things We Dislike
---
11. Wigzi Reflective Retractable Dog Leash
Do you have two dogs at home and find walking them with separate leashes ends up in tears? If so, Wigzi solves that problem head-on with this neat system intended for walking both of your dogs while staying in total control.
There is an orange and green leash. Each of these is linked to a color-coded stop button, giving you easy control over either dog at the push of a button.
Ease of use is something that's referenced in the many positive user reviews of this system. Your dogs can each roam up to 10 feet in any distance. As Fido walks away, so the leash will automatically spin through a full 360 degrees allowing your furball to wander to his heart's content.
Weighing roughly the same as a standard retractable leash, you'll find this is a much more compact and lightweight option than struggling with two separate leashes.
Reflective for use at night, you'll find the soft rubber handle sits easily in your hand, even if you're out for longer walks with your mutt.
The leashes could be cut a little longer, but in all other respects, this is a fantastic retractable dog leash that's well worth a place on your shortlist.
Things We Like
Swivel through 360 degrees
Untangling technology
Ideal for multiple dogs
Color-coded leashes
Reflective for nighttime safety
Things We Dislike
Reasonably short
---
12. AiPet Retractable Dog Leash
The makers upgraded the user-friendly retractable leash recently for added convenience and comfort. The handle offers an anti-slip grip and quick access to the push-and-lock button. Its ergonomic designs ensure a comfortable grasp without any retraction impact when the dog pulls or tugs the leash.
The ABS casing, stainless steel clip, and wear-resistant nylon tape ensure long-lasting use. Available in two different sizes, the leash is perfect for all kinds of dogs between 55-110 lbs. It also offers quick lock-and-unlock features to adjust the leash length. The simple roll on and off button, tangle-free leash movement provides maximum control.
When buying, select based on your palm size as well, for a secure grasp. You should never let the leash wrap around your or the dog's body as it tightens while disentangling.
Things we like:
Compact size
Cheaper alternative
Seamless extension and retraction of the rope
Easy lock system
Made of long-lasting, eco-friendly materials
Non-slip grip handle
Things we dislike:
Unsuitable for people with big hands
---
13. CleeBourg Retractable Dog Leash
This highly functional leash works well for all dog sizes as well as other pets. Its quick control buttons offer maximum freedom to the animal while giving you complete control. Now you and your pet, both, can enjoy long walks and jogs in the open air.
It sturdy strap can extend up to 16 ft while the rugged back and renewed rope mouth ensure tangle-free retraction. The bouncy spring unit and anti-winding rope let you release and recoil the nylon tape smoothly.
The reliable lock system with sturdy casing and anti-slip handle ensures maximum safety comfort. The ergonomic design lets the handle fit in your hand like a glove and mitigate shock-impact caused due to a sudden jerk at the end of the rope.
Things we like:
Safe and easy to use
Durable materials
Reliable locking system
Suitable for all dogs
Tangle-free, rugged back nylon rope
Durable spring mechanism for quick retraction
Things we dislike:
The nylon rope doesn't withstand the dog's chewing
---
14. Happy & Polly Dog Leash
It is a one-of-a-kind retractable leash that comes with a bright flashlight. This chic aluminum torch improves visibility at night. You can even use it separately, as it's portable and detachable.
The leash has a fishing line weave at both sides for enhanced durability, necessary for regular use. However, do not let your dog chew it or it may break. This nylon tape comes with a bungee mechanism that adds flexibility and elasticity to dissipate shock.
Due to this, neither you nor your dog experiences a sudden tug on retraction, thus optimizing comfort. It's fantastic for young, energetic dogs, who usually take off without any warnings. The patented leather-feel rubber handle provides a slip-free grip and quick access to the control button.
What's more? The leash comes with a magic box for a dog's snack that you can clasp on your belt or pocket. It also has 15 disposable poop bags stuffed inside the magic box.
Things we like:
Comes with multiple bonus items, including dispenser bag torch and learning materials
Suitable for years of use
Unique design adds more appeal
Detachable flashlight
Comes with a free e-book as well
Made of heavy-duty materials
Smart lock system
Things we dislike:
Nylon rope may fray over time if used carelessly
---
II. FAQs
Why is it called a retractable leash, and how does it work?
A retractable dog leash is a long rope packed inside a plastic casing. Typically, there is a push button to release and recoil it. It comprises of nylon; therefore, the leash doesn't stretch or break when your dog pulls on it. The rope can self-adjust. Thus it retracts when your dog approaches you. But you can even fix the desired length with its automatic lock system.
Why are retractable leashes considered dangerous?
Although they are known as accident-prone leashes, the accidents resulted from human error and negligence in all the cases. It is advisable to keep the leash short in crowded places and not wrap around any body part.
How Long Is A Suitable Chain?
What is an ideal length of retractable dog leash?
They come in various sizes and lengths, depending on their design and manufacturing style. Typical a dog leash length can vary from 6 ft. to 26 ft., to suit the size of your dogs (where 6 feet is for smaller and 16 feet for medium, anything beyond that is for larger ones). However, you can use any leash length for your dog; just ensure it doesn't exceed the suggested weight limit.
Is This Leash Good For Dog Training?
Are retractable leashes suitable for training dogs?
Usually, retractable leashes help train puppies in open spaces. It can train them to enjoy their freedom while staying under your control. However, when using, make sure it doesn't wrap around you or your dog.
---
III. Conclusion
You and your dog can enjoy a good time in open and crowded places if you have a user-friendly retractable leash. But when you are on the road, be vigilant of your surroundings. Carelessness can lead to accidents.
We all love our pets and wouldn't want to harm them. But our furry friend requires as much attention as a baby does. Some people have an inherent fear of dogs, which can put your pooch in a panic mode and cause them to injure themselves or the people around them. Therefore, when using a retractable leash, keep the length in control and recoil or retract in areas prone to accidents.
As an Amazon Associate, we earn from qualifying purchases - at no cost to you, allowing us to continue our work.