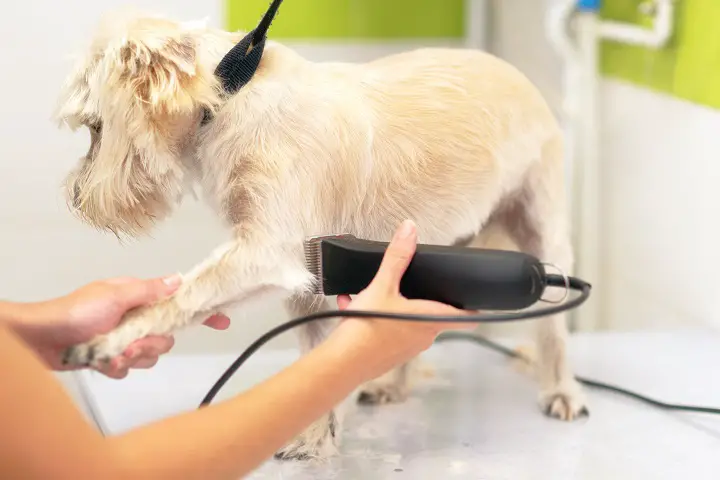 If you're hoping to give Fido a haircut, you need to account for the toughness of his fur.
Luckily, there are plenty of grooming clippers to help you keep that coat in check without needing to constantly pay a professional.
As with all aspects of dog grooming, you should view this as a valuable opportunity to spend some time with your furball rather than a tedious chore.
In order to make that possible, though, you'll need to find the best dog grooming clippers, and that's where we come in. Today, we'll walk you through the top 10 clippers ideal for keeping canine fur looking pristine.
Before we get down to business with our reviews, there are several important points to consider before you whip out your credit card.
Focus on the following:
Speed: Single-speed clippers are ideal for novices. These tend to be cheaper and lighter. As single-speed dog clippers run slower, they're gentle on your dog's skin and more forgiving for beginners concerned about Fido's safety. On the downside, single-speed clippers are less efficient so you'll take longer grooming your hound. They also lack precision. Multi-speed clippers are perfect for more experienced groomers. These clippers are capable of dealing with all types of dog hair, even if it's matted. Dual-speed clippers deliver shorter grooming times even if you need to pay a bit more for the privilege
Corded or cordless: Cordless clippers offer unrivalled freedom of movement. The drawback is the need to keep on top of charging. If you get the wrong clippers, run time could be disappointingly short, too. Cordless clippers also lack power. You'll get that increased power with corded clippers, but it comes at the cost of maneuverability
Blades: Any dog clippers stand or fall on the strength of the blades. Look for detachable blades that you can easily change. Blades will dull quickly and easily when you're working with thick, stubborn dog fur
Speed and power of motor: You'll find the speed of the blade expressed in terms of RPM (revolutions per minute). The best dog grooming clippers run quickly and have ample power on tap to deal with challenging dog hair
Vibration, noise, and heat: The more powerful the dog clippers, the quicker they will heat up. Often, powerful clippers kick out a lot of noise as well
Size and weight: Check how much the clippers weigh and make sure this is a weight you can comfortably handle for as long as you need to groom Rover
OK, with those simple guidelines in place, you should have a clear idea of what to look out for when you're comparing the best dog clippers.
We'll now highlight the top 10 models on the market so you can determine if any make the right fit for you.
Barkva.org is reader-supported. When you buy via the links on our site, we may earn an affiliate commission at no cost to you.
The 10 Best Dog Grooming Clippers
1.

Our #1 Pick:

 oneisall Dog Clippers
Features
80 minutes run time
Single speed
1 pounds
Our overall favorite dog grooming clippers come from oneisall. While these might not be the most powerful clippers on our shortlist, their ease of use and affordable pricing makes them our top pick.
The fixed blade is stainless steel, while the moving blade is ceramic. This is the one of the best combinations for attacking stubborn and rugged dog fur.
These are rechargeable clippers delivering roughly 80 minutes of run time. We find most manufacturers are ambitious with their claims in this area. We would suggest an hour of use is probably about the most you'll reasonably get. That said, it takes just 80 minutes to deliver a full burst of charge.
Rated at 50 decibels, these clippers might not be whisper-quiet, but they shouldn't spook your dog either.
A few users have drawn attention to the difficulty of removing the comb guides. You'll get 6 of these guide combs thrown in allowing you to confidently trim your mutt's fur to the same length. These run from 3mm through 18mm in length giving you a great deal of scope when you're grooming.
As long as you're aware of the limitations of these single-speed clippers, we feel the benefits are more than enough to outweigh them. Give Fido a close, clean cut without nicking his skin or disturbing him in the process: what's not to love?
Things We Like
Stainless steel and ceramic blades
Rechargeable in just 80 minutes
Wireless convenience
Things We Dislike
Attachments hard to detach
---
2.  Sminiker Rechargeable Pet Clippers
Features
5 to 6 hours run time
Single speed
3 pounds
Next up, we have some canine clippers in the same price band as the oneisall we kicked off with. You'll get similar firepower and the same single-speed operation. How do they stand out, then?
Firstly, you'll get a complete grooming kit here, almost unbelievable when you consider the budget pricing. As well as the clippers, you get scissors, guide combs, a nail clipper, and a nail file. You have all you need to pamper your pooch and to get him looking like you've just been to the groomers.
Now, this is a small and lightweight set of clippers. If you have a larger dog, you'll need to look elsewhere. For trimming the coats of smaller pups, though, the lightweight and highly maneuverable nature of these clippers becomes a core strength. Work quickly and easily using your chosen guide comb and trim Rover's fur just the way you want it.
The fixed blade on these clippers is titanium giving you strength, precision, and exceptional durability. This works in tandem with a movable ceramic blade giving you the perfect pairing to dispatch stubborn dog hair.
These clippers run quietly so you shouldn't have any issues even with nervous, skittish dogs.
Things We Like
Guide combs included
Titanium blade
Ceramic movable blade
Things We Dislike
---
3. Hansprou Dog Clippers
Features
8 hours run time
Dual-mode
1 pounds
Next up we have some versatile and powerful dog clippers that are a little more expensive than the above entry-level grooming clippers, but still within most people's budgets.
Even though these clippers are quite compact and maneuverable, the motor inside runs at up to 7000 RPM. This gives you the speed you need to cut dog hair with confidence.
You'll also, of course, need a great blades to get the job done. The titanium alloy fixed blade works in combination with a ceramic moving blade. The result is that even the most stubborn dog hair is cut down to the required length without needing multiple passes.
You won't need to fuss around establishing how long to cut Fido's fur either. Use one of the attached guide combs and you can't go wrong.
All clippers make some noise, but these run as quietly as you could expect. Even dogs prone to shying away from strange noises shouldn't find these clippers disturbing. There's no tiresome vibration to worry about either. The end result is a positive grooming experience for both you and your dog, something that by no means all clippers deliver.
Things We Like
Titanium alloy blade
Durable 35-tooth cutter bit
Pet-friendly ceramic knife head
Things We Dislike
---
4. Andis Dog Clippers
Features
Andis serves up a pro-grade grooming solution that's priced lower than much of the opposition. To make things even sweeter, these clippers are currently discounted, too.
This is one of the cheapest routes to 2-speed dog clippers, so you'll get the added precision and flexibility without needing to bankrupt yourself.
A corded model, you'll benefit from increased power even if you need to factor in being tethered to a power outlet. You won't need to worry about charging or replacement batteries either.
The regular speed is great for general grooming, while you can benefit from an extra 25% of power when you're working with a heavier coat.
You might fear these clippers would be noisy, but they run quietly and shouldn't disturb your mutt.
Weighing over 2 pounds, these are certainly not the lightest clippers. If you're cutting the coat of a much larger dog, you may want to take a break midway through. This will also allow the clippers to cool down.
Detachable blades give you great flexibility. You can buy a range of blades to suit.
As long as you don't mind the extra heft of this model, they're some of the best dog grooming clippers you can find for much less than you might imagine.
Things We Like
Detachable blade technology
Powerful dual-speed clippers
Run very quietly
Things We Dislike
---
5. Wahl Dog Clippers
Features
80 minutes run time
Single speed
5 pounds
Wahl products are a common fixture in hairdressers and barbers the world over. They bring this same excellence and precision cutting to pet grooming with these nifty yet affordable dog clippers.
Choose from several vibrant colors to match the personality of your pup.
The 5-in-1 adjustable blade makes your life more convenient while ensuring you can cut the coat of your dog to the desired length.
The rechargeable takes 75 minutes to juice up. Once charged, you'll get up to 80 minutes of run time, more realistically around an hour or so. You get a pair of batteries included giving you the ability to keep one fully charged and ready for use at all times. As long as you're organized, you'll never get caught out mid-grooming again.
These clippers are intended for use on small and medium-sized dogs.
With a cleaning brush, grooming comb, and charging stand bundled, you have everything you need to get going straight out the box. You even get a soft storage case thrown in so you can keep everything neatly together.
Slimline and lightweight enough to use without fatigue setting in, you'll get a no-nonsense grooming solution for smaller pups from a brand you can rely on. You can't ask for much more than that.
Things We Like
Lightweight and maneuverable
5-in-1 fine blade
Ideal for small and medium-sized dogs
Things We Dislike
---
6. Oster Dog Clippers
Features
Oster dog clippers are not cheap, but they're among the very best you can find. If you're not constrained by a tight budget and you need some powerful clippers from a highly reputable brand, we can't recommend these Oster strongly enough.
Running at 4000 RPM at the highest speed, you can dial things back to 3000 RPM for less demanding coats. For complete beginners, single-speed clippers are the most accessible entry point to home grooming. If you're more confident cutting Fido's coat, you'll appreciate the extra flexibility this gives you.
The design of the blades makes light work of animal fur and allows you to cut through thicker coats without making multiple passes.
You'll get a Cryogen blade included along with oil, grease, and cleaning brushes. While maintenance is not especially taxing, you should keep on top of oiling the clippers to ensure smooth operation and maximum lifespan.
The heavy-duty rotary motor will run for extended periods without letting you down and without getting excessively hot. The clippers run pretty quietly, too.
Overall, these Oster dog clippers make a smart choice for owners of medium-sized and larger dogs looking to save on professional grooming bills without compromising Fido's coat.
Things We Like
Multi-speed versatility
Runs at 4000 RPM
Detachable blades
Things We Dislike
---
7. Ruri's Store Dog Clippers
Features
20 minutes run time
Single speed
24 pounds
If you're looking for some cheap dog grooming clippers that don't totally stiff you on the performance front, Ruri's Store offer these budget gems that deliver surprisingly well. How do they stack up, then?
Firstly, these are among the lightest clippers you can find, ideal if you suffer from arthritis or struggle moving your hands.
Single-speed functionality makes these clippers beginner-friendly. All you need to do is trim the longer fur around your dog's eyes, ears, paws, face, and rump.
These are trimmers rather than full-body clippers, so you won't get any blade guide combs and you'll need to be careful about cutting too deep.
The trimmer runs on a pair of AA batteries, but these are not included so make sure you have some to hand. Even at full clip, you'll get very little noise making these a neat fit for more skittish dogs.
The narrow stainless steel cutter head lets you work with precision and confidence around delicate areas, delivering a first-class finish even if you're a complete beginner at grooming.
If you already have some clippers for a full-body cut and you're looking for a great trimmer for those finishing touches, you won't be disappointed.
Things We Like
Stainless steel cutter
Runs whisper-quiet
Takes regular AA batteries
Things We Dislike
Blades not removable or replaceable
---
8. Wahl Professional Dog Clippers
Features
90 minutes run time
Single speed
55 pounds
Next up we have another entry from the inimitable Wahl with these pro-grade dog clippers. They're certainly not the cheapest option at your disposal, but they're among the finest clippers up for grabs.
Running at a brisk 5,500 RPM, you'll have more enough speed to deal with the stiffest and coarsest dog hair. The clippers won't get bogged down, and you won't have any concerns about nicking Rover's skin either. Cut with speed without ever sacrificing precision.
There are 5 bright colorways to inject some fun into grooming. This makes a pleasant change in a sea of black and gray appliances.
The blade offers 5 different cutting lengths so you can style Fido to suit.
These clippers are designed for use in the US, so they're not suitable as travel clippers for international use.
Backed by a 1-year limited warranty, you're getting a precision-engineered product here ideal for all your canine grooming needs.
Things We Like
Multiple colorways
Impeccable brand heritage
Runs at 5,500 RPM
Things We Dislike
---
9. Andis Animal Clippers
Features
As we near the end of our quest for the best dog grooming clippers, we have another entry from Andis showing why the brand has a heavy presence in this vertical.
The powerful motor gives you all the oomph you need to deal with challenging dog hair.
The ceramic blade cuts closely without ever getting snagged or bogged down. The clippers don't overheat badly like some cheaper alternatives, so you should get a hassle-free grooming experience for you and your furball.
The blades undergo a hardening process to ensure that they stay sharper for longer.
The housing is designed so it's easy to hold and won't slip out your hand.
5-speed clipping lets you match the pace to the texture and length of your dog's fur. You can also find these clippers in single-speed and 2-speed form so choose whichever makes the best fit for your needs.
The only real compromise you make to achieve this power and versatility comes in the weight of these things. You might find they tire you out if you need to keep grooming Rover for prolonged periods. If you feel this would be problematic, we review plenty of lighter and more maneuverable clippers.
Overall, Andis allows you to sidestep regular grooming professional bills while still ensuring that your beloved furball looks immaculate. What are you waiting for?
Things We Like
Potent rotary motor
Anti-slip housing
Ceramic blade
Things We Dislike
Not the lightest clippers
---
10. Oster Clipmaster Dog Clippers
Features
Corded
Single speed
1 pounds
Last but not least we have an another ultra-powerful set of clippers perfect for owners of large breeds. What do you get for your money, then?
Well, while these clippers are robust enough to deliver full-body cutting, the single-speed operation means there's no learning curve involved. Use the attached titanium blade to cut your pup's hair with precision even if you've never tried grooming him before.
These clippers can deal with large animals like horses or cattle, so even if you have a much larger dog, you should find no snags using these clippers to cut back his coat.
Despite the power on tap, these clippers don't overheat easily, and they run surprisingly quietly.
You'll also enjoy a smoothness when you're cutting. The clippers don't get bogged down or stall like many cheaper alternatives. When you use these clippers, you'll understand why they cost more than budget clippers.
The only real drawback you'll face here is the same as with most heavy-duty dog clippers for bigger breeds: they're quite heavy and unwieldy. If you don't feel this is a problem, you'll be impressed with the performance of these clippers from Oster.
The only real complaints we could unearth about these Oster concerns customer care rather than the clippers. A few users found customer service less than helpful or responsive. Overall, we feel you're getting great value for money, despite the elevated price tag.
Things We Like
Stays oiled for up to 100 hours
Powerful cutting with precision
Titanium blade set
Things We Dislike
---
Conclusion
We hope today's guide to the best dog grooming clippers has left you with a clear pathway toward finding the right kit for your pup.
If you follow the suggestions in our brief buying guide, you should see clearly what to focus on when you're comparing clippers. We reveal the flaws of all the products we review rather than purely focusing on their benefits. We want you to see at a glance which makes the right fit for you.
Now, before you head off today, why not take a moment to bookmark our blog? Here at BarkVA, we bring you fresh daily content covering everything you want to know about dog ownership. We break down all the best dog gear so you can find the right kit the easy way. We also dive deep into training tips and we're also expanding our section on dog care. We'll see you soon!
As an Amazon Associate, we earn from qualifying purchases - at no cost to you, allowing us to continue our work.