The sound of your dog's tiny tippy-taps is cute at feeding time, but do you really want to hear them clicking all the way down the hall?
On top of that, if nails aren't trimmed regularly, serious health problems can arise (like in-grown dewclaws).
The groomer can quickly get the nails cut, but this adds up to a significant amount of money each month, so most dog owners opt to do it themselves.
Unfortunately, not all clippers are made equal. Sure, every brand says they're safe and sharp, but until you test them, there's no real way to tell.
You probably don't want to buy a stack of clippers to find that perfect pair, so we've done it for you.
We tested 12 of the best dog nail clippers and found 6 were worthy enough to be our top picks and get a detailed review.
5 others made our honorable mentions list.
That said, consider this guide the end of your clipper-hunting journey, and read on to find out which ones we love and why! 
Our Top Picks
|   | Product | Details   |   |
| --- | --- | --- | --- |
| | Best Overall: Resco Deluxe Nail Clippers | This is the most sustainable pair with an option to replace the blades whenever the originals get dull. They're on the pricey side, but you can't beat the quality of the blades and clipper handles.  | Check Price |
| | Best For Budget: Millers Forge Nail Clippers | By far the cheapest pair on the list, the Millers Forge Nail Clippers are still a great, efficient model. They might not lend themselves to every size dog, but you should be able to use these just fine on most breeds. | Check Price |
| | Best Professional Clippers: Safari Nail Clippers | These affordable clippers have a fantastic grip and can clip nails for various sizes of dogs. This particular pair is best for large breeds, but other sizes are available. This is a professional-style clipper that is very solid. | Check Price |
| | Most Versatile: GoPets Nail Clippers | We loved how this product could be used to file and cut nails. With the perfect manicure, you'll transform your dog from beast to beauty. | Check Price |
| | Best For Small Dogs: JOFUYU Cat And Dog Nail Clippers | We loved the intuitive scissor design of these clippers, but it only really works for small dogs. That being said, its ergonomic grip and efficiency make it perfect for a cat, small dog, ferret, parrot, or any other pet. | Check Price |
| | Best For Large Dogs: Epica Nail Clippers | A big dog's nails are notoriously thick and strong, so clipping them is very difficult. The Epica Nail Clippers are practically indestructible. | Check Price |
How We Chose the Best Dog Nail Clippers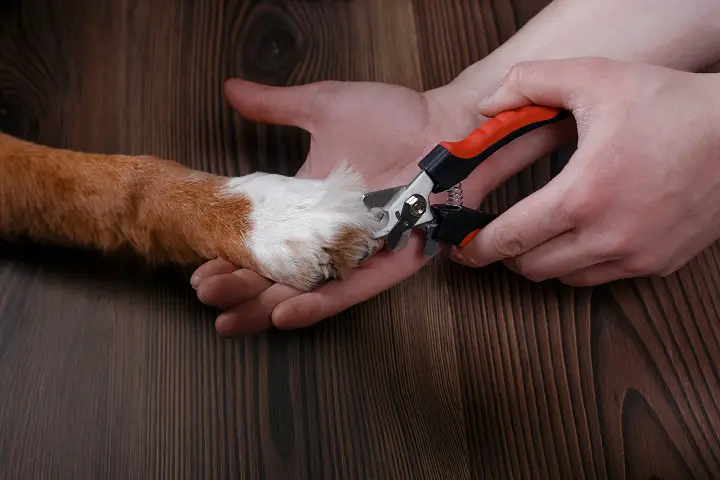 It's always fun to hear compliments when you go out with your pup, and part of that is a good grooming regimen. We understand the struggle with grooming a squirmy monster, so we considered several things, especially concerning safety.
There are a few things that contribute to safety when cutting anything. There's an old saying, "If you don't want to cut yourself in the kitchen, use a sharp knife."
That rule applies to any form of cutting, so one of the first things we looked for was clippers that are razor sharp. 
Once you have a sharp blade, you need to be cautious about whether you can wield it easily.
A slip in the wrong place could result in quicking your dog, so we paid special attention to the comfort of the grip and anything that could affect the proper use of the device.
There are many clippers with built-in safety features, so those products had a bit of an edge over the others.
Lastly, we took price into account, as some options on the market may not be the most affordable for the average consumer.
You shouldn't have to sacrifice quality for money, so we only included carefully balanced options between those two factors.
Before we start, remember to always keep safety in mind when grooming your dog, and nail clipping is no exception.
Many products on this list have guards against "quicking" your dog but never completely rely on such things.
Refer to this AKC safety guide for a more exhaustive list of safety pointers. You can also check out our guide, How Do Dog Nail Clippers Work? for more information!
Best Dog Nail Clippers Reviewed
1. Best Overall: Resco Deluxe Dog Nail Clippers
Product Ratings
| | |
| --- | --- |
| Affordability | 5/5 |
| Comfort | 4/5 |
| Safety | 3/5 |
| Quality | 5/5 |
| Durability | 5/5 |
Sizes: 5" x 3.75" x 0.63" | Handle: Deluxe Grip, Powder Coat | Brand: Tecla Company Inc. | Animals: Varies by Clipper Size | Features: Replaceable Blades, Guillotine-Style Blades | Dogs: Extra Small to Large Breeds 
What We Liked
Powder coating for better grip
Angled handle for better view
Versatile size
Replaceable blades
Lifetime warranty
What We Didn't Like
No true safety features
Learning curve for the handle type
The varying sizes offer a wide range of uses, so whether your dog is large or small or somewhere in between, you'll be able to clip their nails with this model.
There were some flaws with maneuvering and clipping, so let's dive into the merits and drawbacks of these clippers.
Features 
The two best extra things we liked were the warranty and replaceable blades. If these ever get dull, you can get replacement blades (or sharpen the blades) to prolong the life of the clippers.
We love this for two reasons:
It's a more sustainable system
It's cheaper in the long-run than buying replacement clippers
You can rest assured that you'll be getting the best for your money, and if the product doesn't live up to your expectations, you can easily take advantage of their lifetime warranty – no buyer's remorse here!
However, we wished we could have seen the safety features included in other clippers.
If you're new to clipping nails, you might want to consider choosing another item on our list with a safety guard to prevent breaking your pet's nails.
Read our related article, How Often Should Dog Nail Clippers Be Replaced? Sharp clippers are safe clippers. Find out when you should replace old pairs.
Ease of Use 
The grip is great once you get used to it. Sometimes, we were left twirling it in our hands before it settled nicely, so expect a learning curve.
If you're not experienced with nail clippers and are afraid of slipping with this alien grip, get something with a safety guard to start with. 
However, once you get used to this type of grip, it's great for looking at what you're doing, as the grip style and angled blades give you a better view of the paw, nail, and blades.
The powder coating on the handles helps your hands get a solid grasp. With a better grip, you can cut your dog even while they're squirming.
Its wide range of sizes ensures that you can reap this benefit on whatever animal you need to trim.
Materials and Quality
The blades are sharp and durable, so they shouldn't dull too much over time. Overall, the construction is super solid, so everything else about the design holds up. The handle is very comfortable to use, as well.
The blades themselves are made with steel, a premium material for clippers. The metal is also micro-honed, which means the blades are ground down with extreme precision.
Micro-honing metal ensures a wicked sharp blade every time. 
---
2. Best For Budget: Millers Forge Nail Clippers
Product Ratings
| | |
| --- | --- |
| Affordability | 3/5 |
| Comfort | 4/5 |
| Safety | 5/5 |
| Quality | 4/5 |
| Durability | 5/5 |
Sizes: 5" x 2" x 0.25" | Handle: Plier-Style | Brand: Millers Forge | Animals: Dogs | Features: Spring Loaded, Safety Stop, Lock | Dogs: Small to Large Breeds 
What We Liked
Spring-loaded handle for easy clipping
Safety stop to avoid injuring your pet
Locks for safe storage
Intuitive plier style design
What We Didn't Like
Handle covers tend to slip
Sometimes the lock engages unexpectedly during clipping
Some splintering on tough nails
With features providing an easy cut with safety technology, this product covers so many bases at such an affordable price. These are some things to look out for, though.
Features 
This set comes with a great safety feature for pet owners who aren't completely confident in their clipping abilities. You can put up a guard in order to protect against injuring your dog's delicate paws.
Your days of profusely apologizing to your puppy-eyed angel are over, so that's the great news.
A great feature (when it's working) is the spring-loaded handle.
The spring on the device is responsible for aiding you in cutting nails, which is especially important for those with low grip strength, but sometimes, the spring sticks.
While not dangerous, it can be rather annoying. 
There's also a locking feature that could be the culprit for the sticking handle, so it might not be the spring's fault. We still love that locking is possible for storage.
Ease of Use 
The rubber grip helps to hold them better, but it has its own problems.
For whatever reason, that overlay can just come off, leaving you scrambling to put it back together before your dog makes a break for freedom.
Be vigilant for any weakness in that rubber overlay.
That being said, the handle design is a plier-style setup. If you're looking for an intuitive design, the plier-style variety is one of the best.
Most of us are used to handling those kinds of tools, and if you're not, it's still pretty fool-proof. These handles can be small for some people, but if it fits nicely in your hand, the clippers should work exceedingly well.
Materials and Quality
So there's one major complaint.
The clippers should be compatible with most sized dogs, as it says in the description, but that simply isn't the case in practice. When it comes to thick-nailed dogs, there's a high – and we mean high – likelihood that their nails will splinter. 
We only recommend this product to those with medium-sized dogs at the very biggest.
Even though the blades don't cut thick nails well, the quality of the metal is indisputable. The steel is heat-treated, ensuring years of use.
If you use this device properly, you'll have it for a lifetime.
---
3. Best Professional Clippers: Safari Nail Clippers
Product Ratings
| | |
| --- | --- |
| Affordability | 4/5 |
| Comfort | 4/5 |
| Safety | 4/5 |
| Quality | 3/5 |
| Durability | 5/5 |
Sizes: Small-Large | Handle: Plier-Style | Brand: Safari | Animals: Dogs | Features: Safety Stop, Spring Loaded, Double-Bladed | Dogs: Small Breeds 
What We Liked
Sharp, double blades
Safety stop
Spring-loaded tech for easy cutting
Non-slip grip
What We Didn't Like
Handle size too small for some
Blades can become dull with prolonged use
These best dog nail clippers are an affordable professional-style option that gets the job done and then some!
There are some problems with wear and tear over time and some problems with the handles, but you take the good with the bad.
Features
Like many others that made it on this list, the Safari clippers have a safety guard, so again, this is a solid choice for those who are extra cautious or inexperienced.
You'll need safety when working with razor-sharp blades.
Speaking of the blades, the device has a double-bladed feature, giving you a clean cut every time. Those blades work together to simultaneously cut and round the nails. 
Anyone who's had to cut their dog's nails before can attest to how frustrating it is for a pet's nails to be cut yet still sharp because of the edges, so this is a brilliant solution to such a problem.  
Ease of Use 
The plier design is ideally easy to handle. However, with these clippers, in particular, many people noticed that the handle was pretty small, and we agree.
We can see how someone with larger hands might have difficulty using the smaller size version of these clippers. The medium/large size should be suitable for most people.
Other than that, there's a spring-loaded element to the device that makes for super easy cutting, and we didn't notice too much of a problem with sudden locking.
Its non-stick rubber grip is also really handy for getting a good grip on the tool. 
Materials and Quality
The steel is really sharp, but we have some bad news… it tends to dull over time much faster than the other models.
There don't seem to be many additional concerns with the product, but the dulling alone is enough to criticize the quality.
It should be reliable, but don't expect the blades to last as long as the others.
---
4. Most Versatile: GoPets Nail Clippers
Product Ratings
| | |
| --- | --- |
| Affordability | 3/5 |
| Comfort | 3/5 |
| Safety | 1/5 |
| Quality | 4/5 |
| Durability | 4/5 |
Sizes: 8" x 3.3" x 0.5" | Handle: Plier-Style | Brand: GoPets | Animals: Dogs and Cats | Features: Safety Guard, Easy Lock Blades, Nail File | Dogs: Small to Large Breeds 
What We Liked
Ergonomic grip
Comes with a nail file
Safety guard
Locking blades for easy storage
What We Didn't Like
High price compared to competitors
Possibility of sudden locking
These clippers are definitely on the pricey side, but the quality is great! There was only one problem other than that, which we'll cover in a moment.
Features 
First of all, the nail file is a great thought on the brand's part. This will have you set for the perfect manicure as it eliminates the problem of sharp nails after clipping.
This is another product that includes a safety guard and locking storage. We love those two factors of safety for you and your dog.
Ease of Use 
GoPets definitely had the user in mind when they made this ergonomic design. When wrestling your dog to clip its nails, the last thing you want is to struggle with the device itself.
The safety guard also ensures a pet's confidence in you over time. 
By far, this is one of the easiest clippers to use. Its ergonomic design, along with its anti-slip grip, gives you the best shot at a clean cut every time.  
Materials and Quality
The blades can definitely take a beating, but there's sometimes a problem with sudden locking. Those locking mechanisms can definitely be tricky!
However, we didn't see many complaints about it, and our experience was pretty smooth. 
We think that the nail file will dull before the blades, so everything about this design is solid.
---
5. Best for Small Dogs: JOFUYU Nail Clippers
Product Ratings
| | |
| --- | --- |
| Affordability | 5/5 |
| Comfort | 3/5 |
| Safety | 4/5 |
| Quality | 3/5 |
| Durability | 4/5 |
Sizes: 6.5" x 3.5" x 0.28" | Handle: Scissor | Brand: JOFUYU | Animals: All Small Animals | Features: Semi-Circular Blades, Anti-Slip Grip | Dogs: Extra Small to Small 
What We Liked
Comes in two colors
Intuitive scissor design
Semi-circular blades offer a better view of the nail and blades
What We Didn't Like
Doesn't hold up against thick nails
Limited use on sizes of dogs
You can look at these clippers and know that they're meant for small dogs, but they're great for that purpose! Keep that in mind when reading this review.
Most of the quality problems happened when this product was used outside of its original intent.
Features 
We love that there are two colors available for these clippers. That's not something that usually factors into a decision one way or another, but it's still a fun thing to mention. 
The semi-circular blades of the device offer a better view of what you're doing. Without any safety features, that view is imperative.
If your clippers don't live up to these standards of sharpness and precision, you have a lifetime money-back guarantee!
Ease of Use 
Were you the expert construction paper cutter in your kindergarten class? If so this design is perfect for you. 
In all seriousness, the scissor design is really instinctual, and for all you left-handers out there who have struggled with scissors all your life, don't fret.
The scissor component is compatible with both styles of grip. 
Materials and Quality
The rubber handle gives you a superior grip and doesn't pinch your hands while cutting.
We all know the feeling of pushing down too hard on scissors and regretting all of your life choices leading to that moment, but these handles are much better than your average set of scissors, offering a much more comfortable experience. 
There's one important thing we have to say.
Do not use them on medium, large, or extra-large dogs. These JOFUYU clippers are only meant for small animals.
A dog with any thickness to its nails is bound to suffer from splintering, so we recommend getting one of the other products for your big boy or girl.
---
6. Best for Large Dogs: Epica Professional Pet Nail Clippers
Product Ratings
| | |
| --- | --- |
| Affordability | 3/5 |
| Comfort | 5/5 |
| Safety | 5/5 |
| Quality | 4/5 |
| Durability | 5/5 |
Sizes: Small-Extra Large | Handle: Plier-Style | Brand: Epica | Animals: Round | Features: Semi-Circular Blades, Locking Design, Rubber Grip | Dogs: Small to Large Breeds 
What We Liked
Rubber Handles
Lifetime warranty
Works for a wide range of dog sizes
Overclipping guard 
What We Didn't Like
Some splintering of thick nails
Clumsy maneuvering 
Lots of force has to be applied
The power behind these clippers is phenomenal, so they should work well on big dogs. There are exceptions to that, but we'll get into specifics shortly.
Features
Like so many others on this list, the Epica clippers have a safety guard and rubber handles.
It also has a safety locking mechanism – not much different from the others as far as features go, but they're really important.
If you're not completely satisfied, this is another product with a lifetime warranty!
Ease of Use
The efficiency of this clipper is astounding partly because of the plier-style grip and the rubber, non-slip handle. They're super easy to use, and the metal is so sharp your dog won't even know you're clipping. 
There's one drawback, which is the pressure needed to make the cut.
Thank goodness the handle is so comfortable because we had to use some force to get through the nail.
Not everyone has this complaint, but keep that in mind when you're buying. If your grip strength isn't the best, this might not be the product for you.
Materials and Quality
The metal is wicked sharp, as we've said. That doesn't save the product from everything that can go wrong, though.
It's durable enough for big dogs, but be vigilant because we noticed a bit of a splintering trend. 
It wasn't enough to do any damage to the dog, or else we wouldn't have even considered these clippers, but you definitely have to be precise with these things. 
---
Comparison Chart
| | | | | | | |
| --- | --- | --- | --- | --- | --- | --- |
| Product | Millers Forge | Safari | GoPets | Resco | JOFUYU | Epica |
| Affordability | 3/5 | 4/5 | 3/5 | 5/5 | 5/5 | 3/5 |
| Comfort | 4/5 | 4/5 | 3/5 | 4/5 | 3/5 | 5/5 |
| Safety | 5/5 | 4/5 | 1/5 | 3/5 | 4/5 | 5/5 |
| Quality | 4/5 | 3/5 | 4/5 | 5/5 | 3/5 | 4/5 |
| Durability | 5/5 | 5/5 | 4/5 | 5/5 | 4/5 | 5/5 |
The Winner
The Resco clippers boast an exceptional grip and razor-sharp blades with a more sustainable and budget-friendly replacement blade system.
These clippers work on every size dog, and they're tough enough to hold up to the test of time.
You're sure to get a clean, safe cut with these best dog nail clippers.
How to Choose the Best Dog Nail Clippers
Nail clippers are a great place to start when managing your pet's health.
Some might even add files and nail grinders to their maintenance, but that's not necessary, especially when you're just starting.
How Big is Your Dog?
There's a common trend in this article, isn't there?
Not all products are intended for every dog of every size. The simple fact is that products are more expensive to produce for big dogs because you need tougher, sturdier material and increased size. 
We understand that some dogs have seemingly titanium nails. Good job, you're feeding them well, but if they have thick nails, consider getting them a clipper size up.
Even if you don't need a product for giant, thick nails, there's nothing wrong with having heavy-duty clippers. 
The circumference of the clipper could pose a problem with this strategy, though, as it might be harder to control for small dogs.
If you're worried about the clippers not standing up to the test but also don't want an enormous size difference, get a heavy-duty clipper that varies in size so you can pick the most compatible one.
What's Your Dog's Nail Color? 
For dogs with light nails, you'll be able to see the quick much better, but dark nails are tricky. The quick sneaks up on you fast (oh, the irony). 
Our best advice here is to pick a clipper product with a safety guard and pursue it with caution.
Another great idea that has nothing to do with products is to find someone who knows what they're doing, but more on that in a moment. 
What's Your Skill Level?
Maybe this is your first dog, or you usually take them to the groomers to get this stuff done. Whatever the reason is, you might not be completely comfortable when doing something that has a potential for injury, like nail clipping.
Sure, you can cough up your hard-earned money to take your pup to the groomers or spend a small fortune on iodine, but the chances are that you're here because you want to avoid both.
A great tip that costs absolutely nothing is wisdom. Get wisdom from other long-time dog owners who have done this sort of thing a million times.  
The AKC has amazing resources for people to learn about how to cut their dog's nails, so if you want to hop on the web, that's a great place to start. 
YouTube can be a perfect learning tool for these tasks. Professional dog groomers will be showing you how to trim your dog's nails, and it's almost as good as an in-person lesson.
If you don't have the skill set or want tips, use the internet and/or a real, live person to show you how.
Honorable Mentions
Here's a brief look at the clipper options that didn't make our best dog nail clippers list.
1. Gonicc Clippers – Considered for Best Overall 
Where this product shines is that it can be used on so many different sizes of dogs for a fraction of the cost of many competitors.
However, we chose the Resco model because it required less strength to clip, had a lifetime warranty, and had a replacement blade option.
While the medium-sized Millers Forge clippers made it into the Best for Budget rank, these were pushed out for one main reason: nail fractures.
The others weren't quite as cheap, but this pair had some problems with nail fractures and we didn't like the different grip.
Overall, the Millers Forge Nail Clippers that we recommended were more comfortable and effective.
3. Andis Pet Tool – Considered for Most Versatile 
We really like how this company provides a range of different products, but this one, in particular, didn't compare to the GoPets variety. 
We thought that the lack of special features had to put this out of the running.
Versatile means it can be used on different dogs by different people, and the GoPets clippers do just that.
4. Shiny Pet Clippers – Considered for Best for Small Dogs
While we liked these clippers, when it comes to tough nails, the JOFUYU brand simply makes cleaner cuts.
We want the cutest claws for our friends, so JOFUYU had to win because it delivers clean cuts with no splintering. 
Sure, there were some problems with splintering on the Epica model, but at least you could handle them comfortably.
Not the same with these.
They were super bulky and so hard to handle, which could mean more breakage or slipping when mishandled.  
We are sorry that this post was not useful for you!
Let us improve this post!
Tell us how we can improve this post?