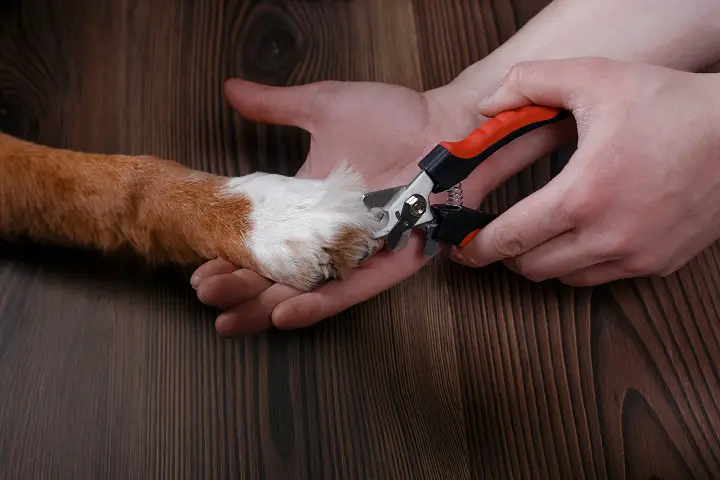 We can't overstate the importance of keeping your dog's nailed properly trimmed, but is it necessary to take your pooch to a professional groomer?
Absolutely not!
Now, there's nothing wrong with leaving this sort of job to the professionals. For many people with hectic lifestyles, it's worth paying for the convenience of stress-free canine grooming.
Most pet owners, though, enjoy the opportunity to spend time with their furball, and grooming is one opportunity to do that.
To help you achieve seamless dog grooming at home, you'll need the right gear for the job. We've curated a shortlist of the best dozen products in this crowded vertical. We'll be reviewing all these clippers today so you can easily compare them like-for-like.
Before we do that, though, we understand that you may have no idea what to look for when you're analyzing dog nail clippers.
Here are the most important things to consider:
Style: Regular dog nail clippers come in scissor-style. Some specialized designs feature a semi-circular blade. You can also find plenty of electric grinders enabling you to work on canine nails without expending any effort. We review models across all these categories so you can easily determine the best fit
Safety: The main safety feature you should look out for on dog nail clippers is a safety stop. This guard will prevent you from overcutting your dog's nails. This is just as harmful if not worse than not cutting them often enough. The quick guard should prevent that sensitive area of your pup's nails from being damaged when you're grooming him. In the event of any electric nail grinder, you need to check that the unit doesn't generate too much noise or vibration. The last thing you want is Rover becoming scared of grooming time. You'll be setting yourself for a great deal of ongoing trouble if you allow that to happen
Comfort: You need to ensure that both you and your furball are comfortable during the nail-cutting process. Look for clippers with rubberized and non-slip handles. You don't want these things flying out your hand mid-session. You should also ensure that any clippers on your shortlist are light enough for you to handle for lengthy periods. We've highlighted any shortcomings in these areas throughout our reviews so you can find the most comfortable dog nail clippers the easy way
Sharpness of blades: Look out for stainless steel blades. These are a must when you're dealing with tough doggie nails. Not only should these be sharp, but you want them to stay sharp for several thousand cuts
Now you have an overview of what to focus on, it's time to explore the best dog nail clippers at your disposal.
Barkva.org is reader-supported. When you buy via the links on our site, we may earn an affiliate commission at no cost to you.
The 11 Best Dog Nail Clippers
1.

Our #1 Pick:

 Safari Stainless Steel Nail Trimmer
Features
Stainless steel
Small to medium-sized dogs
5 x 2.55 x 10.5 inches
Our favorite nail clippers of all those we reviewed come from Safari in the shape of these green stainless steel gems that are easy on the wallet while making light work of Fido's nails.
The stainless steel blade is sharp enough to scythe away at longer nails. As with all these clippers, the blades will lose their edge over time. While several disgruntled owners complain about this, we feel you need to peg your expectations when you're buying any product at this price point.
Ergonomic rubber handles ensure these clippers won't come flying out your hand when you're grappling with Rover's nails.
The quick stop baked in is designed to prevent any damage to the thicker, nerve-filled section of nail (the quick).
There are 2 sizes of clippers available. This smaller iteration is intended for small and medium-sized breeds. The clippers are suitable for all life stages of dog.
For some no-nonsense canine clippers at a very keen price point, Safari delivers a complete winner here for all owners of small and mid-sized pups.
Things We Like
Locking blades
Ergonomic rubberized handles
Sharp and durable blades
Things We Dislike
---
2. Shiny Pet Nail Clippers
Features
Stainless steel
Small dogs
7 x 2.6 x 0.4 inches
Shiny Pet's lightweight nail clippers are ideal if you have a teacup breed or a very small dog not calling for heavy-duty claw cutters.
We found several complaints from consumers about these clippers failing to cut as cleanly as expected. For much smaller dogs, this shouldn't be a problem, but avoid these clippers for any bigger pups.
The manufacturer describes the blades as razor sharp, in our opinion rather charitable.
Handles are coated with a non-slip rubber, allowing you to focus on the job at hand without worrying about your clippers slipping.
If you have no idea how to go about cutting your dog's nails – maybe you're new to dog ownership – you'll appreciate the free e-book giving you a detailed guide on how to cut your dog's toenails.
If you're unconvinced, the manufacturer offers a no-quibbles money-back guarantee, so you have nothing to lose by giving these clippers a shot. In our opinion, though, there are stronger options on our shortlist today.
Things We Like
Neatly-engineered
Comfy finger rests
Downloadable e-book
Things We Dislike
---
3. Gonicc Dog Nail Trimmer
Features
Hardened stainless steel
Dogs over 16 pounds
1 x 3.4 x 1 inches
If you have a larger dog, finding the right nail clippers can be challenging. If you're prepared to put in a little effort, these Gonicc clippers return excellent results.
Perfect for dogs weighing 16 pounds and upward, there is a smaller iteration available for smaller pooches.
Despite offering great cutting power, these clippers are small, portable, and very lightweight. You should have no issues of fatigue even if you're wrestling with those nails for extended periods. Always pack plenty of patience when you're grooming delicate areas of your dog.
The safety stop prevents any damage to the sensitive quick of your pup's nails. The blades are remarkably sharp, allowing you to impart quick, clean cuts.
As an added bonus, there's a nail file that you can stash in the handle of the clippers. Once you're done cutting, buff up Fido's nails for those finishing touches.
Things We Like
Strong yet lightweight
Ideal for bigger pups
Safety stop blade
Things We Dislike
Need to apply lots of force
---
4. Epica #1 Pet Nail Clipper
Features
Stainless steel
Medium-sized to large dogs
8 x 3.8 x 0.8 inches
Epica makes a deep bench of pet grooming products delivering performance at a reasonable budget. How do these clipper shape up, then?
The first differentiating point here is the semi-circular blades. These allow you to make close and accurate cuts without hurting Rover or damaging the quicks of his nails.
Lockable blades prevent any accidents when the clippers are not in use.
When you are using these things, they feel comfy and secure in the hand. The non-slip handles allow you to work with confidence, and they're pretty lightweight clippers weighing less than 5oz.
The one drawback with these clippers is the safety guard. Some users suggest this is not ideal if you frequently cut your dog's nails. Line up using the top of the guard as your guide, and you'll likely trim those nails too closely.
Overall, these sharp and durable clippers should be the ideal weapon against tough nails on bigger breeds. If you have a super-large dog, there's an even beefier version of these clippers available.
Things We Like
Semi-circular blades
Lockable blades
Rubber-coated non-slip handles
Things We Dislike
Some problems splitting thicker nails
---
5. Jofoyu Pet Nail Clippers
Features
Stainless steel
Small dogs
5 x 3.5 x 0.35 inches
Do you have a tiny dog at home? If so, you'll need to keep those nailed neatly trimmed back without causing Rover any undue pressure. These clippers from Jofoyu allow you to do this safely and easily.
The simple scissor-style clippers let you work confidently cutting your small dog's nails.
Blades are stainless steel. A few users have suggested these blades dull quite quickly, but you need to be reasonable about lifespan expectations at this price point.
Handles are designed so you should have plenty of room to maneuver and no concerns about slippage. The rubberized finish is completely non-slip.
If you're still in any doubt, Jofoyu serves up a lifetime satisfaction guarantee. Buy with the knowledge you can call in for a refund or replacement at any time. Few other manufacturers producing cheap dog nail clippers offer this sort of guarantee.
For owners of small dogs like Chihuahuas, these delicate clippers might be one of the smartest investments you make this year.
Things We Like
Ideal for toy and teacup breeds
Easy to use
Scissor-style
Things We Dislike
Won't cope with thicker nails
---
6. Boshel Dog Nail Clippers
Features
Stainless steel
Medium-sized to large dogs
5 x 2.5 x 0.3 inches
If you have a medium or large breed, finding the best dog nail clippers can be challenging. You'll need something that's rugged and heavyweight enough for the job at hand, but without requiring too much elbow grease. Boshel manages to neatly straddle this sweet spot.
Recommended by vets and groomers, these clippers let you keep on top of nail hygiene. You should cut your dog's nails regularly. While you should never let the nails get too long, don't cut them back too close either. Your dog needs some nail contact with the ground as he walks along. As with all the best canine clippers, the quick stop helps to prevent any overcutting.
Although these clippers are quite bulky and unwieldy, that's the price you pay for the added robustness essential for large dog nail clippers.
You get a small nail file bundled. This can be stored in the handle of the clippers giving you everything you need to treat Rover to a mani and pedi.
Things We Like
Vet-recommended
Thick, sharp blades
Safety stop
Things We Dislike
---
7. Millers Forge Dog Nail Clippers
Features
Stainless steel
Dogs over 40 pounds
5 x 2 x 0.6 inches
Millers Forge is loved the world over for the attention to detail and hardwearing nature of its products. These nail clippers designed for larger dogs continue that winning tradition.
The manufacturer suggests using these clippers on dogs over 60 pounds, so if that sounds like a smooth fit for Rover, what do you get for your money?
Firstly, you'll enjoy the confidence of buying from a highly reputable brand deeply experienced in producing first-class pet grooming gear. You also won't need to dig too deep considering the brand heritage.
Stainless steel blades should stay sharp even if you regularly groom your furball. Users compliment the accuracy and cleanliness of cuts. We found a few isolated complaints from users suggesting that cutting very tough nails occasionally results in the nail fracturing. It's difficult to quantify these claims as all dogs are different.
Overall, you're getting a tried-and-true grooming device from a brand you can trust at one of the keenest prices imaginable: what's not to love?
Things We Like
Backed by vets and groomers
Sharp stainless steel blades
Impeccable brand heritage
Things We Dislike
Some fracturing of tougher nails
---
8. Resco Nail Clippers
Features
Stainless steel
Small to medium-sized dogs
5 x 3.75 x 0.63 inches
If you're shopping for dog nail clippers on a budget, you have plenty of options on our shortlist today. If you're not so price-sensitive, Resco brings you these guillotine-style clippers well worth your further attention.
The innovative design of these things will make light work of longer nails. Resco has been producing this pioneering trimmer for almost 100 years, so you and your dog can benefit from all this experience.
One of the common problems with canine nail clippers is the fact that, sooner or later, the blades become too dull and ineffective. With this model, you can replace the blade rather than needing to replace the whole unit.
Like all the best dog nail clippers, these come with the full support of vets and groomers, so you know you can buy with total confidence.
Backed by a lifetime warranty, you have literally nothing to lose, and potentially a great deal of stress-free grooming to gain. What are you waiting for?
Things We Like
Guillotine-style trimmer
Powder-coated grips
Lifetime guarantee
Things We Dislike
---
9. GoPets Nail Clippers
Features
Stainless steel
Medium to large dogs
8 x 3.3 x 0.5 inches
These nail clippers from GoPets are effective, but one of the more expensive options on our shortlist. If you're shopping on a tight budget, you have superior options. If you don't object to paying a premium for intelligent design and outstanding ergonomics, read on.
The blades are made from hardened stainless steel and they're sharp enough to slice through longer, thicker dog nails. We feel these clippers work best for medium breeds.
Most users seem pretty happy with these clippers, and back up the manufacturer's claims about the blades staying sharp for thousands of cuts.
The handles are non-slip and comfy enough to use for longer grooming sessions. The clippers are also quite lightweight compared to many competing clippers for medium-sized dogs.
When you've finished cutting Rover's nails, lock the blades into place to prevent any nasty accidents.
If you have deep pockets and exacting tastes, these are among the best dog nail clippers you can find.
Things We Like
Nail file included
Super-sharp blades
Lockable blades for safe storage
Things We Dislike
Pricier than the opposition
---
10. Andis Pet Tool
Features
Stainless steel
Medium-sized to large dogs
10 x 4 x 1 inches
For owners of medium-sized and larger breeds, Andis Pet Tool delivers some of the best nail clippers for your dog at a very competitive price.
The simple but effective scissor-style clippers give you enough strength for cutting the nails of bigger dogs, and enough finesse to make those cuts cleanly and precisely.
While most customers seem satisfied with these clippers, we found a few complaints about build quality and lifespan, so we'd suggest you do your own due diligence.
Invest in some nail clippers like these and you can ensure grooming time with Fido is a pleasurable experience rather than a chore giving you a headache. Why not consider the brushes and rakes Andis offers so you can give your furball a complete pampering without suffering a bill from the groomers?
Things We Like
Full range of grooming gear
Lightweight and ergonomic
Crisp, clean cuts
Things We Dislike
Build quality could be improved
---
11. Millers Forge Nail Clippers
Features
Stainless steel
Medium-sized to large dogs
5 x 2 x 0.5 inches
Millers Forge products have a hard-earned reputation for delivering quality and intelligent design at a very reasonable price point.
These clippers are shaped like pliers. You'll find you can make rapid, precise cuts in your larger dog's nails.
The cutting mechanism is spring-loaded. This helps to minimize the effort you need to expend. Beyond this, the efficiency of the cut is improved, giving Fido a stress-free grooming session and allowing you to power through those nails in no time.
There's a safety stop to reduce the likelihood of overcutting your pup's nails. Protect those sensitive quicks without needing to lift a finger.
The stainless steel blades are sharp, and they should stay sharp for lots of future grooming. They lock into place when you're not using the clippers, ideal if you have kids in the house.
Aside from a few reported issues with unresponsive customer service agents, there's not much we can knock about this sturdy and efficient dog nail clippers.
Things We Like
Plier-style clippers
Integrated safety stop
Lockable blades
Things We Dislike
Customer care is questionable
---
Conclusion
We very much hope today's guide to the best dog nail clippers has equipped you with all the information you need to find the right solution for you.
We never shy away from revealing the flaws in any of the products we review. This allows you to buy with your eyes wide open, as long as you stick to the clippers on our list. If you chance upon some clippers not covered today, bear in mind the simple pointers up above and you should easily establiush whether they're right for you and your dog.
Bookmark BarkVA before you hustle off today. We bring you fresh content every day covering all aspects of owning dogs. If you have any comments or feedback, feel free to start a dialogue below any of the articles on our blog. We love to hear from our readers and we're highly responsive to feedback. We'll see you soon!
As an Amazon Associate, we earn from qualifying purchases - at no cost to you, allowing us to continue our work.