If you have a PetSafe wireless collar, you may have troubleshooting questions and wondering, precisely, what a blinking red light means on your wireless collar.
A red light blinking on the collar is not a cause for concern and is a relatively easy problem to resolve on your own in very little time.
If you noticed that your dog's collar has a blinking red light, that could just be an indication that you need to replace the batteries in your dog's collar.
Why is my PetSafe Collar Blinking Red?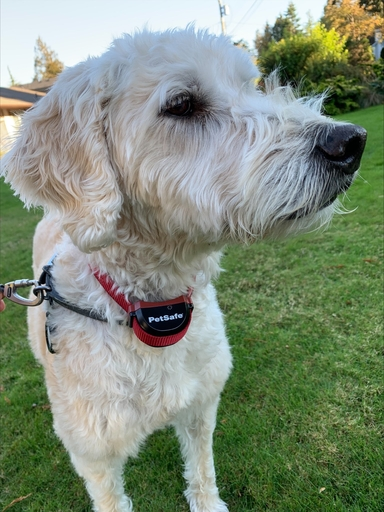 When a PetSafe collar is blinking red, that is a sure sign that you more than likely need to put new batteries in your dog's collar.
It may also mean that your battery needs to be recharged if you have a PetSafe fence that has rechargeable batteries.
Though a blinking red light isn't always a sign of a low battery, it can also just be trying to tell you what correction level your dog's collar is set at.
Invisible Fence Collar Blinking 4 Times
If you are noticing that your dog's collar is blinking red 4 times in a row, this actually isn't a sign of a low battery.
Instead, the collar is actually telling you what correction level your dog's collar is at.
For example, if the collar blinks red 1 time that means your collar is at the first correction level which is no correction just tone, and if it blinks red 6 times that means your collar is at the highest correction level. 
So make sure to keep that in mind when you see a blinking red light that only blinks a few times, and isn't persistent.
How to Check PetSafe Battery
If you start to notice that every 5 seconds the light is blinking red, the collar is giving you a sign that it may be time for you to get a new battery for your collar.
Even if there is no light blinking on your dog's collar, it is always important that you test the collar every once in a while to ensure the collar and battery are working properly. 
You can do this by holding the collar in your hand and walking toward the perimeter.
If the collar lets off a warning beep and then shocks, then it is working properly.
If it does not work, that is another sign you may need a new battery or to reset the collar.
With PetSafe fences you can also get a test light tool.
What this tool does is test the probes on your dog's collar to see if they are working properly at different shock levels.
To use the tool and test your collar, you have to place the wire on the test light tool around the probes of the collar.
The tool will then flash on each level when testing if the collar is working properly.
Here is a video showing you how to use the test light tool:
How Long Should PetSafe Batteries Last?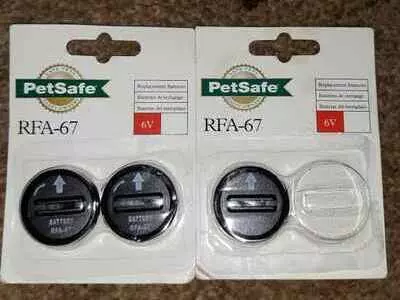 When it comes to PetSafe batteries, they are made to last you anywhere between 1 and 3 months.
The good thing, though, is you can buy replacement batteries ahead of time so you will always have replacements on hand.
One of the perks of PetSafes fencing systems is that they either come with replaceable batteries, or they come with rechargeable batteries.
How long the batteries last will depend on how often the collar is used as well.
How to Fix a PetSafe Collar That is Not Working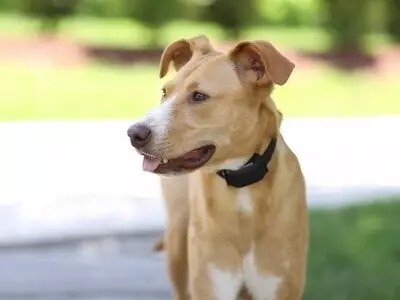 If your dog is crossing the perimeter and not getting shocked, that may be a sign that the collar isn't working like it's supposed to.
If that is the case, you may find that you will need to reset the collar. This is relatively easy and will not take you much time at all.
How to Reset the Collar
To reset the collar, you simply press the power button and hold it down for approximately 10 seconds.
It should then beep and blink green to let you know it has been reset. 
You can then turn the collar back on by holding down the power button again until a beep is heard, and there is a flashing green light to indicate that it is good to go. 
If resetting the collar does not do the trick, then it may be time to get a new battery for the collar.
What are Some of the Best PetSafe Fence Options?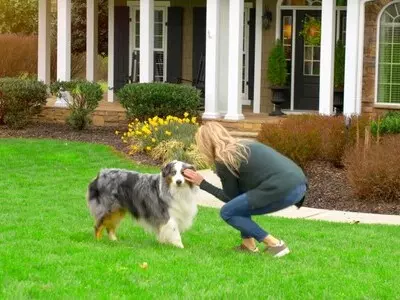 When it comes to PetSafe fencing systems, they have a lot of amazing options.
All of these options come with replaceable or rechargeable batteries and can also be found online.
The best fence options from PetSafe are:
All of these fence systems are great options and are listed at pretty good prices considering they all come with replaceable and rechargeable batteries.
These do it yourself invisible fence options are also relatively easy to install.
How Do I Know When my Rechargeable Battery is Completely Charged?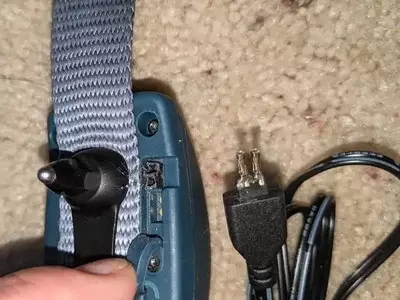 If you have one of the fencing options that offer rechargeable batteries, it's important to know how to tell if the collar is completely charged so you get the most use out of it.
When you first plug in your collar it should show a solid red light indicating that you plugged it in properly and that it's charging.
Once the collar is fully charged, that light should then turn from red to green indicating that it's fully charged.
Are PetSafe Fences Safe?
Yes. In-ground and wireless fences from PetSafe are a safe option for your animals.
That is if your animal doesn't have a high prey drive or aggression issues. If that's the case and your dog has those problems, these fences can make matters worse.
The safety of in-ground and wireless fences also relies on the age and weight of your dog.
If your dog is a small breed and is at a younger age, it may be better to wait until they are a little older to introduce an electric fence to them. 
If your dog is a bigger breed, and at a younger age, they could get introduced to the fence a little earlier, as they will weigh more at a younger age than a small breed. 
It is important to do research about your dog's breed, temperament, and weight to know the right invisible fence puppy age to introduce a shock collar to them.
Conclusion
Troubleshooting the PetSafe collars and fencing systems is a relatively easy process and most of the time is a very simple fix.
Based on the information we have provided, the problem you are having should be fixed in no time.
We are sorry that this post was not useful for you!
Let us improve this post!
Tell us how we can improve this post?