Many people are curious about how much canned dog food equals dry food. The truth is, it really depends on the brand and quality of both types of food.
In this blog post, we will discuss the nutritional value of both canned and dry dog foods and provide some tips for determining how much canned dog food equals dry food that your pet should eat each day.
the Truth about Canned Vs Dry Food for Dogs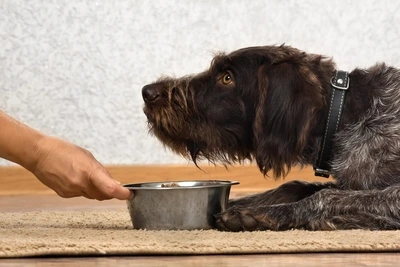 When choosing what type of food to feed your dog, there is no single answer for all dogs.
Consider the type of food your dog likes, its nutritional and caloric needs, and your veterinarian's recommendation.
How Do I Compare Wet Dog Food to Dry Dog Food?
When converting from dry to canned food, or vice versa, it's important to consider the calorie content of each type of food.
For example, a cup of dry kibble typically contains about 300 calories, whereas a 12-oz can of wet food has approximately 240 calories.
You would need to feed your dog about 25% more canned food than dry food to provide the same number of calories and keep your dog from losing weight.
This is because of the high water content in canned food.
In addition to calories, pet parents should also consider the different moisture content of dry and canned food.
Dry food is usually only about 12% moisture, whereas canned food can be up to 78%.
How Much Wet Food Should I feed My Dog?
The amount of wet food your dog should eat per day doesn't just fall on their weight. Your dog's exercise level should also be taken into account.
That said, a good rule of thumb is to feed your dog 3oz of wet food per 3 pounds of weight.
We explore more about recommended feeding routines in this guide: How Much Wet Food Should I Feed My Dog?
The charts below go in-depth and cover 3 different weight categories, the average caloric intake, and the associated amount of wet food.
Wet Dog Food Feeding Chart
These recommended calories were found using this calculator.
The chart below is for neutered adult dogs with an ideal weight rating of 5, in accordance with the Purina Body Condition system.
In other words, an active average adult dog.
On average, a 60-pound dog can expect to eat between 2-3.5 cans of wet dog food. A 20-pound dog can expect to eat between 3/4-1.5 cans of wet dog food.
We looked at the most popular dog breeds according to the AKC and found that most dogs fit into the 3 weight categories below.
The weights are associated with the number of wet dog food cans per day based on the estimated recommended daily calories.
(Calorie requirements vary based on the activity levels of your pet!):
| Dog Size | Daily Calories | Canidae | Whole Earth | Blue Buffalo | Purina One | Pedigree |
| --- | --- | --- | --- | --- | --- | --- |
| 60 lbs | 1,334 | 2.6 | 3.4 | 3 | 3 | 2 |
| 20 lbs | 587 | 1.2 | 15 | 1.3 | 1.3 | .9 |
| 100 lbs | 1,958 | 3.9 | 5 | 4.3 | 4.4 | 3 |
Cans of dog food needed by looking at the top selling wet dog foods in the market (Blue Buffalo, Purina & Pedigree) along with two premium recommended wet dog foods.
This math is based on the following data:
The last column represents the calories per can of the respective dog food.
Dry Dog Food to Wet Food Comparison Chart
In our research, about every 1 cup of dry dog food equals 1/2-1 can of wet dog food, with the average being 4/5 or 80% of the can.
We looked at the top-selling dry dog foods in the market and included two premium recommended food brands.
| Wet Dog Food | Wellness Dry | Blue Buffalo Dry | Purina Pro Dry | Instinct Original Dry |
| --- | --- | --- | --- | --- |
| Canidae | 0.7 | 0.7 | 0.8 | 1.0 |
| Whole Earth | 0.9 | 1.0 | 1.0 | 1.3 |
| Blue Buffalo | 0.8 | 0.8 | 0.9 | 1.1 |
| Purina One | 0.8 | 0.8 | 0.9 | 1.2 |
| Pedigree | 0.5 | 0.6 | 0.6 | 0.8 |
A chart showing how much wet dog food you would need for every 1 cup of dry dog food.
We chose these dog foods based on the top-selling wet dog foods in the market (Blue Buffalo, Purina) along with two premium recommended wet dog foods.
Does a Dog That Eats Wet Dog Food Still Need Water?
A dog who eats primarily canned food will likely consume more water than one who eats dry food.
Owners of dogs on a dry food diet need to increase their dog's water intake to help them digest the dry food.
Every dog needs all-day access to fresh water to stay hydrated and keep organs and digestion functioning efficiently.
However, wet food can add some hydration during mealtimes.
Is Dry Food Better for My Dog than Wet Food?
Dry food is often considered the more nutritionally complete option for dogs.
It's because dry food contains all of the essential nutrients that your dog needs in one convenient package.
Dry food is also typically higher in protein than canned food, which is important for maintaining muscle mass and keeping your dog active.
However, not all dry foods are created equal. Some dry food brands may lack certain nutrients, so it is important to read the labels carefully before selecting food for your pet.
On the other hand, canned food typically contains more moisture than dry food. This can be beneficial for dogs who are prone to dehydration or who live in hot climates.
Canned food is also often more palatable for dogs, which can be helpful if your pet is picky about his or her food.
However, canned food does not usually contain as many vitamins and minerals as dry food.
For this reason, it is important to supplement your dog's diet with additional vitamins and minerals if you are feeding them only canned food.
How Much Should I Feed My Dog at Each Meal?
The best way to ensure your dog's health and happiness is by properly measuring their meals.
Some dogs love to beg for more, making owners feel guilty so they overfeed them and cause canine obesity.
There isn't a set dosage for every type of dog food, but most dogs eat about 1 to 11/2 cups of food per day.
This food intake needs to be divided into 2 or 3 meals, depending on the dog.
The best way to figure out how much to feed your dog is to calculate your dog's individual needs. Your vet can help you do this if you want the best answer.
Weigh your dog.
Find your dog's weight on the feed table on the back of the dog food bag or can.
The table will give an estimate of how much to feed your dog PER DAY.
Divide this recommended amount by the number of meals your dog eats.
Stick to this feeding regimen and avoid giving your dog extra food, treats, or human food.
Most dogs suffer from the health effects of canine obesity from eating too much food and too many treats.
Again refer to the example chart in this article above to give you an idea of calories required.
Things to Consider Before Switching to Canned Food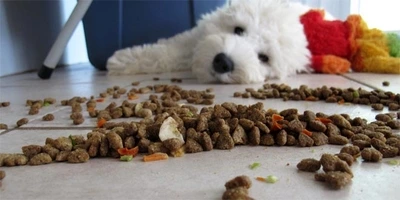 If you consider switching to canned food, there are a few things to keep in mind.
First, check the ingredient list. Canned foods should have meat listed as the first ingredient, followed by water.
Avoid products with fillers such as corn or soybeans, which can cause gastrointestinal upset. Look for brands that use whole meats and do not include by-products.
Second, compare the nutrient content of canned and dry foods.
Dry foods typically have more calories per serving, so you may need to feed your dog more if you switch to canned.
Canned foods usually have higher moisture content, which can be beneficial for dogs who are prone to urinary tract infections caused by dehydration.
If you decide to feed your dog canned food, make sure to slowly transition them over a period of a week or two.
Start by mixing the new food with their current kibble and gradually increasing the amount of canned food until they eat it exclusively.
Failure to gradually change food will cause gastrointestinal upset.
Bottom Line
The best way to ensure your pup is getting the nutrients they need is to talk to your veterinarian about their individual dietary needs and what would be the best diet for them.
Whether you choose to feed your dog wet or dry food, the most important thing is to ensure that the nutritional content is beneficial.
We are sorry that this post was not useful for you!
Let us improve this post!
Tell us how we can improve this post?