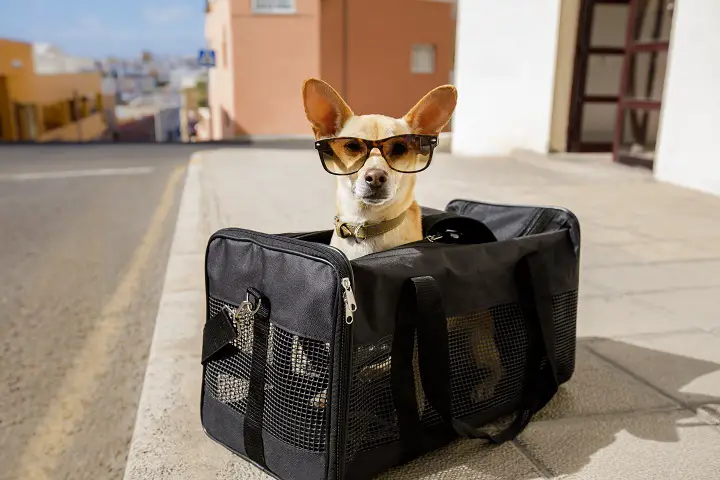 Have you ever watched The Curious Case of Benjamin Button?
If so, were you as obsessed as us with the images of Brad Pitt piloting a vintage 131 Indian 101 Scout and a 1956 Triumph T110?
We started looking shortly after for some motorcycle dog carriers in order to give our pooches the same sort of treat.
Motorcycle dog carriers come into their own for much more than riding an iron horse, though. Whether you're heading overseas on a plane, traveling across town on a subway, or even taking a trip to visit relatives.
Today, then, we'll be reviewing the best motorcycle dog carriers so you can accurately assess which would make the best fit for you.
Before that, though, we'll give you a concise buying guide so you're clear on what you need to consider when you're shopping motorcycle dog carriers.
Size matters: The primary element to consider when buying a pet motorcycle carrier is sizing. If you have a larger dog, you're pretty much out of luck with most of these carriers as they're designed for much smaller hounds. You should pay close attention to the listed sizings, and scope out a good selection of dog carriers until you find one that would best accommodate your furball. If you plan to take your dog on a plane, you should establish that the carriers you're considering are aviation-approved. We draw your attention to these below
Materials: When you're looking at the material of dog carriers, you want something that's durable, waterproof, and comfortable. We describe how all the carriers we review are made up so you can find the best fit the easy way
Design: Portable dog carriers are much more versatile than fixed carriers. You should check the carrier has adequate ventilation. In terms of basic design, dog carriers come as a backpack-style or in crate form
Trays for food and water: All decent dog carriers come with some kind of tray inserts for food and water. If you're planning to take your dog on a long flight, this is a doubly valuable feature
Toilet trays: Your dog will inevitably need to poop on a lengthy trip. If it can't do his business right away, you can expect a mess.  Avoid this by choosing a dog carrier with a toilet tray included
Color: Since this type of dog carrier is intended for traveling, it's likely to pick up dirt quickly. Opt for a darker color if possible to disguise the dirt. You should also, of course, focus on a dog carrier that's easy to clean, ideally machine-washable with removable inserts.
Price/performance ratio: Finally, you should also give due consideration to price. We'd suggest, though, that you don't focus purely on the bottom line. Instead, think also about expected lifespan and overall quality so you can better assess overall value
OK, with that simple guidance in place, you should be well equipped to rustle up an effective dog carrier the easy way.
We'll launch right into the main event now: fire up that motorcycle and get ready to hit the road with your furball in tow.
BarkVA is reader-supported. When you buy via the links on our site, we may earn an affiliate commission at no cost to you.
I. The 8 Best Motorcycle Dog Carriers
1.

Our #1 Pick:

Kuryakyn Grand Pet Palace
First up in our quest for the best motorcycle dog carriers is the Grand Pet Palace from Kuryakyn.
One general point first that covers most of the below carriers: these are typically not designed with larger dogs in mind. Despite the grandiose name, this dog carrier is still best for smaller pups.
If that's all good and you have a small dog you want to take on your next road trip, this weather-resistant pet carrier is our overall favorite.
Your pup benefits from a viewing window so he can enjoy the view and some fresh air. The UV-rated dense nylon is built to stay the distance.
Crowned with a glut of straps and mounting rings, you can't go wrong with the Kuryakyn Grand Pet Palace so why not give it a road test? 
Things We Like:
Weather-resistant carrier draped over a robust frame
Multiple viewing windows to keep your pooch stimulated
Range of straps and D-rings for diverse mounting options
Things We Dislike:
While solidly built, dogs over 10 pounds will find this a tight fit
---
---
2.

Runner-Up:

Saddlemen Pet Voyager
Saddlemen serve up a neat storage solution for your motorcycle which can double as extra cargo space or a carrier for your furball.
With a pair of mounting systems, you'll be free to attach this carrier to your motorcycle's sissy bar, luggage rack, or seat.
Thanks to the quick-connect straps and bar, you won't be fussing around when you want to get your pup in and out of this dog carrier.
Once you're ready to hit the road, this carrier is equipped with plenty of vents and flaps to ensure your pup gets as much fresh air as you while you eat up the miles.
As with most of these carriers, you'll struggle to accommodate a larger dog. 
Things We Like:
Twin mounting systems for your convenience
Easy to disconnect and remove the carrier
Series of vents and access points to keep your pet refreshed on the road
Things We Dislike:
No use at all for large dogs
---
3.

Travel Pick:

Sherpa Travel Deluxe, Airline-Approved Pet Carrier
Do you spend a lot of time traveling with your pet? If so, you'll need a dog carrier that's approved by airlines if you don't want trouble at check-in. Sherpa Travel address that issue head-on with this neat transportation system for your pooch.
With a trio of sizes to choose from, you should find your small or medium dog slips in without any fanfare. Larger dogs are a no-go, though.
Made from polyester, you get that perfect combination of durability and comfort. The carrier is also extremely straightforward to care for. The liner is removable and machine washable so you can keep your furball fresh.
Things We Like:
Airline approved so no headaches when traveling
Comes in 3 sizes and a decent range of colors
Made from rugged, easy-care polyester
Things We Dislike:
As with most of these carriers, no good for bigger dogs
---
4.

Budget Pick:

Outward Hound Lightweight Dog Backpack
Next up in our quest for the best dog carrier is this super-light backpack model from Outward Hound. Whether you want hands-free convenience around town, or you fire up your motorcycle and hit the road, you'll be carrying your pooch in style.
Fashioned from dense nylon, this carrier won't end up damaged after a few months, and it's beautifully breathable for your dog's benefit.
Despite this performance, the Outward Hounds backpack is priced very competitively. Even better, you can capitalize on an aggressive discount if you act quickly. This dog carrier is our best budget pick so what are you waiting for?
Things We Like:
Backpack-style carrier for a snug fit
Made from breathable and durable nylon
Very keenly priced and currently available at an aggressive discount
Things We Dislike:
Clip is not sewn onto bag creating a weak point
---
5.

Small Dog Pick:

YUDODO Dog Sling Carrier
YUDODO deliver a luxe yet pocket-friendly dog carrier that falls well within most people's budget. What makes this sling stand out, then?
The fabrics used here are unexpected at this price-point. The leather and mesh combine to ensure you get a dog carrier that will stay the distance while cocooning your pup in comfort. Whether you're strolling around town with your dog in the sling, or you're barreling down the highway on your motorcycle, you'll have no reason to leave your furball at home when traveling is this easy.
Thanks to the completely customizable strap, you can get a snug fit for you and your dog.
If you have a small breed or a teacup breed and you want to take them everywhere you go, invest in this sling and you're all set.
Things We Like:
Sling shape perfect for carrying smaller dogs
Fully adjustable strap for a neat fit
Leather and mesh looks great and built to last
Things We Dislike:
Bottom of the carrier is narrow and lacks support
---
6. PetAmi Soft-Sided Pet Carrier
As we edge to the end of our dog carrier reviews, here comes a soft-sided alternative to some of the more rigid carriers we've featured.
If you tire of looking at bland black or brown dog carriers, you'll love the enormous choice of color schemes available here.
Made from long-lasting and dense polyester, this carrier is easy to care for and should give you years of faithful service.
Is your dog something of an escape artist? If so, you'll appreciate the security of this carrier. It comes loaded with zippers and straps along with plenty of buckles so the carrier stays firmly affixed to your motorcycle, and your dog won't end up wriggling his way out.
Things We Like:
Massive choice of colorways
Buckles, straps, and zippers keep your pooch safely locked in
Rugged polyester build won't let you down
Things We Dislike:
Lack of frame means this is not such a stable pet carrier
---
7. Lollimeow Pet Carrier Backpack
Lollimeow manufactures a range of pet carriers. This black extendable unit gives your small or medium-sized dog plenty of room when you're traveling.
Airline-approved, this multipurpose carrier is also ideal for walking, hiking, or heading out on your motorcycle when you want some time out with your canine.
You'll be able to keep your eye on your dog while he stays stimulated and enjoys the view, too.
This dog carrier is completely waterproof and extremely easy to clean.
The only real drawback with this dog carrier is a relatively lax approach to quality control. We'd suggest you check the contents of your package closely upon receipt.
Things We Like:
Transparent viewing window for your pup
Choose from 4 colors to suit
Waterproof and remarkably easy to clean
Things We Dislike:
A few complaints about quality control
---
8. Ytonet Dog Backpack Carrier
We've save one of the best dog carriers for slightly larger dogs for last with this Ytonet backpack. The upper weight limit is 15 pounds so you certainly won't be carrying bulky pooches, but you'll have a bit more leeway than much of the competition provides.
While this carrier comes in a backpack style, you'll benefit from a sturdy frame around which the rugged polyester carrier is draped. The fabric won't end up ripped and torn by a boisterous dog, and it's highly weather-resistant, too.
When you've finished up with your motorcycle ride, you'll also enjoy the freedom of carrying your pup around hands-free if he's too tired to walk.
For a versatile, durable, and affordable dog carrier from a brand you can trust, roll with Ytonet.
Things We Like:
Scratch-resistant and eco-friendly fabric
Lockable bottom zipper for safety's sake
Backpack is ergonomic and comfortable to wear
Things We Dislike:
Zipper quality could be improved
---
Right, with our reviews in place, what are the most frequently asked questions about dog carrier?
II. FAQs
1) Do dogs like to ride on motorbikes?
Most dogs will love a ride on your iron horse, but shy dogs will likely find it a little too much. You should have a clear idea of your pet's temperament and whether or not he'd find a trip out on your motorcycle exhilarating or intimidating.
2) Is it safe to carry a dog while riding a motorcycle?
As long as you train your dog, allowing him to ride shotgun on your motorcycle should be perfectly safe. If you're looking at a front-facing dog carrier, you should pay much more attention to safety.
3) How can I clean a dog carrier?
You should make sure that the equipment you're considering is easy-care. A few cheaper carriers might let you down on this front. The best pet carriers all feature removable inserts to streamline clean-up.
4) Are all dog carriers OK to take on a plane?
Absolutely not. You need to conform to regulation sizes just like with your suitcase or hand luggage. If you plan to take your hound up in the air, you need to get an airline-approved model. We draw your attention to these in our collection of the best dog carriers.
5) What is a backpack dog carrier?
As the name hints, you effectively wear this just like a regular backpack. The benefit of this type of carrier when you're on your motorbike is that you pup stays well out of the way. On the flipside, you won't be able to keep your eye on him effectively. If you have a naughty or disobedient dog, this is not the best pet carrier to choose.
6) What is a sling pet carrier?
Most of these kind of carriers work in the opposite way to a backpack carrier. You'll keep your pooch and center which allows you to watch him closely at all times. For owners of larger dogs, this style is not ideal. You could find your driving style is impeded so avoid sling carriers.
7) What is the best dog carrier for my motorcycle?
There are too many variables to give a definite answer. It depends on the size and breed of your dog as well as his behavior. You should also consider the type of motorcycle you ride. Ask yourself, too, if you need to take your dog on a plane, or if you're content with a dedicated motorcycle carrier. With all that in place, you can find the only thing that counts: the best dog carrier for you.
---
III. Conclusion 
By now, you should have a clear understanding of the best kind of motorcycle pet carrier and you should also have a good idea of the best dog carriers up for grabs.
If you're looking for the safest method of transporting your pup, choose a sturdy and rigid carrier. This will always cost a little more, but what price can you put on the security of your best friend?
Some states have specific regulations for carrying a pet on a motorbike. Make sure you're fully informed about the law in your state of residence to avoid any unpleasant surprises.
Stick with the dog carriers we review and you'll be confident of finding something suitable. We'd drawn your attention to any flaws with these transportation systems so you can buy with your eyes wide open.
Before heading off, bookmark BarkVA. We're well underway with an aggressive content campaign bringing you impartial advice on the best gear for your dog and buying guides packed with information to make your life easier. We'll see you soon!