Having dogs and cats intermingle in the house is an entertaining experience at its best, and messy at its worst. Unfortunately, dogs have trouble controlling the urge to explore the cat's bathroom, either out of boredom or instinctive urge. This is a mess in the making that could be avoided through planning.
We even have an article explaining the intricacies of the dog's behavior and how to Stop Your Dog From Eating Cat Poop. Feel free to check it out.
Fortunately, a cat can conduct their business privately in comfort, without the other four-legged beast trifling through its remnants. The next step is to find a dog-proof litter box capable of meeting the feline's needs. At BarkVA, we've done the heavy lifting for you! So, what are the best boxes?
Based on our testing, here are our top 6 models suitable for cats, along with 7 honorable mentions.
|   | Product | Details   |   |
| --- | --- | --- | --- |
| | Best Overall: Catit Jumbo Hooded Litter Pan | It's important to find a litter box that's easy to clean and offers privacy for your cat. And our top choice is the Catit brand. Its design was thought out and relatively affordable! | Check Price |
| | Best For Aesthetics: IRIS Top Entry Litter Pan  | A "top entry" litter box might feel like a bold choice for a new pet owner. Will felines be able to enter and exit safely? How practical is this design? And the answers are rather surprising. If trained at an early age, this design is practical. | Check Price |
| | Best For Privacy: Petmate Booda Cat Litter Box | Then there is the domed-shaped litter box with an interesting "twist." The Petmate model is specifically designed to remove catch debris from cat paws. We found it to be a must-have for messy felines. | Check Price |
| | Best For Easy-Cleaning: Nature's Miracle Litter Box | The best words to describe this model are "functional" and "uncomplicated." We were sold on the open hatch, non-stick surface, and convenient cleaning. Especially the price tag. | Check Price |
| | Best For Simplicity: Petmate Top Entry Litter Pan | Another winner for a top-entry pan. Its high, squarish walls help keep the pups at bay. Additionally, the ease of cleaning was welcomed compared to other models. | Check Price |
| | Best For Odor Control: Van Ness Cat Pan | A fancy name, but a simple box! What's neat about this pan is its "odor door" which separates smells from the main area itself. | Check Price |
How We Narrowed Down the Best Litter Boxes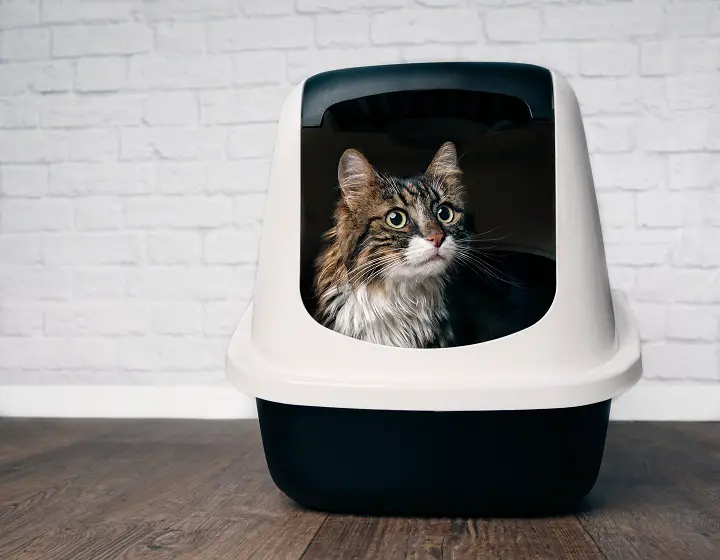 At first, it may seem frivolous to put time and consideration into purchasing a litter box for your cat. Is it that complicated of a decision? We think so! A quality box improves the life of your pet and can ease the burden of cleaning for you.
A trusted manufacturer and seller, Chewy, has years of experience selling equipment and providing educational content for animal care. They feature an in-depth breakdown of what to think about when choosing litter boxes.
From our research, we formed a set of "attributes" to look for when testing products based on common uses of the item. These include:
Affordability: What you pay for vs. what you get in quality

Odor Control: How well it reduced fumes in the room

Quality: Overall build and aesthetic of the box

Design: Dog proof and ease-of-entry for the cat

Functional: How easy it was to clean and the privacy it provides
Taking this list of standards, we selected 13 popular choices and thoroughly tested each of them. In the end, 6 made our list and 7 didn't quite toe the mark.
Best Dog Proof Litter Boxes
1. Best Overall: Catit Jumbo Hooded Litter Pan
Product Ratings
| | |
| --- | --- |
| Affordability | 4/5 |
| Odor Control | 4/5 |
| Quality | 5/5 |
| Design | 5/5 |
| Functionality | 4.5/5 |
Type: Litter Pan | Dimensions: 6" x 37.4" x 22.6"| Brand: Catit | Material: Plastic
What We Liked
Optional carbon filter that helps eliminate odors
Anchor bag for emptying litter tray hands-free
Easy cleaning
What We Didn't Like
Door access may be difficult for some cats
Our team was stunned at the unboxing of this warehouse-sized litter tray! Its effective design and strong build had us interested from the start.
Functionality
The trickiest part of this little box is the door, which gives privacy and works as a great dog-proof barrier. We found that cats and kittens needed training to get comfortable with the "in and out" process. Otherwise, it performed well for odor elimination and comfort.
Cleaning Assessment
The box is well-sealed and keeps debris contained. It comes with a flap for easy daily removal of "clumps." Additionally, there is a handle to move the tray around. Be careful with moving it for cleaning because we found it was unstable if too much litter and waste was inside the container at once.
Limitations
Again, our team found that the door mechanism was the detractor. If our feline friends are "particular" and unenthused by the opening flap, it could defeat the purpose of purchasing a dog-proof litter box!
SEE PRICE ON AMAZON
SEE PRICE ON CHEWY
---
2. Best for Aesthetics: IRIS Top Entry Litter Pan 
Product Ratings
| | |
| --- | --- |
| Affordability | 4.5/5 |
| Odor Control | 5/5 |
| Quality | 4/5 |
| Design | 4/5 |
| Functionality | 4/5 |
Type: Open-top litter box | Dimensions: 75" x 16.1" x 14.6" | Brand: IRIS USA | Material: Plastic
What We Liked
Aesthetic and curvature of the box
High walls for privacy
Stays in place with rubber footings
What We Didn't Like
Included scoop was too small
Issues with litter containment made it messier than others
When imagining a litter box, it usually appears as a solid, heavy, and lifeless form. Not the IRIS container, though! We had a pleasurable reaction when examining this beauty during our tests.
Functionality
We found this model to be a private, elegantly contained box that felines found comfortable. The pan is light, and we found that it worked well to prevent litter from escaping.
Cleaning Assessment

Thanks to the high walls and slick interior, the model was simple to clean. The plastic tray can get heavy, but the removable lid clicks on and off with a breeze. However, we did wish that it had handles to move around.
Limitations
The IRIS was a runner-up to the best overall litter box, with good reason. One of the limitations was the build quality of the locking top where cats enter. The tabs that lock it in place did not hold together well. Cats would bump the top and be startled by the movement.
SEE PRICE ON AMAZON
SEE PRICE ON CHEWY
---
3. Best for Privacy: Petmate Booda Cat Litter Box
Product Ratings
| | |
| --- | --- |
| Affordability | 5/5 |
| Odor Control | 4/5 |
| Quality | 4/5 |
| Design | 3.5/5 |
| Functional | 3.5/5 |
Type: Litter box | Dimensions: 5" x 22.5" x 19" | Brand: Petmate | Material: Plastic
What We Liked
Ridged floor removes litter from paws
Privacy dome is easy to remove
Simple to set up
What We Didn't Like
Bottom part of the box was difficult to clean
Doorway and stairs often had a mess due to no partition for the litter pan itself
At first glance, this box offered exceptional privacy, had a neat aesthetic, and kept dog noses at bay. It's an affordable purchase for first-time owners, but we did find more than a few drawbacks.
Functionality
We've tested many Petmate products, as the company has decades of experience solving pesky problems for pet lovers. The Booda dome and humped steps were our favorite aspects of the design. It even boasts a charcoal filter to absorb lingering odors.
Cleaning Assessment

We found half of this model easy to clean, while the other half not so much. The top dome comes off quickly and can be soaked. But the rounded, partitioned bottom tray was unwieldy. There was often litter on the steps, and not having handles makes the bulky tray hard to maneuver.
Limitations
We found that the major drawback to the cat-friendly box was that it's not designed well for the human operating it. If potential buyers can overlook the potential cleaning hazards, the Booda was still a top pick in our eyes.
SEE PRICE ON AMAZON
---
4. Best for Easy-Cleaning: Nature's Miracle Litter Box
Product Ratings
| | |
| --- | --- |
| Affordability | 5/5 |
| Odor Control | 4/5 |
| Quality | 4/5 |
| Design | 4.5/5 |
| Functional | 5/5 |
Type:  Litter Box | Dimensions: 25.1"x 19.1" x 11.75" | Brand: Nature's Miracle | Material: Plastic
What We Liked
Flippable hatch helps transition it to a hooded litter box
Easy cleaning
Spaciously adequate for a multi-cat home
What We Didn't Like
Hinges for removing the lid were flimsy
Box is bulky
We are all about this litter box. While it had plain features, it still promised results in the end. Not every bathroom needs to be a palace!
Functionality
The first thing we were unsure about was the wide opening because it seemed easy for a dog to meander their way around. However, the spacious gap between the front and tray proved effective. The design will make it easy for cats to transition from open litter pans to enclosed ones.
Cleaning Assessment

We truly appreciated the ease with which you could reach in and scoop out the debris. The non-stick surfaces and wide opening make it a gem amongst some of the elaborate designs of competitors.
Limitations
The most noticeable drawback was the quality of the design. It was not the most sturdy because the clips could be easily broken. The same goes for the flippable front. It's not the most secure and poses a messy hazard should your cat accidentally kick it.
SEE PRICE ON AMAZON
---
5. Best for Simplicity: Petmate Top Entry Litter Pan
Product Ratings
| | |
| --- | --- |
| Affordability | 5/5 |
| Odor Control | 4.5/5 |
| Quality | 4/5 |
| Design | 4/5 |
| Functional | 3.5/5 |
Type: Litter Box | Dimensions: 3" x 15" x 15.2" | Brand: Petmate | Material: Plastic
What We Liked
High walls for privacy
Good quality plastic that is sturdy
Grated lid removes litter from paws, eliminating litter tracking
What We Didn't Like
Difficult for larger-sized felines to use
Design flaws make it difficult to scoop certain areas
Looking for something simple that gets the job done? Look no further! This is quite literally a "box" with top-entry features. The size of the model is large, so plan to use substantial space to house this unit. 
Functionality
It's as dog-proof as they come, and cats will enjoy privacy on all sides. We thought the entrance was wide enough for most users and the grated top was effective for cleaning paws. While it is essentially a box, we have a few minor complaints about its design.
Cleaning Assessment
We'd like to note that newer models of this box are being sold, so please take a look before buying! Our model had an indented "handle" at the bottom, and litter clumped alongside it, making it quite hard to clean. However, the new design does not have this handle, and we highly recommend choosing the handle-less litter box.
Limitations
The sturdy box, affordable price, and privacy make this choice an easy pick for most buyers. However, we noticed the top didn't snap into place very well. This design flaw could pose issues for the user and their cat.
SEE PRICE ON AMAZON
---
6. Best for Odor Control: Van Ness Cat Pan
Product Ratings
| | |
| --- | --- |
| Affordability | 5/5 |
| Odor Control | 5/5 |
| Quality | 4/5 |
| Design | 3.5/5 |
| Functional | 4/5 |
Type: Litter pan | Dimensions: 5" x 15.25" x 17.5" | Brand: Van Ness | Material: Plastic
What We Liked
Replaceable odor filter
Stain-resistant and simple cleaning
Compact but generous for cats of most sizes
What We Didn't Like
Harder to access for kittens
Pan itself is small
The litter box from Van Ness was a stealthy winner because of its interesting design and promising odor-fighting features. We were pleased by its simplicity and affordability. However, there were some design features to be cautious about.
Functionality
Watching cats navigate swinging doors is a pleasure for most, if they're adventurous and don't mind the challenge. Our team found it was difficult for younger felines to get in and out. Training will be required!
Besides that, the enclosed space prevents litter from getting scattered to the skies, and the odor filter is a great feature alongside it. It's easily changeable and is found at the top of the box.
Cleaning Assessment

We were pleased by how effective it was to clean this box! The sturdy top comes off, and wiping away debris can be done in minutes. The plastic has a coating that prevents odors and stains from being absorbed.
Limitations
Besides the training required for our cute kittens, the one blemish of this litter box was its strange dimensions. The Van Ness tray is advertised as a large and high-walled model, with the unfortunate design of the pan being smaller than expected. While it might make cleaning easy, larger cats will not be as comfortable moving around to do their business.
SEE PRICE ON AMAZON
SEE PRICE ON CHEWY
---
Comparison Chart
The Winner
Overall, we loved the Catit Jumbo Hooded Litter Pan. It's sturdy, great for multi-cat households, and extremely easy to clean. While not as affordable as other models, we feel it's worth the money.
How to Choose the Best Litter Box
What Size Should it Be?
Use the "nose-to-tail" measurement when considering the size of the litter box. It should be at least as long as the cat – and that's with the tail extended. The width should be at least twice as wide as the feline, as well.
How Do Cats Get In?
In our review, we covered ones with top entry, domed tops, and various types of doors. Choosing between these three involves a mix of personal taste, the cat's flexibility (and attitude), and ease of use. It's important to consider these three attributes before choosing the type of litter box!
Looking for more cat accessories? Check out our guide to the Best Cat Harnesses! These are great for indoor cats who don't have a yard to explore.
Honorable Mentions
Here's a brief look at the 7 options that didn't quite make our top-litter box list:
This model made our honorable mentions due to its relatively expensive price tag but the amazing perks that come with it. The main advantage is that cleaning is a breeze! We recommend purchasing Nature's Miracle Pan if the budget is tight.
Living in a small apartment and in need of a litter box designed to reduce odor? Purina constructed a hooded litter system specifically designed as a starter kit. The hood opens and closes easily and we liked how the grated tray removed debris from paws.
However, the price could be out of reach for budget-conscious owners due to its unique setup. That's why we recommend the Van Ness Pan as an alternative.
This IRIS model is not as aesthetically prominent as the top entry model we reviewed. However, the design was a standout for reducing litter splatters. One of the major drawbacks was how unfriendly it was for bulky cats. For something larger, we highly recommend the Catit Jumbo Hooded model.
It was difficult for us not to review multiple IRIS brands due to their presence in the litter box industry. The major selling point here is the price to performance ratio. For mixed-pet homes, we found the model great for overall privacy needs.
If owners are looking for an aesthetically pleasing design, the IRIS Top Entry Litter Pan cannot be beaten!
With a fun name comes a fun litter box! This is a two-for-one combo in terms of entry and exit. Cats have the ability to maneuver through the top entry, or through an opening on the side. 
It's a top choice on Amazon and boasts a large size to accommodate most felines. The biggest drawback is the huge price tag. We would still go for the Catit Hooded unit over this model.
The Pxyz is a carefully constructed litter system. We appreciated its touch of beauty to the otherwise distasteful practice of what goes on inside. Its large entrance and enclosed design keep litter-tracking to a minimum. 
Due to its relatively unknown branding, we opted for Nature's Miracle Litter Box instead.
7. Cat Washroom Bench – Considered for Alternative Design
On the hunt for something that blends into your home? Well, we found a wonderful disguised box that acts as a washroom bench. The entrance can be installed on either end for maximum placement options. It's not a high-end luxury table, but it's made from durable plastic material!
While we don't have a "bench-like" alternative, the functional alternative would be Petmate Top Entry Litter Pan.
We are sorry that this post was not useful for you!
Let us improve this post!
Tell us how we can improve this post?