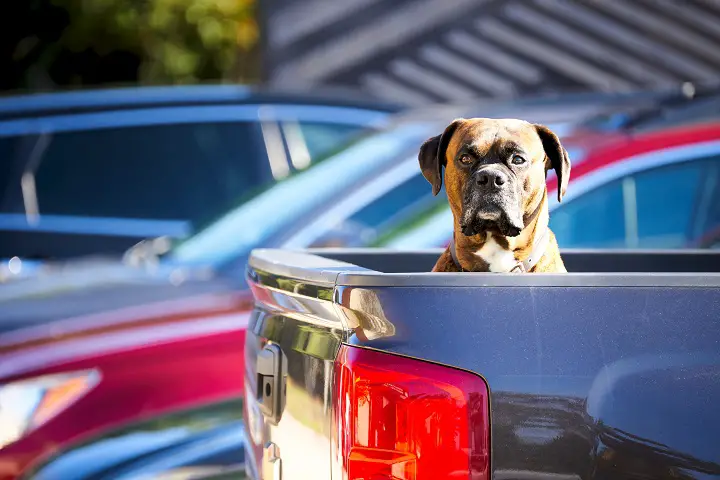 Now, before we launch into today's guide to the best dog crates for your truck bed, a word of warning.
We do not recommend driving long distances with your furball on the bed of your truck. If at all possible, you should avoid placing your dog in the back of the truck. If you have an accident, he'll get very little protection even if he's safely contained within a robust dog crate.
So, you should be clear before whipping out your credit card that buying a dog crate is no guarantee that your dog will emerge unscathed if you have a truck accident.
On the plus side, these crates will protect your dog from the elements, and it will also ensure that no debris flicks up from the road and hits your precious canine.
While it's inadvisable to take your dog in the bed of your truck, if you're driving in a rural area or you have a working dog and you're on private property, the minimal risk you run is probably acceptable.
Now, what should you look for when you're buying a dog crate for use on the back of your truck?
Your truck: Before anything else, think about what truck you drive. Not all crates will fit on all trucks so compatibility is the first issue you need to clear up. You'll want to establish first that the crates on your shortlist will fit neatly on the truck bed. Think also about how you use the bed of your truck. Do you often have tools or dog accessories onboard? If so, you would benefit from a lockable storage container. If not, a lockable crate is not as much of a priority. Next, you'll need to focus on which type of crate makes the best fit…
Type of crate: A regular metal wire dog crate is like a standard crate but a little more robust. These are the cheapest and least effective of crates for use on a truck bed. A plastic panel crate will offer reasonable protection from the elements, adequate insulation, and they're priced keenly, too. On the downside, your dog won't get too much protection if you have an auto accident. The superior option is a metal panel crate. Despite their many advantages, these crates are heavy, and they still offer no guarantee of safety for your dog if you end up having a truck wreck
Capacity: Think about the size of your dog and make sure the crates on your shortlist are roomy enough. You should also consider whether you need multiple compartments to keep your dog's separate or whether a single large space is better suited to your needs
Rigidity: While dog crates are not crash-tested or designed to offer pull protection to canines in the event of an accident, you should still look for the most rigid crate possible. Collapsible crates may be convenient, but they won't be robust enough if anything goes amiss
Security: Look for a lockable crate so your dog won't pull a Houdini act as you drive along
Durability: If you plan to leave the crate permanently installed on your truck bed, make sure you choose one that's weatherproofed and built to last
Insulation: Make certain any dog crates on your shortlist are sufficiently insulated to keep your dog warm inside
Air flow: Proper airflow is essential to keep your pup's comfort uppermost
OK, with those pointers in place, you should be ready to explore the best dog crates for your truck bed.
Let's dive right in!
Barkva.org is reader-supported. When you buy via the links on our site, we may earn an affiliate commission at no cost to you.
The 6 Best Dog Crate for Truck Bed
1.

Our #1 Pick:

 Owens Dog Box
Features
Single compartment
40 pounds
41 x 9.4 x 20.5 inches
Owens is a family-run company founded in 1965 and specializing in innovative solutions for transportation and automotive accessories. If you want to give your pooch a safe and  comfortable ride when you head out in your truck, this dog box is a must.
The range of dox boxes is deep, with this model coming with a single compartment and no facility for storage on top. If this isn't suitable, explore the rest of the line, including the double compartment box we review below.
Made from diamond tread aluminum, the box is lightweight considering its extreme durability. It's also very easy to keep clean, a must for dog owners. The inside is lined with plastic so all you need to do is hose it down.
The sizing of this box means you should have no problems even if you have a larger breed. With smaller dogs, you could get two of them inside this things with no issue.
The box attaches to your truck bed with D-rings so you benefit from a strong and stable fit while your furball gets a sedate and comfortable ride.
The door is lockable so you have no niggling concerns about your pup pulling a Houdini act on the road.
For a great all-rounder offering first-class containment for your dog, you can't beat this box from Owens.
Things We Like
Made from diamond tread aluminum
Lockable door
Strap down with D-rings for total security
Things We Dislike
---
2. UWS 2-Door Dog Box
Features
Double compartment
30 pounds
48 x 48 x 31.25 inches
If you've been searching for a double compartment dog crate for your truck bed, UWS delivers a stainless steel gem well worth popping on your shortlist.
This box is specifically designed for colder climates so makes a neat fit if you live somewhere with lots of snow and ice and you want your furball protected when you head out in the truck.
The insulated lid helps to keep all that heat trapped inside. Your dog will remain toasty even if it's cold outside.
The double compartment is ideal if you have more than one dog you want to take out without incident.
Despite such robust construction and enviable lifespan, this box is reasonably lightweight at 30 pounds.
The vast bulk of user reviews are overwhelmingly positive. The only real complaints we could find centered on the non-removable divider. In our opinion, while it would nice to create one large space, there are plenty of single compartment crates available if that's what you're after.
The box is lockable giving you outstanding security and peace of mind while preventing your dog from pulling an escaping act. You get enough storage for 3.7 cubic feet giving you everything you need in a dog transportation system.
Things We Like
Space for a pair of pups
Insulated lid for great heat retention
Lockable box
Things We Dislike
---
3. Bushwhacker K9 Canopy
Features
Single compartment
75 pounds
33 x 4 x 30 inches
Now, not everyone wants a large and heavy dog crate on their truck bed, so Bushwhacker solves that with this soft canopy designed to keep your dog sheltered on the road without weighing your vehicle down.
The K9 canopy is made from rugged and dense polyester. This is nicely weather-resistant and won't easily tear either. Properly looked after, you should get years of happy service from this canopy.
Installation is straightforward. All you need to do is use the straps and hooks provided to attach this structure to your truck bed. Once in place, your dog is protected from the elements and you don't need him inside the truck getting dirt and hair everywhere.
While the primary use case for this canopy is the bed of your truck, you can use it to enclose your dog in your yard or on the campsite, too.
The single compartment set-up is not ideal if you have more than one dog and they tend to bring out the worst in each other. If that's the case, check out one of the double compartment crates we review.
Overall, this canopy is a smart alternative to a dog crate if you want to safeguard your hound when you're driving.
Things We Like
Rugged and weatherproofed polyester
Hose down for easy cleaning
Works well for more than just truck bed use
Things We Dislike
Quality control could be improved
---
4. Owens Dog Box
Features
Single compartment
110 pounds
48 x 45 x 18 inches
Next up we have another highly effective dog crate for truck beds from Owens, the US-based company you can trust.
This box has a large single compartment that comes equipped with lockable top storage. This allows you a great deal of versatility but works best for single dogs or a couple of small dogs who behave well together.
The aluminum build means your box won't rust out over time even if you leave it permanently on the back of your vehicle.
If you need to leave your pups on the truck bed while you pop into the store, the lockable nature of this crate lets you do that without worrying about dognappers.
Made from lightweight material, you get all the benefits aluminum delivers without the overall payload weighing down your ride.
Vents in the side ensure your pooches stay comfy even if it's hot and stuffy outside.
Although this crate isn't cheap, when you consider the overall performance and the fact it should last a lifetime, it suddenly starts seeming like one of the best bargains you could find.
Things We Like
Top storage
2 lined compartments
Lockable slam latch doors
Things We Dislike
Certainly not the cheapest dog crate for your truck bed
---
5. Southern Style 2-Door Dog Box
Features
Double compartment
85 pounds
36 x 48 x 24 inches
Southern Style produces a remarkably durable dog crate that will keep your pooch safe and sound even in hostile weather conditions. How does this thing shape up, then?
Made from lightweight but durable aluminum diamond plate, this crate has no floor and allows you to position it on your truck bed when you're heading out for walkies with your dog.
The double doors give way onto a spacious interior with room enough for a couple of small dogs. A folding T-handle lock secures your dog or any valuables you store inside when you're away from your vehicle.
Made in the US and manufactured by a brand you can trust, this pocket-friendly dog crate for your truck bed lets your dog ride in style without compromising the interior of your pride and joy. What's not to love?
Things We Like
Aluminum diamond plate build
Robust T-handle lock
Fully weatherproofed
Things We Dislike
Not ideal for larger breeds
---
6. LUCKUP Heavy-Duty Dog Crate
Features
Single compartment, double door
56 pounds
5 x 25.5 x 32inches
Last in our search for the best dog crate for your truck bed is a heavy-grade model from LUCKUP. What do you get for your money here?
Firstly, you can choose from crates in an array of sizes depending on the breed of your dog. This is the smallest model measuring 38 inches. You can step up to 42 inches at the upper end.
The rugged steel construction is ideal for all winds and weathers. Your crate won't rust out, and your dog won't be able to chew his way through either.
The finish on the surface of this crate is dog-friendly and contains no contaminants or toxins.
The crate couldn't be much easier to assemble. You get everything you need bundled and you should be up and running in no more than 5 minutes.
The wheels under this unit mean it's very easy to move around without straining yourself. The casters lock in place so you won't find the crate rolling around your truck bed.
Double doors allow your pet to get in and out of the crate with ease. If you use it away from your truck bed, you'll also be able to interact with your pooch easily.
When it's time to give this crate a clean, just slide out the plastic insert and hose it down.
Things We Like
Comes in multiple sizes to suit
Durable steel build
Double doors
Things We Dislike
Some complaints about welding
---
Conclusion
Well, if you arrived here at BarkVA unsure how to contain your dog when you're out in your truck, that should have changed by now.
The main things you need to consider when you're comparing dog crates is the capacity, materials, and suitability for your truck. If you plan to leave your dog unattended, or if you want the ability to leave valuables on the truck bed, look for a lockable crate.
Stick with any of the crates we review today and you're in safe hands. If, however, you find a dog crate that didn't make our shortlist, all you need to do is pay attention to the points in our introductory guide and you should have no problems finding the right dog crate for your needs.
Before you head off crate shopping, we'd suggest you bookmark our blog. We'll be bringing you lots more great content over the coming months. We have only one goal: to become your go-to resource for all things canine! We'll see you soon.