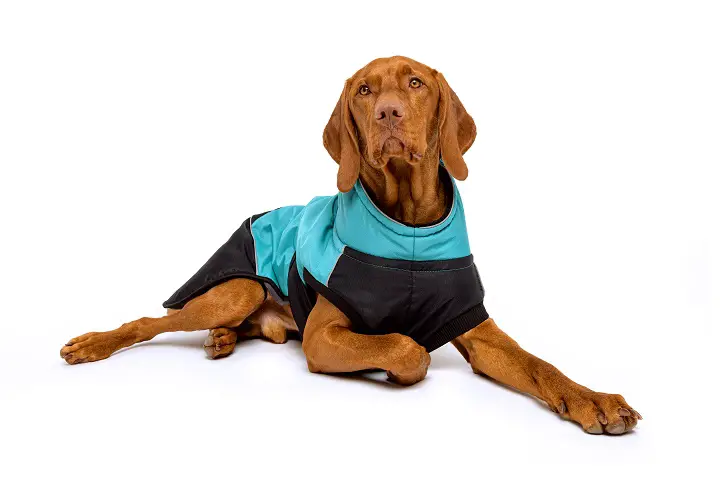 The effects of climate change are similar for everyone, whether it's us or our pooch. Just as we feel cold or hot, so does our dogs, regardless of their breed, size, and age.
Walking out buck naked will be uncomfortable for them and may lead to serious health complications. Lageogs with short-haired coats or frail bodies are more susceptible to harsh weathers-causing hip, joint, and back problems.
So whether you live in a colder region or not, your pup will require a winter coat or jacket to stay warm. The waterproof lining will keep them dry and comfortable while they wander in the rain.
Fortunately, numerous options are available on the market but finding one that's suitable for your mutt can be overwhelming. There are certain factors that you need to consider to offer maximum warmth, coziness, and comfort to your pal, without compromising aesthetic appeal.
Size: Just like with a dog vest, you need to make sure that a winter coat perfectly fits your mutt. It ensures that your dog's covered from all the right places without any chance of slippage.
Measure the length, width, and height of your pup before you make the purchase. A well-fitted coat will snugly cover the belly, neck, and hind region. Here are some tips to get the right size for your dog:
Measure the circumference of neck and girth
Measure the length from the neck to the tailbone
       Always take the measurements in standing position.
Materials: The most important feature of the dog coat is to keep your mutt warm and comfortable during the winter season. Although there are several options available, not all of them are suitable for harsh temperatures. So while making a purchase, check the thickness and materials of the coat instead of its color and style. Here are a few materials that are well-suited for winters:
 Waterproof materials: nylon, polyester, terylene, and ripstop have moisture-wicking properties.
 Fleece Lining: offers exceptional insulation and warmth
 High-loft Synthetic lining: ideal for snowy regions as it offers warmth and waterproofing
Properties: Dog coats showcase multiple properties and functionalities depending on their use. This makes cleaning and maintenance easier; so here are few considerations:
 Machine-washable: once your mutt wears the coat outdoors, it's impossible to keep it clean. Thus, you need to wash it. Therefore, when buying, make sure the materials are machine washable.
 Ease of movement: look for a dog coat having enough leg openings that let your dog move easily without feeling restricted.
 Visible: typically, coats have reflector edges to promote visibility in dim lighting
 Leash hole: your dog coat must feature a leash hole or provide you access through a zippered opening
 Thickness: make sure the coat is thick enough to keep your mutt warm without restricting its movement.
 Color: the color of the coat improves its aesthetic appeal, along with enhancing visibility.
---
BarkVA is reader-supported. When you buy via the links on our site, we may earn an affiliate commission at no cost to you.
I. The 6 Best Dog Coats For Large Dogs
Here is a list of the six best dog coats suitable for all dog types. You can easily find them online, as well.
1.

Our #1 Pick:

Hurtta Summit Parka
Being our "top-pick," Hurtta Summit Parka is the most versatile option with providing the greatest coverage and protection against weather adversaries.
The coat is specifically designed for extreme weather, thus offers maximum coverage on the hind legs. Due to its fleece fill, the coat is extremely cozy but slightly bulkier than any other coat on our list. Additionally, its top cover is made of breathable proprietary Houndtex material for supreme waterproofing. Thus, it keeps your mutt warm and cozy in light rain and snow.
What makes it so special are its adjustable features; the elastic modifiers at the neck and hind allow the coat to conform to your dog's body shape for perfect fit and ease of movement.
The coat is notably designed to protect the chest, abdomen, and hind muscles of your furry friend. Moreover, the coat also includes 3M reflectors for added visibility and leash pass-through rings. With its clip-on buckles, it's quick and easy to fasten and take off the coat without lifting your mutt's leg,
Things We Like:
 Ideal for skinny as well as large chested dogs
 Adjustable elastics for a customizable fitting
 Waterproof top layer
 Cozy
Things We Dislike:
 Unsuitable for energetic dogs
 Inefficient in heavy rains or snow
---
---
2.

Runner up:

Weatherbeeta Windbreaker 420 Dog Coat
Are you worried about your pup getting sick during the windy season? Get this impervious, windbreaker dog coat to keep your mutt safe and warm in the chilly weather.
Made fo 420 Danier windproof materials, the coat is durable enough to let your dog play around without any chances of wear and tear. Additionally, the coat includes hook and loop closure, so there's no fumbling when it's time to go home.
The full coverage at the chest, belly, and neck region effectively maintains body temperature. Meanwhile, the elasticated loops on the hind legs ensure the coat stays in place.
Its 3M reflector edges and high-visible colors make it a great choice for night walks or in locations with dim lighting.
Things We Like:
 Freedom of movement
 Stays in place
 Maximum coverage
 Tear-proof materials
 Works well for active dogs
 Highly visible
Things We Dislike:
 Unsuitable for too large dogs
 Rough seams can lead to itchy armpits
---
3. Zack & Zoey Polyester Nor'easter Dog Blanket Coat 
It is one of the most affordable dog coats on our list while providing you the same level of benefits. Additionally, it comes in 8 different sizes to suit most of the dog sizes.
For enhanced appeal, it is also marked with an embossed paw print. Also, the coat is available in eight different colors, ranging from black, chive, dark blue, orange, red, pink, and purple to match the fashion sense of pet owners. Also, the price varies depending on the chosen size and color.
For added comfort and warmth, this dog coat is reversible with one side of water-resistant material and super-soft fleece plaid. The entire coat is banded with a 3M reflective strip for enhanced visibility.
This simplistic, blanket-style feature Velcro straps at the neck and belly region for maximum protection. The coat snugly covers most dog types to provide them with ample warmth and comfort.
Things We Like:
 Available in 8 different sizes
 Comes in multiple colors
 Reversible design works well in dry and rainy seasons
 Promotes ease of movement
 Affordable
Things We Dislike:
 Less form-fitting design allows the wind to enter
---
4. MIGOHI Reflective Waterproof Windproof Dog Coat 
The Migohi is the greatest all-round dog jacket suitable for most dog types. Although highly affordable, the coat is made of high-quality materials to keep your mutt warm enough throughout the winter season.
Made from a combination of terylene, polyester filling, and cotton lining, the dog coat offers exceptional comfort, supreme water-proof, and windproof benefits.
This reversible jacket features two different designs: plaid print and solid tan on each side.  Available in XXS and XXXL, the coat comes in seven different sizes to fit most dog breeds. Although the coat is extremely warm, it doesn't cause overheating issues even on long walks.
The coat features a zipper opening for proper access to a dog leash or collar. The magic fasteners, elasticated leg straps, and lead attachment provide custom fitting. The rounded reflective edge strip also promotes visibility in dim lighting.
Things We Like:
 Warm and comfortable
 Available in two different designs
 Affordable yet durable
 Fits most dog sizes
Things We Dislike:
 The magic fasteners may wear off over years of use
---
5. Kurgo Waterproof Dog Jacket 
Let your dog brace the winter colds of Boston with Kurgo reversible, waterproof dog coat. Its durable construction makes the coat suitable for hikes and runs. Therefore, the dog coat is perfect for fur-babies that love mountains and snow.
In none different colors and five adjustable sizes, the coat works well for all dog types. The coat is specifically designed, keeping in view active mutts. Thus its ripstop exterior shell and polytech filling offer maximum waterproofing while staying lightweight.
Its zippered opening lets you attach a leash for optimum control even in the roughest terrains. Furthermore, its form-fitting design offers ease of movement while an excellent vacuum against chilly winds.
Moreover, the coat is machine washable and comes with a lifetime warranty to ensure premium quality and durability. With size ranges from XS to XL, you'll definitely be able to find one that you and your pooch love!
Things We Like:
 Machine washable
 Lifetime warranty
 Lightweight
 Specifically designed for active dogs
 Maximum comfort and warmth
Things We Dislike:
 Velcro may wear off with time
 Works well for dogs with a thick fur coat
---
6. PetCee Waterproof Dog Coat
The biggest and even the smallest pup can fit into this most versatile dog coat. All thanks to its super amazing elastic design, adjustable Velcro straps, back zipper, and multiple sizing options.
Besides, the coat comes in a variety of colors to match your aesthetic sense. The polyester exteriors fabric efficiently wicks away moisture to keep your mutt dry in the rainy season. Meanwhile, the soft fleece lining lets your canine stay warm and cozy in bone-chilling winters.
Its extra-long high collar effectively protects the sensitive neck muscles due to its windproof and waterproof materials. The back zipper and side Velcro straps make it easy to put on and take off the coat.
In addition, the company offers hassle-free return policies; so if you're not happy with your PETCEE dog coat, you can easily get a refund upon returns.
Things We Like:
 Reversible design
 Waterproof and windproof
 Hassle-free return policies
 Suitable for most dog types
 Multiple color options
 Reflective strips for low-light visibility
Things We Dislike:
---
II. FAQs
1. Why do dogs need winter coats?
Your dog needs winter coats to protect them against extreme weather conditions. Dogs that are used to living in colder regions will also require a winter coat. Vets recommend that huskies, chows, and other thick-furred dogs must also be covered with winter coats to prevent the chances of hypothermia.
2. My dog wears a sweater, do I need winter coats?
Sweaters are effective in keeping your dog warm, but you'll still need winter coats, especially if you're living in rainy terrains. Secondly, if your dog loves water, then a winter coat will keep him warm; meanwhile protecting his sensitive muscles.
3. When should I make my dog wear a coat?
It depends on your dog breed, age, fur coat, and, obviously, the weather. Older and young puppies are more prone to cold, but the rule of thumb is any dog should wear a jacket below 20 F. Ideally, you should also monitor them for frostbites, shivering, and lethargy—-they're all the signs of being too cold.
 4. What happens if a dog catches a cold?
Prolonged exposure to cold temperatures or submersion in cold water leads to hypothermia. It is an emergency situation during which the dog loses body heat faster than it produces, leading to dangerously low body temperatures. Early signs of hypothermia include:
 Shivering
 Frostbites
 Cold paws and ears
 Rapid breathing
 Increased urination
---
III. Conclusion
Just like us, our furry friends are also temperature sensitive, meaning they also feel cold and hot as the weather changes. Being exposed to extreme conditions can be potentially dangerous for your dog.
Thus, getting a winter coat is one of the basic responsibilities of pet owners. It is significantly important for the well-being of your canine. But you need to consider a few factors when buying dog coats, such as size, breed, fur coat, and the weather condition.
With proper research and consideration, you'll be able to find the perfect winter coat that will keep your companion warm during the cold. You should also consider the water-resistant and windproof properties before making the final purchase.
When selecting a brand, check its return policies and customer reviews to ensure you're getting the best deal. However, our comprehensive list of dog coats will help you find a durable, comfortable, and affordable that you and your pal will love!
As an Amazon Associate, we earn from qualifying purchases - at no cost to you, allowing us to continue our work.