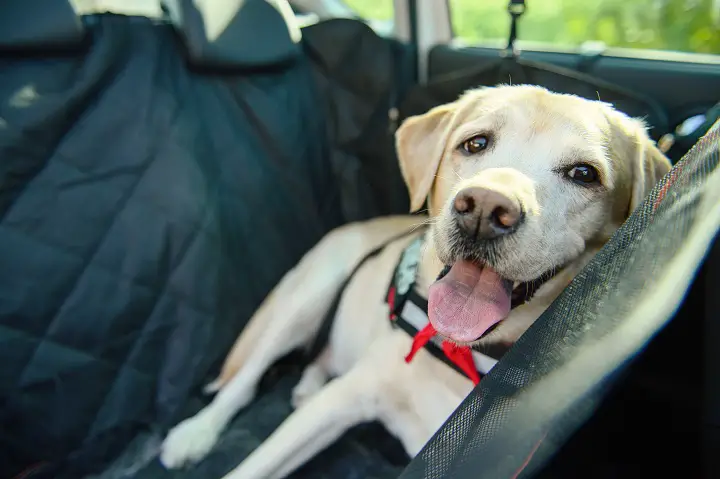 When you head out in the car, it's the perfect opportunity to give Fido some new stimulation, but how about your car seats?
All dog owners know that dog hair doesn't make a good fit with fabric car seats, and with leather seats there's every chance Rover will end up ripping them, even if you keep his nailed closely trimmed.
Luckily, you don't need to leave your furball at home when you can find so many great car seat covers.
The bad news is, there are so many cheap and ineffective car seats, choosing the best one is a minefield.
To make your life easier, we've broken down all the best dog car seat covers so you can easily compare them like-for-like.
Also, we understand you may have absolutely no idea what you're looking for on the buying trail, so what should you consider when you're comparing seat covers?
Front, back, or bench: The first choice you'll be confronted with is the type of seat that needs covering. We've broken down the covers we review by front/rear/bench. Choosing the right one has never been easier
Ease of installation: Now, whatever dog car seat cover you choose, you need to make sure it's easy to install and remove. Installing a cover on your car seats is not a set-and-forget process. Dog make mess. Lots of it. You need a cover you can easily remove for washing. This is also crucial if you only use your seat cover when you take your dog out in the car. We draw your attention to ease of installation or otherwise throughout our reviews
Materials: You should be looking for a car seat cover that combines comfort with durability. You'll also need to ensure that the materials used are scratchproof and water-resistant at minimum, but ideally waterproof. You should also be aware that some of these car seats don't use colorfast colors. This can lead to stained seats, so we again highlight any covers that fall down in this area. Polyester and cotton are the most common materials used for the best dog cars seat covers
Padding: Some of the better canine seat covers are packed with foam padding. This cocoons your pooch and offers at least some protection in the event of an accident
Attachments: Make sure any seat covers on your shortlist come with quick-release and secure attachments. You need to keep Fido's safety uppermost while also making your own life easier. Choose a car seat cover that allow you to do both
Cleaning: All good dog car seat covers should be easy to clean, and ideally machine washable.
If you keep the above pointers in mind, you'll know precisely what to prioritize when you're comparing covers. See which of the following protective covers makes the right fit for your ride.

Barkva.org is reader-supported. When you buy via the links on our site, we may earn an affiliate commission at no cost to you.
The 16 Best Dog Car Seat Covers
1.
Our #1 Pick:

Plush Paws Waterproof Car Seat Cover
Features
Rear seat
Canvas
55 x 58 inches
Our pick of the bunch from these dog car seat covers comes from Plush Paws, so how does it stand out?
Off the bat, the price is quite keen and also currently discounted. Taking this into account, this cover offers exceptional value for money.
Despite the low price, you'll benefit from impressive design and build quality here. The canvas cover is designed to fit standard rear car seats.
The rugged fabric should stand up to plenty of punishment, and the strengthened stitching ensures lifespan won't let you down.
There's a double waterproof layer in place that should prevent any unexpected accidents soiling the seats of your car. The back of the seat is lined with silicone so Rover won't be slipping around. Padding is quite robust, too, allowing your furball in safety without ever compromising comfort.
With the anchors, straps, and flaps, you shouldn't find any problems fitting this cover or removing it.
Claw-proof, paw-proof, and free of all chemicals and toxins, this is one of the best car seat covers for dogs you can find.
Things We Like
Reinforced diamond stitching
Double waterproof layer
Tear-resistant fabric
Things We Dislike
No ideal for very heavy dogs
---
2. Active Pets Store Car Seat Cover
Features
Rear seat
Oxford cotton
54 x 58 inches
Are you looking for an effective but affordable hammock car seat cover for road trips with Rover? If so, the Active Pets Store hits another home run with this Oxford cotton gem.
The universal sizing caters for all regular car and SUV back seats. The configuration allows you to convert the cover to fit a bench seat , hammock-style cover, or cargo liner. Few others covers give you this degree of versatility.
Made from dense Oxford cotton, you'll give your seats adequate protection from the ravages of Rover so you can all head out in the car without worrying about damaged upholstery.
You'll get 4 headrest anchors and a pair of seat anchors so you should have no concerns about your furball sliding around or slipping off the seat.
The only reported flaw we could find with these covers involves a handful of customers complaining about removing the covers to find a sticky residue left behind on the seats. Do your own due diligence here. Most user testimony is overwhelmingly positive.
Things We Like
Designed to fit all SUVs
Easy-care cotton
Multiple seat anchors
Things We Dislike
Leaves some residue on seats
---
3. YesYees Waterproof Dog Car Seat
Features
Bench seat
Canvas
56 x 49 inches
Have you been hunting for suitable protection for the rear seat of your ride? YesYees serves up a decorative yet durable cover that's well worth popping on your shortlist.
The simple quilted canvas won't spoil the aesthetics inside your vehicle, and the neutral design means it should look the part in most cars.
The split seat covers are designed to fit most regular vehicles. They are also compatible with middle seat belts, and also with armrests.
Fitting the cover only takes a minute or two. Snap it into place using the buckle straps provided. Reverse the process to remove and wash. To do this, pop the cover in the machine on a gentle cycle and allow to dry naturally.
The backing of the covers is non-slip for your peace of mind and Fido's safety.
Waterproofing is reasonable, although a few disgruntled users claim it's more water-resistant than waterproof.
The only other drawback worth mentioning concerns the zippers. These are weak and should be handled with extreme care.
Things We Like
Super-simple installation
Buckle straps
Non-slip mesh
Things We Dislike
Zippers could be stronger
---
4. BarksBar Luxury Car Seat Cover
Features
Rear seat
Polyester
55 x 58 inches
Next up we have the first entry from the inimitable BarksBar. This company has a deep bench of pocket-friendly pet products that don't bum you on the performance front.
Designed for use on rear seats, you can convert the cover to suit bench seats or to use hammock style covering the seats individually.
The triple-layered PU is built to last and should also ensure that Fido stays comfy even on long drives.
Installing the cover couldn't be easier. Simply snap it into place with your preferred configuration using the nifty quick-release clips.
The polyester build is long-lasting and tear-resistant. The material won't leech into the seats of your car either, a common problem with many cheap car seat covers. The last thing you want is to ostensibly protect your seats but then end up ruining them.
Sized to fit all standard rear car seats, BarksBar give you an attractive, hard-wearing, and comfortable seat cover with a great deal of adjustability. What's not to love?
Things We Like
Convertible from bench seats to hammock
Color-fast materials
Easy to install and clean
Things We Dislike
Build quality could be improved
---
5. URPOWER Waterproof Pet Car Seat
Features
Rear seat
Polyester, cotton, fabric
58 x 54 inches
URPOWER delivers a highly effective car seat cover perfect for dog owners looking to keep their ride clean and to prolong the lifespan of the seats.
The combination of polyester, cotton, and PVC results in a durable, comfortable, and canine-friendly cover at a price you'll hardly believe.
Choose from a range of neutral colors to mesh with the interior of your vehicle.
These covers are not dog-specific, so they work just as well if you have messy toddlers and you want to keep your car seats spotless.
Installing the cover is a snap thanks to the quick-release clips. You'll be ready to hit the road in minutes, and you can do so without worrying about any rips, tears, or spillages damaging your seats.
The sizing is ideal for most cars, trucks, and SUVs. The covers are also suitable for all shapes and sizes of dog giving you enormous flexibility.
Things We Like
Ideal for pets or people
Quick-release clips
Rugged and built to last
Things We Dislike
---
6. Viewpets Bench Car Seat Cover
Features
Rear seat
Quilted fabric
49 x 56 inches
Viewpets produces this efficient bench car seat cover perfecting for keeping your car clean and your pooch happy at the same time.
Made from a soft and quilted fabric, you can give Fido an extra edge of comfort, perfect for lengthy road trips.
The universal sizing makes this a neat fit for most vehicles, and for all shapes and sizes of hound.
The fabric is adequately waterproofed to cope with a minor accident on the road. The backing is non-slip, too, so you won't need to worry about the security of your dog riding behind you.
Finished in a choice of 4 subtle colorways, you'll have everything you need to keep the interior of your ride spotless even if you take messy dogs for a drive.
This cover is designed to fit on most bench seats. The anchors and side flaps serve to keep it tightly in place while protecting the seats of your car.
You can clean the cover with a damp cloth or use a car vacuum to blitz it free of hairs and dander to complete a winning package from a brand you can rely on.
Things We Like
Universal sizing
Waterproof
Non-slip
Things We Dislike
Color doesn't match listing image
---
7. Arf Pets SUV Cargo Liner
Features
Cargo liner
Polyurethane
55 x 82 inches
Many SUV owners use the cargo area of the vehicle for transporting dogs. Join them with this subtle but striking cover that will protect the interior of your ride while cushioning Fido's experience on the road.
Made from polyurethane, you're getting a cover that's built to last, and to be remarkably low-maintenance.
Sized at 55 x 82 inches, this cover is suitable for all regular cargo areas in common SUVs.
The backing of this cover is textured and designed not to slip. The colors won't bleed into your seats either, a common bugbear of ours with cheap dog car seat covers.
As well as the non-slip backing, you get secure anchors and straps to position this cover and keep it in place throughout your drive.
We found some complaints about this cover from dog owners suggesting it doesn't work well for keeping hair away from seats. These complaints were isolated, though, with the bulk of user opinion positive.
The cover is machine washable for your convenience. For best results, air dry.
This cover is a quick and easy fix to filthy cargo areas for canine owners so see if it matches up to your needs.
Things We Like
Designed for all standard vehicles
Side flaps for extra coverage
Quick-release straps
Things We Dislike
Not the best for trapping hair
---
8. iBuddy Dog Car Seat Covers
Features
Rear seat
Nylon
54 x 58 inches
If you need the rear seats of your car, truck, or SUV protecting from your dog, iBuddy delivers a user-friendly solution at a very keen price. How does it shape up, then?
Ease of use is uppermost. It will take you less than a minute to slip this cover into place.
Made from breathable mesh, the material will ensure your dog never gets too hot or too cold. The rugged Oxford cloth is also built to stay the distance, so you'll be getting great lifespan as well as pocket-friendly pricing.
The cover is just as easy to clean, too. Machine washable, you should let the cover air dry naturally overnight before replacing.
Zippered side flaps are a nice touch and serve as extra security in the event of an accident.
Some owners of fidgety and energetic dogs have complained that their furballs managed to detach the seat cover. Think closely about your dog's temperament, and if he's prone to mischief, consider one of the other dog car seat covers on our shortlist.
Things We Like
Breathable mesh
Machine-washable
Straightforward installation
Things We Dislike
Not a good fit for energetic dogs
---
9. BarksBar Original Car Seat Cover
Features
Rear seat
Polyester
54 x 58 inches
Another cover from the industry heavyweight BarksBar up next in the form of this rear seat cover ideal for most vars, trucks, and SUVs.
You can use this cover for hammock coverage or as a standard bench seat cover, depending on the configuration of your vehicle.
Quick and easy to install, you won't have any headaches about the colors bleeding into your upholstery either. There are no toxins and all materials are dog-friendly.
A pair of storage pockets come in handy for drinks, treats, and any doggie accessories you'd like in one place.
Made from waterproof polyester, you'll have no worries about Fido making a mess or having an accident.
The cover is machine washable. Air dry and replace for low-maintenance car seat protection.
A few customers have suggested that the straps don't fit as tightly over the seats as they would like. This could present a problem if your dog is an aggressive chewer or prone to misbehaving.
Things We Like
Hammock convertible
No bleeding of colors
Machine wash on gentle cycle
Things We Dislike
---
10. URPOWER Dog Seat Cover
Features
Rear seat
Oxford fabric
54 x 58 inches
We have another entry from URPOWER next in the shape of this rear seat cover perfect for most cars, SUVs, and trucks.
The rugged and dense Oxford fabric is favored for car seats as it's durable while still remaining soft and comfortable. It's also very easy to care for resulting in a hopefully lengthy lifespan.
The backing means Rover won't be dangerously slipping around on the road.
The cover is padded and offers a combination of comfort and support.
Designed to withstand Fido's paws and claws, you'll also benefit from waterproofing to fully safeguard your leather seats.
As with a couple of covers on our shortlist, the zippers on this model are a let-down. Be sure to handle these with car or you could end up cross-threading them with ease.
There are 5 colorways to choose from so you should easily find a match with your vehicle's interior.
With universal sizing, you've got nothing else to worry about beyond the color, so what are you waiting for?
Things We Like
Dense fabric
Slip-proof backing
Reinforced snap buckles
Things We Dislike
---
11. BarksBar Pet Front Car Seat Cover
Features
Front seat
Polyester
21 x 21 inches
Another fine car seat from BarksBar is next in line. This model is expressly designed for the front seats of most standard vehicles.
This polyester cover only comes in black, so if that clashes with your tastes, explore some of the more colorful options on our shortlist. If you don't mind that murdered-out look, you'll be impressed with this cover.
Heavy-duty polyester gives you robust waterproofing. This is an area where many of the cheaper dog car seat covers fall down.
The quilted design gives Fido some extra comfort and also looks chic.
Not only is this cover super-simple to install with its quick-release buckles, but you'll also be free to throw it in the washing machine for hands-free maintenance. It won't respond well to the dryer so let it air dry overnight before replacing it spotless.
If you have leather seats, you may find these covers stick to the seats. We would advise checking out some of the other covers above and below. For all canvas upholstery, though, this cover is a smart bet.
Things We Like
Fits most standard vehicles
Triple-layered waterproofing
Machine washable
Things We Dislike
---
12. AmazonBasics Waterproof Car Bench Seat Cover
Features
Rear seat
Canvas
56 x 47 inches
AmazonBasics offers a diverse line of highly affordable products giving you everything you need and nothing you don't. This utilitarian car seat cover is perfect for dog owners looking to maintain the integrity of their vehicle without stopping Fido from coming along for the ride.
The rear seat cover is made from a durable and easy-care canvas. You can expect this cover to last for years if properly maintained, something we can't say for all the covers we review.
You can easily snap the cover into place using the headrest loops, straps, and seat anchors.
If you notice any marks on the cover, spot-clean with some water and mild detergent.
Universal sizing makes this a fuss-free solution to covering the seats of your car and keeping them free of hair and dander.
A lack of padding is about the only real weak point in this otherwise value-packed canine car seat cover.
Things We Like
Easily slips into place
Spot-clean for easy maintenance
Outstanding value
Things We Dislike
---
13. Meadowlark Dog Seat Covers
Features
Front seat
Canvas
60 x 64 inches
Meadowlark produces some bargain-basement products that don't stiff you totally in terms of quality. This car seat cover continues that winning tradition.
You'll be up and on the road in less than a minute. The cover slips neatly into place and attaches securely with the very minimum of fanfare.
The cover only comes in black which is a disappointment. If you're OK with that colorway, what else do you get for your money?
The zippered side flaps serve to protect the whole rear of your car from Fido's ravages.
The cover is machine washable reducing your maintenance to effectively nil. Allow to air dry and replace for debris-free car seats year-round.
If you're still in any doubt, this cover comes with a no-questions money-back guarantee. Give it a try and if you're not entirely satisfied, just call up for a refund. You have literally nothing to lose.
Things We Like
Zippered side flaps
Slots into place in 60 seconds
Easy-care and machine washable
Things We Dislike
---
14. Pet Magasin Luxury Car Seat Cover
Features
Rear seat
Canvas
54 x 58 inches
Available in black or luxe beige, this premium car seat cover from Pet Magasin will enhance your vehicle rather than making it look shabbier, a common flaw with many cheap car seat covers.
The universal sizing makes this cover a neat fit for most regular vehicles. If you drive something exotic or super-large, you may need to check more closely. Dimensions are 54 x 58 inches.
The canvas construction should give you plenty of faithful service while keeping your car seats immaculate.
Although most user feedback is positive, we found some complaints about the cover disintegrating after repeated washing.
Things We Like
Works in most cars, trucks, and SUVs
Rugged and long-lasting
Waterproof
Things We Dislike
Starts coming apart after multiple washes
---
15. 4Knines Front Car Seat Cover
Features
Front seat
Polyester
21 x 21 inches
As we edge to the end of our quest for the best dog car seat covers, we have a back seat cover from 4Knines that deserves a place on your shortlist.
Made from a soft but durable polyester, the colorfast cover won't end up staining your seats while you're trying to protect them.
The straps are padded and the overall feel of this cover is soft and comfy, perfect for Fido to snuggle up on if you're going for a lengthy drive.
The only real blowback we encountered when exploring user reviews concerns the lack of robustness. If you have a larger and more energetic dog to care for, we'd suggest looking at one of the other car seat covers we review.
You can spot clean this cover, and it's also machine washable, meaning there's no excuse not to keep it looking immaculate, and to keep your car seats free of dander and hair.
Things We Like
Colorfast backing
Thickly padded straps
7-layer construction
Things We Dislike
Not the most robust design
---
16. Frisco Waterproof Quilted Car Seat Cover
Features
Bench seat
Oxford polyester
48 x 59 inches
Frisco's quilted and nicely padded car seat cover will ensure that Rover gets the ride of his life while you can rest easy that your seats won't get wrecked in the process.
This cover is designed to fit all standard bench seats. Made from a dense Oxford cotton, you shouldn't find your dog's paws and claws rip or tear the covers, and your seats will stay fully protected.
As with all the best car seat covers, this one is a cinch to fit and remove. All you need to do is lay the cover over the seat, position the straps around the headrests, then fine-tune for a snug fit. Push the anchors through the seat gaps and you're good to go. Reverse the three-step process to remove.
Cleaning this cover is equally easy, and it's machine washable for your complete convenience.
The cover is also compatible with the most common pet restraint systems, so you've got all bases covered with this no-nonsense canine car seat cover.
Things We Like
Ideal for all bench seats
Snaps tightly into place
Easy to clean
Things We Dislike
---
Conclusion
If you pitched up here today with no clue about choosing the best dog car seat covers, that should have changed by now.
If you opt for any of the covers on our shortlist today, you'll gain a clear insight into where this gear stands and falls. Buy with your eyes wide open. If, on the other hand, you come across some car seat covers not on our list, all you need to do is follow the guidance we lay out at the beginning and you should easily find the right fit.
Take a moment to bookmark our blog before you head off. Here at BarkVA, we pride ourselves on bringing you fresh content daily across all areas of owning dogs. Come back soon for more impartial reviews of the best dog gear and a wide range of training tips and dog care guidance. We'll see you soon!
As an Amazon Associate, we earn from qualifying purchases - at no cost to you, allowing us to continue our work.