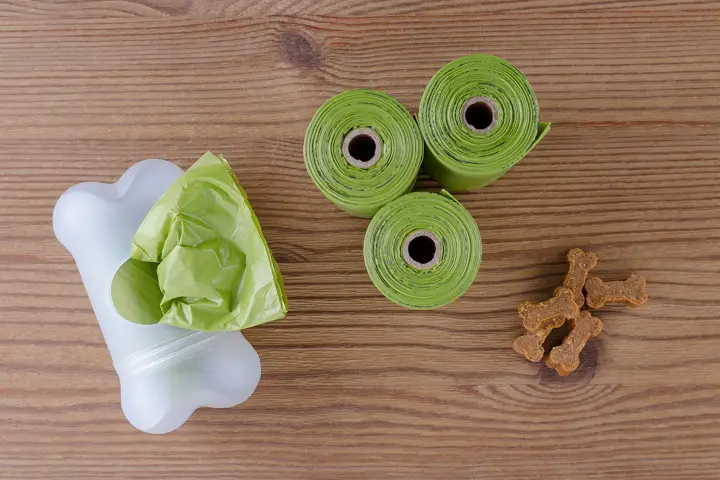 According to a recent study, a 75-pound dog can produce 500-pounds of waste each year. Additionally, EPA estimates that 2 days of poop from 100 dogs is polluted enough to close a bay and surrounding watershed areas.
As an eco-conscious pet owner, it is your responsibility to ensure the pet waste is properly disposed of. Therefore, you need to figure out the best possible ways that are safe for the environment.
Dog poo is a commonly shared issue among dog lovers and haters; it's a disgusting, stinky, and tacky business that only ends up in a mess. Not only is dog poo difficult to clean from shoes and other surfaces, but it's also a haven for germs and bacteria. It can spread diseases like roundworms, E.coli, hookworm, and tapeworm.
Being environmental-friendly, categorically doesn't shun you away from cleaning up the mess of your beloved canine friend. Flicking it away in the bushes or flushing it out in the toilets is not a viable solution nor can you bury it. This leaves, many dog owners, clueless on how to dispose of the dog waste without damaging the ecology of nature.
While taking your dog out for a walk, a poop bag is the first thing you would consider as you wouldn't want to leave the waste on the ground. Firstly, it's unhygienic and increases public health risk; secondly, it can get washed and clog drains. Lastly, the government has introduced stringent laws making it compulsory to clean up after your dog.
The only possible solution that is eco-friendly as well is to use biodegradable and 100% compostable dog poop bags. Well, they are similar to plastic bags but are suitable for the environment. Sure, you can find numerous options available on the market, but not all of them are efficient enough. So, when buying bio-degradable bags, consider these common points:
Biodegradable: When buying biodegradable and eco-friendly bags, find out how long they will take to decompose. Typically, the process should be anywhere between 90-120 days.
Materials: Typically, eco-friendly and compostable bags are made of plant-based materials or cornstarch. They reduce carbon emission and are easy to dispose of due to increased decomposition properties.
Size: Mostly, these green bags are available in a single size, so make sure you get the largest size. It also ensures that the bag works well for all dog sizes and is easy to tie back.
Thickness: There is nothing worse than getting dog poop on your hands while disposing of it. Therefore, when shopping for eco-friendly bags, make sure they are made of sturdy materials with a non-perforated structure. It will also prevent leakage and keeps the content and smell inside the bag.
Durability: The bag should be made of sturdy materials to prevent breakage and tear off while carrying the waste. It should be strong enough to hold large contents without letting the bag fall apart.
Convenience: Typically, dog poop bags are sold in rolls that can easily be stored in dispensers. Being roll packed makes it easier to carry and store the bags when you're out for a walk.
BarkVA is reader-supported. When you buy via the links on our site, we may earn an affiliate commission at no cost to you.
---
I. The 6 Best Biodegradable Poop Bags
1.

Our #1 Pick:

Doggy Do Good Premium Pet Waste Bags
Our top-pick Dog Do Good poop bags are made of premium vegetable-based contents. It makes them easy to decompose and break down in 90 days without emitting carbon or any other hazardous gases.
Their extra-thick film makes them durable and sturdy enough to carry large amounts of waste without the risk of tearing. Its non-perforated construction offers leak-proof properties and keeps the content and odor inside.
Each bag is ASTM D6400 USA certified, guaranteeing the top-notch quality of the bags. Although a bit pricey, the company still offers a "subscribe & save" option providing its loyal customers with a 15% discount on every purchase. Additionally, the company dedicates a portion of its sale to help animal rescue shelters. Available in three different count packs, this poop bag box meets the requirements of all dog types.
Things We Like:
 High-quality product
 Durable and sturdy construction
 Biodegradable contents
 Zero carbon emission
 Discount options
 Available in three different counts
Things We Dislike:
 Expensive
 Handle-free makes it difficult to tie
---
---
2.

Runner up:

UNNI 100% Compostable Dog Poop Bags
It is one of the high-quality compostable leak-proof dog waste bags that are ASTM D6400 certified. This means these extra thick waste bags can last longer without the risk of leakage.
They are made of plant starches and free from polyethylene contents which make them safe for the environments. Additionally, the bags are OK Compost Home & Seedling under European standard certified. It is the only kind of certification guaranteeing that the bags are safe for in-home composting.
Store them in a cool and dry place, and use them within nine months of purchase. You should avoid excessively hot and humid place to store the bags as it's made of easily compostable materials. They are a great choice for eco-conscious buyers due to their durable, non-toxic and environmentally safe contents.
Things We Like:
 100% biodegradable
 USA and EU certified product
 Safe for in-house composting
 Thick and durable
 Comes in 2 different counts
Things We Dislike:
 Needs careful storage
 Must be used within the first year of storage
---
3. Pet n Pet Biodegradable Dog Poop Bags
A highly certified (US ASTM D6400 and Euro EN13432) compostable poop bag is 100% eco-friendly and biodegradable. Its heavy-duty construction makes durable, long-lasting and leak-proof.
Featuring unique tear perforation and open arrow, each bag is easy to detach, open and tear-off from its respective roll. Each contains 240 bags to keep you ever-ready on your walk with your canine friends. The roll packs are refillable, which means you can store a new cartridge of compostable bags in it.
The thick and large bags are spacious enough to hold the waste of the most massive of dogs. This polythene-free poop bag contains vegetable-based contents to ensure zero carbon emission on decomposition. This means you can easily dump these bags at any municipal and industrial anaerobic site that accepts pet waste.
Things We Like:
 U.S. and EU certified
 Biodegradable and sturdy materials
 Eco-friendly
 Decomposes within 180 days
 Spacious
 Polyethylene-free
 Easy-to-use
Things We Dislike:
 Handle-free construction makes it difficult to tie back
---
4. Pet n Bags Unscented Dog Poop Bags
It is one of the most well-rated biodegradable dog poop bag brands available in the market. Available in different count and size, the product is one of the most versatile options suiting the needs of almost every dog breed.
It is available in 8, 16, 24 and 60 roll packs stored in a dog dispenser pouch that can easily be attached to the dog leash. Featuring easy tear and open design, the bag is easily detachable from the roll pack.
Being a scent-free, these dog poop bags are well-suited for dogs and pet owners with allergies and a sensitive nose. Its water-resistant properties keep your hand dry and mitigating the waft of unpleasant odors. They are available in very large sizes, meaning these bags are easy to tie back and accommodate large quantities of waste.
Things We Like:
 Biodegradable, compostable bags
 Includes dispenser
 Big enough to hold wastes of massive dogs
 Water-resistant coatings
 Scent-free and hypoallergenic
 Available in multiple lengths and counts
Things We Dislike:
 Detachments issues
 May tear-off
---
5. PobbY Biodegradable Poop Bags
It is one of the most affordable biodegradable poop bags available in the market. Its EPI technology ensures that the bag is durable, non-perforated and leak-proof. Its double seal design allows the content and the smell to remain inside the bag and keeps your hand clean.
Featuring easy-to-use construction, the bags are easy to detach from the roll pack and open without the risk of tear. The pack comes with a sturdy dispenser that can easily be attached to the leash. It lets you easily load and carry disposable poop bags and stay prepared for evening walks.
Its funky design and color coding make these bags aesthetically appealing without compromising its biodegradable properties. These extra-large bags are well-suited for dogs of all sizes. However, they are typically designed for dogs that are hypoallergenic and thus are scent-free. Being a conscious brand, PobbY donates a percentage of its sales to animal rescue agencies.
Things We Like:
 Affordable biodegradable bag
 Sturdy and double seal design
 Comes with a dispenser
 Aesthetically appealing
 Support animal rescue groups
 Scent and allergen-free
Things We Dislike:
 A handle-free structure may hinder the tying process
---
6.

Budget Pick:

AmazonBasics Unscented Dog Poop Bags – The only plastic bags that are safe for the environment
AmazonBasic is ultra-thick biodegradable bags, making them better than other standard waste bags. Its thick structure is leak-proof, allowing the contents and smell to remain within the bag.
Featuring an open arrow mark makes it easy to use these bags and saves you time and effort as you continue with your walk. Being extra-long, the bags have ample room to tie on the top without dirtying your hand.
The dark color and non-transparent properties of the bag effectively conceal contents better than any other waste bag. You also get an easily clip-able carabiner-style dispenser to attach to the leash. The bag is made of EPI additive plastic contents to increase their longevity and sturdiness. They are the only plastic bags that are safe for the environment.
Things We Like:
 Most affordable
 More than the standard count
 Lightweight
 Carabiner style dispenser
Things We Dislike:
 EPI additives make it difficult to decompose
---
II. FAQs
1. Why should I buy biodegradable poop bags to discard the waste contents?
Using biodegradable bags ensure that you are using environmentally safe materials to dispose of dog poop. It reduces carbon footprints; while the decomposed material is suitable as a fertilizer and renewable energy source.
Secondly, it helps you reduce the amount of plastic waste. These bags disappear under certain conditions and timeframes. Despite being a pricier variable, biodegradable bags are safe for you and the environment.
2. Why shouldn't I flush out dog poop?
Dog poop contains certain bacteria that are harmful to water bodies. Exposure to water also boosts the production of these bacteria, leading to certain health complications.
According to EPA, dog waste can lead to the closure of beaches and other water bodies surrounding the area. Even when buried underground, dog poop can pollute the water content.
Secondly, dog poop is difficult to decompose. This means that when flushed, the poop will not break down and clog drain pipes, which can cause sanitation issues in your neighborhood.
3. Is it safe to compost dog waste?
Composting dog waste is harmful to the environment. It contains harmful pathogens that do not die off easily. Adding it to the compost pile instead of anaerobic digester will contaminate the environment and the land. Also, the naturally decomposed dog waste cannot be used as a natural fertilizer. It will damage the plants and hinder their growth.
4. How are municipal compost bins safe for disposing dog's poop?
Typically, municipal compost bins are not suitable for dog waste as they don't have the ideal temperatures that can kill pathogens. Therefore, when disposing of dog poop, make sure that the municipal compost bins accept pet waste. Otherwise, you can choose an industrial waste site where the contents are fed to anaerobic digesters for energy production.
---
III. Conclusion 
We love our dogs and our environment equally. Therefore, as eco-conscious pet owners, we should choose biodegradable options over petroleum-based plastic bags.
Eco-friendly, green bags decompose with the waste contents and thus leave minimal carbon footprints on earth's ecological system. It is definitely better than leaving dog waste on the ground to let it decompose naturally and emitting harmful gases in the air.
Improper disposal leads to various health complications and damage to water bodies, making it toxic and unsafe for drinking. It also becomes troublesome for passers-by due to the pungent smell and difficult cleaning process.
Our smallest effort in its disposal shows great respect to the environment and greatest contribution to protecting the planet and its beings.