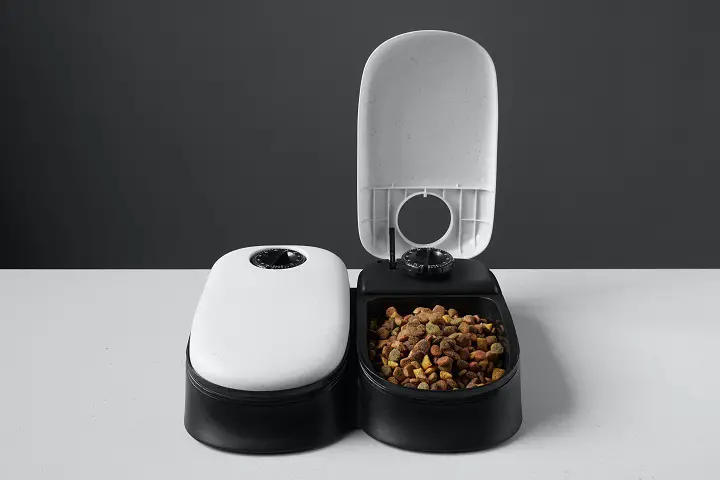 Dogs need their meals ideally at least two times a day and on a consistent schedule – but this can be challenging to feed them on time if you're at work or college.
My friend John has two dogs, and he used to feed them in the morning and then at night when he got back from work. The pooches were surviving on a food can for the whole day, which wasn't enough for them.
The dogs had several digestive problems, all due to irregular eating patterns and long duration of starvation. Things got even worse when we had to take care of his dogs while he was out of town on business trips.
Our busy life schedule made it quite difficult for us to balance our work-life schedule and take the additional responsibilities of two dogs. I suggested that my friend buy an automatic dog feeder as it will help resolve the problem to a great extent. Using an automatic feeder allowed these docile pets to take care of their meals for the day.
Puppies themselves will need more frequent feeding schedule as well, of at least 3 times a day.
I. Automatic Dog Feeder Buyer's Guide
There are several features to improve the functionality of these dog feeders. Here is what you should keep in mind when buying the best automatic dog feeders:
Portion Size: One of the most important factors is the portion sizes your automatic feeder can release. The meal portions vary depending on the size and breed of your dog. Additionally, your dog could be on a restricted diet; thus, you will need a feeder that releases precise portions. So, look for a machine that releases portions according to your dog's needs.
Capacity: The amount of food that a feeder can hold is another defining property. If you are one of those who frequently travel abroad or have a busy schedule, then you require a feeder with a larger capacity. Otherwise, you would need to refill it repeatedly, thus killing the whole purpose of automatic feeders.
Durability: Most of the time, automatic feeders come with locking lids to secure the food in the hopper. But you need to get a feeder with a sturdy lock-system as your chewy mutt can chomp off the lid while trying to get to the food.
Frequency of Meal: The number of times a feeder can dispense meal each day, affect your choice subsequently. Typically, automatic dog feeders can release meals a couple of times a day, while some come with schedule-set features. Pick the one that meets your requirements.
Easy Maintenance: Try finding a one that comes with stainless steel or dishwasher-friendly material for easy cleaning. Look for a model that disassembles so that you can clean it thoroughly.
Feeder Type: There are two different types of automatic feeders: 1) cordless and 2) with cords. But the latter is quite risky as it requires timely charging to dispense meals on time. If you still prefer a corded one, make sure it has a backup battery charging so that you BFFsdon't stay hungry while you are out.
Additional Features: Most well-known feeders come with additional features with microchip collar tag and voice recording. This helps your pooch to associate well with his feeder and allow him to know that it's mealtime.
BarkVA is reader-supported. When you buy via the links on our site, we may earn an affiliate commission at no cost to you.
II. The 11 Best Automatic Dog Feeders
1.

Our #1 Pick:

AmazonBasics Gravity Pet Food Feeder and Water Dispenser
It is one of the most affordable automatic dog feeders that are ideal for pet owners on a limited budget but don't want to compromise on quality.
This 2-in-1 bundle comes with a gravity feeder and waterer with a capacity of 12 pounds and 2.5 gallons, respectively. Made of transparent PET material, it becomes easier to see when you need to refill the feeders. The lid and base comprise of PP for durability and long-term use.
It is easy to clean, as each piece can be soap washed without damaging the device. Featuring side handles, this automatic feeder provides anti-slip grip and lift, while its skid-free rubber feet ensure secure placement.
Things We Like:
High capacity storage
Transparent hopper for easy refill
Built-in side handles and skid-free feet
Easy use and maintenance
Ideal for multiple pet homes
Low-cost feeder
Things We Dislike:
No additional features
No programmers to schedule meals
Suitable for trained dogs only
---
2.

Best Budget:

Petmate Pet Café Feeder
Petmate serves up a highly effective automatic pet feeder that helps you prolong feeding time, ideal if your dog is greedy and spends lots of time alone during the day.
All you need to do is load this feeder up to the 12-pound capacity. This should give you ample leeway for larger breeds. It also offers you enough latitude for multi-dog households.
The food container slots neatly into the base where it locks into position. As well as making a great addition to your home, this automatic feeder is also suitable for travel use, whether in the car or on a plane.
Aside from a handful of isolated complaints about food getting stuck – a pretty common issue with most automatic dog feeders – there's little else to knock about this modern classic. Easy to clean, easy to use, and coming with an integrated water bowl, you'll have everything you need to control Rover's feeding times.
Petmate has been in business for half a century providing pet owners just like you with all the equipment they need at a reasonable price point. This is one of the best automatic dog feeders out there, allowing you to buy with total confidence.
Things We Like
Gravity feeder for all-day feeding
Generous 12-pound capacity
Water bowl
Straightforward refilling
Easy to clean
Things We Dislike
Food can get stuck in opening
---
3. PetSafe Healthy Pet Automatic Feeder
This automatic feeder allows you to schedule eight meals a day with three different feedings. This feeder is ideal for mutts who are greedy eaters and suffer from digestion problems.
Now with PetSafe Healthy Simple Pet feed, you can schedule the portions with slow and pause feeding options without losing the regular schedule. You can even regulate the size of the meal from 1/8th to 4 cups per portion.
When setting up the feeder, put food in the conveyor belt as else it takes up to six scheduled feedings for the conveyor belt to scoop and drop the food out.
Its large conveyor can contain 24 dry or semi-moist feeds of varying sizes and portions and securely locked top for dog-proofing. Accompanied by a steel bowl, this automatic pet feeder is also a long-lasting option with dual charging and translucent bodies.
Things We Like:
Custom-sized, schedule meal portions
Large reservoir to store up to 24 feeds
Battery as well as wire charging options
Secure lock at the top for dog-proofing
Suitable for dry and semi-moist food
Dishwasher-safe detachable parts
Things We Dislike:
Machine operated part prone to dysfunction
Difficult to program due to multiple options
Steel bowl too small for large dogs
---
4. PetSafe Dog and Cat Food Dispenser
It is an easy to use automatic cat and dog feeder that allows you to schedule a maximum of five meals. It is ideal for small to medium cats and dogs as each meal portion is the size of a cup (i-e. 8 ounces).
As the feeder is battery-powered, it doesn't additionally require a wall charger. The feeder is ideal for your furry friends who love to eat and wouldn't stop until the feeder is empty. You need to set the internal clock and LCD to pop the feeder tray. It is well-suited for pets having breakfast as early as 4 am.
Since it is an auto-set feeder type, you can store semi-moist food as well. The BPA-free plastic tray may get messy but can be hand washed or popped in a dishwasher for quick cleaning.
Things We Like:
High-quality, eco-friendly materials
Keeps the food fresh for long
Easy to schedule mealtimes
Dishwasher-friendly
Controlled meal portions
Things We Dislike:
Suitable for small-medium sized pets
Battery-powered only
---
5. HoneyGuaridan A36
The most popular model of the brand, this automatic feeder schedules six meals a day. It can dispense 0.28 ounces per meal with 80 portions for a controlled diet. With a capacity of 13 cups dry food having 0.47 kibble size, the unit dispenses food smoothly without any chances of getting stuck.
Once scheduled, the device will release food even if shut down. The stainless steel, the removable bowl is eco-friendly and easy-to-wash. The built-in low-level food alert makes refilling easy and timely so that your mutt never has to go hungry, even in your absence. The LED light turns red when the food level is too low in the hopper to remind you to refill constantly.
Paired with USB powered and battery charging systems, the device can function, even during a blackout. Paired with voice recording and speaker to call, you can send in a personal message when it's mealtime. Moreover, the feeder comes with a unique motor inversion design that prevents the food from jamming. Even if it happens, the machine works in the opposite direction to unblock. The infrared sensor signals when the food bowl is full.
Things We Like:
Hi-tech features
LED alerts on low-level feeds
Easy to clean, detachable bowl
Infrared sensors and inverted motor mechanism
Dispenses food even when shut down
Dual power system
Things We Dislike:
Limited capacity of the hopper
Designed for small dogs
---
6. PETKIT Automatic Cat Feeder
This automatic feeder is your way to go with its custom-enabled features and sleek design. Now your pet can have its meal any time of the day without waking you up. Using your smartphone, you can set daily schedules and feed your pet with just a tap on your phone. You can even send voice commands using Amazon Echo.
The feeder allows you to release feed ten times a day, with a meal portion varying from 5-100 grams. It helps you make customized feed sizes that suit the unique needs of your dog. Once you set the timer, it will regularly dispense food even if there is no Wi-Fi connection, or the feeding unit is offline.
With its double lock system at the top, the dog feed remains fresh and crisp for longer durations. You even don't need to frequently refill the feeders due to its large capacity of 3.3lbs. It will automatically notify you when the feed level is low or if the hopper is empty. The unit is a power adapter operated with additional battery backup. You can even socialize with other PETKIT users and share your experiences on the social app. It is ideal for all kinds of pets of smaller size.
Things We Like:
Double lock system for fresh food
Dispenses food even when the internet is lost
Connect you with other users
Multiple portion size ideal for small pets
Backup battery charge
Things We Dislike:
Unsuitable for medium or large dogs
Can be used for dry food only
---
7. Westlink Automatic Pet Feeder
Westlink's automatic pet feeder lets you take charge of your pup's feeding schedule, allowing you to arrange for up to 4 daily meals dispensed on demand.
One of the key selling points on this feeder is the voice recorder and speaker baked in. This lets you record yourself calling Bonzo for his food. Hopefully, the brief clip of your voice should encourage your dog to eat when you're not at home. This is especially valuable if your dog is a picky eater.
You can use all types of dry dog food in this unit. As with all these lockable and supposedly secure automatic feeders, you may find smart dogs can trick their way in and start stealing kibble. If this describes your dog's behavior, he is likely not best suited to one of these feeders in the first place.
Easy to use, energy-efficient, and built to stay the distance, this is one of the best automatic dog feeders out there, so why not give it a try?
Things We Like
Dispenses up to 4 meals daily
Voice recorder
Speaker
Infrared detection
Uses very little energy
Things We Dislike
---
8. Dogness Smart Camera Pet Feeder
Dogness serves up a tech-driven automatic feeder that's ideal if you like smart appliances. This unit is WiFi-enabled for hands-free ease. Make sure, though, that you have a 2.4 GHz network at home. This feeder won't work with newer 5 GHz networks.
You can choose from several muted colorways, all of which come with an HD camera. You can take advantage of the companion app and interact with your pooch even if you're away from home.
Use the voice recording function to call Fido to his food, and he'll get the right amount of food dispensed so you can stay on top of weight management even if you work all day and your dog is left to his own devices.
You'll be able to dispense up to 6 meals a day from this thing, assuming you use dry dog food with kibble sizes from 0.2 inches to 0.6 inches across.
Things We Like
Multiple colorways
HD camera onboard
Voice and video recording
Large capacity
WiFi-enabled
Things We Dislike
Only suitable for dry food
---
9. WOPET SmartFeeder
WOPET is a smart technology automatic feeder with two food dispenser trays of different sizes. It can release up to 39 food portions to inculcate good eating habits in your furry baby.
The Wi-Fi-enabled control system allows you to manage the feeding portions for your pup, allowing you to set the timer for automatic feeds remotely. Connected via an app, you can see, talk, and play with your pet using the feeder's HD camera and voice recorder. You can even share your favorite moments on social media as well.
Each meal portion is around 10-12 grams; you can just select the portion size and the number of dispenses per meal to control your pet's body weight. Suitable for dry food only, this automatic feeder allows you to feed your dog manually from anywhere at any time, by just using your mobile phone.
Things We Like:
Two food trays of varying sizes
Highly customizable
Connect with your buddy in real-time
Manage it remotely via a mobile app
Things We Dislike:
Tiny meal servings
Flimsy wall charger
Complex settings to find the right portion size
---
10. WOPET Automatic Dog Feeder
This nifty automatic dog feeder is ideal for programming in up to 4 daily meals with precise portion control. As with all automatic feeders, this comes in extremely handy if you spend lots of time away from home and your dog can't be trusted with free feeding. Remove temptation from the equation and keep your dog's weight within healthy limits.
Programming this feeder couldn't be much easier. Push a few buttons to set the schedule of your choice and the smart appliance will do the rest for you.
The feeder can hold up to 17 cups of your dog's favorite dry food, so this should be sufficient for bigger breeds or multi-pet households.
Overall build, fit, and finish are impressive, especially considering the pretty keen pricing.
If you run into any issues with this feeder, most customers describe customer service as helpful and responsive. Check out this nifty hands-free dog feeder and see how Rover's weight stays in check.
Things We Like
Program up to 4 daily meals
Robust customer care
Solid build quality
LCD for easy monitoring
Outstanding overall value
Things We Dislike
---
11. Aspen Pet Lebistro Programmable Dog Feeder
This programmable dog feeder from Aspen Pet is not the most rugged model, so if you have a large and energetic dog, he could end up damaging this unit.
Customizing your dog's feeding schedule couldn't be much easier, and you won't need any tech skills to get going. Use the simple interface to punch in the timings that suit and ensure your furball has food when he needs it rather than tempting him with a large bowl for the whole day which he eats in a single sitting.
The simple twist/lock lid should keep your pup from stealing kibble, and it will also keep the food fresh all day long rather than drying out after being exposed to the air.
You can portion the food so your pooch benefits from 3 meals daily. Control the amount he eats from a quarter cup through to 3 cups of food. Total capacity is 18 cups.
For hands-free feeding that should help keep your dog's weight in check, this automatic feeder is well worth a place on your shortlist.
Things We Like
Fresh food and water on demand
18-cup capacity
Runs on D batteries
Prolonged refill time
Excellent value
Things We Dislike
---
III. Automatic Dog Feeder FAQs
1. How Many Times A Day Should I Feed My Dog?
Pet experts recommend two meals a day for healthy dogs; one in the morning and the other in the evening. However, the size and condition of your dog affect the mealtimes. Puppies and active dogs may require 3-4 meals a day to maintain their strength.
2. Why Are Automatic Feeders Better Than Conventional Ones?
Automatic feeders are great as they feed your mutt with pre-portioned meals at designated times. Thus, you don't have to worry if your neighbor gives food to your BFF, or he's still hungry.
If your dog is well-trained and able to self-regulate, he can have his food whenever he wishes. For pups and untrained dogs, you can get preset automatic feeders for scheduled meals. No matter which one you choose, automatic dog feeders can be an excellent investment in your dog's health if used properly.
3. How Do I Set My Automatic Feeder?
It depends on the type of automatic dog feeder you have. The simplest is the gravity feeder, in which you only need to load the hopper with the food and let your dog use it a few times in your presence. This will train him to self-regulate his meals.
If you have an electronic feeder, you can set its power system, and load the feed for mechanized dispensing. The programmable ones will additionally require you to set the schedules for the meals.
Lastly, for Wi-Fi feeders, you need to have a reliable internet connection and download the app to control the automatic feeder.
4. I Got A Gravity Dog Feed For My Pup. Is It Going To Be A Safe Choice For Him?
Well, the simple answer is no. Gravity feeders are suitable for trained dogs who know how much food they can eat each time. Your little pup is quite new to this and may overeat till all the food is gone. So, you should choose a mechanized feeder that dispenses food at the scheduled time.
5. For How Long Can The Food Last In The Feeder Before Getting Stale?
Ideally, dry food such as kibble can last up to six weeks in the feeder. It is quite easy to store dry food, but in the case of canned food, your dog should eat it within 24 hours.
6. Can I Put Wet Food In Automatic Feeders?
Certain models of electronic feeders have pop-up doors to let you put semi-liquid foods in one of the pre-marked compartments. Typically, it has a bowl and lid on it that opens up at the scheduled time. But gravity feeders are ideal for dry meals only as other forms could stick in the hopper, making it impossible to clean.
---
IV. Conclusion
Since my friend started using automatic feeders, his dogs are no longer hungry or facing any digestive ailments. The select products discussed above will help find the perfect feeder for your furry friend.
Available in different capacities, sizes, and features, these products can cater to your mutt's particular needs. From gravity feeders to electronic to programmable to tech-based, there is a wide variety to choose from. Each mechanism is different from the other to meet your custom requirements for easy dispense and control.
With additional features, you can get your pet accustomed to the new feeding system. Typically, dogs have trust issues; thus, they are reluctant to use new feeding bowls, especially when the owner is not around. But with voice recording and collar chip identification, it is earlier to get him familiarized with the new device.
You can either train your dog to self-regulate his meal or set schedules, or if none of them is convenient, try using Wi-Fi feeders that you can control via mobile applications.
Irrespective of your choices, automatic dog feeders are essential if you have a pet. They become more essential if you frequently travel, and your pup is alone at home for a few days.
These dog feeders can store meals for a week or so; therefore, you don't have to worry if your pooch has had his meals on time. However, you would need someone to check on your buddy and take him out for a stroll to give them a toilet break.
As an Amazon Associate, we earn from qualifying purchases - at no cost to you, allowing us to continue our work.