While many dog owners face the dreaded day when they need to consider cremating their faithful friend, for others there comes a time when they are unable to properly look after their doggo.
Although rehoming any dog is a tough process, it's certainly better than the alternative of allowing his quality of life to be impacted.
Regardless of the reason, rehoming pets can be just as tough on owners as animals.
Making this even worse, many people have no clue where to turn when faced with the dilemma of rehoming a dog.
This is where we come in and we'll walk you through a number of options today for finding a new home for Rover, even if you're short on funds.
Before anything else, why might you want to surrender your dog in the first place?
Read More: Can You Get a Free Dog at the Shelter? Shelter dogs aren't free. Here are the expenses you'll be facing.
I. Common Reasons for Surrendering Your Dog
Ideally, you should keep a dog for the duration of his lifetime. Unfortunately, any changes in family set-up can be traumatic for canines. Dogs form close and deep bonds with their families. Many become anxious, depressed, or exhibit behavioral problems when faced with sweeping changes.
That said, it might not always be practical or possible to keep your pet. Some of the most common reasons for rehoming dogs include:
Dogs suddenly manifesting behavioral issues, such as excessive barking or aggression
Changes to living situations. Moving to a place that doesn't welcome pets is a common example, and so is a change in your landlord's acceptance of your pet
Members of the household developing allergies or sensitivities
Owners suffering from illness or injury and no longer able to properly care for their dog
Altered family dynamic with the dog's primary caregiver moving away, or a new addition to the family being uncomfortable around dogs
Financial problems making it problematic to continue paying the expenses associated with dog ownership
Read More: Do Dogs Get Killed in Shelters? Yes, some shelters do kill dogs. Here are the facts about euthanasia in dog shelters.
---
II. What To Do Before Considering an Animal Shelter
Even if you feel the urgent need to rehome your dog, he will usually fare better with you at home than in a shelter until he can be permanently rehomed.
The first thing you should do is make your dog as attractive as possible to new owners. Make sure he is checked out by the vet, fully vaccinated, and spayed or neutered. Remove as many potential barriers as possible to widen your options.
Exploit your personal network for all it's worth. Ask friends and family. Post on your social media account of choice and invite others to share. Pop up a flyer at the vet's or advertise your pooch in other public places like cafes, schools, and youth clubs. Make sure to include a high-resolution photograph and a detailed and persuasive description of your beloved pet.
When you're dealing with potential pet parents, be open and transparent. Share all relevant behavioral or medical information, and don't conceal anything in the hope of expediting the handover. What counts here – even if time is of the essence – is getting the job done right, not getting it done as quickly as possible.
You may find that some shelters will list your pet as a courtesy while he remains in your home. After all, by taking this approach, you'll be saving the shelter from needing to take your dog on right away.
Now, thinking of animal shelters, this is one of the most popular avenues for rehoming pets free of charge – or nearly free of charge. Where can you go about this, then?
Read More: How Long Do Shelters Keep Lost Dogs? Depending on age, health, and temperament, shelters may keep dogs for weeks to months. Learn more about the factors!
---
III. Where Can You Surrender Your Dog Free?
When it comes to how to surrender dog to shelter, you'll find non-profits in most major cities that accept unwanted dogs. If you live somewhere rural, you may need to travel to a shelter if there isn't one close to home.
Firstly, attempt a simple Google search for "animal shelters near me" and you should come up with a few initial options locally.
Animals shelters tend to be operated at a local levels, and they also have different policies when it comes to fees for surrendered dogs.
In some cases, shelters will accept incoming dogs without charging a fee. More often, though, surrendering a dog at a shelter attracts a nominal fee of anywhere from $20 to over $150. Even if the shelter does not explicitly request a fee, you should consider offering a donation anyway. Most shelters are non-profits and not in robust financial health. Do your part to help if they are helping you and rehoming your furry friend.
In most cases, if you simply don't have the funds for the fee levied, shelter staff can typically get creative and use previously donated funds to defray the surrender fee you can't afford.
If you are considering a trip to a local animal shelter, call in advance to establish any relevant policies and procedures, so you can avoid a potentially wasted trip. Check if you can take in any uneaten dog food, any toys, crates, leashes, or other canine supplies.
Now, if you're concerned about shelter staff giving you a hard time for surrendering your dog, set this worry aside. Almost all staff working at animal shelters are pet lovers, and they will empathize with the difficulty of relinquishing a family member, even if the matter is out of your hands and not your fault.
You can look for a list of local animal shelters and rescue facilities by punching in your zip code at The Shelter Pet Project website.
Read our related article, Do Dog Shelters Do House Calls? See if shelters will come to your home and take your dog.
---
IV. Rehome: A Free Option for Rehoming Your Furball
Now, it might be that you are unable to find any local animal shelter or rescue facility that's appropriate for your furball.
Rehome is a service offered by Adoptapet that's designed to help you find a new family for your four-legged friend.
While the entire process is free for pet owners, adopters pay a token fee.
One of the key benefits of the Rehome service is the fact you can help choose the person or family that ends up with your pup.
Setting up an account is straightforward. You'll need to answer some basic and some more involved questions about your dog, as well as uploading photos and a video.
When you round out your application, you'll need to agree to paying a fee, but you will not pay this fee yourself. Instead, the fee is charged to the person adopting your dog, and then Rehome uses the funds for supporting shelters and animal rescues.
Are shelters the only option, though?
Read More: Do Animal Shelters Put Dogs to Sleep? Some shelters do put dogs down for certain reasons. Learn more.
---
V. Explore Options Beyond Animal Shelters
Before taking your dog instinctively to an animal shelter if you need to rehome him, consider this sobering statistic: roughly one in five dogs entering animals shelters in the United States ends up being euthanized. While this shouldn't put you off if a shelter is your only viable option, you owe it yourself and your furball to explore other options, too.
If you find your dog suddenly starts exhibiting problematic behavioral issues, don't throw in the towel right away. Consider engaging the services of a good trainer.
Maybe you develop health issues yourself and you're no longer able to walk your dog and give him the exercise he needs. Consider enlisting the services of neighborhood kids if appropriate instead of rehoming your pup.
Perhaps you find your landlord becomes unhappy with your pet situation. You could attempt to negotiate a compromise in the form of paying an extra deposit, or shouldering the cleaning fee when you move out. There is often a middle way if you're prepared to look for one. Over the years, more and more rental homes and apartments are becoming dog-friendly, which is an encouraging sign.
If you decide to take matters into your own hands by asking friends and family or by offering your dog for adoption on social media, you should always make sure the new owner has a full understanding of your dog before taking him home. Even if you need to rehome your dog in a hurry, you need to ensure he's not going from the frying pan into the fire.
Assuming you have now settled upon the route of least resistance for rehoming your beloved doggo, we'll round out with some simple pointers on what you should and shouldn't do when you're looking to find your pooch a new home.
Read More: Can Rescue Dogs Be Service Dogs? Don't count shelter dogs out yet! These dogs can make great service animals with the right love and care. Learn more.
---
VI. Tips on Surrendering Your Pup the Right Way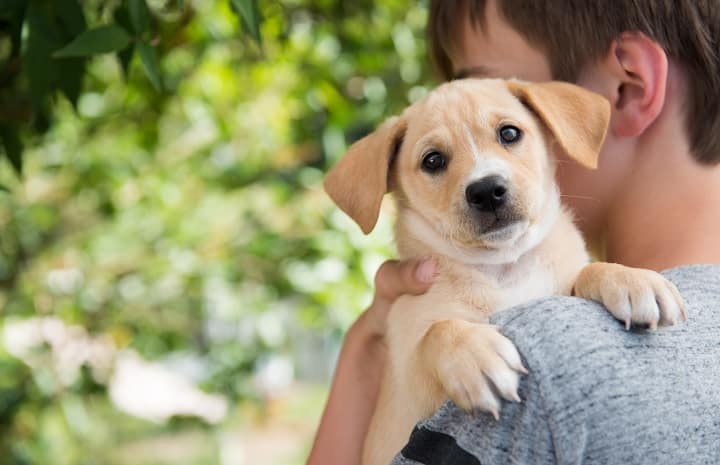 However you decide to rehome Rover, bear these dos and don'ts in mind and you'll streamline the process.
What You Should Do When Rehoming Your Dog
Look for a home before going for the default option of an animal shelter. Millions of abandoned or unwanted pets make their way into these shelters annually, meaning supply seriously outstrips demand, and leading to that distressing 20% euthanization rate
Make sure you never abdicate your responsibilities before handing your pet owner. Even if you're finding things tough, you owe it to Bonzo to put in as much effort as you can right up until the bitter end
Always look for a new family that's as well suited as possible to your pet's personality. If you have a working dog with high energy levels, he will make a poor fit for couch potatoes. Sensitive dogs won't integrate well in homes with several boisterous dogs already in the house
If you decide that a shelter is your most effective option for rehoming your dog, you should do plenty of due diligence. Not all shelters operate in the same way, and not all will be to your liking. Open-admission shelters – sometimes cruelly labeled kill shelters – will only put down pets as a last resort, so don't write this off your list completely
Read More: Are Shelters Good for Dogs? Learn more about shelters and if a shelter is the right place to surrender your dog.
What You Should Not Do When Rehoming Your Dog
Never drop your dog off at a shelter in the middle of the night, leaving them unattended. This is not only irresponsible, but also potentially dangerous. Many shelters understand that desperate pet owners turn up in the dead of night, and some will place a kennel outside so at least dogs can remain slightly safer than if they were abandoned outside on the street
Do not hide salient information – especially issues related to behavior – in an attempt to coax someone into taking an unwanted dog. In the short-term, you may offload your dog, but you're liable to create problems for the new owner. If you handle rehoming your dog in the wrong way, you'll likely perpetuate the surrender cycle
Don't even think about setting your dog free in the wild. While evolved from wolves, dogs are now domestic animals. Even if some dogs can adapt to a feral lifestyle with relative ease, most will end up getting injured or diseased when left to fend for themselves
Read More: Can You Find Puppies at Shelters? Thinking of adopting a puppy? Your local shelter may have a litter! Learn more.
---
VII. Conclusion
As you should now see clearly, if you need to surrender you dog free of charge, there are a handful of options at your disposal.
Always fully explore any options among your friends and family first. Not only will this route involve no costs at all, but you're much more likely to feel happy and confident that your furball will go to a loving home.
If you are committed to considering animal shelters, or if these represent your only viable option for pet surrendering, bear in mind that some of these shelters charge a nominal fee. While this might not be a totally free method of rehoming your dog, the fee should be well within most people's budgets. There is usually some latitude if you are flat broke and unable to pay the fee, though.
Whichever route you take when rehoming Rover, under no circumstances rush into it. Even if you urgently need to rehome your doggo, taking your dog will improve the chances of a positive outcome.
Before you head off, be certain to bookmark BarkVA and pop back soon for more of the best guides to owning and caring for dogs.
We are sorry that this post was not useful for you!
Let us improve this post!
Tell us how we can improve this post?