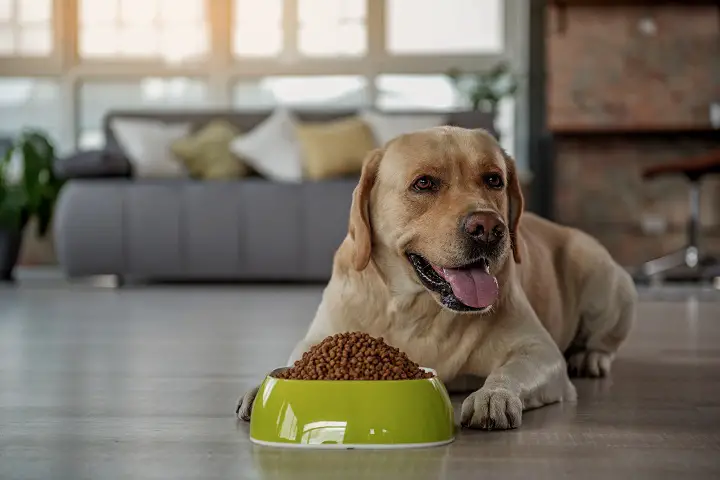 As a rough guideline, dogs aged less than one year old are considered puppies.
Now, when your puppy starts closing in on his first birthday, you should think about transitioning him to adult food. How do you know when it's the right time to do that, though?
Well, we'll be guiding you through that with today's brief guide showing you when to switch to adult dog food.
There are many variables that impact when the time is right to make this switch. These include:
Before we highlight the specific stage at which you should start introducing adult dog food into Fido's diet, a few pointers first…
I. Quick Hacks on Transitioning from Puppy Food to Adult Dog Food
You should always be aware of any signs that your puppy is ready for adult food.
If he starts skipping meals or fails to finish his food, this could be an indicator that his needs are changing. Puppy food is packed with more calories than adult food, so it could be filling him up too quickly now that he's filling out.
When you start making the change – more on that directly below – you should resist the temptation to suddenly switch to adult food. This is a recipe for disaster. Instead, start slowly mixing in some adult dog food with your supply of puppy food. Over the course of a week or two, ratchet up the proportion of adult food until he's ditched the puppy formula completely.
By making this transition gradually, you should avoid any of the gastrointestinal issues that could otherwise come about.
So…
When it the time right to make the switch?
---
II. When You Should Switch from Puppy to Adult Food
We can cleave this advice into two, depending on whether you have:
Small or medium breed
Large or giant breed
Small or medium breed
Both small breed and medium breed dogs are deemed adults when they reach one year old.
Toy breeds are the exception to this rule, often considered adult dogs by 9 months.
Between the ages of 9 and 12 months, then, it's time to push smaller and medium-sized dogs toward food designed with the needs of adult dogs in mind.
Large or giant breed
Large and giant breeds remain puppies until the age of 18 to 24 months. These dogs take longer to grow and reach maturity, so you can stave off switching their food for longer.
In some cases, this could be as long as 2 years, but 18 months to 24 months is the average for most larger pups.
Now you can see when you need to change the type of food you're giving Rover, why should you make the change in the first place?
---
III. Why Switch to Premium Adult Dog Food?
Puppies need more calories than adult dogs to support their growth and development. They also need more nutrients in the early stages of life.
Puppy foods tend to be very high in protein, and they also have high levels of fat along with nutrients like DHA. DHA is a vital fatty acid that's found in the milk of mother dogs.
As your puppy becomes an adult, he'll need fewer calories. Keep on feeding him the fatty, nutrient-rich puppy food he's been enjoying so much and he'll quickly become overweight.
When you're deciding what type of adult food to use, you should avoid the temptation of downgrading to a cheaper, lower-quality brand. You could end up upsetting your dog's digestive system while also shortchanging him nutritionally.
Here are some key pointers you should consider when you're looking for the best dog food:
Protein from a high-quality source (chicken, turkey, salmon, beef, lamb) should be the first ingredient
Macronutrients should be balanced with enough protein and carbs, and not too much fat
Dog food should contain vitamins and minerals in the right quantities
The food should be easily chewable and easily digestible
Check that the formula is appropriate for the life stage of your dog – hopefully today's guide has helped clear that up for you
The fewer ingredients, the better
Fatty acids should be present and balanced. These help promote skin and coat health
Last but certainly not least, the food should taste great
---
IV. How Often Should You Feed Your Puppy as He Becomes An Adult?
As your puppy grows, you can consider reducing the frequency of feeding to twice a day.
This is by no means the only workable feeding strategy, though. You may find your dog prefers eating three or four times a day, something that works well with many smaller breeds.
If you need any assistance, your vet should be happy to guide you.
---
V. How Much Should You Feed Your Older Puppy?
Once your new pooch starts shedding that puppy fat and becoming an adult dog, you may wonder how much you should be feeding him.
Many factors impact this, including his age, weight, and breed. The amount of exercise he gets will also impact the amount of food he needs.
Start with the instructions on the pack, but also pay attention to the overall condition of your dog. As with all aspects of feeding, you should consider it a process rather an event. Be prepared to experiment and make adjustments, and you should have no problem feeding your dog just the right amount of food.
---
VI. Conclusion
We hope today's guide has shown you when to switch to adult dog food and how to best go about effecting this change.
Before you head off, be sure to bookmark our blog. Here at BarkVA, we bring you fresh content daily. As well as showing you where to find the best dog food, and how to choose the right pet gear, we also bring you plenty of handy guides like today's showing you how to give your dog the best possible life. We'll see you soon!
We are sorry that this post was not useful for you!
Let us improve this post!
Tell us how we can improve this post?