Want to know how to make a dog stroller? Dog strollers are a well-known item among dog owners. Your dog may be too old to walk alone or he might simply be unwell. To ease his movement, pet strollers are useful.
A dog stroller is convenient for dogs who are very small or can't keep up on a long walk or grip.
During excursions, jogging, or even traveling, taking your pet in a dog stroller is more convenient than carrying him once he's tired.
The good news is that creating a dog stroller is simple and you may save money. You may choose the size of the stroller and what you want it to look like.
So, how to make a dog stroller? It's very simple if you have an old baby stroller.
Read our related article on How to Walk a Dog With a Stroller. Keep your dog, your baby, and yourself safe with these training tips!
Considerations Before Making a Dog Stroller
Get the Right Size Stroller
Before you build a dog stroller, you need to determine if it will comfortably hold your dog. A small pet can ride in any pet stroller comfortably, but a large-sized pet cannot.
Make sure the stroller has a back that can be reclined to lay flat at the same level as the seat. Some stroller backs can be unscrewed and replaced in a reclined position, but this can be difficult to do.
Safety
Is the stroller strong enough to securely transport your pet without putting him in danger?
You should inspect the components and make sure they are in good working order before purchasing. If not, you may need to replace them.
Weatherproofing
Because you'll most likely take your dog out in a variety of weather, choose a stroller that can withstand any harsh conditions.
Also choose a stroller with wheels that are tough and suitable for the terrain where you walk – rocky, sandy, hilly, and so on.
Cleaning
Cleaning dog strollers should be as simple as vacuuming out hair and wiping down the seat. As a result, select materials that are simple to wash when constructing the dog carriage.
How to Make a Dog Stroller – Step by Step Guide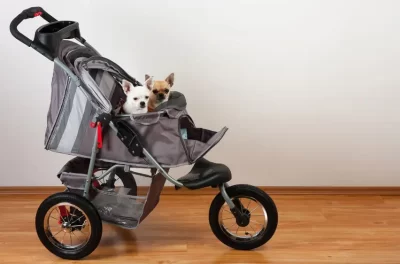 Step 1
Remove the components of the baby stroller that are no longer required to construct the dog carriage. Remove any straps or pockets that may get tangled with the dog.
Remove the seat padding because you'll make a replacement. Take care to not damage the frame or other vital elements of the baby stroller.
Step 2
Make sure the seat can be reclined. This may not be an issue for very small dogs if they can sit and lay down comfortably on the seat. However, for large dogs or multiple dogs the back must recline.
If the back can't recline, see if it can be unscrewed and replaced safely in a reclined position. If not, you'll need to buy a different stroller.
Step 3
Measure the inside length and breadth of the stroller to cut a piece of foam to fit securely along the inside of the stroller.
We like to use a large piece of butcher paper, kraft paper, or pattern paper to make a template of the inside and then lay it on foam to make sure we've cut it so it fits exactly inside the stroller.
Step 4
Cut the foam to fit inside the carriage and double-check the fit.
Step 5
Cover the foam with vinyl or washable fabric. If you choose to use washable fabric, then make sure to sew a zipper on one end or use sew-on snaps to close the cover so it can be removed and washed.
Vinyl is more slippery but easy to wipe down and keep clean. An old or new vinyl tablecloth works perfectly to cover the foam bottom of a dog stroller.
Step 6
Use the foam as a pattern for cutting the vinyl or fabric cover. Cut two pieces, leaving a half-inch to an inch seam allowance.
Step 7
Place the pieces front-to-front and sew around 3 edges. Turn them inside out, then place the foam inside and finish sewing up the 4th edge.
You can sew a zipper, snaps, or hook-and-loop closures on the 4th side to make it easy to remove and clean.
Fit the new foam cushion into the stroller, making sure it fits well from front to back and side to side.
Step 8
Measure any leftover openings where the dog may slip through and cover them with jersey knit (an old shirt or washcloth works great) or mesh. Mesh laundry bags work great for closing up these holes.
Use a needle and thread to sew the fabric or mesh over any remaining holes in the stroller.
Step 9
Create a leash hook by placing a piece of wire around the back of the frame and poking it up through the back of the stroller. Loop it back down through the stroller and secure it around the frame.
If there is a good opening in the stroller fabric at the back, a carabiner clip works great for this. A leash clip is used to attach your dog's collar or harness to eliminate the risk of jumping out of the stroller.
Step 10
To finish the weatherproofing, look for stroller accessories such as rain covers and mosquito netting to protect your dog while you're out and about.
If you want to DIY these, simply purchase tulle fabric and use it to form a mosquito netting cover that fits over the stroller's attached canopy and secure it to the outside of the front of the stroller with safety pins.
DIY a rain cover by purchasing a clear vinyl tablecloth. Cut it to fit over the stroller and canopy. It can be placed over the stroller during rain and secured with a cord around the circumference of the stroller.
Be aware the vinyl is not breathable, so ensure there are mesh openings in the stroller so your dog can get air before using any sort of vinyl rain cover.
Conclusion
You may customize your dog stroller to whatever design you like for your pet, or it can be made to complement your style.
You can add pockets and bags to the stroller as needed to carry dog poop bags, leashes, treats, and other necessities.
Sometimes your buddy may not want to ride in a stroller, but with some practice, most dogs get used to it and enjoy the adventure.
We are sorry that this post was not useful for you!
Let us improve this post!
Tell us how we can improve this post?