Losing a pet can feel just like losing a family member: it's impossible to capture the feeling in words as your ever-faithful companion breathes his last.
Even if you know in advance that dogs typically only live for ten to fifteen years, nothing prepares you for that fateful day.
You may feel like throwing yourself into the grieving process, and that's understandable, but you'll also face some time-sensitive decisions, specifically what you plan to you with your furball's body.
Of all the options at your disposal, cremation is among the most popular options. Two of the main advantages of dog cremation are:
Affordability
Convenience
Today, then, we'll walk you through the logistics of dog cremation, we'll outline the various approaches to cremation, and we'll also break down the average costs of dog cremation.
First thing's first, though, with some cremation basics.
Read our related article, How Much Does it Cost to Put a Dog Down? for more information on end of life processes for your furry friend.
I. What is Canine Cremation and What Does the Process Involve?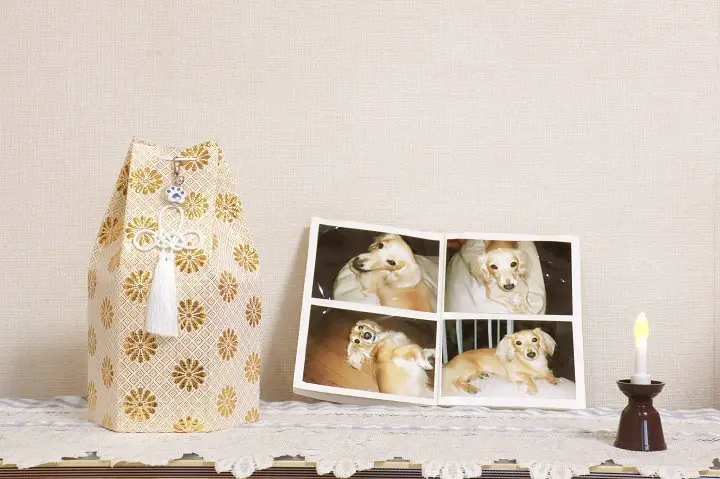 After your dog has died, cremation is the process of disposing of the body through incineration.
With cremation, a dog's body is positioned in an enclosed chamber. Here, it's heated to 2000F and above. It takes just a few hours for this heat to reduce the body to ashes and tiny pieces of bone, along with any inorganic matter like your dog's microchip.
At this stage, the crematory staff will remove all these extra pieces before grinding the cremains into a fine gray ash.
If you find the whole process intimidating, becoming more familiar with the underlying basics should help you to feel more comfortable during this challenging time.
Here's what to expect when you cremate your precious fur baby:
Contact a crematorium: The staff should patiently explain the cremation process while allaying any fears or reservations you might have. They will also explain the different options they offer. As we'll emphasize below, there are several different types of pet cremation commonly offered. Assuming all your concerns have been addressed, you can schedule an appointment and drop off your pet for the final time
Cremation: Your dog will be placed inside a cremation chamber. Once activated, the machine is capable of hitting temperatures north of 2000F. This super-high heat will vaporize your dog's body so that nothing but coarse dust and very fine shavings of bone remain
Removal of non-organic material: At this point of proceedings, staff will remove any non-organic material from the cremains. These include microchips, collars, and any pins used in surgical procedures over the years. This step is either performed manually, or by using magnets
Crushing of cremains: The residual ashes and bone is then crushed so the cremains are consistently sized particles with the texture of fine sand
Retrieval of cremains: The cremains will be placed in a container and returned to you. The container is typically a cardboard box, a sealed plastic bag, or a metal tin. The procedure itself is fairly swift, and you can often collect your pet's remains on the same day
Before we examine the cost of a canine cremation, there are several factors that impact pricing, starting with the type of pet cremation you choose.
Read More: How Do I Get My Dog Back From the Shelter? See how to get your lost dog home in this guide.
II. Different Types of Dog Cremation
Of all the variables that impact the cost of dog cremation, the type of cremation is the most critical.
You have three main choices here, in descending order of expense:
Private cremation: The most expensive option, your pet will be the only one in the cremation chamber, and the ashes will not be mixed with those of any other pet
Individual cremation: With the mid-range option of individual cremation, your pet will be cremated along with several other animals, but the remains are placed in different chambers. This allows you to cut costs with very little cross-contamination of cremains
Communal cremation: The most affordable option, communal pet cremation involves several pets being cremated in the same chamber. If you receive the ashes, they may contain some remains of other pets. In most cases with communal cremation, the crematory will dispose of the ashes on your behalf. They are typically sprinkled in a dedicated garden on site
Read More: Are Animal Shelters Non Profit? Learn how animal shelters keep operations going.
III. When Should You Start Planning for Your Dog's Cremation?
If your dog is diagnosed with any kind of fatal illness, you should start thinking about end of life arrangements, even if your pooch is still enjoying a reasonable quality of life right now. If the writing is on the wall, it's well worth preparing yourself for the inevitable.
Even if your dog is healthy, once he enters his senior years or nears his expected life expectancy, it's time to plan for what happens next.
When a dog is dying, you'll often notice changes in his behavior. These changes can include:
General lethargy
Changes in appetite
Slowed breathing rate
Loss of interest in activities
If you spot any of these common signs, don't jump to conclusions. You should always liaise closely with your dog's vet if you suspect his is on his last legs. He may in fact have a treatable illness, or it may be something even less benign.
So, with those basics in place, how much can you expect to pay for a dog cremation?
Read More: How Do Animal Shelters Euthanize Dogs? We walk through the euthanization process.
IV. How Much Does Dog Cremation Cost?
The cost of cremating your dog will range from $50 to around $250. Compared to the cost of human funerals, this is a relative pittance, so you don't need to be concerned about finances when you're mourning the loss of your dog.
The most important element influencing the cost of cremation is the type of service you choose, with private cremation the most expensive and communal cremation the most affordable.
Beyond this, the following factors will also all impact costs:
Location: Like with most things in life, location affects costs when it comes to pet cremation. Expect to pay more in larger cities than you would in smaller towns
Size of your dog: Logically, it costs more to cremate a large dog than a small dog, so expect the price to reflect the size of your furball
Viewing fees: At some centers, you'll be able to attend and observe the process of cremation for an added fee. While some owners may recoil from this idea, for others it forms a valuable part of the therapeutic process
Transfer fees: The cost of transferring your pet's body to the crematorium is not included. You'll need to take care of this yourself, or you can expect to pay around $50 if you need the crematorium to collect the body
Burial plot: Some centers will offer you the option of having your dog's ashes buried, either on-site or in a partner location
Urns and memorial options: Most pet owners opt to receive their pet's ashes in an urn or wooden box. You can also opt for different containers at extra cost
---
V. What Should You Do With Your Pet's Ashes?
Once you have had your dog cremated, you'll receive a small package with the cremains. How you handle these is another deeply personal issue.
For generations, the default option has been placing the remains inside a vase or urn. This remains one of the most popular ways to honor your faithful pet.
Scattering ashes is another favorite method of keeping your fur baby's memories alive. Head out to all the places you walked over the years and spread some of his remains out where he was happiest. If this options sound appealing, you should check with all the relevant laws to make sure you are permitted to spread ashes at the location in question.
Shrines are another way of keeping your dog visible even when he is no longer alive and kicking. Pop up some memorable photos and some of your treasured keepsakes that remind you of those irreplaceable years.
Just be sure to follow all relevant laws and regulations when doing so, as some locations have rules about where you are and are not allowed to scatter ashes.
Why, then, should you consider cremation rather than burial when your dog reaches the end of his days?
---
VI. Pet Cremation vs Burial
Burial will always remain a possibility when your pet dies. For some people, cremation is too expensive, while others simply find the idea unappealing.
If you are planning to bury your dog, you should check closely that you won't be contravening any local or state laws and ordinances prohibiting this. You'll also need to establish the depth you need for burial, and you'll also need to probe the specifics of containers.
If you live somewhere rural, you may find you can bury your dog on your property. This is seldom legal in urban areas, though. If you live in the city and you prefer pet burial to pet cremation, you'll need to locate a purpose-built pet cemetery.
If you opt to bury your dog in a pet cemetery, you'll need to pay for the plot. You may need to investigate several pet cemeteries to find one that falls within budget.
A basic plot will cost roughly $500. You will often also need to buy a casket. Simple models start at around $50, with costlier caskets costing $1000 or more.
So, the cost of burying a dog will vary dramatically, depending on whether you need a burial plot or whether you can lay Fido to rest at home.
If you are considering burial over cremation, you'll need to factor in the time you'll be spending with your dead pet. This is something that many pet owners feel uncomfortable with, so give this some due consideration before rushing in.
The other factor to consider if you're planning to bury Rover on your property is the physical effort involved in digging and then refilling a grave.
When you examine all factors, from cost to physical and emotional input, burying a pet is seldom the route of least resistance. If you feel able to weather the cost and the turmoil of undertaking this task, though, you shouldn't need to spend a fortune to remember your dog in the way he deserves.
What can you do to get this process started, then?
---
VII. How To Find a Service Provider the Easy Way
You should expect a caring and honest service from most cremation providers, and you will typically find they are pet lovers who put your interests above profit.
As with any industry, though, there are unscrupulous providers out there looking for nothing but a quick buck.
You could consider starting your search with the IAOPCC (International Association of Pet Cemeteries and Crematories. Members of this organization must adhere to strict standards and ethics.
You should consult with your vet concerning the most appropriate and affordable cremation options. This should yield at least a few worthwhile possibilities for you to explore.
Your local animal shelter could also be a rich resource. Shelters often need to euthanize animals in their care, and they are likely to be experienced dealing with cremation, too. Pop in to tour neighborhood shelter and ask for advice.
Searching online can also generate plenty of possible cremation centers. Social media can also be great for requesting recommendations. Pop a post on your Facebook wall and see if anyone has any suggestions for you.
You could expand this search by asking friends and family face-to-face or over the phone.
To round out today, we've curated a list of the most frequently asked questions about dog cremation so you have everything you need in one place at this tough and trying time.
---
VIII. FAQs
1) Is cremating my dog better than burying my dog?
Ultimately, the choice is intensely personal. As a general rule of thumb, cremating a canine is much easier than resorting to burial. Losing a pet is tough enough, and coping with the physical effort of burying his body is the last thing on many people's minds at this time. In some cases, local or city ordinances prohibit burying pets on your property. You should check closely in advance if you're considering this option. If you proceed with a sanctioned burial, you'll need to make certain the burial plot if fully secured from predators and wildlife. Cremation, then, is usually the preferred option when dogs die. If you want to bury your pet, burying some ashes is a lot less hassle than disposing of the whole body. It's much less traumatic, too, than spending time up close and personal with your dead doggie. Cremation also comes with a range of distinctive memorial options from beautiful urns to pet jewellery.
2) How much will it cost to cremate my 70-pound dog?
As outlined above, many factors influence the cost of dog cremation. As a guide, a private cremation for a 70-pound dog – this is the most expensive option – will cost around $250. If this is not within your budget, you can make savings by choosing an individual or communal cremation instead.
3) When will I get my dog's remains back?
The entire process of taking your pet to the crematory, the cremation process, and then receiving your pet's cremains will take anywhere from one to three weeks.
4) Can I have my pet's ashes placed with me after I pass away?
No. Most states do not allow humans and pets to be buried together. In Virginia and Pennsylvania, there is some provision for companion burial. In New York, some pet cemeteries allow humans cremains to be buried with pets.
5) Will I really get my dog's ashes back?
Assuming you opt for either the private or individual cremation option, you'll get your furball's ashes back. In the event of a communal cremation, you will receive your dog's ashes, but they will be mixed with the ashes of several other dogs. Give Fido some ready-made playmates for his next life!
---
IX. Conclusion
Well, the topic of today's study was not the most cheerful, but all pet owners need to be prepared for that dreaded day when Rover breathes his last.
By becoming familiar with the various options for cremation, you'll be much better placed to navigate this tricky process when you're filled with emotion and a void where your faithful companion once stood.
As we understand that cremation doesn't seem right for some dog owners, we've also given you a glimpse at the more expensive option of burying your dog. If you feel able to cope with the added expense and the extra logistics involved, you can proceed with burial feeling more confident about what's involved.
The best news of all? Getting your dog's remains cremated needn't be especially expensive, and you can give him a fitting send-off after all the loyalty and love he's shown you over the years.
Bookmark BarkVA before you head off, and be sure to pop back soon. We have a busy content calendar for the coming months, so don't miss out!
We are sorry that this post was not useful for you!
Let us improve this post!
Tell us how we can improve this post?