Installing an electric dog fence in your yard for your pup can be a big undertaking.
Thankfully, there are plenty of companies out there that can professionally install an electric fence on your yard or lot. 
So, who installs electric dog fences?
We'll take a look at some reputable companies that can install an electric dog fence to help you make a good decision for your home and your dog.
Who Installs Electric Dog Fences?
Some of the best companies out there for electric fence installation include:
Invisible Fence
DogWatch
Canine Company
Dog Guard 
While these are national brands, many local companies provide excellent service as well. Check your local area for highly-rated installers in your area.
It will double or triple the cost of your fence to have the in-ground wire installed by someone else, but you know it's done right and they can do it so quickly and easily.
They'll also back up their work with a warranty and may even offer dog training as part of their installation package!
Let's take a closer look.
4 Reputable Companies That Install Electric Dog Fences
Although there are many electric fence distributors who also offer installation services, these companies consistently receive the best reviews for their high-quality service and affordability. 
Invisible Fence is probably the most well-known company around when it comes to electric fences.
They were founded in 1973 and have earned one of the best reputations in the business.
While this electric fence works as any other electrical fence does, it also has some additional bonuses: 
Depending on which package you choose, you can actually also choose to invest in a GPS monitoring package right along with your fence. That way you will be able to continuously monitor right where your pup is at all times. 
Invisible Fence uses something called "shields." 
If you want to block off your dog from a certain area, such as a pool or a trash can, you can set up a shield device (about the size of the smoke detector), which will interact with your pup's receiver collar and restrict them from the area. 
You also receive several training sessions with a professional trainer who will make sure your dog knows how the fence works. 
The only downside is you'll need to purchase special Power Cap batteries directly from the manufacturer, rather than just any battery from your local hardware store. 
Depending on the type of fence you choose and how big your yard is, you can expect the price with installation to be anywhere between $10 and $30 per foot. 
On the wire itself, you can spend between $30 and $400, depending on how much you buy to create your fenced perimeter, and receiving collars range from $219 to $399. 
With Invisible Fence, you'll also receive a one-year money-back guarantee if something goes wrong with the fence or if you aren't pleased with your purchase. 
DogWatch has been around as a company since 1990, and has a stellar reputation among dog owners.
DogWatch offers a variety of fencing options so you can pick one that best fits you and your dog's needs. 
For DogWatch's Hidden Fence brand, you can choose between several options: 
Each of these fences has various features such as lightning protection, flexible training levels, and battery alerts. 
Keep in mind that DogWatch does not recommend their products for aggressive dogs. 
DogWatch's products come with a lifetime warranty, making it well worth the cost.
DogWatch will install the fence for you, and the average cost of their product and installation process are competitive with other top electric fence companies. 
Depending on which fence you buy, you can expect costs to range from $269 to $369 for the receiver collar and $179 for the fence transmitter.
The cost of boundary wire will vary depending on how big of a yard you are enclosing. 
You may even save some money in the long run, as you can purchase generic batteries for the receiver collar instead of having to buy them directly from DogWatch. 
Canine Company operates in New York, Maine, Connecticut, Massachusetts, New Jersey, Vermont, and New Hampshire. 
Canine Company was actually originally founded in conjunction with Invisible Fence, so they share some of Invisible Fence's company values and product secrets. 
If you purchase a fence from Canine Company, it will be the Invisible Fence brand, which will then be installed by Canine Company. 
There are several benefits to choosing Canine Company: 
Canine Company wants to make sure you are truly getting the product you need, and they offer free consultations with fence experts before you make your decision. 
Like Invisible Fence, Canine Company also includes a professional training session, and various resources to help train your dog effectively on the fence. 
These trainers will make sure you understand basic positive reinforcement to help your pet adjust to the fence during the first few weeks. 
For an additional cost, you can also have your fence serviced every year to keep it running properly. 
Keep in mind that Canine Company only offers a one-year warranty on the equipment. After that, if any fence equipment goes out, the cost will be on you to replace. 
While their product price ranges will be the same as Invisible Fence brand, their installation cost could vary.
Dog Guard has been in the business since 1988, and they operate in all 50 states.
Dog Guard offers the Out-of-Sight brand fence called the T-4 Transmitter, which can cover up to 50 acres, depending on how much wire you purchase. 
For those with large properties, this can't be beaten.
You will also be able to adjust different settings on the transmitter, such as yard size, or customized corrections delivered to the receiver collar. 
In addition, they have several different receiver collars to choose from based on the size and temperament of your dog. 
Dog Guard also comes with tons of fence accessory options, such as chew guards and the Mini Educator 300TS to help with your pup's training. 
If you don't love the product, Dog Guard offers a 30-day money-back guarantee.
The only downside?
DogGuard highly recommends purchasing their specific batteries for the receiver collars so you won't be able to cut maintenance costs by buying generic batteries. 
For an exact price, you will need to book a consultation with your local dealer, who can provide a written estimate based on personalized factors such as number of dogs and the size of your yard or property. 
Read More: Are Electric Dog Fences Legal? These fences are legal, but your locality may prohibit them for various reasons. Learn more about why and alternatives here!
How Do Companies Install Electric Dog Fences?
When it comes to having professionals install your electric dog fence, you may wonder what the steps are and how long it may take.
There are several steps to fence installation. 
They will go over exactly where you want the fence to run
With most fence brands, your wire will need to be able to run in a continuous loop back to the transmitter, which is usually placed in a garage where it can stay dry. 
Why does invisible fence have to be a closed loop? Learn more about it in this quick guide!
They will avoid things that may cause interference
They may require a pre-installation call to your city to locate utilities before installation day.
While the wires are buried very shallowly (just a couple of inches) it pays to know where utilities are located.
Let your installers know ahead of time if you plan to run the wire under concrete or gravel so they can be prepared to tunnel under to place the fence wire.
Wondering how to bury dog fence wire under driveway yourself? See our related DIY guide!
Your wire will be buried between 1 and 3 inches underground
That is deep enough that it won't be exposed to the elements, but not so deep that the signal might be lost. 
Your installers will most likely use a trencher
This tool is used to create a "trench" the proper depth underground where the wire will be buried.
Your installers will also need to "ground" your wire in order to protect it from possible lightning strikes. 
Installation Shouldn't Take More Than a Day
Depending on how large your yard is, your installers will most likely have the installation complete within a day. 
If you have multiple acres of property you can expect the project to take a few days.
Fence and Collar Tests
After your wire is installed properly they will hook up the system and test it out. Then they will help you set the perimeter and receiver collar settings.
You will be able to set the level of shock they receive, as well as how close to the boundary your dog can get before they receive a warning.
This is typically anywhere between one and 30 feet, depending on the size of your yard. 
Training Sessions
Most companies will give you and your dog at least one training session to help you learn how to train your dog with an invisible fence on your own.
Here's a video that gives you a sneak peek into the training that Invisible Fence provides with installation.
What Does it Cost to Have an Electric Dog Fence Installed? 
The cost will be determined mainly on what brand you choose, and how big of a yard you need to fence.
The national average for purchasing an electric fence, and having it professionally installed is around $1,200 for a typical suburban yard.
While that is a significant amount of money, it's still much cheaper than most traditional fences you could have installed – about half, or even less than installing a regular fence.
Your fence cost may increase if you increase the size of your yard. Most fence kits come with enough wire to cover roughly ⅓ of an acre.
If you want a yard that is larger than that, you can purchase more wire for an additional cost per roll of wire.
You can also purchase larger gauge wire to ensure that the fence will work in deep snow.
Read More: What is the Cost of Invisible Fence Per Acre of Land? Discover more about the costs of installing an electric fence in this guide!
Can I Install an Electric Dog Fence Myself?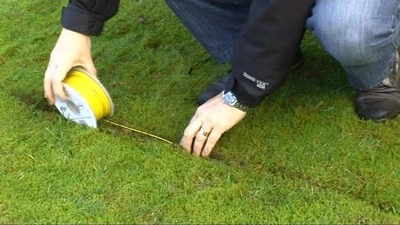 While you can definitely install these fences yourself, keep in mind that it may not go as smoothly as you think it will. 
Most people get the fence installed in a day, but it may require that you purchase a few tools.
The benefit of professional installation is that they can show up and get right to work. They'll also have the tools on-hand.
You'll be learning as you go, but if you have the time and ability you can absolutely DIY install with excellent results.
Here are some hints and tips if you choose to install it yourself. 
Planning is everything. Check out this resource for some ideas on planning your fence installation. 
The kit will include everything you need to get the fence up and running, but you'll need a few yard tools like a pickax or flat-edged shovel to create the trench for the line.
The wire only has to be buried 1 to 3 inches deep, so the sharp end of a pickax or the flat end of a shovel is sufficient to make a mark in the soil for burying the wire.
If you choose to use a trencher, make sure it just scratches the surface of the soil. Most DIY installers put the wire too deep and lose contact with the receiver collar.
If you invest in an electric fence for dogs where the cost includes installation, we highly recommend you take the company up on this offer.
Even if installation is an extra cost, think carefully about whether you are willing to invest the time and energy to do it yourself. 
If you have the money to spare, it's nice to sit back and let someone else do the work.
Read More: How Do You Cancel Out Parts of Underground Fence for Dog? Your dog needs to be able to cross your fence without being shocked. Here's how to DIY!
Final Thoughts
We love to DIY everything, including in-ground dog fences, but it isn't always practical.
If you feel that an in-ground fence is right for you, but you aren't sure you're up to the installation, call a professional.
You can get competitive pricing on professional installation that will still cost you much less than having a company install a regular fence and avoid having to close off your yard space with a fence.
We are sorry that this post was not useful for you!
Let us improve this post!
Tell us how we can improve this post?