Can I use rebar as a grounding rod?
Rebar can be used as a grounding rod, but it risks corrosion, and therefore should be encased in a protective covering.
Concrete and tubing can be placed around the rebar to act as a protective casing.
Some materials and tools will work better and last longer as a grounding rod than rebar does, so we'll explain some of these great alternatives in the continued article below.
Can I Use Rebar as a Grounding Rod
Rebar can be used as a grounding rod, but this material is prone to corrosion so it may not be the best option for an outdoor electric fence.
There are a variety of materials that can be used as grounding rods.
But, we recommend looking in the owner's manual of the product that you purchased to verify there is not a specific material they recommend using. 
Grounding rod materials include:
Rebar
Copper
Steel (galvanized, stainless, or copper bonded)
When it comes to electric fencing, steel may be the best course of action for grounding.
Rebar and copper are easily erodible materials that will not last as long outside as steel would. 
If you would like more in-depth information on grounding rods for electric fences, this article is a great resource!
What is the Minimum Depth for a Grounding Rod?
A grounding rod needs to comply with the electrical coding regulation, which is 8 feet long.
For electric fences, the grounding rod should be no less than 4 feet long and buried in the ground accordingly.
You will want to drive the grounding rod all the way into the ground, which can be difficult at times if the soil is too dry and compacted.
Dampening the ground if this happens is a great way to make it a little easier to push the rod into the soil as needed. 
Can I Ground an Electric Fence Myself?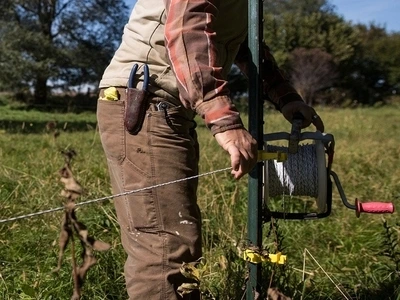 It is possible to ground an electric fence by yourself, but we recommend researching and learning the proper installation methods so you can accomplish this task safely. 
As mentioned earlier, grounding rods for electric fences need to be 4 feet long and completely buried in the ground.
If you need multiple grounding rods they will need to be spaced 10 feet away from each other.
Here is a great video that walks you through the grounding rod installation process for electric fences in great detail:
Steel is the best grounding material for electric fences, as copper and rebar are prone to erosion, and may not last as long as steel. 
This article is a great resource that we recommend you read before grounding an electric fence to verify that you know the proper and safe installation methods.
Are There Professionals That Can Install it for Me?
Many different companies offer electrical fence installation.
You can check around the area you live in to find a local electrician or installation company or look online for one.
You should always check reviews before hiring an independent contractor.
Some electric fence kits that are available for purchase online will have professionals available to complete the installation process for you.
You may also be able to find a local electrician who would be willing to teach you this process. 
Here is a list of a few companies that offer professional installation at a variety of price points:
It's important to remember that hiring a professional to install an electric fence can be costly, but with a professional, you can be guaranteed to have a safe and proper installation.
What Happens if You Don't Ground Electric Fences?
Electric fences that are not grounded simply will not work.
Without a grounding rod, the fence will not shock or correct a pet when they attempt to cross the boundary.
If you have grounded your fence with the appropriate material and size, but your fence still is not working, you may need to add more grounding rods.
Keep in mind that the grounding rods should be evenly spaced with 10 feet in between each rod.
We recommend reading the operation manual for the fence system that you purchased to verify the correct amount of grounds needed for proper function.
Manuals can be found online by searching the product name + manual.
Do You Ground Wireless Electric Fences?
Wireless electric fences do not require grounding and are generally known to be easy to install and use.
There are countless products available for purchase at a variety of price points and can be found at most pet supply stores.
Wireless electric fences create an invisible boundary around your property and notify the computer collar receiver to correct your pet when they approach this boundary.
When installing this system all you need to do is:
Plug the transmitter into an energy source
Install a battery in the computer collar receiver
Set the boundary on the transmitter
Walk the boundary with the collar in hand
If you hear and feel the correction when you are near the boundary, you are all done!
If the collar has not been activated you should check the battery and repeat this process.
Interested in learning more? We have independently tested and reviewed the best invisible fence products!
We have also compiled a helpful step-by-step article for wireless fence setup we recommend reading before beginning the process.
Installing an electric fence on your own can be difficult for someone without any background knowledge of electrical work.
Conclusion
We have discussed a variety of topics dealing with electric fences and answered the question, "can I use rebar as a grounding rod?"
If you plan to install an electric fence on your own, we highly recommend doing more specialized research so you can safely and successfully install it.
We are sorry that this post was not useful for you!
Let us improve this post!
Tell us how we can improve this post?