If you're looking to get an invisible fence such as the PetSafe wireless fence then you might be wondering how it works in certain weather and especially if it's waterproof. 
So, is the PetSafe Wireless Fence waterproof? Read on for the quick answer plus tips for installing the PetSafe Wireless Fence so it will last for years to come.
Is the PetSafe Wireless Fence Waterproof?
There are 2 parts to the PetSafe Wireless Fence – the receiver collar and the wireless transmitter.
The receiver collar is waterproof. The wireless transmitter is not waterproof.
The receiver collar is safe for your dog to wear in the rain, the sprinklers, or a kiddie pool. Water will not interfere with its function or cause the dog to get accidentally shocked.
The wireless transmitter won't necessarily break from a little moisture, but it should be fully protected from rain, sprinklers, or other sources of water.
It should be protected from weather like any electronic device.
Can the PetSafe Transmitter Get Wet?
The first component of the PetSafe wireless fence is the transmitter, which typically is mounted inside a building like a home or a garage.
It should not be exposed to any rain or sprinklers. 
They can be kept in a plastic waterproof case as long as there is enough ventilation to allow the unit to cool.
It will malfunction if it overheats, so the case should also be in the shade.
PetSafe transmitters need to be plugged into an outlet and therefore will not be able to withstand any water because of this open power source and electronics.
It is a serious shock hazard.
Are PetSafe Wireless Collars Waterproof?
The second component is the receiver collar. It's necessary for the PetSafe wireless collars to be waterproof because the dog can be outside during any weather. 
Receiver collars are waterproof so they won't injure the dog if exposed to elements, but some receiver collars are also even submersible up to a certain depth so your dog can take a dip in the backyard pool.
Receiver collars are also meant to run perfectly fine after exposure to water, which means the tone can be heard, and the static correction will be properly administered at the set correction level.
Read More: PetSafe Wireless Fence Collar Red Light Blinking. If your dog's PetSafe collar is blinking red, there are a few reasons – and solutions!
Are PetSafe In-Ground Invisible Fences Waterproof?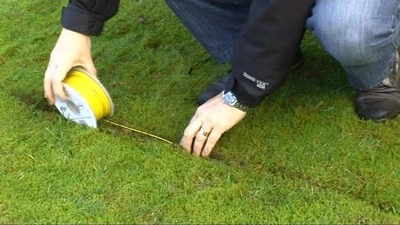 In-ground fences typically consist of a wire that must be buried underground, which sets the boundary line for your containment area.
The receiver collar and wire are waterproof, but not the transmitter.
The transmitter must be plugged into a wall outlet to work and protected from inclement weather and sprinklers.
It must be protected like any other electronic device that is plugged into electricity.
The receiver collar you place on the dog is waterproof and weather resistant. A great example of a waterproof in-ground fence is the PetSafe YardMax in-ground fence. 
In-ground fences are made to withstand any type of weather including rain, wind, and even snow. 
The wire is wrapped in waterproof insulation and buried underground creating a customized perimeter that is weatherproof and robust.
Can Invisible Fences Be Installed Through Water?
Whether you're using an in-ground fencing system, or a full wireless invisible fencing system both of these can be installed through the water. 
An in-ground wired system is made of waterproof materials making it completely safe to install through bodies of water to help customize your boundary.
Wireless fences use a radio signal transmitter to set your boundaries which will not touch the water at all. 
This makes both of these systems completely safe to be installed through the water. 
Final Thoughts
Whether you choose wired or wireless, the transmitter box must be installed in a safe place out of the elements and plugged into your home's electrical service.
However, all of the parts that the dog interacts with – the collar and the boundary wire – are waterproof.
This is great for our furry friends that love to play in the rain puddles, and go swimming!
We are sorry that this post was not useful for you!
Let us improve this post!
Tell us how we can improve this post?