There are many varieties of wireless dog fences available on the market today to suit a wide range of needs for both pets and owners alike.
JUSTPET Wireless Dog Fence is a top choice among consumers due to its simple installation, highly customizable range, and rechargeable collars.
In this article, we'll explore the features of the JUSTPET wireless dog fence, the setup process, and how to train your dog with your new fence.
Why Choose the JUSTPET Wireless Dog Fence?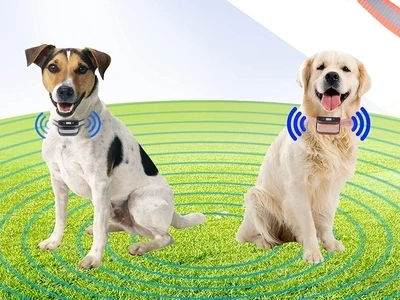 The JUSTPET wireless dog fence can be an effective choice for you and your pet for many reasons.
Aside from the effectiveness, are wireless dog fences safe to use? Yes! These fences are both effective and safe.
There are many features of this product that dog owners love that are a good choice for keeping your pet safe as well as your family.
Range
JUSTPET's wireless fences have a highly customizable range.
Most models can be adjusted in radius increments of 100 feet, and their largest models can be increased up to 1,000 feet or .02 acres – the size of a small suburban yard.
While this is a small area, it's sufficient for many dog owners, and the price is perfect for covering this size of a yard.
Rechargeable Battery
This brand of wireless dog fence also comes equipped with a rechargeable battery in your dog's collar, boasting an extended battery life of up to three full days. 
Some models of JUSTPET can also be synced with multiple collars, perfect for families with many pups!
The Collar
Another thing dog owners love about JUSTPET products is that the collar offers different correction modes. 
Rather than receiving a shock every time your pet approaches the boundary, the collar will first emit an audio warning, followed by a vibration warning to encourage the dog to stay within range.
The collar for JUSTPET has adjustable conductive points, meaning they can be adjusted to suit the thickness of your dog's coat and provide comfortable long-term use. 
These collars are also waterproof, making them a great option for outdoor spaces with ponds, or in rainy/humid environments. 
What Model of JUSTPET Works Best?
Our favorite model of JUSTPET is the C-100, which is available for one or two dogs.
It also allows for the purchase of additional collars so you can have a collar on each dog that pairs with the same transmitter.
What Comes in the Box?
When you purchase the JUSTPET C-100 for one dog, here is what you can expect to receive:
Main transmitter unit. This transmitter has a range of 100-990 feet, and is adjustable in increments of 100 feet for a total of 10 different range options. 
The frequency used is 433MHz, which is strong enough to get through most surfaces in your home, and is not harmful to humans.
Transmitter wall mount equipment. The C-100 comes with a wall mount, two screws, and two drywall corkscrew anchors to protect your wall and provide extra stability for your transmitter mount.
Dog collar and receiver. This receiver uses correction modes of both vibration and low-voltage static shock of 3.7 volts. 
The receiver is rechargeable, and has a waterproof rating of IPX7, meaning the collar can safely be submerged in up to one meter of water for at least 30 minutes.
Conductive posts. Four conductive posts are included for you to attach to your dog's receiver. 
These are adjustable to suit the thickness of your dog's coat, and will never cause injury to your dog's fur or skin.
If your dog has a thick or long coat, use the longer prongs to ensure skin contact.
Charging cables and adapters. You will receive two USB charging cables, one for your transmitter, and one for the collar receiver. Two USB-to-wall adapters are included for your convenience.
Training flags and a test light. Another great feature of the C-100 is the included test light, which helps you locate your boundary without having to wait for your dog's collar to finish the first charge cycle. 
Training flags are also included. These are necessary because your dog has to be trained to stay inside the fenced area. The flags are visual cues during the training sessions.
We're often asked, "how do I train my dog to use a dog fence?" We have all the answers in this short guide!
Instruction manual. Most users of the C-100 find the English instruction and setup guide easy to follow. If you get stuck along the way, JUSTPET has an excellent customer service team that will help answer any questions
Important Features of the JUSTPET C-100
Shock Prevention Technology 
Wireless fences induce a shock when your dog leaves the boundary.
The JUSTPET fence prevents one dog's collar from shocking all dogs, or continuous shocking after the dog leaves the fenced area.
Overshocking can lead to pets being anxious and fearful of their fence.
Dogs need to know that the rules for using the fence don't change so they can play confidently inside the safe area.
Like all good, reliable invisible fences, the JUSTPET C-100 has the technology to prevent your dog from any unnecessary shock.
Small Collar Receiver Size 
Bulky collar receivers are uncomfortable for you, and your dog.
JUSTPET considered this when designing the C-100, and made their receiver smaller than other collars in the industry. 
We love this because large dogs can hardly feel the collar at all, while small dogs can wear it more comfortably than some other brands.
Adjustable Collar 
The C-100 features a collar that is adjustable from 8 to 28 inches and is available for dogs over 10 pounds.
This product is not recommended for dogs over 110 pounds.
If your dog is under 10 pounds, don't use this fence for your dog. The shock correction levels will be too high for the dog.
We have other invisible fence brands we recommend for small dogs as light as 5 pounds, so be sure to check those out.
Lithium Ion Battery. 
Lithium ion batteries provide extended battery life to your collar receiver. Longer battery life means more use between charges, which is a plus for dogs that love the outdoors. 
Lithium ion batteries are also known for having a faster charging speed than traditional batteries.
You'll have to remember to charge them when your dog doesn't need to use the fence, but they charge pretty fast.
How Do You Use a JUSTPET Wireless Dog Fence?
The JUSTPET wireless dog fence is easy to use.
Before starting the setup process, make sure your box contains all necessary parts, and locate the instruction manual, which is specific to your model of fence. 
This manual will also contain important safety information.
Before setting up your fence, begin charging your pet's collar so that it will be ready for use throughout the setup process.
While the collar is charging, find an appropriate spot to keep the transmitter. 
The Transmitter
It's important to keep the transmitter away from large metal objects or other electronics in your home for best results.
It also must be kept out of the weather and given adequate ventilation.
You should also take into account the location of the transmitter, because this will be the center of your dog's range. 
Your dog will get approximately 500 feet to roam on all sides of the transmitter.
Your transmitter will need a location within reach of an electrical outlet, but does not need access to WiFi.
It is recommended to place the transmitter near an external wall of your home for the best signal. 
If you have a multi-story home, the transmitter should be placed at ground level as near to the same plane as the ground as possible – about 2-3 feet off the ground.
Set Up the Range
Once your transmitter is powered on, set the appropriate range for your space.
Most models of JUSTPET wireless fence are adjustable by increments of 10 feet in radius to about 1,000 feet.
REMEMBER that 1,000 feet includes the space on both sides of the transmitter.
Your dog gets about 500 feet max to roam on each side of the transmitter.
Sync the Collar and Transmitter
Then you are ready to sync the collar with your transmitter. Your fence will come with instructions on how to complete this step depending on your model of fence. 
Usually, this step involves pressing a sync button on the transmitter and waiting for the collar to respond. 
Once you have synced your dog's collar with the transmitter, you should walk around your space with the collar to make sure the boundaries are in the location you intended them to be. 
Place pet fence flags at the point where the collar gives an auditory beep. This is the fence that you'll train your dog to stay inside.
If the dog proceeds beyond the flags and auditory warning, it will be corrected.
Set the Correction Level on the Collar
Before putting the collar on your dog, adjust the conductive points to suit the thickness of your dog's coat, and to maximize comfort.
Then, make sure the collar is set to your desired correction level. 
If you can't get a high enough correction level from the JUSTPET to keep your dog inside the yard, you may need a wireless fence for stubborn dogs to keep your dog safely at home.
Set the Boundaries and Train
If you haven't already flagged the boundary when setting the perimeter, now is the time to do so. You can't train your dog to understand the boundary without visual cues.
You'll be able to gradually remove the flags once your dog is reliably staying inside the fence.
Training With JUSTPET Wireless Dog Fence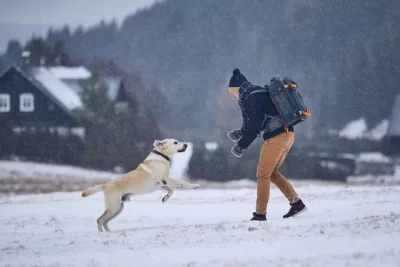 JUSTPET wireless dog fence collar is equipped with audio and vibration warnings, which help to train your dog and remind your dog of the training once the sessions are over.
Even with this amazing feature, to get the most out of your wireless dog fence, proper training is important and will keep your dog happier when using its new outdoor space.
Familiarize the Dog With the Boundaries
After you've carefully installed the flag at intervals of several feet around the new boundary, you can place the collar on the dog and begin training.
NOTE: Place a non-metal collar and nylon leash on the dog for training. Never attach the correction collar to a leash for training. The prongs will cause skin and tracheal injury.
If your dog has special needs or you don't have enough time available to train your dog, you may want to seek out a certified professional dog trainer near you. 
With flags planted at the boundary of your dog's outdoor space, slowly lead your dog around the edge of their space.
Do this a few times to get your dog familiar with the flags.
If they wander towards the edge of the boundary during these first few laps, let the collar emit a warning, then guide your dog away from the boundary using a lead before a shock is produced.
Reward your dog for this good behavior with cuddles, pets, and treats. This will get your dog accustomed to the warning without fearing it. 
As your dog willingly responds to the flags and warning beep, you can then allow the dog to step beyond the flags if it wishes.
When it receives correction, quickly pull it back into the safe area with positive praise.
Warning on Training Techniques
Here are a few warnings and tips to help you have a positive training experience and help your dog understand and obey the fence in as little time as possible.
You should never force the dog to go towards the edge of the boundary to get shocked. The dog will associate this pain with your actions. Instead, let natural curiosity take over and then rescue the dog from the consequences with praise for returning to the yard.
Exercise patience. Your dog will distrust you if you get angry and yell or hit in your frustration. This will undo your previous training and make future training harder.
Keep training sessions short. 10-15 minutes is enough. Too long is exhausting and frustrating for both of you.
Keep training positive, full of praise, and bookended by playtime and cuddles.
Remove the flags gradually and keep reinforcing the dog's training as you do so.
Training takes at least 2 weeks for nearly all dogs. Even dogs who seem to get it right away are more prone to test and play with the boundary if training is ended too soon.
Some dogs will take 3 or 4 weeks or longer, so be patient as your dog learns to cope with this invisible boundary.
Final Stages of Training
This process should be completed regularly for two weeks for best results before marking flags are removed. 
Once marking flags are removed, it is still helpful to train your dog with the boundary a couple more times, so that you can be sure they know where it's located without the flags present.
Here's also a video source for training your dog for an invisible fence. Keep in mind that your fence will be circular, so your dog may be a little confused by that shape at first.
Final Thoughts
JUSTPET Wireless dog fence is a great choice for dog owners with a small yard who are seeking easy setup, a highly adjustable range, and different correction modes.
We love that it includes vibration as a correction mode for well-trained dogs who simply need a reminder to stay home.
However, we would never leave it in a correction-free mode for dogs who may run.
While some dog owners feel bad about the shock correction, it truly is the feedback that keeps your dog safely at home and out of the street.
We are sorry that this post was not useful for you!
Let us improve this post!
Tell us how we can improve this post?