Keeping your dog in the yard can be a hard job if he is naturally inquisitive or mischievous.
Installing an invisible fence keeps your dog home and it won't hurt the aesthetic value of your home.
But how deep is an invisible fence buried? From cautions to look out for when burying an invisible fence to how to install it, we've got all the answers for you. 
How Deep is an Invisible Fence Buried?
As a general rule, an invisible fence must be buried between 1 and 3 inches to work correctly with the transmitter and the receiver on your dog's collar.
Any deeper than 3 inches and the transmitter and receiver collar may lose connection. Any shallower, you risk damage to the wire.
However, if you're sure the wire won't get damaged, or you're placing the fence as a temporary solution, the wire will work fine if it's left unburied.
Read our related article, How Deep Do You Bury Invisible Fence Wire? for more information and DIY tips!
How to Hire a Pro Installer to Bury an Invisible Fence
Hiring a professional to install your invisible fence offers a lot of benefits. First and foremost, it takes the headache out of doing it yourself.
They also have the experience necessary for selecting the proper containment wire and installing it correctly without any delays. 
The professionally installed fence will come with a warranty on installation that will most likely be an extended one.
While this is all well and good, there are several questions you need to ask when hiring a professional to ensure that you get the best work done.
What is the Overall Cost of the Fence?
You will need to know what the overall cost of the fence is, as well as the installation and the yearly battery expenses.
You will want to compare these across companies before you make a final decision.
Read More: What is the Cost of Invisible Fence Per Acre of Land? Learn more about the cost of an invisible fence in this ultimate guide!
Is There a Containment Guarantee That Comes With the Fence?
Many companies offer a containment guarantee that offers you a refund when their product fails to contain your dog. 
How Will the Wire Be Installed?
The installer should say they're going to install the wire 1 to 3 inches below ground, including under any sidewalks or driveways.
Any installer that suggests stapling the wire to the surface of the ground or a fence should be avoided.
You'll end up with a shoddy installation and broken wire.
What Are Your Training Support Options?
Many of the more expensive companies, should offer at least two weeks of training.
If you have a more DIY install version, usually they offer limited training where you have to pay per session.
Who Will Be My Dog's Trainer?
For best (and fastest results) the trainer assigned to your dog should have at least a year's experience training dogs on yard boundaries.
If not a professional and you are teaching yourself, check out our thorough articles about how to train using a wireless fence and how to train a dog using an invisible fence.
Is it Dangerous to Bury an Invisible Fence?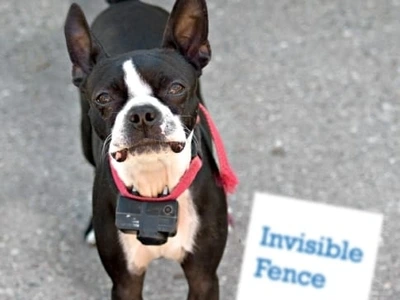 Before you plan the layout of your invisible fence, you need to identify all of the potential obstacles. 
It's best to call your utility suppliers so that they can tell you where the lines lie. These include gas, sewer, water, electricity, and phone lines.
You also need to identify any privately installed utilities. These can include septic systems, gas cylinders, and sprinkler systems. 
It's highly unlikely that you'll hit any wires or pipes because the trench you need for an invisible fence is so tiny.
Most people do it by hand and tend to dig too deeply rather than too shallow.
However, if you plan to use a power tool to help dig the ditch, you need to know where the utilities are just in case you go too deep.
Read our related article, Can Underground Wire Be Used Above Ground? It may be easier to install your wired fence above ground, but is it safe? Learn all about it here!
How to Dig a Trench to Bury an Invisible Fence
You have two options for digging the trench for your invisible fence. What it boils down to is how much physical effort you want to put into the project.
You can do it with a shovel, but the trench will be much wider than necessary.
If you have a large property, this will take a lot of time and energy even though you only need to dig an inch or so deep.
A better hand tool for digging an invisible fence wire trench is a pick axe.
Use the sharp tip to dig a shallow, narrow trench to lay the wire in. It's a quick and efficient way to get the job done.
The more energy-efficient method is to rent a trencher tool. This will easily dig your shallow trench the length of your boundary, and you won't break a sweat!
The risk of using a trencher tool is going much too deep. You'll barely need to scratch the surface of the dirt with a trencher tool.
Whichever method you choose, once the trench is dug, place the wire in the trench, test to make sure it all works, then cover it with dirt. Tap it down with your foot.
Does an Invisible Fence Have to Be Buried?
Do you have to bury wire for dog fence?
Invisible fence wire can be installed above ground if digging a trench is not an option. This is an easier option and saves a lot of time during installation.
This is a good option if you're reinforcing an existing fenceline with a wire to keep the dog from digging under or jumping over the fence.
However, it also greatly increases the odds that the wire will break.
Lawn mowers and weed trimmers can cut the line
Dogs (off of a receiver collar) can chew the wire
Kids can pull, twist, or tangle the wire
Vehicles crossing the wire can smash, tangle, or sever the wire
If you have an existing fence, you can run it alongside that, reducing the probability of lawn mower damage.
In this situation, use zip ties to attach the wire to the fence where possible.
In areas where digging is not possible due to the landscape, simply staple the wire to the ground using landscape staples to hold it in place. 
Use a walkway tunnel kit to tunnel under sidewalks and driveways so you can install the boundary wire where it won't be tripped on or tangled by foot or vehicle traffic.
It's cheap and quick to do.
Final Thoughts
An invisible fence can be a great investment if you need to contain an active dog.
Through the combination of proper training and this device, you will have no worries about where your dog is. 
By burying your wire 1 to 3 inches deep, you will always have the proper signal and have no risk of damage to the wire from yard activities. 
We are sorry that this post was not useful for you!
Let us improve this post!
Tell us how we can improve this post?