If you have a wireless dog fence and feel that you might need to expand the coverage of your dog fence, then you're in the right place. 
The great thing about a wireless fence is that the size is extremely adjustable. Wireless dog fences are great because expanding them or making them smaller is not a hassle. 
Thanks to the central transmitter system, expanding a wireless dog fence is quick and easy.
Hang around and we'll show you how to expand wireless dog fence systems!
How To Expand Wireless Dog Fence Systems
To expand the range of wireless dog fence systems you'll need to buy an additional transmitter (or two) that matches your existing system.
They must be compatible and the fields will have to overlap in the middle.
Set the second transmitter in a different area of the home or yard and set the perimeter to overlap the first perimeter on one side.
The resulting shape will be something like a figure 8 with a very wide middle.
You'll need to mark the full boundary with pet fence flags, pair your dog's collar with the new transmitter, and train your dog to the new shape.
The unusual shape can be difficult for some dogs to adjust to.
See our related article on a Do It Yourself Invisible Fence where we share our favorite DIY installation and troubleshooting tips.
Why Should You Expand Your Wireless Dog Fence System?
You might be looking to expand your wireless dog fence for many different reasons.
It could be that you're getting a larger property, and need to expand the fence. 
If you're a family with two dogs, or more, or a family looking to get additional pets, then you will need more space for them.
You may also want the system to cover both your front yard and backyard seamlessly.
Expanding your wireless dog fence is quite easy, and can give you the opportunity to have an unlimited number of pets run free around your yard while ensuring their safety.
How Big Can a Wireless Fence Boundary Be?
Size and shape flexibility are the main differences between a wired invisible dog fence and a wireless invisible dog fence.
Wired dog fences can be any shape and installed to cover many acres, but setup takes a day or more.
A wireless fence is less flexible in coverage area and shape, but setup typically takes an hour or two at most.
Wireless fences are always cast in a circle from the central transmitter unit. Unless your yard is a circle or a perfect square, the boundary won't ever quite fit your full yard.
The coverage area of a wireless fence ranges greatly between models, but can typically cover a 1/2 acre to 3/4 acre in a circular shape.
If your property is a rectangle you may need to use a second transmitter to create more of an oblong shape to allow your dogs more room to roam.
Keep in mind that because the boundaries must overlap in the middle, a second transmitter only expands your coverage area by another half of your available coverage area.
You may be able to get a little more coverage if you make the shape pinched in the middle, but this can confuse dogs so it isn't recommended.
Some people opt to use 3 transmitters to create a gently scalloped coverage area, then train the dog to flags placed well inside the uneven edge.
Read our related article on the Best Wireless Dog Fence for Acreage so you can get the most coverage for your money!
Tips For Expanding A Wireless Fence System
If you're looking to expand your wireless fence system then there are a few things to remember. 
First off, buying an extra transmitter is the simplest way to expand your reach, but remember to always overlap the boundary areas at least 10 feet. 
It's recommended to do about 30 feet of overlap.
You should always check the boundary lines to be sure that it doesn't go off of your yard or create a pinched area where the dog can't go in the yard.
Once you've set up the wireless fence system you can place training flags along the boundary to figure out how far it goes, and ensure that it keeps your dog safe.
It's also important to note that large metal objects can cause disruptions to wireless invisible fences. This includes metal bins, parked cars, and metal sheds.
When using a wireless invisible fence your dog may be able to duck behind a shed and dig out without receiving any correction from the collar.
Sloping hills and densely forested areas can also decrease the transmitter signal and render the invisible fence less effective.
If you have many of these features in your yard, you may be better off using a wired invisible fence that can be installed around the full perimeter to provide complete protection.
Read More: How Big Can an Invisible Fence Be? If you have a large yard, here's how big wired and wireless fences can get!
Can You Change the Shape of a Wireless Dog Fence?
Because wireless dog fences are created by radio waves sent from a central transmitter unit, these waves radiate in a circle.
The circle can be made smaller or larger, but it can't change shape.
Combining two or more transmitters will allow you to cover your yard more thoroughly, though the shape will always have a rough, scalloped edge.
This may be enough customization for some, but those that have extra space or odd areas of land attached to theirs might need more of a customized boundary line like a wired dog fence.
How To Check a Circular Boundary Line
It's important that dog owners who have a wireless dog fence make sure that the wireless fence boundaries extend into safe or allowed areas.
Because the circular limits are often expanded out to allow the dog to roam more freely in the yard, areas the transmitter allows the dog to roam may include neighboring yards, driveways, roads, or wooded areas.
This can be dangerous if the dog is allowed to roam in the safe area before the owner is aware that the dog can get into a dangerous situation inside the safe area because of the circular coverage.
Are all wireless dog fences circular? This guide explains why wireless fences create circular boundaries.
Be sure to take the dog's collar out and check every portion of the covered area to ensure it's safe before letting the dog use it.
This is especially important if you have an extra transmitter because more coverage can increase the possibility for the boundary to be outside of your yard and into a street or neighbor's yard.
Use the training flags to remind yourself and your dog of the boundaries until the dog is fully trained to stay inside.
Here is a great video to help you train your dog to stay inside of an invisible fence.
How To Set Up Your Extra Transmitter
Setting up your extra transmitter is actually very easy, and is similar to the process of setting up the transmitter you originally purchased. 
The extra transmitter is sold separately, and usually, the range is the same as the first transmitter. 
You want to first figure out where you want the safe zone area to be, then figure out how far that is from your first transmitter. 
You'll want to overlap the play areas by at least 10 feet. Once that's done, it will create a double circle type of coverage area that pinches in a little in the middle like a number 8. 
Because the covered area must overlap in the middle, an extra transmitter doesn't double your coverage area.
It gives you an additional 1/2 (or a little more) of your original coverage area.
Read our related article, Where Should PetSafe Wireless Fence Be Placed? for more tips and tricks for placing your transmitter and fence!
Tips To Remember When Expanding Wireless Dog Fences
Always overlap your transmitter boundary area with the originally purchased transmitter. This ensures a secure area and overall makes you have a more uniform boundary zone.
To get the best coverage for your transmitter you should place it indoors near an outlet, and on the main level of your home if it has multiple levels.
Keep your transmitter away from large metal objects as this can interfere with the transmitter.
Use the training flags to help visually identify your boundary line to ensure that the covered area is safe for your dog.
Read More: Does a Metal Roof Interfere with a Wireless Dog Fence? Discover which landscapes might interfere with your invisible fence in this guide.
Can You Expand Wireless Dog Fences for Multiple Dogs?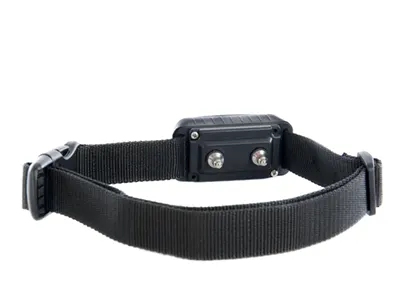 Adding another receiver collar to your wireless fence system is very simple and convenient. 
If you're getting additional pets or an additional dog then you'll need the additional receiver collar. 
The additional receiver collars are sold separately from the transmitter, as most transmitters come with one.
Any other extra transmitters typically do not come with an additional collar. 
Adding additional receiver collars for your dog will allow you to have an unlimited number of pets and collars.
Once each collar is paired with the central transmitters, it will keep dogs inside the boundary area.
There is no limit to the number of collars you can pair with wireless transmitters.
The battery life of the receiver collars usually varies by brand, but can typically last up to 2 months. 
You'll need to either recharge or replace batteries quite frequently for each collar.
Final Thoughts
Expanding a wireless invisible fence system is easy, and one of the main reasons that dog owners opt for this type of system.
It isn't without its faults, the main one being the shape, but it works well.
For most urban and suburban yards a wireless fence transmitter covers the yard well enough to keep dogs home with one or two central transmitters.
We are sorry that this post was not useful for you!
Let us improve this post!
Tell us how we can improve this post?