Dogs love to run and play, and they usually need ample room to do so. Letting them play in the yard is great if you have a fence.
Even so, some dogs squeeze through, dig under, or hop over the fence, putting themselves in danger.
An electric fence makes a boundary around your house with a collar to keep your dog in.
We tested the best wireless dog fence for small dogs and reviewed 3 of our favorites as well as 2 honorable mentions to help guide you in your search. 
Our Top Picks
|   | Product | Details   |   |
| --- | --- | --- | --- |
| | Best Overall: PetSafe Stay & Play Wireless Pet Fence | Covers up to 3/4 acre to safely contain multiple dogs and cats over 5 pounds. | Check Price |
| | Runner Up: PetSafe Wireless Pet Fence Containment System | PetSafe offers another great wireless pet fence covering up to 1/2 acre for pets over 8 pounds. | Check Price |
| | Best For Budget: Blingbling Petsfun Electric Wireless Dog Fence | This budget fence has a battery backup to keep your dog home if the power goes out. | Check Price |
How We Narrowed Down the Best Wireless Fences for Small Dogs
To find the greatest wireless fences for dogs, we looked at some of the best brands available.
We gathered all information on wireless fences of varying features, sizes, and prices.
Our search brought us to brands like PetSafe, which has a fantastic reputation in the pet behavior and containment world, especially through their Invisible Fence offerings!
We also came across other brands, such as BlingBling Petsfun, who offer a great budget invisible fence option for small dogs!
We then went to websites like Amazon, PetSmart, and Chewy to take a look at what real dog owners had to say about their experience with these brands. 
From there we chose 5 wireless fences for small dogs to test ourselves. We tested these wireless fences for many factors, including affordability, effectiveness, and features.
3 of them stood out as our favorites, while the other two were still worthy of an honorable mention.
Read on to see which fences we liked and why.
Best Wireless Fences for Small Dogs Reviewed
1. Best Overall: PetSafe Stay & Play Wireless Pet Fence
Product Ratings
| | |
| --- | --- |
| Affordability | 4.5/5 |
| Effectiveness | 4.5/5 |
| Installation | 4.5/5 |
| Quality | 4.5/5 |
| Features | 5/5 |
Collar Size: 6″ to 28″ | Closure Type: Buckle | Brand: PetSafe | Coverage: ¾ acre | Dogs: Small to Large Breeds (over 5 pounds)
What We Liked
Easy installation
Battery replacement is easy
Warns dog before correcting
What We Didn't Like
Setup may be difficult with uneven land
Non-rechargeable battery
This wireless fence comes from one of the most trusted brands for electric fences. You can buy a whole kit or an individual receiver collar to expand your existing fence.
The PetSafe Stay & Play Wireless Pet Fence is without a doubt the best wireless fence for your pup! So, why is that?
Affordability
Let's be honest, a regular physical fence can cost an arm and leg. Electric fences in general can be a much more wallet-friendly option. 
While wireless fences can be a great alternative, we considered how affordable these fences were in relation to effectiveness, durability, and longevity.
For PetSafe Stay & Play Wireless Pet Fence, we found it lasts for years, works well, does as promised, and is quite convenient. 
We needed extra collars for multiple dogs, and the collars weren't too expensive.
Overall we have a lot of peace of mind knowing our dogs are contained with PetSafe.
We only wish that the battery for the collar was rechargeable.
While we found it easy to replace the battery but buying a new one every several months can be costly for multiple dogs.
Effectiveness
Coming from PetSafe, we were never too worried about the functionality of this product. This wireless fence worked like a charm!
We made sure to follow all proper procedures to set up the fence and train the dogs with it. We didn't have any issues with the receiver functioning improperly.
Our only comment on setup is to make sure the fence doesn't include a driveway or parking area because cars can interfere with the radio signal.
The collar is suitable for dogs (and cats) over 5 pounds with neck sizes from 6 to 28 inches – suitable for nearly all dog breeds.
Read More: How Do I Train My Dog to Use a Dog Fence? We go through each step you need to take to successfully train your dog!
Features
When it comes to features, we mostly looked at the receiver. Whether it was waterproof, what kind of correction modes it had, and so on.
This wireless fence from PetSafe does come with a waterproof receiver.
This is necessary because you never know when the receiver may come into contact with water outside. 
Whether our dogs splashed in a puddle or got a little sprinkle from the rain, these receivers seemed to hold up well.
This wireless fence has 5 increasing levels of static correction, this is especially great for the smaller dogs as you can utilize a lower setting for them.
Furthermore, there is a tone-only mode, which only uses an auditory warning so the dog knows to turn around instead of approaching the boundary.
The shape of the fence is circular, and you'll have the choice to cover up to ¾ of an acre. That's more than enough room for a dog, especially for a small one!
We love to take this fence camping to keep our small dogs on our campsite. You can also check out our review of the best portable dog fence for camping here!
Just remember to pack boundary flags so your dogs know where the new boundary is.
Lastly, we really appreciated that the receiver has a feature where there is no correction signal transmitted when the dog is returning to the boundary, only when they pass, and make their way from the boundary.
SEE PRICE ON AMAZON
---
2. Runner Up: PetSafe Wireless Pet Fence Containment System
Product Ratings
| | |
| --- | --- |
| Affordability | 4.5/5 |
| Effectiveness  | 4.5/5 |
| Installation | 4.5/5 |
| Quality | 4/5 |
| Features | 4.5/5 |
Neck Size: 6"- 28" | Closure Type: Buckle |  Brand: PetSafe | Coverage: ½ acre | Dogs: Small to Large Breeds 
What We Liked
An adjustable Collar can fit nearly any dog
Buy additional collars to use with multiple dogs
Good for multiple dogs
What We Didn't Like
Non-rechargeable battery
Only 5 correction levels
Coming in just behind our top pick is the PetSafe Wireless Pet Fence, but we still love it, and here is why.
Affordability
This product is pretty affordable, priced just a tad higher than the PetSafe Stay & Play.
In relation to effectiveness and quality, we found this unit to be priced fairly. 
The collar does have a 2-month battery life, which is standard.
Once more, we had wished that the battery for the receiver was rechargeable to save money.
On the other hand, it can take hours to recharge a collar with rechargeable batteries which is a disadvantage if you've forgotten to charge it or don't have the time.
Replaceable batteries offer the convenience of always knowing the collar is on with never more than a few minutes of downtime while swapping batteries.
Effectiveness
For the most part, this wireless fence worked perfectly. We felt that setup and installation were easy. The training wasn't difficult either.
The correction modes functioned properly, and the auditory warning was good for warning the dogs to turn away from the invisible boundary.
Have a pup who escapes the yard despite your best efforts?
Take a look at our review of the best dog GPS tracker options, to help alleviate some worry when Fido makes a break for it!
We had a small reception issue with our transmitter, but a quick call to customer service helped us figure out what we did wrong during setup.
We appreciated the friendly service we received.
The collars for this fence are designed for dogs over 8 pounds with necks between 6 and 28 inches – good for most breeds.
Features
The collar with this wireless fence also has a waterproof battery.
Don't worry if your dog loves to play in the sprinklers or dip in the pool. The collar will be fine!
We noticed that the fence operates using 5 different correction levels and one tone level.
We had good results training our dogs to the tone so the lowest static correction levels were often sufficient.
We're thankful for the option of leaving on the auditory warning.
The area in which this fence will cover is up to about ½ acre in a circular shape.
This is definitely plenty of space to let your small four-legged friend run around and play!  
Electric fences are sometimes given a bad reputation. Here are some common myths about electric dog fences!
SEE PRICE ON AMAZON
---
3. Best for Budget Wireless Fence: Blingbling Petsfun Electric Wireless Dog Fence
Product Ratings
| | |
| --- | --- |
| Affordability | 4.5/5 |
| Effectiveness | 4/5 |
| Installation | 5/5 |
| Quality | 4/5 |
| Features | 4/5 |
Neck Size: 7"- 26.5" | Closure Type: Button | Brand: Blingbling Petsfun | Coverage: 985' Radius (about 1/4 acre) | Dogs: Small to Large Breeds
What We Liked
Rechargeable Battery
Quick Set-Up
Compact radius
Keeps dogs from running through the shock zones
What We Didn't Like
Need to cut collar to size
Might be a bit heavy for small breeds
We are glad to include a quality affordable option in the last spot on the list of our top picks with the Blingbling Petsfun Wireless Dog Fence.
We weren't sure about testing this one, but the results were good, especially with our stubborn dogs.
Continue reading to learn more about this great wireless fence option!
Affordability
Compared to the others on our list, and those available on the market, this wireless dog fence seemed too good to be true.
However, we were shocked by how well this fence performed!
Given the price, we felt the receiver and transmitter worked sufficiently, and a rechargeable battery meant no extra battery cost.
However, the collars have downtime during recharging.
Effectiveness
We noticed that the transmitter and receiver did respond properly. We also loved how the flags for the fence were small markers that were size friendly for the little dogs.
We did have one instance where a dog stayed within the boundaries of the fence but cut off the signal from the transmitter to the receiver behind a metal bin.
The collar was on a low mode, but it did cause a correction in the collar. 
It's important to ensure the transmitter and receiver signal are obstruction-free to avoid accidental corrections.
The collar will fit dogs with neck sizes of 7" to almost 27" meaning it'll fit your big and small dogs alike!
You have to cut the collar to size and it can be a bit heavy for very small dogs.
In case you need it, here's a quick guide on how to measure your dog's neck for a collar!
Otherwise, you will have some overhang from the tail of the collar depending on the size of the dog.
Features
A common feature on our list, this product is also waterproof. Pups were able to play around in the rain, and trudge through puddles without a problem. 
Although we never had to find out, Petsfun boasts that the receiver can be submerged in water a meter deep for up to 30 minutes.
So dogs can take a dip in the pool without ruining the collar.
The collar features 4 levels of correction, with sound, vibration, and static electricity at a low and safe voltage.
We really only had to use the tone to keep our dogs in, but when we did increase the level of correction, it worked properly, and we had no reason to be concerned for the safety of our pups.
The rechargeable batteries make the collars more affordable, but we had downtime during recharging.
Once we forgot to recharge the batteries overnight, making us wish we could just pop a new battery in.
SEE PRICE ON AMAZON
---
Comparison Chart
| | | | |
| --- | --- | --- | --- |
| Products | Best Overall | Runner Up  | Best for Budget |
| Overall Rating | 4.6/5 | 4.4/5 | 4.3/5 |
| Affordability | 4.5/5 | 4.5/5 | 4.5/5 |
| Effectiveness | 4.5/5 | 4.5/5 | 4/5 |
| Installation | 4.5/5 | 4.5/5 | 5/5 |
| Quality | 4.5/5 | 4/5 | 4/5 |
| Features | 5/5 | 4.5/5 | 4/5 |
The Winner
In the end, we chose the PetSafe Stay & Play as the best overall option for a wireless fence for small dogs.
Offering durability and efficiency, while remaining affordable, gave this product an easy victory on our Top 3 list!
How to Choose the Best Wireless Fence for You
We found wireless fences that work well for various sizes of dogs, but you may have a different fence in mind. Here are a few things to keep in mind while you shop around.
Coverage
Consider how much area you need to cover in your yard. Do you need a unit that has a wide radius, or could you get away with less coverage? 
Furthermore, while many of the boundary shapes for wireless fences are set, there are some that offer custom shapes or allow for more adjustment to the boundaries.
If you'd rather have an invisible fence that follows the contour of your yard or supplements existing fencing, we recommend a wired electric fence for dogs.
They take longer to set up, but the shape is easy to customize to whatever size or shape you need for your yard and your dogs.
Features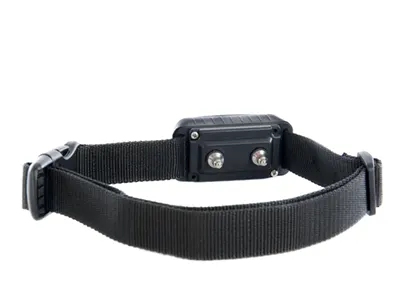 We found an important recurring theme for the best wireless fences for dogs was their waterproof features.
It's important that your dog can get a little wet outside, without you worrying about a damaged product.
For some, the rechargeable battery is the most important thing. Replaceable batteries can get expensive over time, especially if you're using the fence for multiple dogs.
However, for those who need to have collars with zero recharging downtime, you can't beat the convenience of popping in a new battery.
Plus, the replaceable batteries last several months on average.
Research
Finally, know what you're looking for in a wireless fence.
Make sure you know exactly how much area you need to cover for the layout of your land, any possible obstructions or interferences, and the size of your dog.
Additionally, be ready to make a commitment.
While setting this kind of fence up is easier than a physical fence, it will require diligent and patient training to keep your dog safely inside of it.
Honorable Mentions
Here's a brief look at the 2 options that didn't make our Top Picks list for the best wireless fence for small dogs.
1. JUSTPET Wireless Fence – Considered for Compact Wireless Dog Fence
This wireless fence from JUSTPET is a great option if you don't want the transmitter to be an eyesore in your home. It's easy to set up and highly adjustable.
The collar was a bit heavy, and we felt it was overkill for our small dogs, so we recommended the PetSafe Stay & Play Wireless Pet Fence as it is better for small dogs and even cats.
OKPET offers a wireless fence with a range of up to 1,000 feet.
Additionally, you can add another transmitter to increase the range, and purchase additional collars for more dogs on one transmitter.
However, we recommend sticking with PetSafe Wireless Pet Fence Containment System.
The range for the OKPET just wasn't enough for us, though we did like the collar for our small dogs.
Should You Purchase a Wireless Fence?
Usually, the cost of a good wireless fence and the prospect of setting it up and training the dog deters people from getting one and trying it out.
Although they can still cost a bit, wireless fences can be more affordable, and most certainly are more convenient than in-ground fences when it comes to installation.
A wireless fence, when used properly keeps your dog contained to a designated area. 
This is extremely useful when you want to keep them in the yard, away from the road, or even out of certain areas in the yard, but don't want to deal with the hassle of a complicated setup.
If you've got a sleuth known for bolting from the yard, or just want to rest assured your pup is safe, and don't care for an in-ground electric fence, then a wireless fence is a great option!
How Do You Set Up a Wireless Fence?
Installing a wireless electric fence might sound like a difficult task, yet it's quite the opposite.
Although the exact process for wireless fences may vary, the general process is relatively simple. We broke down how to set up a wireless fence in 6 easy steps.
Planning
Scope out the designated containment area. Decide where you would like your boundary to be. Where is the furthest point you would like the radius of the fence to be? 
Keep in mind factors that may impact the effectiveness of the transmitter and receiver.
Some objects that may cause radio interference include cars or metal appliances or objects, as well as concrete or brick walls or surfaces.
Additionally, the transmitter will need to be placed strategically to maximize efficiency.
Having the transmitter on the ground floor, about three or so feet off the floor, making it level with the receiver (collar) is a great way to start. 
Furthermore, keep in mind you'll want to place it near a power outlet, and as close to the outer wall of the home as possible to minimize obstruction.
Placement and Pairing   
Once you've finished planning, and getting an idea of where you'd like to set up the fence, place the transmitter in the spot you'd like to install it. 
This isn't definite yet, so don't do any permanent installations. Plug the transmitter into a power outlet and turn it on.
Next grab the collar and power it on. Make sure it is charged or has a fresh battery.
You'll want to keep the collar near, or even bring it closer to the transmitter until you hear a beep or another indicator that the two devices have synced.  
Creating A Boundary
This step can usually be done alone rather easily, but sometimes it's useful to have a second person helping you. 
For some models, setting the boundary for a wireless fence is just as simple as pressing some buttons, or turning a dial right to the desired radius.
However, with others, it's a bit more difficult and may call for a second person to make it easier. 
One will be inside the house at the transmitter, while the other person goes outside with the collar. You want to be able to communicate back and forth, so a phone call may help.
You'll want the person with the collar to stand at the furthest point of the boundary you'd like to set, with the collar at about the height a dog would be.
The person at the transmitter will use the dial to change the radius of the boundary on the transmitter. 
They should continue to do so until the person with the collar receives an indication (beep, vibration, static shock) that the transmitter has reached the designated boundary.
At this point, the person with the collar can let the other person know that the collar is indicating the boundary has been met, and they should stop turning the dial.
Check out this video by PetSafe demonstrating how to install an underground fence:
Finalizing Placement
Once you've got the boundary set up, you're almost done. Set up the flags or visual markers for your dog. We like the set of 50 flags that comes with PetSafe fences.
Flags are a great visual aid for your dog to understand limits. These should be placed all along the boundary of containment, evenly spread apart. 
You can also take the time to move the collar around the property, and test its effectiveness.
Is there any interference between the transmitter and the receiver? 
Are there any spots in the yard that aren't quite covered by the transmitter that you'd like to allow the dog to be? 
Are there any concerns with the functionality of the collar?
Basically, you want to be sure that the fence is both safe and working before you take any permanent actions.
Permanent Placement
Once you're sure everything is in order, you can permanently install the transmitter.
Just remember to keep it away from metal appliances, close to an exterior wall, and off of the ground for best efficiency.
Put it to Use
The final step is to use the wireless fence! However, it won't be as simple as putting the collar on and expecting the dog to know what to do.
It will take some training for your canine to grasp the concept. 
However, with determination and patience from both you and your dog, it shouldn't be long before you have a working invisible fence!
We are sorry that this post was not useful for you!
Let us improve this post!
Tell us how we can improve this post?