What can you do if you have dogs and want to keep them from escaping when they're out in the yard? Consider an in-ground training fence. 
Also known as invisible fences or underground fences, these kits come with training flags, wire you bury under the ground, a collar receiver, a digital transmitter, and probes.
After training your dog for a couple of weeks, you leave the fence to administer static correction if your dog tests the boundaries.
We searched for the best in-ground dog fences and chose 6 to test. We've ranked our top 3 below with a full review of each, plus an additional 3 honorable mentions. 
Our Top Picks
|   | Product | Details   |   |
| --- | --- | --- | --- |
| | Best Overall: Extreme Dog Fence Second Generation Kit | This fence is expandable to cover six acres of land. The waterproof and submersible collar receiver is built to last, and the kit comes with 1,000 feet of wiring and the ability to add collars for 5 dogs. | Check Price |
| | Runner Up: SportDOG In-Ground Fence | This versatile fencing system covers ⅓ of an acre and offers sound, vibration, and static shock, depending on what works best for your dog. The collars are waterproof, and the fence works for multiple dogs. | Check Price |
| | Best For Behavior Problems: PetSafe Stubborn In-Ground Fence | If your dog is on the stubborn side, this is the fence for you. It provides a warning tone and stronger static correction for headstrong dogs. Can be expanded to cover 25-acres with multiple dogs. | Check Price |
Disclaimer
Before opting for an electric fence, we strongly recommend obedience training and taking the time to understand and carry out the process.
Training your dog can prevent the potential stress of an electric fence collar, and focuses on positive cues to reinforce boundaries. 
While electric fence collars aren't physically harmful, for certain dogs they can cause potentially severe emotional distress without the proper training.
Brain training techniques are a science-backed way to help prepare your dog for new boundaries without the use of force or dominance!
How We Chose the Best In-Ground Training Fence
Electric fences are a great option for dog owners who don't want to install a physical fence around their yard but need to contain their pup when playing outside. 
Your dog's collar has a receiver that emits a warning buzz when it gets close to the fence boundary and then a mild shock if your dog continues to stay close to the fence, eventually training them not to test the limit. 
Electric training fences come in two types.
One type is a wireless fence with a small receiver placed in the yard that stimulates the shock collar when the dog gets too far from the receiver. 
The second is a perimeter wire that can be buried underground or secured on the ground.
Wireless fences are cheaper, but in-ground fences are a perfect choice if you have a large or unusually-shaped yard and want a truly invisible fence. 
There's more cost and installation effort associated with an in-ground fence, but once you put it in, we think you'll find an in-ground invisible fence to be the most versatile and long-lasting choice for your home. 
To give you the most specific recommendations, we ranked the fences based on how effective they are at containing your dog (or dogs), how useful the sizing template is, how durable the collar and receiver are, and how easy the kit is to install and maintain. 
We chose 7 of the best in-ground training fence kits we could find and put them to the test on our dogs.
From there, we selected our top 3 to fully review for you, and listed 3 honorable mentions for your consideration. Check them out below!
READ MORE: The Best Exercise Pens for Dogs. These pens are great for small yards, traveling, or indoor play. We reviewed the top options on the market today! 
Best In-Ground Dog Fences Reviewed
1. Best Overall: Extreme Dog-Fence Second-Generation Kit Package
Product Ratings
| | |
| --- | --- |
| Effectiveness | 5/5 |
| Sizing | 5/5 |
| Durability | 5/5 |
| Ease of Installation | 4/5 |
Coverage: 6 acres | Fits multiple dogs: Up to 5 | Maximum Wire Length: 2000' | Other Features: Fully waterproof and submersible receiver
What We Liked
Expandable up to 6 acres
The receiver is fully waterproof and submersible up to 10 feet
Bundled with training flags
Excellent value for the price
What We Didn't Like
Short collar battery life
First up is our overall favorite underground fence from the inimitable Extreme. This comprehensive kit is modular and flexible so you can contain unlimited dogs using the single set-up. 
Choose the length of wire most appropriate for your property first:
500 feet
1000 feet
1500 feet
2000 feet
You can also choose a kit that includes collars for the number of dogs you need to contain – there's no upper limit with this system.
The collar receiver is completely waterproof and submersible which is perfect for summer months when the pups want to lounge in the dog pool.
This base level kit includes 500 feet of wire, 50 pet fence flags so your dog can see the boundary, the collar receiver, digital transmitter, and a couple of sets of neck probes. 
Static correction through 7 levels should be enough to keep most dogs contained.
(If your canine is especially stubborn, we have an even stronger fence for you in this list, so keep reading.)
This set should be enough to keep most dogs safely contained.
SEE PRICE ON AMAZON
---
2. Runner-Up: SportDOG In-Ground Fence
Product Ratings
| | |
| --- | --- |
| Effectiveness | 5/5 |
| Sizing | 4/5 |
| Durability | 4/5 |
| Ease of Installation | 5/5 |
Coverage: ⅓ acre | Fits multiple dogs: no max, additional collars sold separately | Maximum Wire Length: 500' | Other Features: Additional wire can be added to expand coverage up to 100 acres
What We Liked
Option to add extra collars to contain more dogs
Lightning protector and wire-break alarm are included
Multiple levels of warning and correction, including sound, vibration, and progressive levels of static correction
What We Didn't Like
Settings are cumbersome and sometimes awkward
The SmartDOG kit is similar to the others but you can buy additional wire and expand the coverage area up to 100 acres! 
There is no limit to the number of dogs you can add to the system, although all additional collars must be purchased separately. 
If your dog approaches the fence boundary, the collar will emit a warning tone, followed by a vibration.
If your dog continues to come too close to the fence, the prongs of the collar will emit static correction to dissuade your dog from crossing the boundary line. 
The collar runs on rechargeable lithium-ion batteries, each with a 2-month lifespan, and which can be recharged in about 2 hours. 
The collar is also submersible up to 25 feet in case your dog goes for a swim.
The only real drawback is that the settings for the collar and static correction are fairly cumbersome and take a while to get the hang of. 
The SportDOG is a cinch to install.
Everything you need comes bundled including detailed instructions, and the whole package comes with a great US-based customer-care team and a 2-year limited guarantee, so you can purchase with confidence. 
SEE PRICE ON AMAZON
---
3. Best for Behavioral Issues: PetSafe Stubborn Dog In-Ground Fence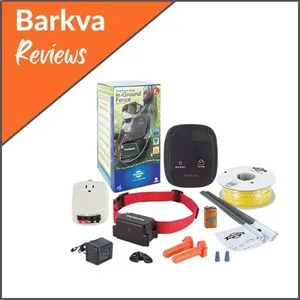 Product Ratings
| | |
| --- | --- |
| Effectiveness | 5/5 |
| Sizing | 5/5 |
| Durability | 4/5 |
| Ease of Installation | 4/5 |
Coverage: ⅓ acre | Fits multiple dogs: Yes, additional collars sold separately | Maximum Wire Length: 1000' | Other Features: Additional wiring (sold separately) expands coverage to 1 acre
What We Liked
Multiple wire gauges to increase perimeter width as needed for stubborn dogs
Collar is adjustable to fit necks from 6" – 28" 
Easy closed-loop setup
Designed to protect against over-correction
System easily adds additional collars for multiple dogs (extra collars sold separately)
What We Didn't Like
The wires can pop out of the receiver if it's placed in a high-traffic area
Do you have an obstinate dog who doesn't comply with any training?
Some dogs can overcome the discomfort of static correction, so not all in-ground dog fences are effective. This PetSafe fence is a great choice if you have a stubborn dog. 
The fence comes with training flags, a tone-and-vibration warning (also a great choice for hearing-impaired dogs), and four levels of increasingly intense static correction. 
The maximum level of correction provided by PetSafe is significantly more intense than many other brands, making it strong enough to train dogs that are stubborn enough to jump over other in-ground fences.
Follow the training guide included in the package. You can also check out our guide where we discuss How to Train Your Dog With an Invisible Fence.
This method teaches your dog to respect the fence so you can relax while your dog safely enjoys the great outdoors.
The collar is designed to fit a wide range of dog sizes, and most other PetSafe brand collars will also work with this system. 
Set-up is straightforward, and PetSafe offers some great options for customization.
The standard package includes 500 feet of wire to enclose ⅓ acre of land, but you can enclose a full acre if you step up to the 1000' package, and you have the option of 16- or 20-gauge wire depending on your needs. 
So, whether you want to secure your backyard, your front garden, or both, you have plenty of flexibility with this fence.
We also loved the US-based customer care team on the chance something goes amiss. 
Read More: Is the PetSafe Wireless Fence Waterproof? If you live in a rainy area or have a pool, you may wonder if the PetSafe Fence is waterproof. Find out more here!
SEE PRICE ON AMAZON
---
Comparison Chart
| | | | |
| --- | --- | --- | --- |
| Products | Best Overall | Runner-Up | Best for Behavioral Issues |
| Overall Rating | 4.75/5 | 4.5/5 | 4.5/5 |
| Effectiveness | 5/5 | 5/5 | 5/5 |
| Sizing | 5/5 | 4/5 | 5/5 |
| Durability | 5/5 | 4/5 | 4/5 |
| Ease of Installation | 4/5 | 5/5 | 4/5 |
The Winner
Our clear favorite was the Extreme Dog-Fence Second-Generation Kit Package.
It hit every mark – big enough for large yards, with a modular option to include up to 5 dogs, with up to 2000' of system wiring, and every receiver is fully-submersible in case your dog decides to go for a swim.
Read our related article on Considerations When Choosing a Dog Fence for the Yard. We share the different types of dog fences and what you should keep in mind before settling on one! 
How to Choose the Best In-Ground Fence
There are not a ton of in-ground fence options on the market, but you want to choose one that will meet your needs and offer your dog the protection he needs in the yard.
Read More: How to Test a Wireless Dog Fence. Wireless dog fence not working? Here are some potential problems and solutions.
Consider Your Dog's Personality
If your dog has a nervous disposition or anxious personality, you may want to reconsider installing a wireless or underground dog fence, because it may cause them to be scared to go outside.
Similarly, dogs with aggression or other behavior problems may benefit more from a standard wooden or metal fence, as they may be confused by the shocks or associate them with passers-by or other dogs, potentially worsening any pre-existing problems with aggression. 
Read our related article, Is an Electric Fence Cheaper Than a Regular Dog Fence? Here's what you need to know about the price, pros, and cons of these fence types!
Environment
Remember that an in-ground fence only works one way!
Even if your dog is perfectly trained to abide by the boundary of the fence, it won't stop other animals from crossing the line and entering your yard. 
If your neighbors have dogs that tend to escape or dig up your flowers, the fence won't keep them out. 
Additionally, if your dog is very strong-willed and sees something beyond the fence that motivates them enough, they can ignore the aversion of the shock and bolt across the line regardless. 
If the dog escapes the wireless fence they will receive a shock when they try to come home.
This is a dangerous situation, so get a fence that is strong enough to keep the dog inside the perimeter.
Training Your Dog
With any in-ground fence, whether it's wireless or underground, you'll need to train your dog. Wireless and underground dog fences come with flags that you stick in the ground.
Once you've installed the fence, it's a good idea to start with flags placed around the boundary as visual cues so that your pup gets to know where the fence is.
Once he has received a couple of corrections, he should have a pretty good idea of the new boundaries.
You can remove the flags when you're confident he won't cross the boundary.
Yard Shape
Large yards with oddly shaped boundaries, swimming pools, and vegetable patches are perfect for underground fences, as the wire of an in-ground fence is well-suited to customization, and there's no signal that can be blocked by rocks or other unusual objects. 
Installation
Underground electronic dog fences require a lot of shallow digging. They are installed near the surface, but it gets remarkably tiring very fast.
If installing yourself isn't your cup of tea, be sure to factor in the cost of having a professional install the system into your budget. 
You may want to opt for a professional if you'll have to bury the wire under your driveway or other difficult terrain.
Alternatively, you could consider running the wire over the ground and secure it with staples that you can buy separately.
When installing a wired fence above ground, keep flags on it to avoid hitting it with yard equipment and breaking the wire.
READ MORE: The Best Electric Dog Fences. We reviewed these above-ground electric dog fences. See what we discovered!
Location
If your property is located next to a busy road, installing the fence right up to the edge of the garden will likely cause your dog to start displaying aggressive behaviors because dogs are inquisitive about passersby. 
When they run up to meet a passing stranger or dog and receive a shock, they can associate the shock with people.
If they associate the shock with people, they may become aggressive over time, so be sure to monitor your dog's behavior. 
A good rule of thumb is to install the fence at a minimum of 10 feet away from the yard's perimeter.
It'll act as a buffer zone between the fence and your road, and you'll be much more popular with your neighbors.
Read our related article, How Close Can a Dog Get to an Invisible Fence? Discover the boundaries you can set with your invisible fence.
Overcoming Shock Aversion
Even the best-trained dog can overcome the shocks with time. Strong-willed dogs might need a higher shock frequency or intensity to maintain the aversive training.
Remember that an in-ground fence is a great training measure, but it won't completely fix your dog's behavioral issues if they tend to bolt, and they can still escape. 
For dogs that are normally well-behaved but start to run across the electronic dog fence, you might need to check that the e-collar batteries are charged.
If your dog has thick fur, the prongs that emit the static correction might need more contact with the dog's skin.
Read More: Are Wireless Dog Fences Safe for Humans? Discover just how safe these fences are for dogs and their owners in this ultimate guide.
Honorable Mentions
Here's a brief look at the 3 options that didn't make our list.
This fence was a strong contender for best-overall: it has ⅓ acre coverage, a submersible collar, a training guide, and a 10-year warranty on the US-made electronics. 
However, we found the prongs which secure the collar can be quite brittle and prone to breaking, so the Extreme Dog-Fence Second-Generation Kit Package won out for its greater durability and acreage. 
Worried about the impact of the strong static shock on your smaller dog? PetSafe offers this excellent option for small-breed owners.
The package doesn't sacrifice anything for coverage, and dials down the static shock to be more in line with what smaller breeds can handle. 
The collar is waterproof and reflective, so if you have a small pup, this is a great choice for you.
For all other dogs, we liked the Extreme Dog Fence Second Generation Kit better for strength, durability, and expandability.
Yet another option from PetSafe to make our top list, this fence offers static-free re-entry to prevent accidentally training your dog not to re-enter the yard once they escape.
This is also specifically designed for smaller dogs and offers a gentler shock if you need a less-aversive option. 
We love this model for smaller dogs, but if the dog escapes it can be hit by a car or disappear, so we chose to recommend the PetSafe Stubborn In-Ground Fence because the goal is to keep the dog inside the yard.
We are sorry that this post was not useful for you!
Let us improve this post!
Tell us how we can improve this post?