One of the best places for your dog to roam free and get in his daily exercise is the backyard.
Although this may be his favorite spot and yours, an open area leaves room for potential safety risks. 
Finding an appropriate solution for a backyard dog fence is often one of the first challenges that pet owners face while relocating.
When building a fence on your own, you must find the perfect balance between security and freedom.
If you've been unsuccessful in keeping your dog within the boundaries of your yard and would rather not deal with the inconvenience and price of an electric fence, don't worry, you have options.
Before we lay out the best options for a DIY backyard dog fence, let's talk about why you should bother with a fence in the first place.
What's the Purpose of Using a Dog Fence?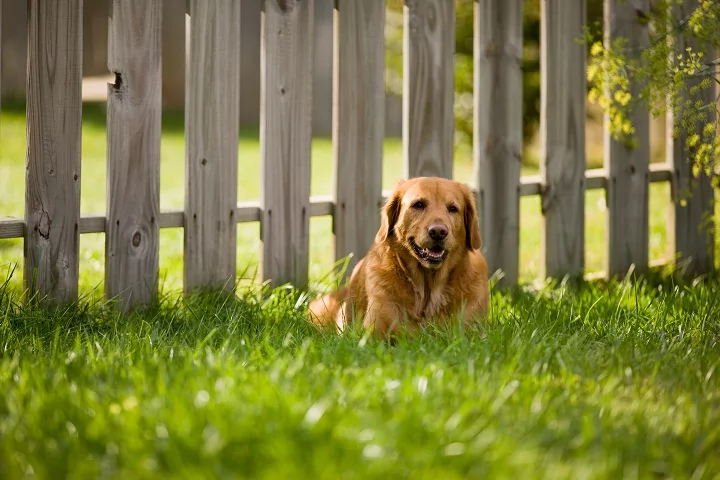 First things first, the safety of your dog is no laughing matter. Using a dog fence to keep your best friend in the backyard is a top priority. 
You also owe it to your neighbors not to let your dog wander freely throughout the neighborhood.
This is especially important if you live in a city with heavy traffic and pedestrians.
Numerous options are available to you, such as trolleys and tie-outs, but these aren't exactly universal solutions, and some consider them abusive.
These may protect your dog from running into the street, but they are restrictive if you have a larger yard and they don't protect your dog from other animals entering the yard. 
Fortunately, we have a few budget-friendly alternatives for you. But first, let's talk about why we go to such great lengths to secure our yards in the first place.
Read our related article… What Are the Best Ways to Keep a Dog in the Yard? We share some fun, safe, and affordable ways to keep Fido put!
Fences Keep Your Dog From Running Away
It's no secret that dogs enjoy roaming, and fences provide the perfect barrier to keep them from doing so.
The sturdiness and depth of the fence you construct are dependent on how determined your dog is to escape.
Whether your dog is a tracker chasing down a new scent or restless and in need of an adventure, a sturdy fence keeps them safe and close. 
Fences Keep Your Dog Safe From People and Animals 
Although it's a hard fact to face sometimes, not every dog will get along with other dogs or humans.
Without a fence, the odds are drastically increased that other people, dogs, or neighborhood animals will enter your dog's space and cause distress.
It is best to avoid the risk of dangerous or aggressive interactions by constructing a DIY dog fence. 
Fences Protect Your Dog From Whatever's Lurking Outside the Fence
Whether it's a coyote, bear, or dog thief looking for a chance to grab your rare purebred, a reliable DIY dog fence will keep your dog safe without costing a fortune. 
A privacy fence will keep unwanted visitors from viewing your dog, decreasing the risk of it being stolen.
A tall privacy fence will also discourage deer from jumping over, which is an added bonus for gardeners. 
Fences Prevent Unwanted Mating
The need to mate is deeply ingrained in every dog's natural being, and without a fence to keep your dog separate from other dogs, it will happen.
It's irresponsible to allow your dog to roam free or unfenced if they haven't been neutered or spayed. 
Without a fenced-in yard, you could end up taking care of an adorable but pricey litter of unknown-breed puppies. 
Now that we've discussed why we should have a fenced-in yard for our furry friends, let's jump into our list of the best DIY backyard dog fences. 
READ MORE: What is an Invisible Fence for Dogs? Discover what invisible fences are, how they work, and if they're worth the buy!
Best Ideas for DIY Backyard Dog Fences
Moveable, Reusable Dog Fence
Pallet Dog Fence
Mesh Fence
Lowe's DIY Wood Privacy Fence
Pet Playgrounds' DIY Dog Fence Kit
Pet Lover Guy's DIY Chicken Wire Dog Fence
DoItYourself DIY Dog Fence
DoItYourself DIY Invisible Fence
1. Moveable, Reusable Dog Fence
Pethelpful.com is a fantastic site for pet owners. Johann the Dog shows you how to make a makeshift fence that works great for traveling or camping.
You'll find reliable cost estimates, thorough instructions, and links to the supplies you'll need.
Of all the DIY fence styles that made our list, this one may be the simplest one to construct.
Even if you're not particularly handy, you can create this makeshift barrier in a matter of minutes.
You'll need wood posts, flexible pet fencing material (Tenax is recommended), and zip ties.
After securing your stakes into the ground, unravel your fabric and bind it to the posts using zip ties. 
This fence isn't suitable for dogs that chew excessively, but it is a great option for well-behaved dogs, a temporary solution at a new home, and traveling dog owners.
Difficulty Level: Easy
What You Need:
Studded T-posts (5 feet)
Flexible pet fencing such as Tenax
Anchor pins
Plastic zip ties
Post driver
See how to construct this DIY backyard dog fence using PetHelpful's guide.
---
2. Pallet Dog Fence
SawsHub.com offers a terrific DIY pallet fence design that requires very little technical knowledge. 
Depending on the flexibility of your budget, you can use salvaged pallets or purchase new ones.
Pallets will save you a lot of time and effort because they eliminate the need for measuring and cutting. 
With this fence, the majority of labor is spent on simple assembly. Pouring the concrete for the base of the pallets is the most difficult part of the process. 
Once these are in place, all you need to do is secure your pallets. You can add a personal touch by staining or painting your new DIY fence.
Difficulty Level: Medium
What You Need:
Wooden pallets
Screws
Concrete mix
Shovel
Screwdriver
Level
See how to create this dog fence by visiting SawHub's step-by-step guide.
---
3. Mesh Fence
Unchain Your Dog shows you how to make a simple yet durable wire mesh fence.
If you think a gate would be useful for your dog, you can add one to this design. If you need a more sturdy foundation, you can add a concrete foundation. 
You start by laying out the perimeter of your fence and spacing your posts out.
Then all you have to do is unroll your wire mesh and place it around your yard to create an effective barrier.
If the concrete pouring and wire attachment tasks intimidate you, don't panic. There are countless videos and guides to help you along the way.
Difficulty Level: Medium
What You Need:
Posts (metal or wooden)
Wire ties
Spray paint
Metal mesh cloth
Concrete (optional)
Post driver
Staple gun
Shovel
Discover how to build this dog fence using UnchainYourDog's guide.
---
4. Lowe's DIY Wood Privacy Fence
Lowe's offers this DIY Wood Privacy Fence, and you'll get all the help you need from this store.
Lowe's leads you through every step of the fence-building process, from pouring concrete for posts to cutting 2 x 4s. 
With this model, you'll be able to build a shadowbox fence that's both sturdy and stylish, with well-spaced pickets.
The main drawback of this style is that it isn't made exclusively for dogs and the lumber is expensive.
You may need to change the height of the fence or the space between the pickets to puppy-proof the final product.
At the end of the day, all that matters is that you build a fence to keep your dog safe.
Difficulty Level: Hard
What You Need:
4 × 4 pressure-treated posts
2 x 4 pressure-treated posts
1 × 4 furring strips
Concrete mix
Nail gun
Screws
Nail gun
Air compressor and hose
Drill
Jigsaw
Circular saw
String
Visit Lowe's guide to see how to build this DIY dog fence.
---
5. Pet Playgrounds' DIY Dog Fence Kit
Pet Playgrounds will send this DIY Dog Fence Kit right to your door. All you have to do is get the tools to complete the assembly and installation.
From measuring through installation, clear instructions and a how-to video guide you through the process.
The fence is available in three different heights: 
You can either attach this fence to your house or replace a post with a tree or similar grounded object.
It's not the easiest to install, but once you see the finished product, you'll be glad you did.
This fence will allow you to live a worry-free day while your dog is free to roam within the enclosure.
Difficulty Level: Hard
What You Need
Pet Playgrounds Kit
Small hammer
Sledgehammer
Screwdriver
Pliers
Wire snips
Electric drill
Ratchet set
Reciprocating saw (optional)
Build your PetPlaygrounds fence by visiting their store.
---
6. Pet Lover Guy's DIY Chicken Wire Dog Fence
Pet Lover Guy provides this exquisite DIY chicken wire dog fence design.
Combining the sturdiness of wooden posts with the transparency of chicken wire leaves you with a solid fence that prevents your dog from straying. 
You'll start by securing your fence posts in the concrete bases. This provides the framework for your fence.
From there, unroll your chicken wire and secure it to your posts with nails or staples. For added security, place some wooden boards above and below. 
You can add a gate and stain or paint your fence to match. This fence is long-lasting and the setup process is fairly simple and straightforward.
Difficulty Level: Medium
What You Need:
4 x 4 posts
2 x 4 boards
Nails
Staples
Screws
Concrete
Hammer
Screwdriver
Saw
Post hole digger
See how to build this DIY chicken wire dog fence using Pet Lover Guy's tutorial.
---
7. DoItYourself DIY Dog Picket Fence
DoItYourself.com offers plans for a sturdy and long-lasting picket fence to keep your dog secured.
You'll be coached through the entire process, from selecting and purchasing materials to measuring, digging holes, and pouring concrete. 
Extra tips for cutting wood, spacing, and installing pickets are included in the plans. This fence is designed specifically for dogs.
All of the intricacies have been considered, so you shouldn't have to customize this fence.
Difficulty Level: Hard
What You Need:
2 x 4 pressure-treated lumber
Pickets
Screws
Cement
Fence posts
Stakes
Post digger
Drill
Saw
Tape measure
Learn how to DIY this dog picket fence using DoItYourself's guide.
---
8. DoItYourself DIY Invisible Fence
What options do you have if you don't want your yard to be ruined by wooden or wire fencing?
With this do it yourself invisible fence, DoItYourself.com once again comes out ahead. 
You'll need to buy an invisible fence kit first, so this may extend beyond the definition of do-it-yourself.
That said, installing this kit yourself instead of hiring it out can save you money.
Given the nature of invisible fences, you'll need to have your county or city mark utilities in your yard before spray painting the fence's border.
After that, you dig a trench and bury your wire. 
Once your receiver is set up in a dry, safe place, connect the rest of your materials to begin training your dog.
Remember to be patient and use positive reinforcement so your best friend will acknowledge and respect the boundaries in no time.
Read More: How to Test a Wireless Dog Fence. If your wireless fence isn't working, here are some possible reasons why – and what to do about it!
Difficulty Level: Hard
What You Need:
Flags
Invisible fence kit
Mortar
Wire splices
Cable protector
Screwdriver
Shovel
Wirecutter
Weed Whacker
Circular saw
See how to DIY this invisible fence using DoItYourself's tutorial!
---
Types of DIY Fences
It's likely you've come to the conclusion that investing in a dog fence is money and time well spent. 
Now that you've had an opportunity to look through some of the options available to you, you'll have to make a decision between a physical fence or an invisible fence.
A physical fence can be made from a variety of materials, including wire and wood. A physical fence offers a visible barrier to keep your dog safe inside the enclosure. 
Invisible fences, on the other hand, create a barrier that's buried underneath the perimeter of your yard.
When your dog wears the accompanying collar and crosses the border, a small current is released to gently shock him. 
Some invisible fences have multiple correction modes including vibration and beeping to avoid unnecessarily shocking the dog.
We'll go over the major advantages and disadvantages of each of these fence types, as well as the potential cost of using each method to keep your pet enclosed.
If you can't have a physical fence, check out our article on How to Keep a Dog Outside Without a Fence (safely!)
Physical Fences
Advantages 
It's simple to modify the perimeter of the fence to match the layout of your property. 
You can choose a material that matches your style, budget, and dog. 
Recycled materials can be used to build a physical fence. 
If a physical fence is damaged, it is simple to repair.
Disadvantages
Even if the repairs are simple, they might be expensive. 
Some dogs may burrow underneath, chew through, or even jump over a physical fence. 
Physical fences are prohibited in some communities.
Cost
Cost varies based on the size of the fenced-in area and the materials you choose. They can cost anywhere from a few hundred dollars to several thousand dollars.
Depending on the fence design you choose, you may also need to figure in the cost of power tools. 
See our related article, How Tall Does a Dog Fence Need to Be? to see how to determine fence height for your pooch (along with a helpful chart!)
Invisible Fences
Advantages
Invisible fences have wires that are buried underground, so your dog won't be able to dig under the fence or jump over it. 
Because invisible fences don't breach community regulations, you can put one up almost anywhere.
Disadvantages
You may experience technical issues from time to time with an invisible fence.
Invisible fences offer no protection from intruders attempting to breach the perimeter of your home.
This style of fence is often ignored by some high-energy or stubborn dogs. 
You'll have to teach your dog to obey the invisible fence's boundaries.
Cost
An invisible dog fence kit can cost you anywhere from a couple of hundred dollars to a couple of thousand dollars.
If you're on a budget, you can save a lot of money by installing this type of fence yourself.
Collar batteries will need to be replaced periodically, and some dogs will lose prongs off the collar which will need to be replaced. 
Read our related article, Is an Electric Fence Cheaper Than a Regular Dog Fence? FIND OUT in this price comparison and fence guide!
Purchasing Supplies for Do-It-Yourself Dog Fences 
We hope you better understand the many DIY options you can choose from to protect your dog while allowing him to roam around your yard. 
Your local hardware store will have the majority of these items in stock.
You can also look into specialty fence stores such as EasyPetFence.com. The other alternative is to purchase your materials online.
You may already have some of the required materials for your DIY fence.
So, before you make any major purchase, double-check your own supplies to see if you can save some cash.
READ MORE: Best Exercise Pens for Dogs. Whether you have a puppy or just want a place for your dog to get outside, these exercise pens are the perfect buy!
Conclusion
We hope you have a better understanding of the many options you can choose to protect your dog while allowing him to roam around your yard. 
Both wireless and in-ground fences are extremely effective solutions to keep your dog within the boundaries of your yard though they can be costly and take time to train your dog to use. 
With the DIY methods we discussed today, you can confidently protect your dog while giving him some much-deserved freedom.
What's better is they are budget-friendly, which leaves you with a little extra cash to buy your furry friend's favorite treats!
We are sorry that this post was not useful for you!
Let us improve this post!
Tell us how we can improve this post?