If you've recently looked into getting an invisible fence then you might be wondering, "Do other collars work with Invisible Fence?"
If you already have an anti-bark collar or obedience training collar you may want to use it to save money on your invisible fence. But are they compatible?
Read on to find out which collars are compatible with Invisible Fence, and how to find out if yours is one of them.
Do Other Collars Work With Invisible Fence?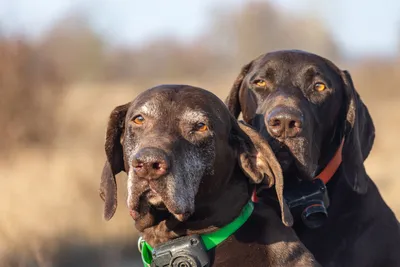 Receiver collars of other brands can be paired with any invisible fence brand if the technology is the same.
Wireless fence collars are interchangeable, and wired fence collars are interchangeable.
However, anti-bark collars, training collars, and GPS collars are not compatible with any invisible fence brand. They're different types of systems that are not interchangeable.
Similarly, wired and wireless invisible fences use different technologies, so the collars are not interchangeable.
Read our related article on the Best Collars Compatible With Pet Stop. We tested the top compatible collars. Check out our reviews!
Are Invisible Dog Fence Collars Interchangeable?
You might be wondering if you need to get a receiver collar for the first time with your invisible fence.
Maybe you need another because yours is broken, or you need to add a dog to the fence system.
If you have bought an invisible fence kit, it will come with one collar. You'll just need to buy additional collars of the same type if you have more dogs.
If you need to replace it because the nylon collar is tattered, you can keep the receiver box that's still working and put it onto a new nylon collar.
You can pick one up from the pet store or buy one with holes for the receiver box prongs.
No matter what the reasoning, it's important to note that yes, most invisible dog fence collars are interchangeable.
One thing that's important to note is that while a lot of receiver collars are interchangeable, not all of them work between certain brands. 
The Invisible Fence Brand
PetSafe
DogWatch
If you're ever on the fence or you just want to make sure a receiver collar will work, be sure to check with the brand you're using.
It's always best to choose a receiver collar from the same brand that you chose the invisible fence because you know it will work reliably and the setup will be easy and successful. 
Some brands offer a compatibility sheet or they might share compatible parts on their manuals.
You can also check out our article on PetSafe Wireless Fence Collar Compatibility to see which PetSafe products are interchangeable.
Watch this short video to understand how the receiver box goes on the nylon collar and see how easy it is to place the old box on a new nylon collar.
Can You Use a Bark Collar With an Invisible Fence?
Bark collars are collars that are used to help limit your dog's barking.
They are collars that usually emit a sound, electric shock, or some other unpleasant stimulus to help steer your dog away from barking. 
With that being said, you cannot use a bark collar with your invisible fence.
When it comes to an invisible fence you need a receiver collar that pairs with the fence to help emit a correction shock to your dog. 
There are a few reasons why using a bark collar with an invisible fence would not work which include:
Bark collars are used to control barking, not to set boundaries
Bark collars cannot be paired with invisible fence systems
Bark collars are not able to be connected to the invisible fence, and therefore will not work in conjunction with the invisible fence.
Read our related article on How to Change the Frequency On an Invisible Fence Collar. The fence and your dog's collar should be on the same frequency. Here's how to make sure they're communicating.
Can You Use a Bark Collar and an Invisible Fence Collar?
If you're looking to use two different collars on your dog at one time, you can, but it isn't recommended.
A bark collar emits an unpleasant correction just like a receiver collar for an invisible fence will. 
With invisible fences and bark collars, there's a lot of training that must take place to get your dog used to the correction, and also understand what the correction is for. 
If you have a bark collar and a receiver collar on at the same time then the corrections will be both very overwhelming, and also confusing for the dog. 
There are a few reasons you should not pair these two collars together: 
Wearing both collars will confuse your dog
The static correction of both can be very overwhelming
It can cause anxiety in dogs if they become afraid or stressed, because of the use of both collars
Your dog may not be able to distinguish the reason why he or she is being corrected, which can lead to a lot of confusion and backtracking on whatever training has taken place. 
Also, having the correction from the bark collar and the receiver collar can be extremely overwhelming for your dog.
Having two corrections going at once or off and on can put a lot of stress on your pet. 
What Collars Work With an Invisible Fence?
If you have an invisible fence and are looking to figure out which collars work with them, then you've found the answer.
Invisible fences need to have a receiver collar in order for the system to work properly. 
A receiver collar is a collar that has a waterproof box on it that's powered up to emit a static correction in order to keep your dog within boundary lines.
Receiver collars are the only type of collar that can be paired and linked up with invisible fences. 
Wired invisible fences work differently than wireless invisible fences, so be sure the collar you buy is meant to be used with the invisible fence system that you have installed.
The brand of invisible fence you have installed will be best compatible with the same brand of receiver collar. 
We recommend going the safe route and pairing the collar and transmitter of the same brand.
Collar not working? Here's a guide for How to Test Invisible Fence Collar Battery. Discover possible problems and solutions.
The Bottom Line
Overall, other collars such as regular collars or bark collars cannot be linked and paired with an invisible fence.
However, other brands of receiver collars can be paired with your invisible fence. 
If you're worried about compatibility then you can check the manual or brand website to make sure that the invisible fence brand and the receiver collar brand you've chosen are compatible. 
We are sorry that this post was not useful for you!
Let us improve this post!
Tell us how we can improve this post?