What is a rescue dog?
A rescue dog is a dog that has been adopted into a responsible, loving home, or is still searching for the right family.
In this post, we're going to discuss what a rescue dog is, and what it means to adopt a rescue dog.
What is a Rescue Dog?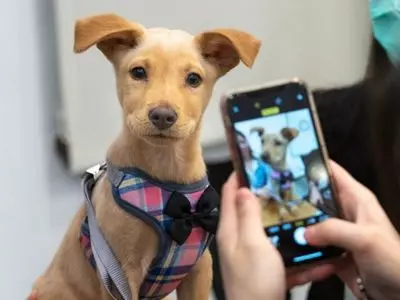 Some rescue dogs have been given over to a shelter, rehomed, or have been picked up as a stray on the street.
Basically, any dog you adopt from a rescue organization or shelter is a rescue.
Where Do Rescue Dogs Come From?
The majority of rescue dogs come from shelters, where they are at risk of being euthanized due to overcrowding.
Other rescue dogs may come from puppy mills, where they have been used for breeding purposes and are no longer needed.
Some rescue dogs come from countries where there is little or no animal welfare legislation in place to protect them.
Read More: Do Dog Shelters Have Puppies? Here's how to increase your chances of adopting a puppy.
Where to Adopt a Rescue Dog
There are numerous places you can adopt a rescue dog, including animal shelters and rescue organizations.
Many of these organizations also operate foster programs, where dogs are temporarily cared for in private homes until they are adopted.
When adopting a rescue dog, it is important to do your research and choose an organization that you feel comfortable with.
Pros and Cons of Adopting
Pros
It costs less than buying from a breeder or pet store.
It's a rewarding experience to take a stray or abandoned dog into your home and provide him with a forever family.
They're usually potty trained. It takes the work out of puppyhood!
You'll make room in the shelter for another homeless dog to get off the streets.
Watch this video for a checklist of what you need to have when you bring home your rescue dog:
Read our related article, How Much Does it Cost to Adopt a Dog From a Shelter? to learn about the various costs you could face.
Cons
Behavioral issues. Dogs that were abandoned may be frightful or have no obedience training.
Puppies are in high demand. You probably won't get a puppy at a shelter.
Health issues. While shelters do provide veterinary care, shelter dogs may still have health issues. Talk with the staff before adopting.
Adopting a dog from a shelter is a challenging choice, but it has the potential to be highly fulfilling for both you and the dog in the long run.
If you are thinking about adopting a dog from a shelter or rescue group, do your homework and pick a group that you are comfortable working with.
Consider This Before You Adopt
Those who are considering adopting might find these questions helpful:
To what extent do I need to commit to a dog?
How much does a dog typically cost?
Can I bring my dog with me if I rent?
Will I be able to give my dog a daily walk?
When can I start dog training?
What lengths would I go to for my dog?
Can I commit to taking care of a dog for the rest of its life?
Answering these questions can help you determine if adopting a dog is right for you.
Read our related article on How to Adopt a Dog From a Shelter to get started on the process.
Are Rescue Dogs Vaccinated?
Animal shelters and rescue organizations work hard to ensure that the animals in their care are healthy and well taken care of.
Do animal shelters give free shots?
Yes, the majority of them will provide routine vaccinations for the animals under their roof.
However, it's always best to check with the specific organization you are interested in adopting from to find out what their policy is regarding vaccinations.
Read our related article, Do Animal Shelters Give Vaccinations? for more on the services shelters provide.
Is a Rescue Dog Right for You?
The act of giving a stray or abandoned dog a forever home can be extremely gratifying.
Before you decide to take the plunge, you should make sure you have done your homework and that you are ready for the commitment it will need.
If you believe you might be ready to adopt an animal, visit local animal shelters or rescue organizations to look for a four-legged companion that will fit in well with your family.
We are sorry that this post was not useful for you!
Let us improve this post!
Tell us how we can improve this post?