If you're feeding your dog good food, you may still wonder, "How often should I give my dog vitamins?"
A more appropriate question may be, "Does my dog need vitamins?" We'll answer these questions and more so you can feed and supplement your dog with confidence.
How Often Should I Give My Dog Vitamins?
First, determine if your dog needs supplemental vitamins. If so, purchase a high-quality supplement and follow the label directions for administering them to your dog.
Most supplements are given once daily.
Do I Need To Give My Dog Vitamins?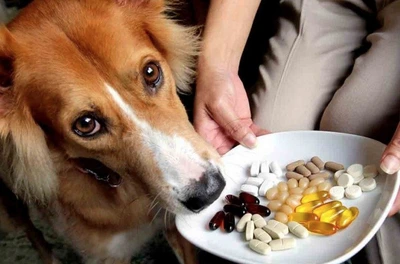 If you're feeding your dog high-quality, nutritionally-balanced dog food, you do not need to supplement with vitamins. The right balance of vitamins, minerals, fats, carbs, and protein are already in the food.
If you feed your dog homemade food, then you may consider supplementing with vitamin and mineral supplement.
Consider buying a professionally prepared vitamin sprinkle from the pet store to ensure that your dog is getting the vitamins and minerals it needs to grow and thrive.
If you're giving your dog only raw meaty bones (the RMB diet) you may also need to consider giving your dog a daily vitamin and mineral supplement so it's getting everything it needs.
What Are The Benefits Of Giving My Dog Vitamins?
If your dog is eating low-quality dog food or homemade dog food, the benefits of adding vitamins are numerous.
Improved overall health
Stronger immune system
Better digestion
Increased energy levels
Healthy skin and coat
Choose a good vitamin supplement and then administer it according to the directions on the label. Most supplements are administered daily.
How Do I Know if My Dog Is Getting Enough Vitamins?
If you're giving your dog well-balanced dog food, you can rest easy knowing that your dog is getting the vitamins and minerals he needs to grow and thrive.
You can specifically look for foods with the Association of American Feed Control Officials (AAFCO) seal of approval to know you're getting high-quality food with everything your dog needs in the bag.
While the AAFCO does not specifically approve formulas, they set forth guidelines for brands to follow that include nutritional content, safe ingredients, and non-misleading label claims.
If your dog is eating a breed-specific formula, a high-fiber formula, or weight-loss formula, you can still be sure the right vitamins and minerals are in the dog food.
Though the ratio of carbs and fats may change, the nutritional content should stay relatively stable between all the variations of dog food.
The best way to know if your dog is getting enough vitamins is to have them checked by a veterinarian.
A vet will be able to assess your pet's health and make recommendations on how to improve their diet.
Is It Safe To Give My Dog Vitamins?
Yes, it can be safe to give your dog a vitamin, but only if your dog has a deficiency to correct.
Many dog owners assume that more is better when it comes to vitamin and mineral supplementation, but this simply isn't true.
Giving your dog a multivitamin, prenatal vitamin, or even single vitamins like Vitamin D and iron can be extremely toxic when given to your dog unnecessarily.
The only way to know if your dog has a deficiency that needs to be corrected is to have a vet checkup first.
Your vet will be able to tell if there's a deficiency and determine a safe supplemental dosage for your dog.
Should I Double-Check With My Veterinarian Before Supplementing?
Yes, always check with your vet before giving your dog any supplement.
It's heartbreaking every time we hear about a dog being poisoned by vitamins because the owner is trying to be kind to the dog.
The fact is that most dogs don't need supplements because supplements are put into the food they eat daily.
If the vet recommends a specific supplement they'll also tell you exactly how much to give and how often to give it.
Certain supplements like glucosamine can be excellent for dogs with joint problems and are a little safer to administer to your dog.
Still, a quick call to the vet will put your mind at ease before you give it to your dog.
What About Supplements In Dog Food – Are They Safe?
If the supplements are included in the dog food, then they're likely in a very safe amount for your dog, but they're probably not therapeutic amounts.
If your dog needs therapeutic supplementation of a certain vitamin or mineral, you may need to administer it separately, but probably not as a general daily multivitamin.
If your vet has told you that your dog has a certain vitamin deficiency, you can check with the vet to make sure that the food has enough of the vitamin that the dog needs.
A prescription dog food, on the other hand, may include therapeutic dosages of the supplement. Cranberry may be added to prevent UTIs or DHA may be included for cognitive development.
If you are given a prescription dog food for your dog, you can be assured that it contains all the vitamins and minerals that your veterinarian feels that your dog needs to be healthy, strong, and energetic.
Final Thoughts
There are many dog supplement manufacturers who prey on dog owners and look to boost sales by making you feel guilty about what you feed your dog. You don't need to feel this way.
If your dog needs supplementation, then buy one you feel good about and administer according to the label directions.
If you're feeding your dog good food, then you can rest assured that he's also getting the vitamins and minerals he needs to be healthy and active.
When in doubt, ask your vet if your dog needs vitamins.
We are sorry that this post was not useful for you!
Let us improve this post!
Tell us how we can improve this post?