Chow Chow's are one of the oldest dog breeds, and throughout history, they've upheld a dignified attitude, which they rightfully deserve. The Chow breed is a beautiful and highly sought out dog, but there are a few things you should know before buying one.
The Brindle Chow carries all the same traits and temperaments as the breed, the only difference is the Brindle Chow carries a colorful pattern on its coat. This guide will explore this unique pattern and Chow's characteristics.
What is a Brindle Chow?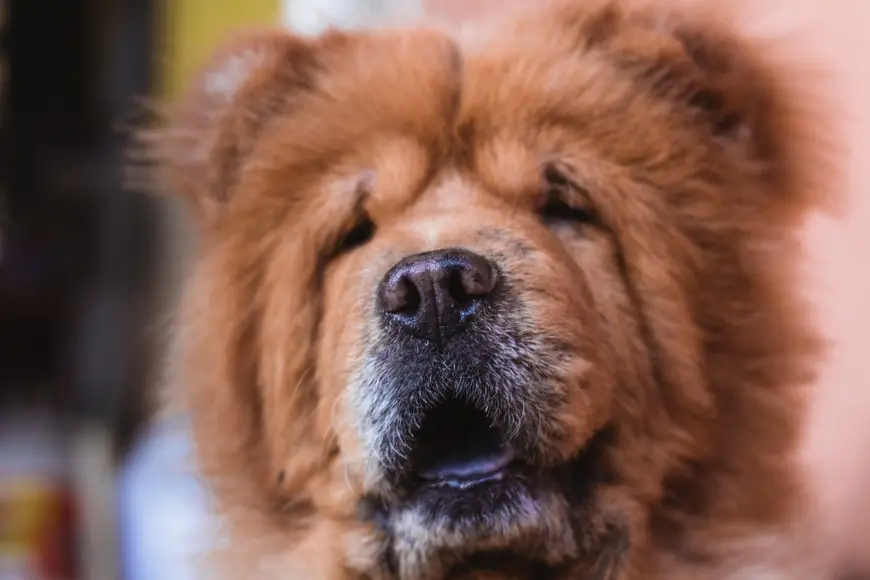 Chow Chows have been around for a long time, so long that they're recognized as one of the oldest breeds in existence. Artifacts from China's Han Dynasty (circa 206 b.c.) depict the Chow Chow. Although it can't be confirmed that the Chow is the oldest breed, it's a contender.
With a regal and admirable stature, some would say the breed is fit for royalty, and in fact, they were. In the 8th century, this breed sat amongst Chinese nobles. An emperor of the Tang Dynasty is believed to have owned a kennel system equipped to hold 5,000 Chows.
This breed carries a dignified look, fluffy fur that gives it a lion-like mane, and an adorable face that just barely pokes out from the array of fur. Eye-catching coat aside, Chows are powerful, carrying a muscular physique.
Chow Chows are medium-sized, their height to shoulder length is 17 to 20 inches. Don't let their fluffy coat deceive you, this breed can be relatively heavy, with a weight range of 45 to 70 pounds.
It wasn't until the 1890s that Chows were brought to America, and in 1903 the Chow Chow breed was admitted to the AKC (American Kennel Club).
The breed's beautiful appearance makes them an instant Show Dog, but in the case of Brindle Chows, hitting the catwalk isn't in the picture. The AKC doesn't recognize brindle coloring as a standard color or pattern, excluding the Brindle Chow from being a show dog.
Although competing isn't an option, the Brindle Chow still has a lot of admirable traits to offer, so don't count it out just yet!
How Much Do They Cost?
Since the early years of this breed's history, they were highly looked up to. Taking a walk with your Chow Chow could result in a few heads turning to look at the majesty this dog beholds. This all factors into why this breed is regarded as one of the most expensive dogs to own.
The initial cost to buy a Brindle Chow Chow can range between $1,000 and $4,000. If that's in your budget, the cost only goes up from here. On average, the cost to groom your Chow can be $90, which adds up over the years.
How Do I Buy a Brindle Chow?
Usually, Chows can be bought by finding a breeder, visiting adoption or rescue websites, and scouring the internet for any listings. That said, the Brindle Chow isn't just a regular Chow Chow, so how can you buy one?
Admittedly, there's no real answer for how to buy a Brindle Chow. Because the colored pattern isn't registered as an official Chow color, it's going to take heavy searching and communicating to find a Brindle Chow for sale.
A recommended method is calling trustworthy breeders who specialize in purebred Chows. This could open the door to finding out if they've ever had a brindle pup or litter of brindles in the past, from there you could ask that they keep you in mind if anything pans out.
The rarity and discouragement geared towards Brindle Chows make finding one to buy pretty difficult, but with enough effort and a little luck, you could get your hands on one of these beautiful dogs.
What to Know Before Getting a Brindle Chow
So, you finally got the elusive Brindle Chow Chow, now what? Like with any dog, there are a few important facts and information the owner should learn to make life with their new pal easier!
Lifespan
The average lifespan of the Brindle Chow can be between 8 and 12 years. If 8 years seems like a short span, you're in luck, because there have been many Chows who lived to the age of 15. 
Temperament
Needless to say, Chow Chows have quite the personality. Brindle Chows are known to be independent, yet loyal dogs. Their attitude resembles that of a cat, stubborn and aloof.
Although the Chow may enjoy some alone time, they can be lovey-dovey when it comes to their owner. Playing and being slightly affectionate towards their family can occur.
The breed is known to have a territorial nature and suspicion towards strangers. If the Chow is around a stranger, they will be reserved. However, if their owner introduces the stranger, the Chow will allow a few pets from the unknown visitor.
How Is a Brindle Chow Trained?
This is where the stubborn trait can be a hindrance. Usually, Chows aren't the easiest to train. Because of this, the chances of your Brindle Chow responding to usual training methods is slim. Unlike friendlier dog breeds, the Chow is less likely to care about your wants and will put more focus on their own desires.
Although reward systems are highly recommended in regular training routines, it's a slightly different story with the Chow.
To maintain your stature as the owner, you should keep an eye on whether your Brindle Chow is picking up on the skill, or only doing it for a treat. If this dog only performs to get a treat, they're taking the leadership role.
Regardless of the breed's snooty attitude, they learn best with a supportive discipline. Inflicting confrontational training methods on the Brindle Chow isn't recommended. Yelling, hitting, or using shock collars can cause aggression with this dog.
Using clickers to show your Chow they've done a good job is known to be effective, amongst other reward methods.
Housebreaking is relatively easy with the Chow, and socialization should be implemented while they're a pup. Teaching socialization early on allows the Chow to be relaxed towards strangers and new situations as an adult (that being said, their standoffish ways will remain).
Stubbornness aside, the Chow breed is willing to learn if you're willing to give them the time and patience they require.
How Much Exercise Do They Need?
It's recommended that the Brindle Chow exercises for a minimum of 1 hour per day. Although the breed isn't high-energy, regular activity will do them a ton of good.
Running for extended periods should be avoided as the breed is a flatter-faced dog. This breed enjoys walks and will be glad to accompany you on a few walks throughout the day.
Are They Good For Beginners?
Beautiful as they may be, Brindle Chow Chow's aren't the best choice for first-time dog owners. This is largely due to their independent attitude, cuddling with your fur baby isn't likely if you own a Chow. 
Learning to train a dog in itself is a big task, but taking on the Chow is a whole other level. Stress can pile up for inexperienced dog owners, especially if the Chow manages to become the boss of training sessions.
How Much Grooming Does My Brindle Chow Need?
To keep the Brindle Chow in pristine condition, a lot of grooming is required. It doesn't help that they're one of the heaviest shedding dog breeds. 
Before any brushing occurs, the coat should be dampened with a spray bottle (the coat should never be brushed dry). It's recommended the Chow is brushed every day with 2 different brushes. 
When brushing the legs, a large slick brush does the trick. For the body, a pin brush should be used. While brushing the body coat, it's important to reach the skin. 
Brindle Chow's have shedding seasons in spring and winter. During these periods, there will be a lot of hair. While in the shedding period, grooming should be done frequently. It's recommended you use a shedding blade or metal comb in these seasons.
As far as bath time goes, the Chow breed isn't known to be smelly. That being said, the Brindle Chow can be bathed as frequently as once a week, and no longer than 6 weeks. As a general rule, brushing before baths is advised since it removes mats from the coat.
What Maintenance Is Required For a Brindle Chow?
Now that the requirements for a healthy coat are out of the way, there's more maintenance the Brindle Chow needs in other areas.
This breed is more likely to have dental problems than other breeds. Luckily, dental diseases can be avoided by regularly cleaning their pearly whites. Brushing is the most effective method, although it may take a few tries for your Chow to be comfortable. Brushing their teeth daily with dog-safe toothpaste is recommended!
Incorporating dental chews is an easy way of keeping your Brindle Chow's teeth clean! So long as your dog's enjoying itself, you can be comfortable knowing their teeth are nice and healthy if you forget to brush every so often!
Inspecting ears regularly is a good idea. Ears can be prone to infections and checking can ensure you're aware of your Chow's health. Ears can be cleaned using a cotton ball with a solution that is safe for dog ears.
Be very careful with the inner ear, and never stick anything inside as it could cause damage. If you see signs of an infection, take your Chow to the vet before cleaning ears.
Although trimming your dog's nails can be frightening at first, with proper trimmers and a calm demeanor, the task can be easy. It's best to gradually trim the nails, not making a drastic trim from long to short in one sitting.
Spacing out the trimming helps your Chow acclimate to the process and can help you learn how to properly trim them!
Tear stains are common in some dog breeds. If your Brindle Chow is prone to staining, a soft cloth or cotton ball can be used around the eyes. 
Are Brindle Chows Good With Children?
This is where their stubbornness and territorial nature works against the Brindle Chow. The breed is not recommended for homes with young children. It's likely a young child could test the limits of patience the Chow has.
However, every dog is unique, and if your Chow grows up with children there's the chance they get along just fine! Generally, the Chow is more likely to cohabitate better with older children.
What Is The Best Diet For a Brindle Chow?
As a pup, feeding ½ a cup 4 times a day is recommended. This breed has a sensitive stomach, so stretching out the feeding times is the safest way to go. Ask your vet or the breeder you adopted the Chow from for the food you should feed your Brindle Chow puppy!
Once the Chow has reached 1 year old, they should be ready to up the portion size. Generally, at this point, you can feed 1 ½ cups 2 times a day, but your Vet can advise you on the best choice for your dog.
A common choice when feeding Brindle Chows is opting for grain-free, low grain, or limited ingredient dog foods. Getting dog food specialized in these areas often comes with feeding instructions, which makes mealtime less stressful for the owner.
When choosing dog foods, you should look for lean meats and proteins. The fewer fillers the better! Puppy chows require a minimum of 22% proteins while adult Chows need at least 18% protein in their diet. 
Because this breed is prone to different health problems, low-quality commercial dog food, and raw diets may not bode well with your Chow.
There are a few allergy symptoms to look out for when introducing your Chow to different foods.
Paw licking, rubbing their face and muzzle, itchy skin, and ear infections are all signs of a food allergy. If your Chow shows symptoms of an allergic reaction, you should alter their diet and pay attention to the ingredients in the brand that caused it.
In the case your vet recommends home cooking, the doctor knows best. The recipes they provide will give your Chow all the nutrients and calories they need to stay healthy!
What Should Be Avoided When Feeding a Brindle Chow?
Any food allergies your Brindle Chow may have should be accounted for when feeding them anything new. Allergies aside, there are a few other foods that may have a harmful effect if incorporated into your Chow's diet.
A regulated diet is best for your Chow, so if they try to tempt you into giving them a piece of your dinner, don't feel bad denying them. Oftentimes the salt, calories, and fat in the food we eat differ drastically from what's considered healthy for the dog.
Of course, some people food is allowed, but it's a safe decision to not give your Chow a bite.
For many dog breeds, there's a list of foods that cannot be eaten, these also go for the Brindle Chow.
Foods to avoid include:
Salty foods
Chocolate
Avocados
Macadamia nuts
Alcohol
Foods containing caffeine
Garlic
Certain milk and dairy products
As a general rule, if you're questioning whether or not to give your Brindle Chow people food, do some research before giving it to them. Many times health complications from mild to serious levels can occur when dogs ingest different types of food.
Do Brindle Chows Have Health Problems?
Unfortunately, the Brindle Chow does have a few health problems specific to the breed. The good news is, a vet can perform elbow, hip, and eye exams on your Chow to identify if any issues are occurring.
A few of the health concerns Brindle Chow's are prone to include elbow dysplasia, canine hip dysplasia (CHD), patellar luxation, gastric torsion, elongated palate, glaucoma, persistent pupillary membrane (PPM), stenotic flares, glaucoma, distichiasis, and renal cortical hypoplasia.
Pros of Having a Brindle Chow
Being difficult to buy and pricey is why it isn't common to see Brindle Chows. That being said, there are a few reasons why owning one is a good choice.
A Brindle Chow is sure to attract attention wherever it goes. If you're able to own one, the compliments wouldn't hurt anything.
Because of their independence, the bond between the Brindle Chow and its owner is special once earned and will be enjoyable for both parties.
With the right tools, grooming and maintenance can become more cost-efficient.
For seasoned owners, the Brindle Chow can be a rewarding dog to own.
Cons of Having a Brindle Chow
Although there are a few pros on the Brindle Chow's side, there are also cons. Of course, everything depends on the owner's lifestyle and income.
The Brindle Chow cannot compete as a Show Dog.
The Chow Chow breed is expensive, and finding a Brindle Chow could be especially difficult.
If your Chow has food allergies it could take a few tweaks to narrow down the right diet.
The Brindle Chow may be a difficult dog to own for first-timers and homes with young children.
Brindle Chow Statistics At a Glance
When getting a Brindle Chow, you're getting a lot more than a pretty face. This breed has several maintenances, grooming, and dietary requirements that are important to take into account before adopting this dog! 
| | |
| --- | --- |
| Lifespan | 8 to 12 years |
| Height | 17 to 20 inches (to shoulder) |
| Weight | 45 to 70 pounds |
| Grooming Requirements | Regular Brushing, Regular Bathing, Extra Brushing during Shedding Season, Teeth Care, Nail Trimming, Ear Cleaning/Inspection, Eye Cleaning |
| Activity Level | Medium, around 1 hour daily |
| Suitable For | Seasoned Dog Owners |
| Health Concerns | Canine Hip Dysplasia, Elbow Dysplasia, Patellar Luxation, Gastric Torsion, Elongated Palate, Glaucoma, PPM, Stenotic Flares, Distchiasis and Retinal Cortical Hypoplasia |
| Temperaments | Stubborn, Independent, Reserved, Slightly Affectionate |
Owning a Brindle Chow is a treat in itself. One thing's for sure, this dog has quite the personality to back its good looks. Stubbornness aside, there are so many fun things to discover when it comes to this dog. Every day can be a surprise as the bond grows stronger!
Summary
The Brindle Chow Chow – serious in its nature, powerful in its gait, and snobbish in its attitude. Potential owners will find them more cat-like in their personality than dog-like. 
While independent animals, training early with positive reinforcement is a must for them. This fluffy brindle will attract a lot of attention, so you'll want to prepare accordingly with early socialization. 
The Chow Chow isn't affectionate towards children and other pets and can develop a serious knack for barking. So, if you're looking for a beautiful creature that will be admired at a distance, this could be a great choice for your needs.
We are sorry that this post was not useful for you!
Let us improve this post!
Tell us how we can improve this post?