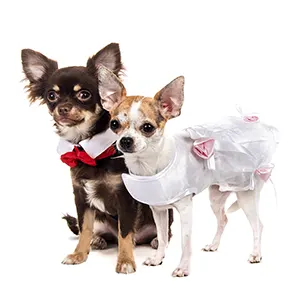 Many dog owners like to include their pets in their weddings, and the best wedding dog collars can add a special touch to your big day.
With so many options to choose from, it can be challenging to find a quality wedding dog collar.
In this guide, we'll review the top wedding dog collars on the market today and answer a few common questions!
Should I Include My Dog in My Wedding?
If you're thinking about including your dog in your wedding, you should first ensure that your wedding venues are all pet-friendly.
When you're attending someone else's wedding, you should establish that pets are welcome before turning up the day of and finding it's not a dog-friendly affair.
Including Your Dog in Your wedding
Whether you're planning to take your dog to a wedding, or want to include your furry friend in your own wedding, try to familiarize them with the venue in advance if you can.
The role your dog plays in your wedding will depend partly on its temperament and partly on your wedding plans.
Some pet owners, for instance, might want their dog to walk them down the aisle.
Can My Dog Walk Me Down the Aisle?
If you want your dog to walk you down the aisle, training for the big day is a must. Assuming the venue allows pets, you should make sure your dog is well-trained and attends all rehearsals.
If you insist on your dog accompanying you down the aisle, even though you're not confident he'll behave himself, you could consider hiring a professional pet escort service to help you.
Don't forget doggie bags. The last thing you want is an accident on the aisle! That can happen even with all the planning in the world, so be prepared!
How Do I Make My Dog a Ring Bearer?
If you want your dog to play ring bearer, you'll need to ensure he's trained and prepared for the big day.
Dogs of all sizes are great for this position, and will usually have the ring pillow tied around their neck or on their back. This isn't the best idea for dogs that get distracted easily by guests, so keep that in mind when choosing a role for your pup.
How Do You Make a Dog a Flower Girl?
You'll definitely want real flower girls in your wedding, but your pretty little pooch can join in on the fun, too! Dressing up your dog to match your flower girls is a cute way to include the whole family in your wedding.
Your dog won't be able to toss petals onto the ground, but they can stroll behind the flower girls to usher in the bride!
Making Your Dog Your Best Man
… Or, man's best friend, rather.
If you have a boy dog, and you're the to-be groom, making your dog your "best man" is a cute way to include your pet. He'll need a tux to fit in, so make sure he's comfortable dressing up and calm enough to politely sit next to the other groomsmen.
Now that you know the popular roles dogs play in weddings, what about their outfits? Well, that's where the best wedding dog collars come in, and we'll be taking a look at 6 adorable examples below.
6 Best Wedding Dog Collars
 
Product
Details  
 
Best for Dog of Honor: Syhood Dog Tuxedo Bandana
• Great for big breeds
• Bowtie for special occasions
• Highly adjustable collar
Check Price
Best for Female Dogs: EechicSpace Engagement Bandana for Small Girl Dogs
• Soft and breathable bandana
• Delicate lace ideal for female dogs
• Reversible styling
Check Price
Best Tie: Vedem Dog Neck Tie
• Great size selection
• Simple shirt and tie collar for dogs
• Seamless hook-and-loop closures
Check Price
Best For a Classy Look: KUDES Dog Pearl Collar
• Glimmering pearls and rhinestones
• Soft, supple PU leather
• Ideal for all special occasions
Check Price
Best Flowers: PETFAVORITES Valentine's Dog Collar
• Contains real flowers
• Multiple colors and sizes
• Great choice for small dogs
Check Price
Best Suit: Kuoser Dog Tuxedo
• Full tuxedo for doggies
• Simple to put on and remove
• Comfy, yet durable
Check Price
Features
Material: Polyester
Weight: 2.4oz
Dimensions: 9.65 x 6.93 x 0.91 inches
If you plan to make your pooch the dog of honor at your wedding, kit him out with this nifty tuxedo bandana.
You'll get a collar that comes with a bowtie and collar on the front, ensuring that Rover looks the part on the big day. This is highly adjustable, with a choice of multiple sizes catering for all breeds, including larger dogs.
This collar is easy to put on and remove thanks to the quick-release buckle. This best wedding dog collars pick is well worth popping on your shortlist.
What We Liked
Highly adjustable collar with bow tie
Ideal for bigger breeds
Quick-release buckle
What We Didn't Like
Likely a one-time use collar
---
Features
Material: Lace
Weight: 0.31oz
Dimensions: 7.99 x 5.83 x 0.67 inches
If you have a girl dog, this lace bandana is delicate without being so flimsy it will fall apart by the end of the day.
Soft and breathable, your pooch will be comfortable while looking a million bucks. The reversible nature comes in handy if your dog gets messy on the big day. Flip it over and you're good to go!
You'll need to wash this bandana by hand, but if you don't consider that a deal-breaker, this is one of the best wedding dog collars out there for female dogs.
What We Liked
Delicate bandana with cutesy look 
Reversible for double duty
Soft and breathable
---
Features
Material: Cotton
Weight: 1.6oz
Dimensions: 8.82 x 4.02 x 0.71 inches
The next best wedding dog collars option on our list, this tie is perfect for weddings and will make your pup blend right in with the formal crowd.
The wide selection of sizes means there's something for everyone, from teacup breeds up to larger dogs needing a shot of style for the big day. The collars fit neck sizes from 8 inches up to 23.5 inches.
Easy to put on and remove, this collar comes equipped with hook-and-loop closures to make dressing up and winding down after the big day a breeze.
What We Liked
Your dog will blend in with the formal attire of the crowd
Wide range of sizes
Easy hook-and-loop closure
What We Didn't Like
Tie may be too small for larger dogs
---
Features
Material: Faux-leather and pearl
Weight: 1.45oz
Dimensions: 11.73 x 1.93 x 0.43 inches
For pet owners looking to dress their dog up in some bling for their big day, this pearl and rhinestone collar makes a striking statement.
The sparkling stones are set into a white PU leather that's perfect for dressing up girl dogs while remaining comfortable enough for all-day wear.
Choose from 3 different sizes to suit your furball and make sure she looks the part.
By the way, if you're on the lookout for long-lasting leather collars for your furry friend, we did a quick review of the top 15 best leather collars! Check it out!
What We Liked
Soft and comfy faux-leather
Shiny rhinestones and pearls
Great for weddings
What We Didn't Like
This isn't a collar for everyday use – likely just for one occassion
---
Features
Material: Suede, alloy, handmade flower
Weight: 0.81oz
Dimensions: 15.5 x 2.5 x 0.8 inches
Next up on our best wedding dog collars list, we have something slightly different. This collar features real handmade flowers and is perfect for your little girl dog.
This collar is small and dainty, making it a great choice for small breeds or teacup dogs. The soft suede collar is durable while remaining comfy, with the flowers being the star of the show.
Alloy hardware completes a winning package perfect for dressing your dog up as a flower girl on your wedding day.
What We Liked
Great for smaller breeds
Contains real flowers
Choice of sizes to suit smaller dogs
What We Didn't Like
Not ideal for larger dog breeds
---
Features
Material: Polyester and cotton
Weight: 3.53oz
Dimensions: 9.57 x 6.61 x 1.34 inches
Last but not least, we have a full tuxedo for your dog that's perfect for dogs whose place will be by the groomsmen.
Coming in a range of sizes to suit most medium and large breeds, this stylish suit will look impeccable when it's on your pooch, and is super easy to put on and remove thanks to the user-friendly closures.
The inner fabric used for this collar will feel silky smooth against your dog's skin, so you don't need to compromise his comfort for the sake of style.
What We Liked
Stylish full tuxedo for dogs
Easy to put on and remove
Choice of 5 sizes available
What We Didn't Like
As with the other best wedding dog collars on our list, this collar likely won't last beyond your wedding
---