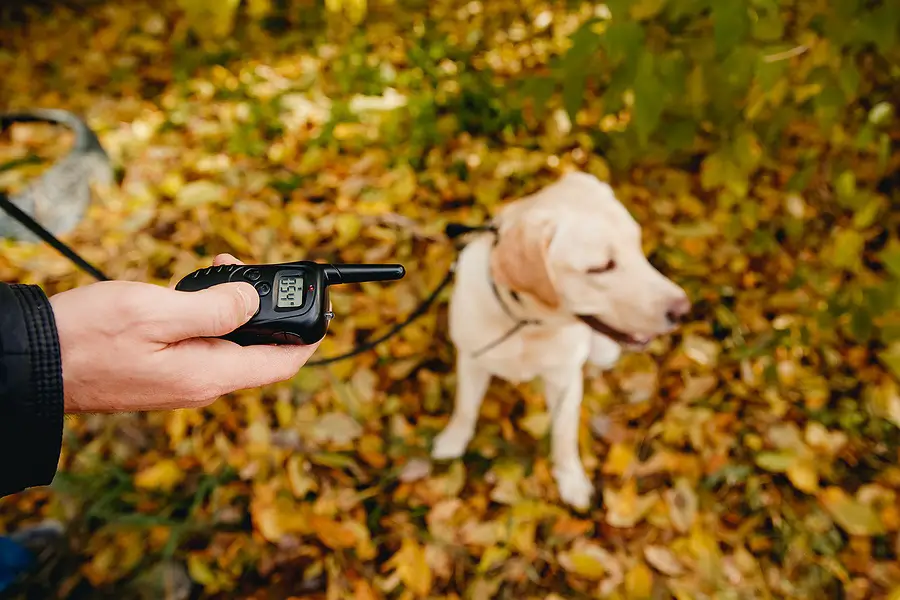 Here at BarkVA, we don't tell you what to do, but rather present you with a range of options so you can choose what works best for you.
When it comes to dog training collars, many pet owners dislike the idea of using static shock correction. To counter this, manufacturers have produced a range of dog collars that also enable you to use a vibrating setting for a more humane approach to correction.
Now, the issue with vibration is that some active dogs might not even sense the vibration at all. To this end, many collars allow you to choose from multiple training modes so you can find what works best without needing to buy and try multiple collars.
The drawback of using static shock – aside from the issue of whether or not it's humane – is the fact that some dogs can be triggered into behaving violently when shocked.
To help you more easily walk this tightrope, we'd suggest investing in a multipurpose training collar unless you're certain your dog will respond well to one specific form of correction.
What should you look out for when you're buying vibrating dog collars, then?
Correction options: Many of the collars we review today offer you 3 correction modes (vibration, static shock, and audible beeps), while one model also throws in a training mode using LED lights, ideal for small and sensitive dogs. If you're not confident that your dog responds well to one form of correction or another, buy a collar offering you maximum choice. You can then dial things in and find out what suits your pooch
Intensity levels: Both the vibration and shock levels of a training collar should be adjustable through a range of settings to cater for the difference in size and temperament between dogs
Weight: Make sure the collar you choose is compact enough for your dog to wear comfortably
Waterproofing: If you live somewhere with lots of rain, or you frequently walk by the water with your dog, look for waterproof collars and receivers
Channels: Look for how many channels the receiver has. The more channels, the more dogs you can train by simply adding extra collars and using the same receiver
OK, with that framework in place, you should now be perfectly placed to decide on the best vibrating dog collar for you.
Let's launch right in now with our reviews so you can see what options you have at your disposal if you want to stop your dog from barking around the clock.
BarkVA is reader-supported. When you buy via the links on our site, we may earn an affiliate commission at no cost to you.
I. The 10 Best Vibrating Dog Collars
1.

Our #1 Pick:

Dog Care Vibrating Collar
If you want a vibrating collar that does much more besides, consider making move quickly as this outstanding rechargeable unit gives you 3 different options for correction:
Vibration
Beep
Static shock
If your dog is pretty well behaved and doesn't bark excessively on a regular basis, you might find the tone only is enough to arrest his behavior.
For more stubborn pooches, the vibrating correction might be enough to stop that barking.
While not to everyone's taste, static correction can also work well depending on the temperament of your dog. If you're not averse to this form of training – and the shock is only in line with the static shocks you occasionally experience yourself – then move slowly through the 99 levels until you find the degree of shock that stops your pup from raising Cain.
If you have several dogs at home, this 9-channel collar gives you the ability to train them all by simply picking up some extra collars and using the same receiver.
Wireless range stretches a full 1000 feet, so unless you have a huge yard, you should keep your dog corrected at all times if he is prone to barking too much.
Things We Like:
3 modes of correction
9 channels so control multiple dogs
99 levels of static correction
Things We DisLike:
---
2.

Runner-Up:

SportDOG Remote Training Collar
A close runner-up in our quest for the best vibrating dog collars comes from the highly reputable SportDOG. While this brand  doesn't produce cheap dog training gear, you'll be getting the very best, so if you have deep pockets and exacting tastes, how does this collar shape up?
Off the bat, you can choose from the following training methods:
Beep
Buzz
Static vibration
While there's no right or wrong answer to training your dog, consider starting with the tone, moving to vibration if this is ineffective, and then attempting static correction as last resort. If you choose the latter, more direct, form of correction, start at the lower level and work your way up through the 21 stages of static shock if your dog is still barking too much.
Range is exceptional and you can correct your dog at distances of up to 1500 feet.
The DryTek technology means this collar is completely waterproof so you'll be safe to head out with your hound in all winds and weathers.
All it takes is 2 hours for a quick burst of charge then you'll be good to go for a couple weeks or so of regular use. A nifty battery indicator ensures you won't run out of juice unexpectedly.
Crowned by a 1-year warranty, this collar gives you everything you need and nothing you don't if your dog barks uncontrollably and you need to fight back.
Things We Like:
Multiple configurations available
Robust 1500-feet range
Fits all dogs from 8 pounds upward with necks to 22 inches
Things We DisLike:
Battery performance is disappointing
---
3.

Budget Pick:

DogRook Rechargeable Dog Collar
Ideal for small, medium, and larger dogs, this fully adjustable collar gives you a great deal of latitude and the choice of sound or vibration that should stop your dog from barking excessively.
The bright blue collar is easy to see at a distance and in dim conditions. Suitable for dogs weighing from 11 pounds through 100 pounds and for neck sizes spanning 9 inches to 22 inches, you're spoiled for choice whatever the size and breed of your dog.
One of the key selling points of this unit – aside from the budget pricing – is the fact you can use it in automatic mode or by remote control. The auto setting is ideal when you're away from home if your dog tends to bark and disturb the neighbors. The remote lets you take charge at a distance, perfect when you're out for walkies.
If you go the remote route, you can expect 2 weeks or so of battery life before you impart a full charge in less than 3 hours.
Things We Like:
Fully adjustable for all sizes of dog
7 levels of audio and vibrating correction
Fast charging and 2 weeks of battery life
Things We DisLike:
Quality control is questionable
---
4.

Also Great:

Dog Care Dog Training Collar
This Dog Care training collar comes with the usual trio of training modes. Whether you find the tone, vibration, or static shock most effective depends to a large extent on the temperament of your dog. Counter-intuitively, static shock is inadvisable for aggressive dogs even if you're tempted by that extra brute force. Instead, use more positive reinforcement along with the tone or vibration.
If you choose to try static shocks to prevent your dog from barking when he shouldn't, you'll get a wide band of 99 levels. Start low and ratchet the intensity up only if your dog still fails to obey.
Dog Care caters for homes with multiple pets. Building in 9 channels to the receiver allows you to train all your hounds from a single receiver, so all you need to do is pick up some extra collars saving you time and saving you from needing to juggle remotes.
1000-foot range is more than fit for purpose and lets you remain in complete control at a distance. Long-lasting lithium-ion batteries ensure that you won't be constantly scuttling to the store.
Things We Like:
3 training modes for total flexibility
Train up to 9 dogs with a single receiver
99 levels of shock for more aggressive correction
Things We DisLike:
Not ideal for smaller dogs under 100 pounds
---
5. PATPET Dog Training Collar
Are you looking for a lightweight and waterproof dog training collar so you can encourage your furball not to bark all the time? If so, PATPET delivers a pocket-friendly collar well worth popping on your shortlist. How does it stand up to the opposition, then?
Select the beep, vibration, or static correction so you can gently encourage your dog not to bark when he shouldn't.
Static correction on this collar isn't too vigorous and you'll get 16 levels to choose from. If you choose to use this function instead of vibration, always start at the bottom end of the scale and slowly work your way up.
The remote is rated IPX5 rainproof while the receiver is IPX7 waterproof so you and your pup are protected against the elements.
Long-life lithium ion batteries ensure you stay in charge without being suddenly out of juice. The remote is easy to use and lightweight enough not to weigh you down when you're walking.
While the static shock is not s string as you'll find on some of the opposition, if you're primarily shopping for a vibrating collar, this shouldn't be a deal-breaker.
Things We Like:
3 different training modes
16 levels of static correction
Fully wireless control
Things We DisLike:
---
6. Trulrox Bark Collar
This vibrant vibrating collar from Trulrox comes with dual-training modes. You can flick between vibrating correction and static shock at the push of a button giving you great scope if your dog is initially resistant to training.
Fully waterproof, you'll be covered whether it's raining outside or you're heading down to the beach.
The intelligent microprocessor onboard helps to minimize false triggers and gives you peace of mind that your dog won't be randomly shocked.
5 levels of shock means you don't get as much choice as most of the competition serves up, but then you're paying a fraction of the price so you can't expect the same level of performance.
The only real drawback here concerns not the collar but customer care. A handful of users have reported a lack of responsiveness and an unwillingness to help. Given the pricing of this collar, though, you can't expect too much more.
Marketed as ideal for small, medium, or large dogs, you should be able to fine-tune fitment to suit your dog's neck whatever his size and breed.
Things We Like:
Completely waterproof
5 sensitivity levels
Pair of training modes
Things We DisLike:
---
7. Bousnic Dog Training Collar
Bousnic delivers a cost-effective training collar offering you the chance to tweak vibration until your dog is dissuaded from barking all the time.
You also get the option of static correction if you don't object to this form of training. While the level of the shock won't hurt your dog, not all pet owners find this idea palatable. The choice is yours, but if you aren't happy with static shocks (there are 8 levels to choose from), you can harness the vibrating function instead. Work your way up through 8 varying intensities of vibration if your dog still refuses to comply.
As an aside, always include positive reinforcement in your training. When your dog obeys, load him up with cuddles and treats. When trying to correct aberrant canine behavior, a little love and encouragement often works more effectively than more full-frontal methods.
Ideal for use indoors and outside, you'll benefit from a sprawling 100-foot range so you can stay in control at a distance.
Things We Like:
Customize vibration and shock according to your dog's temperament
Super-simple to use
Works equally well indoors and outside
Things We DisLike:
Cannot charge both receivers simultaneously
---
8. Slopehill Dog Training Collar
Slopehills's dog training collar is marketed for dog weighing from 5 pounds right up to 140 pounds so you're covered almost regardless of the size and breed of your dog.
You get the choice of 4 training modes here:
Tone
Vibration
LED lights
Static shock
This gives you maximum freedom to train your dog using a number of approaches to bark-correction depending on how he responds.
The collar is adjustable to accommodate neck sizes from 8 inches up to 26 inches. Whether you own a teacup breed or a Rottweiler, you're in safe hands with this collar.
3 channels allow you to train several dogs with a single receiver. All you need to do is pick up some extra collars and you're good to go without spending a fortune.
Range is truly impressive with this remote covering distances to 2600 feet.
With a rechargeable battery giving you lengthy lifespan, you've got all you need to stop your dog from incessantly barking.
Things We Like:
4 training modes for maximum choice
Train up to 3 dogs with one receiver
2600 feet of range is class-leading
Things We DisLike:
Can dispense random shocks
---
9. Petrainer Dog Training Collar
Petrainer's dog training collar gives you a wide degree of choice including:
Beep
Vibration
Static shock
Depending on the way your dog reacts to each form of training, you can experiment with the alternatives and hopefully find one that's effective. There's no boilerplate solution here, it's a question of seeing what works with your dog.
The training collar is adjustable to fit neck sizes from 14 inches to 25 inches so works best with medium-sized and larger dogs. If you have a smaller pup, we review plenty of training collars catering for smaller pets.
Both the receiver and the collar are waterproof so you're protected in all winds and weathers or down by the ocean.
1000-foot range is adequate for most pet owners. If this doesn't offer you enough scope, check out the collar above with a show-stopping range.
Compact, lightweight and remarkably easy to use as well as priced firmly in budget territory, this collar is ideal for bargain hunters everywhere.
Things We Like:
1000-foot range ideal for most needs
100 levels of static correction
Adjustable to fit neck sizes from 14 through 25 inches
Things We DisLike:
Remote is poorly constructed
---
10. GoodBoy Remote Collar
Last but definitely not least, GoodBoy's remote collar is another compact collar that doesn't stiff you on the performance front.
User-friendly even if you've never tried training your dog before, you get 3 training modes here:
If you have a smaller dog weighing 15 pounds or less, you should avoid using the static correction. For all other dogs, this should be OK as long as you don't object to that type of training.
Experiment with the vibrating function and you should find that most dogs will stop barking too much rather than ensure the mild discomfort the collar brings about when he disobeys.
The sleek design is perfect if you're shopping for collars based mainly on looks.
Overall, this mid-priced training collar gives you a strong chance of controlling excessive barking in your dog humanely. What's not to love?
Things We Like:
Compact and lightweight
Remarkably easy to use
Long-life battery for added convenience
Things We DisLike:
Not fully waterproof as claimed
OK, to round out today, here's a glimpse at the most frequently asked questions about vibrating dog collars.
---
II. FAQs
1) Is static shock harmful to my dog?
It's not harmful, no. The shock is commensurate with the static shocks you often get when touching metal objects. It's enough to make you draw away but not enough to really hurt. That said, many pet owners consider this an unnecessarily harsh method of correction. All that counts here is doing what's right for you.
2) Is a vibrating collar effective?
It's impossible to know whether your dog will stop barking excessively when confronted with vibrating correction. For many dogs, the low level of discomfort is enough to stop them in their tracks. Other more active dogs might not even sense the vibration at all. You should think about the size, activity levels, and general obedience of your pup before committing to purchase.
3) What's the difference between always-on training collars and remote control collars?
The underlying correction is the same in that your dog should be discouraged from barking too much by tone, vibration, or static shock. The difference comes in the way always-on collars react to the movement in your dog's vocal cords then correction is delivered automatically. These are ideal for keeping your dog in check when you're away from home. If, however, you want to stay in charge of your dog when you're out for a walk, a remote control training collar is the obvious solution.
4) How long do the batteries last on these collars?
This varies from brand to brand, but expect somewhere around 2 weeks of use on a full charge.
5) Is it possible to buy a good cheap dog training collar?
There are a handful of decent budget collars, but most cheap kit is poorly built. If you're shopping vibrating dog training collars on a budget, stick to the handful of inexpensive offerings above and you're in safe hands.
---
III. Conclusion
If you started out today with no real idea about which dog training collar would make the best fit, that should now have changed.
Vibrating collars offer a happy medium between tone-only correction and static shock. Many pet owners find the idea of using static shock distasteful, but beeps ineffective for correcting excessive barking. With a vibrating collar, you can ramp things up slightly without causing your dog any pain at all.
As with all aspects of training your dog, interweave ample positive reinforcement in between the correction. The carrot and stick approach doesn't work well if you forget the carrot. Treats, hugs, and encouragement when your dog obeys and stops barking excessively can be more effective than static shock, so don't overlook this. Your dog will thank you, too.
Bookmark BarkVA before you head off today and be sure to pop back soon. We update our content several times weekly so come back soon and you won't miss out!
As an Amazon Associate, we earn from qualifying purchases - at no cost to you, allowing us to continue our work.