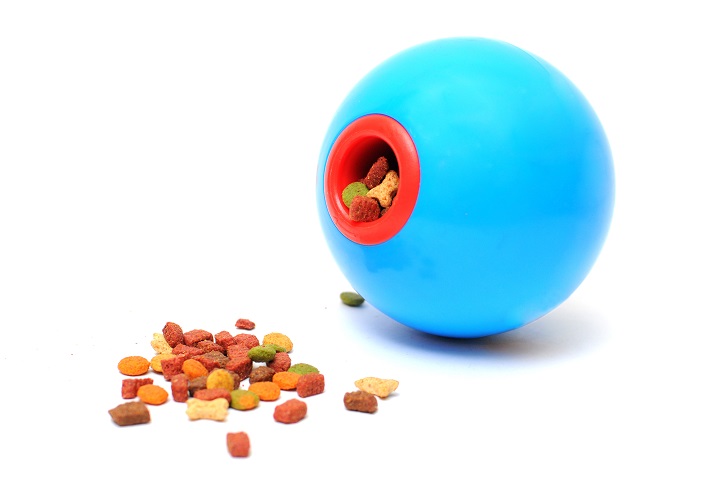 Do you spend lengthy spells away from home worried about your dog getting bored and restless?
If so, you should start by considering a no-bark collar to prevent your dog from menacing the neighbors as he cries out for attention.
There are other ways to minimize unwanted behavior, though, and the best treat dispensing dog toys are one great solution.
Recommended by dog trainers and vets, these toys allow you to pile your pooch's favorite kibble, treats, and dry dog food inside, and then this food is slowly released as he plays with the toy.
Now, the first thing this does is to keep your dog mentally stimulated rather than being confronted with a bowl heaped with treats. Remember, if you're leaving your dog unattended, he'll likely eat all those treats in one sitting, something he won't be able to achieve with one of these treat dispensing toys.
Here are a couple of things to consider when you're comparing the best treat dispensing dog toys:
Materials: You should check that any plastic toys have no BPA, no phthalates, and no other toxins harmful to canines. This should always be clearly listed, and all of the toys on our shortlist are completely safe in this regard
Suitability for aggressive chewers: If you have a dog who chews aggressively, many of these treat dispensing toys will be too fragile and eminently unsuitable. The same is true if you have a larger breed with super-powerful jaws. For these dog owners, we would suggest focusing on the handful of toys we review designed with this type of dog in mind
As with all new equipment you introduce to your dog, you might initially find some resistance to treat dispensing toys. We suggest starting off with some high-value treats that smell strongly and can be cut up into tiny pieces.
You should always start off slowly and then ratchet up the difficulty level if your dog starts to master the game and accesses his treats too quickly.
Pack plenty of patience and be prepared to try more than one treat dispensing dog toy. Once you get the right fit, he'll be engrossed for hours and hours.
Now, we've reviewed 12 of the best treat dispensing dog toys today. We highlight the same core features for each so you can easily compare them at a glance. We'll also show you where these toys stand and fall so you can easily find the right one for your needs, even if your dog is an especially aggressive chewer and usually destroys these dog toys!
Barkva.org is reader-supported. When you buy via the links on our site, we may earn an affiliate commission at no cost to you.
The 12 Best Treat Dispensing Dog Toys
1.

Our #1 Pick:

KONG Classic Dog Toy
Features
Plastic
5 pounds
4 x 2.75 x 2.75 inches
Our overall favorite treat dispensing dog toy comes from the industry legend KONG, specializing in making toys just like this for decades.
The classic rubber toy has many use cases for your dog, not least of which is the ability to accommodate his favorite treats and food inside.
This type of chewing toy also performs a valuable role in keeping those canine teeth sparkly clean and healthy. The KONG is nice and gentle on Fido's gums, too.
When you throw this toy, it will bounce unpredictably, so you can always keep your pup on his toes.
According to a few longstanding customers, KONG has changed the sizing on these toys, so we'd suggest you look into this closely if you have an old model and you're looking to replace it. It's well worth double checking those sizes.
Have you got a super-smart pooch always in need of an extra challenge? If so, pop the KONG in the freezer for 4 hours before you hand it over. That really ramps up the difficulty level.
If you want to keep your hound stimulated while giving him the chance to savor his treats and kibble instead of wolfing it down, this treat dispensing dog toy from KONG is a must.
Things We Like
Unbeatable brand heritage
Bounces erratically for added fun
Fill with treats or kibble
Things We Dislike
Sizing issues for some customers
---
2. StarMark Bob-a-Lot
Features
Rubber
1 pound
6 x 6 x 8.5 inches
Interactive toys are a great way to give your dog some physical and mental stimulation at the same time as feeding him.
This lightweight rubber toy from StarMark has a non-slip base and a weighted bottom that will allow your dog to play and slowly release the treats or kibble you stuffed inside. This unit is designed to house most types of dry dog food and kibble, so you've got all bases covered.
You'll find some openings at the top and bottom of this toy that you can open and close to fine-tune the difficulty setting. See how your pooch gets on at the easiest level first then work your way up.
This toy makes a neat fit for smaller breeds, but larger dogs and aggressive chewers might tear it apart.
Things We Like
Feed and exercise your dog at the same time
Weighted bottom encourages play
Accommodates most dog food
Things We Dislike
Not ideal for larger dogs
---
3. West Paw Zogoflex Treat Dispensing Dog Toy
Features
Zogoflex
3 pounds
7 x 5.5 x 3.1 inches
West Paw's deep bench of dog toys and food dispensing toys are made from proprietary Zogoflex, a rugged, durable, and canine-friendly material used to great effect on this treat dispenser.
If your dog chews aggressively, he might meet his match with this food dispenser.
At feeding time, this makes a great way to distribute your dog's food and treats. When he's done eating, you can use this toy to play fetch and catch. It also floats for added versatility.
The ergonomic design of the toy makes it easy for your dog to grasp, whether he's looking to eat, play, or both.
The toy is made from materials free of phthalates, BPA, and other toxins that might harm your precious pooch. These materials are recyclable, too, making the West Paw an eco-friendly dog food dispenser from a brand you can rely on.
Things We Like
Free of BPA and phthalates
Floats and bounces
Recyclable materials
Things We Dislike
Some dogs might take this dispenser apart
---
4. Our Pets IQ Treat Ball
Features
Plastic
25 pounds
3 x 4 x 4 inches
Does your dog tend to bolt his food down and suffer from digestive problems? If so, introducing a slow feeder in the form of a treat ball like this example from Our Pets can help to slow your pooch down.
Choose from a pair of sizes to suit your hound, and then fill the play ball with his favorite kibble or treats As with all treat dispensing toys, this ball is a great idea if you spend hours away from home. You can be confident he'll spend hours with this thing.
Inside the ball is an adjustable disc that allows you to manipulate the difficulty level. If your dog is anything like ours, he'll soon be accessing his food on the lower levels and ready for enhanced stimulation.
Clean-up couldn't be simpler. All you need to do is blitz the ball with some soap and hot water and you're good to go.
Things We Like
Great alternative to slow feed bowl
Comes in 2 sizes to suit
Engages dog's brain while promoting slow feeding
Things We Dislike
Sometimes difficult to get food out
---
5. Omega Paw Tricky Treat Ball
Features
Vinyl
10oz
5 x 5 x 5 inches
Do you leave your dog at home while you're at work and worry that he gets bored and restless? If so, this treat ball from Omega Paw is a smart investment.
The oversized ball is made from a forgiving vinyl that's also built to withstand some serious punishment.
Whether you have a small teacup puppy or a larger adult dog, this ball works well for all life stages and breeds. As with all cheaper dog treat dispensing toys, you'll take a slight hit on build quality in pursuit of a bargain. If you have an especially feisty canine, we'd suggest looking at some of the more rugged dispensers we review.
This ball is easy to stuff with your furball's favorite snacks and treats. That way, when you head off to work, you know he won't have eaten all his treats in seconds flat.
The ball comes in 3 sizes to suit, so think about the size of your pup and how aggressively he plays, then watch him entertained for hours with periodic rewards as his treats tumble out.
Things We Like
Suitable for all life stages
Keep your dog entertained for hours
Easy to fill with all foods
Things We Dislike
Build quality could be improved
---
6. PetSafe Busy Buddy
Features
Rubber
4 pounds
3 x 7 x 3 inches
The highly reputable PetSafe makes a broad cross-section of accessories and equipment for your furball, with the Busy Buddy one of the jewels in the crown. What do you get for your money?
This waggling toy, shaped like a conventional bone, gives your dog a taste of the wild with the added twist of technology.
When your dog grabs this toy, the ends will start compressing so he's encouraged to chew. This helps keep his teeth in great nick while he tries to work out the treats you've stored inside.
This iteration of the Busy Buddy is designed for dogs from 25 to 65 pounds giving you a great deal of freedom.
As your dog plays with this bone-like toy, so the treats will be dispensed randomly. This injects an element of fun and unpredictability while at the same time slowing down your dog when he's eating.
Made from dishwasher-safe and completely non-toxic materials, the Busy Buddy will be your dog's new best friend. What are you waiting for?
Things We Like
Waggling toys engages your pooch
Adjustable rate of delivery
Dishwasher-friendly
Things We Dislike
Strong smell upon unboxing
---
7. West Paw Zogoflex Dog Puzzle Treat Toy
Features
Zogoflex
35 pounds
2 x 5.3 x 2 inches
Next up comes another entry from the West Paw stable with this dog puzzle treat toy designed to stimulate your pup even if you're away from home for hours.
This is another toy shaped like a bone. It's made to cope with the demands of seriously aggressive chewers, and it's our favorite treat dispensing dog toy in this regard.
Ergonomic design means your dog should easily grasp this toy between his teeth and, once it's there, he'll enjoy a slow and drip-fed supply of all his favorite treats.
The proprietary Zogoflex material is a hard, non-toxic plastic that's remarkably durable and also super-simple to keep clean. When your pup's finished playing and munching, throw this bone in the dishwasher and you're ready to roll.
Things We Like
Designed to accommodate all types of treats
Suitable for aggressive chewers
Easy for your dog to grasp
Things We Dislike
Not the cheapest treat dispenser
---
8. Bojafa Teething Balls
Features
Rubber
33 pounds
8 x 2.8 x 2.8 inches
Keeping your dog's teeth and gums clean and stimulated is key. After all, he can't stay on top of dental hygiene himself, can he?
These teething balls from Bojafa work equally well for cats and dogs. The non-toxic natural rubber is hardwearing even if your pooch is a pretty aggressive chewer.
Blue and green, the balls are lightly scented with mint. The ridges will help to minimize plaque build-up on your dog's teeth as he chews away without hurting his tender gums.
Made from eco-friendly materials that doesn't have any toxins like PVC, you can do your part for your dog's health and the environment.
Not only are these balls very reasonably priced, but you also get a pair in the pack giving you unbeatable value from a household brand.
Rugged and built to last, you shouldn't find your furball punctures these either. The only real complaint we could find among a wealth of positive feedback came from owners of smaller breeds claiming that these balls were too large for their dog.
Things We Like
Helps promote good dental hygiene
Fresh mint scent
Rugged and puncture-resistant
Things We Dislike
Too large for smaller dogs
---
9. StarMark Treat Dispensing Chewball
Features
Plastic
1 pounds
75-inch diameter
StarMark make some very affordable and neatly designed dog accessories like this treat dispensing dog toy.
The aptly-named Chewball is probably the most durable and hard-wearing dispenser on our shortlist. This should be your go-to option if you have an aggressive chewer in the house.
Choose from a medium or large toy. The smaller measures 2.75 inches across, while the larger model has a 4-inch diameter.
You'll be free to fill this dispenser with your dog's favorite fare. One word of warning, though. A few users have highlighted the fact that small pieces of kibble tend to come tumbling out of the toy.
Once dinnertime and playtime are done, all you need to do is grab this dispenser from your dog and throw it in the dishwasher then he'll be ready to go again tomorrow.
Made by a company with dog training academies, you're buying into a wealth of expertise and brand heritage at a very reasonable price.
Things We Like
Remarkably rugged dispenser
Fill with all types of dog food
Safe to pop in dishwasher
Things We Dislike
Smaller pieces of kibble fall through holes
---
10. Omega Paw Tricky Treat Ball
Features
Plastic
24 pounds
5 x 3.5 x 3.5 inches
Are you often left feeling guilty when you leave your dog at home for extended spells? You can go at least some way toward soothing that feeling if you gift your dog this Omega Paw tricky treat ball.
Even the most inquisitive dogs should be kept entertained with this ball. Load in some treats, kibble, or pet food, and watch as your furball starts playing with the rolling ball. Treats are randomly dispersed as your pup plays around, keeping him from gorging all his snacks as soon as you leave for work, and giving him some stimulation and interaction when you're not around.
The soft plastic is easy on your dog's teeth, and should help to keep plaque from accumulating, too.
If your hound is super-smart, you might find he learns how to play this game too effectively. If so, it's time to explore some of the other treat dispensing dog toys on our shortlist.
Things We Like
Keep your dog intrigued for lengthy spells
Easy to keep clean
Gentle on your dog's teeth
Things We Dislike
Smarter dogs will quickly access treats
---
11. Buster Food Cube
Features
Plastic
8oz
4 x 2 x 6 inches
The Buster Food Cube is a great way to inject some fun into feeding time if you have dogs in the house.
This large cube is designed for your dog to roll over and play with. As he does so, treats will be liberally dispensed. This is not a challenging game for your dog to play, but it will nevertheless naturally slow him down as he eats, promoting superior digestion.
If the orange of this cube doesn't sit well, you can choose from an array of colors to suit.
Getting started with the Buster Food Cube is as simple as loading the compartments with kibble, treats, and dry dog food then letting your hound do the rest.
You can use normal cleaning products on this dispenser, or you could put it safely in the dishwasher if you prefer automated cleaning.
Although this dispenser is not demanding for your dog to use, if you have an especially lazy cur, you might find he loses interest rapidly.
Things We Like
Helps to minimize negative behaviors
Multiple compartments for food
Dishwasher-friendly
Things We Dislike
Not the best choice for lazier dogs
---
12. Busy Buddy Twist and Treat Dispenser Dog Toy
Features
Rubber
9oz
2 x 5.3 x 7.1 inches
As we reach the end of our search for the best treat dispensing dog toys, the Busy Buddy twist-and-treat model is well worth your further investigation.
Choose from 3 sizes to suit, all coming in a vibrant purple to bring some fun into playtime.
The rolling ball makes a nifty toy for your pooch in its own right. You can also fill it with his favorite treats, kibble, and snacks to add a further layer of entertainment.
You can tweak the size of the openings to adjust the rate of treat delivery.
If your dog is a really heavy chewer, you should look at one of the other treat dispensers we review that's designed for aggressive chewers. This might end up getting destroyed!
When playtime is over, you can slot this treat dispenser toy on the top shelf of the dishwasher removing any hassle from clean-up.
Things We Like
Fill with your dog's favorite treats
Safe to place on top shelf of dishwasher
Adjustable difficulty
Things We Dislike
Not great for aggressive chewers
---
Conclusion
By now, you should have a cross-section of treat dispensing dog toys in your price bracket, and a sound idea of what to look for when you're buying one.
This is certainly not the most challenging buying decision you'll face as a dog owner, but we still felt there were some worthwhile models to point out.
Take a moment to bookmark BarkVA before you head off looking for the best treat dispensing dog toys. We're here to help you choose the best dog equipment the easy way with our brief, impartial reviews pointing out the flaws in these products as well as the benefits. We also throw in plenty of useful information on dog care as well as tips and tricks for training your dog the right way. We have a busy month planned, and we hope to see you soon!
As an Amazon Associate, we earn from qualifying purchases - at no cost to you, allowing us to continue our work.