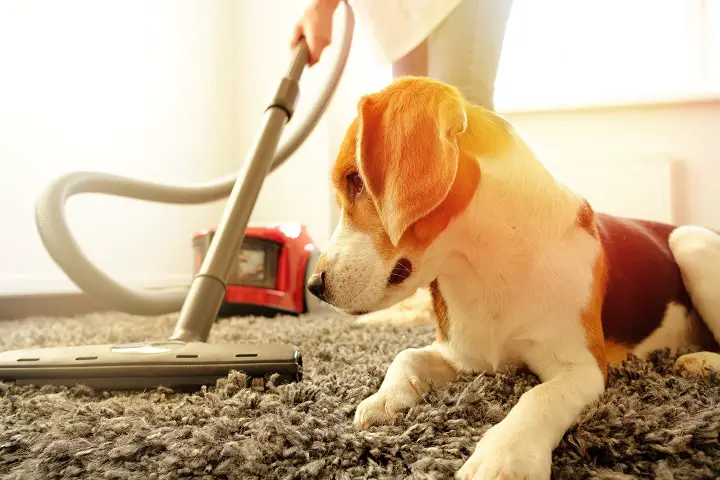 In most cases, rugs and dogs are not a happy combination.
Think about the average rug you'd buy for your home if you were only thinking about human inhabitants… Chances are, you'd look for a soft and luxe deeper pile rug you could sink your feet into.
Bad idea.
Get this kind of rug if you have dogs at home and you'll quickly regret the decision. Their paws will get snarled up in deeper pile rugs. Also, the hair they inevitably shed will get firmly embedded.
Even if you get the type of rug right – and we'll help you out there – there are several common bugbears you'll encounter when you have dogs and rugs in the same house.
Hair: Any pet owner knows the hair from your beloved animals get absolutely everywhere. Rugs are no exception so you need to choose the pile and material accordingly
Biting and safety issues: Your dog is highly likely to bite any rug with exposed threads. Mitigate this by sticking to low and medium-pile rugs
Dog dirt and vomit: Make sure the rug you choose is resistant to water, stains, mold, and mildew
Fleas: Keep all rugs spotless if you have dogs at home in case of an outbreak of fleas
So…
You want a rug for your room and you have one or more dogs at home. You're now aware of the common pitfalls and how to overcome them.
Now, before our rug reviews, time for a quick buying guide so you know what to focus on when you're rug shopping.
Buying a rug if you're a dog owner is really not so hard. Laser in on these elements and you'll soon have your room neatly equipped with a rug that's built to withstand plenty of canine punishment.
Materials
 Wool, nylon, and polyester all make smart choices when you're a dog owner looking for rugs. Polypropylene is one of the most common materials present in most of the rug we review today.
Design
Steer clear of any rugs with fringes or tassels.  Your dog will be drawn instinctively to nibble at any loose threads so avoid this.
Size
Most rugs come in a staggering choice of sizes.  Make absolutely certain you establish there's enough room for the rug you have in mind in the room you intend to place it.
Color
Naturally, it's easier to keep dark colored rugs cleaner and well-maintained when you have the added pressure of dogs in the house. There is another school of thought suggesting you can see any lingering hair or debris more easily if you choose a pale rug.
The choice is yours but make sure you consider the implications of rug color.
Ease of cleaning
Unless your dog is impeccably toilet trained, you'll need to clean your rug daily. In any case, you should regularly clean the rug to keep all bacteria, debris, hair, and fleas at bay.
Price
If you're thinking of buying an expensive rug when you have dogs in the house, remember that accidents happen and think twice. Right, with that framework in place, you should be ready for our best rug reviews.
BarkVA is reader-supported. When you buy via the links on our site, we may earn an affiliate commission at no cost to you.
I. The 7 Best Rugs For Dog Owners
1.

Our #1 Pick:

nuLOOM Moroccan Area Rug
First up in our collection of rugs for dog owners is this outstanding Moroccan area rug from nuLOOM. Why is this such a strong choice for pet owners.
Choose from a trio of dark, muted colorways that won't show up the mess your furball leaves behind.
The polypropylene material is the ideal fabric if you have energetic dogs at home. It's hard-wearing in the extreme while still feeling soft underfoot.
Designed to ward off stains and heavy traffic, this rugs makes a very adaptable addition to any room.
Sizes start at 2 x 3 feet. You can choose from a variety of shapes and sizes right up to a 12 x 15 feet or 12 x 18 feet rug perfect for breaking up large spaces.
The only real drawback is common to many area rugs rather than a specific flaw. You can expect a fairly nasty smell when you unbox the rug. This takes up to a week to disappear so be warned in advance.
In all other respects, this colorful and elegant rug is durable enough to return years of faithful service. The best thing? It's priced keenly, too.
Things We Like:
Comes in a wide range of dark, dog-friendly colors
Hard-wearing polypropylene should return years of faithful service
Highly resistant to spills and stains
Things We Dislike:
A fairly offensive smell comes off this rug at first
---
---
2. Abstract Persian Rug
If you're looking for a rug that makes a real conversation piece, you can't go wrong with this striking abstract Persian rug.
As any dog owner knows, a rug that looks great is only part of the battle when you have pets at home. You also need something that will stand up to all that paw-fall and won't end up covered in ingrained hair. How does this rug shape up, then?
Highly stain-resistant, your dog can cause a little mess without wrecking this rug. Made from polypropylene, you get the optimum meeting point of comfort and durability.
If pushed to find fault with this rug, we'd like to see a little more attention to the finish, especially around the edges. 
You can choose from 8 different color schemes, all decorated with the same large abstract print.
Sizings vary from 2 x 3 feet at the lower end of the range right up to 9 x 12 feet rugs ideal for larger rooms.
Things We Like:
Commanding design while still practical and hard-wearing enough for use with dogs in the house
Rugged polypropylene construction built to last
Won't allow stains to seep in
Things We Dislike:
Corners could be finished more precisely
---
3. Unique Loom Traditional Area Rug
Available in a broad spread of colorways, this classic area rug from Unique Loom deserves a place on any list of the best rugs for dog owners.
As with most rugs, choose the appropriate size from 18 different options giving you a personalized solution.
Made from polypropylene – our favorite rug material for pet owners – you can expect an enviable lifespan without compromising aesthetics or comfort. You won't see any damage from stains and this material is also resistant to mold and mildew.
The short-pile rug calls for very little by the way of upkeep. Spot-clean any small stains. Beyond this, just vacuum your rug regularly and you won't need to do much more.
Like with many area rugs like this, you'll be assailed by an unpleasant whiff when you unbox. You could endure this degassing smell for the better part of a week. Look elsewhere if the idea of this is unacceptable.
Things We Like:
Short-pile rug is low-maintenance with some simple spot-cleaning and regular vacuuming all you need
Wide spread of colorways to match your décor
Won't shed and also resistant to marks and stains
Things We Dislike:
Heavy chemical smell upon unboxing that takes up to a week to subside
---
4. Glory Rugs Area Rug
Next up in our best rugs for dog owners reviews is a superb and eye-catching area rug from Glory Rugs. Why should you consider investing in this rug, though?
If you have dogs at home, you'll appreciate the difficulty of finding the right furniture, carpeting, and rugs. This polypropylene area rug is complemented with hardwood and jute-backed. The overall package is super-durable while the rug still looks outstanding. What's not to love?
Well, one thing many users certainly don't love is the runners on this carpet. Unfortunately, when you get a bargain rug like this one, you need to expect certain sacrifices. This is not a serious issue in the scheme of things since overall finish is impressive.
The rug won't shed. It's also designed so you won't find it embedded with dog hair you find impossible to remove.
Still not convinced? This rug comes backed with a 30-day return guarantee so send it back if you're not entirely satisfied. What have you got to lose?
Things We Like:
Finished in hardwood and polypropylene so suitable for homes with feisty pets
Jute-backed creation looks the part while rugged enough to withstand some serious punishment and heavy traffic
Anti-shedding material won't get bogged down with pet hair either
Things We Dislike:
The runners on this rug are a let-down
---
5. Artistic Weavers Area Rug
This machine-woven polypropylene area rug is designed to cope with the rigors of a multi-pet household.
As you'd expect from any decent rug, you get started choosing from an array of sizes. Take your time with this step. There's nothing worse than a rug that's too large or too small for a given space. Get this right.
One thing we'd like to add here is that we encountered a few disgruntled users who received the wrong size of rug. We would advise checking and measuring up upon receipt.
As a medium-pile carpet, you'll find this rug slides neatly under doors and any furniture. You'll also get a great combination of durability and comfort.
Like all the rugs we recommend for pet owners, this Artistic Weavers area rug is very stain-resistant.
If you want an excellent choice of colors and sizes in a rug cut out for a long lifespan in a home with several pets, we can't recommend this Artistic Weavers highly enough.
Things We Like:
Machine-woven rug with polypropylene construction that won't show up wear and tear
Comes in a wide range of sizings to suit
Medium-pile works well under furniture, and it won't end up blocking the door either
Things We Dislike:
Some complaints from consumers who received the wrong size rug so check the contents of your package closely
---
6. Antep Rugs Area Rug
Antep Rugs serves up a commanding area rug that would make a majestic addition to any living room or kitchen. What makes this rug stand out, then?
As a low-pile carpet, you won't find the hairs and debris left behind from your dog getting stuck in the fibers.
As with most of these rugs recommended for dog owners, this is machine-made polypropylene. Expect enviable lifespan, and a comfort level you wouldn't expect from a hard-wearing rug like this.
Despite this functional aspect, the rug looks fantastic. There's no sacrifice made on the design front, and this would make a great addition to more or less any room.
Sizing starts at 2 x 3 feet and extends to much larger 8 x 10 feet rugs. You can choose from rectangular or oval to suit.
Choose from blue, gray, or green to match with your décor.
The only real complaint we have about this rug is the pricing. That said, if you have deep pockets and demanding tastes, there's no better rug for dog owners.
Things We Like:
Choose from multiple sizes to suit
Low-pile rug won't end up ingrained with debris and it won't show stains 
Very low-maintenance rug even in households with pets and kids
Things We Dislike:
Certainly not the cheapest rug for dog owners
---
7. Unique Loom Traditional Area Rug
Coming in a variety of sizes from a dinky 2.2 x 3-feet rug through to a sprawling 10 x 13 footer at the upper end, why should you choose the Unique Loom rug if you have dogs at home.
Highly resistant to mold and mildew along with water and a range of other stains, you're in safe hands even if you several boisterous pets at home.
Build quality is also robust so you won't find this rug getting snarled up by your dog's claws or chewing. Made from cotton-backed polypropylene, you get impressive longevity without finding yourself stiffed on the comfort front.
Things We Like:
Resistant to mildew, mold, water, and all manner of stains
Design is uppermost without sacrificing durability or performance
Cotton-backed polypropylene built to last
Things We Dislike:
Only available in a single blue colorway
OK, with our rugs for dog owners reviews in place, it's time to finish up with a collection of answers to the most frequently asked questions about rugs for pet owners.
---
II. FAQs
1) What is an area rug?
This is a rug of various sizes used to partially cover hard floor or carpet.
2) What type of rug should I get if I have dogs at home?
Your primary focus should be on safety. Stick to low or medium-pile rugs so your dog's paws don't get entangled, and no hair gets deeply embedded either. Avoid any kind of fringed or tasseled design. Anything your dog can grab hold of, he will. Keep him away from temptation. You should then ensure the rug you're looking at is durable enough to withstand your dog walking on it and messing around on it. Ease of cleaning should also be taken into account.
3) What is polypropylene?
This is an extremely hard-wearing material ideal for rugs in a pet-centered household.
4) How can I clean a rug when it's soiled by my dog?
Most rugs respond best to spot cleaning and vacuuming. In the event of more heavy soiling, you might need to consider buying a new rug.
5) What color is best for a rug for dog owners?
A light rug will easily show any dirt, hair, and debris. A dark rug, on the other hand, is less likely to look soiled and worn after a month or two. You should take plenty of time choosing colors. Consider a rug with a design rather than a plain block of color.
---
III. Conclusion
Well, you should now have a clear idea about which rug would make the best fit if you have dogs at home.
Stick with any of the 7 rugs for dog owners on our list and you are in safe hands. If you choose to invest in a rug not reviewed here today, keep our buying guide in mind and allow this to guide your purchase.
Get the sizing and materials right and there's no reason you can't have it all: a rug that looks great, is built to last, and won't buckle under the pressure of multiple pets at home.
Before you go, we'd suggest you bookmark BarkVA. We have a busy content calendar right now so pop back soon and don't miss out!