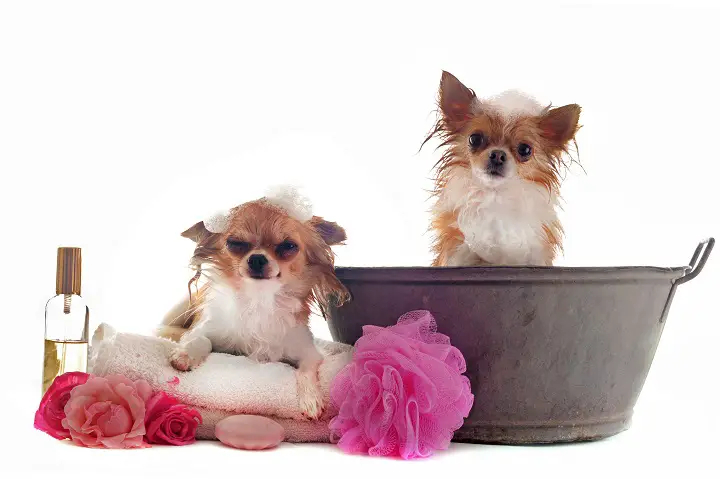 Owning dogs is something that brings with it enormous joy.
When dogs smell bad, though, it makes you question why you own one!
Fortunately, there's absolutely no need to put up with that, and we're here today to guide you through choosing the best perfume and cologne for dogs.
Yes, you read that right. You can spritz Fido with some cologne just like you'd splash yourself with some scent after you shave in the morning.
When you're choosing canine scent, you have more to consider than making your pooch smell great. You also need to make certain you do that safely, with no irritation to his skin or coat.
Today, we'll be reviewing the 10 best colognes suitable for dogs of all life stages so you can easily find the best fit for your needs.
We understand many of you will never have shopped for pet perfume before, though. Before we launch into our reviews, here are the most important things to consider when you're on the buying trail.
Size of bottle: When you're comparing bottles of shampoo, you should look beyond the bottom line. A cheap perfume is not so cheap if you only get a 2oz bottle. The majority of the sprays you'll find are 4oz or 8oz bottles ideal for use on the go and compliant with TSA guidelines. Get a better idea of overall value by looking at the price relative to size
Ingredients: The most important element of your buying decision by far will center on the ingredients. Since you're attempting to make your pup smell great, it's hard to find formulas that are 100% natural. There are some out there and we review them today. The price you pay for all-natural formulas is a scent that doesn't tend to be as strong, and is not so long-lasting. If your dog has any sensitivities or allergies, it's vital to seek out a formula that doesn't contain chemicals likely to aggravate and irritate. We bring you a cross-section of all types of cologne for dogs today
Scent: The type of scent you like is personal and you should ensure that any cologne you buy won't repel you as much as the smell of wet dog!
Flea and tick treatment compatibility: If you are using flea or tick treatment on your hound, make sure any colognes you're considering are compatible with these treatments
OK, with that framework in place, you should be clear what to look for when you're comparing the best perfume and cologne for dogs.
Check out the top 10 perfumes on the market next…
Barkva.org is reader-supported. When you buy via the links on our site, we may earn an affiliate commission at no cost to you.
The 10 Best Perfume and Cologne for Dogs
1.
Our #1 Pick:

Gerrard Larriett Aromatherapy Spray for Dogs
Features
Our overall favorite canine perfume comes from Gerrard Larriett, and it's great for more than just freshening up Fido.
If your dog is prone to anxiety at any time, this de-stressing formula is just what you've been looking for. The delicate, calming scent of lavender and chamomile should soothe a chaotic pup in no time.
The natural formula is packed with pure essential oils and there are no parabens to worry about, and no dyes either.
While the scent is noticeable, it's not overpowering or cloying like you find with so many dog perfumes and colognes. On the downside, the scent is not especially long-lasting.
The small 8oz bottle comes with a pump spray and makes a travel-friendly approach to making sure Rover smells good. The bottle is TSA-approved for size.
If your dog has sensitive skin, this natural formula shouldn't trigger any irritation or itching.
This spray also helps to detangle and condition your dog's coat, so you're getting a powerful all-rounder at a very reasonable price point.
Things We Like
Anxiety-relieving formula
Travel-friendly spray
Gentle lavender scent
Things We Dislike
---
2. Bodhi Dog Pet Cologne
Features
4oz
Spray
Baby powder scent
Next up is the first of a couple of highly effective canine colognes from Bodhi Dog.
Choose from a wide variety of fragrances to suit your tastes and the temperament of your dog. This spray is scented like baby powder.
Now, it's tough to offer more than subjective commentary on smells as everyone has different tastes. We did, however, find a handful of disgruntled consumers complaining that this spray has a really overpowering smell to it. Whether you like the smell or not, it's certainly not subtle.
This fragrance is backed by vets and groomers allowing you to buy with complete confidence.
When you apply the spray, it also helps to keep your furball's coat soft and free of tangles. It's no substitute for proper grooming, but an excellent accompaniment.
This is a 4oz bottle, but you can also buy this spray in 8oz and 17oz bottles if you're looking for greater value.
All Bodhi Dog products are sustainably made in the US using sustainable ingredients and cruelty-free production. Despite this, you won't need to dig too deep for the privilege.
Keep Rover smelling fresh between baths and do his coat a favor with this natural but effective dog perfume.
Things We Like
Several sizes to suit
Backed by vets and groomers
Made in the USA
Things We Dislike
---
3. Fresh 'n Clean Cologne Spray for Dogs
Features
12oz
Aerosol spray
Floral scent
Fresh 'n Clean is manufactured by Lambert Kay, so what does this aerosol spray do for you and your furball?
If you're already burdened by the expense of dog ownership, you'll appreciate the keen price point and bumper 12-oz bottle giving you outstanding value.
Unlike some of the all-natural perfume and cologne for dogs on our list, this one contains alcohol and isobutane. If your dog has especially sensitive skin, or skin prone to drying and flaking, give this spray a swerve.
The floral scent of this perfume is gentle but lingers for hours. You might need to reapply liberally with bigger dogs who have thicker coats, but the overall effect is impressive.
No perfumes are meant to replace bathing your dog, but they make a quick fix when you're out all day. They can also be used in between baths if your pooch smells bad.
Things We Like
Cost-effective size
Long-lasting scent
Ideal between baths
Things We Dislike
---
4. Pet Pleasant Lavender Pet Spray
Features
8oz
Spray
Lavender essential oil
Next up in our quest for the best perfume and cologne for dogs is this lavender-tinged offering from Pet Pleasant.
If you have a dog with sensitive skin, this completely natural formula should make him smell superb without causing any irritation or inflammation. There's no alcohol in this solution either, so your dog's skin won't dry out.
The pump spray is travel-friendly and the 8oz bottle is airline-approved for sizing.
The ingredients are natural and cruelty-free with all packaging made from recyclable materials. Not only will you be making your pooch smell divine, but you'll be doing your part for the environment, too.
The lavender scent does more than make Fido smell great. The essential oil also has known calming properties, so this makes a great spray for anxious dogs.
If you have a bigger breed with thick fur, you may find the smell of this spray fades pretty quickly, getting lost in all that hair. Reapply more regularly with large dogs.
Things We Like
All-natural ingredients
Pure essential oils
Delicate fragrance
Things We Dislike
Not strong enough for bigger breeds
---
5. Bodhi Dog Pet Cologne
Features
8oz
Spray
Sugar cookie scent
Next up is another entry from the inimitable Bodhi Dog with this sugar cookie-scented spray that will have Fido smelling good enough to cuddle rather than reeking of damp and doggie smells.
The spray comes recommended by vets so you know you're getting a dog-friendly formula.
This is the travel-friendly 8oz bottle, but you can also find this spray in a tiny 2oz bottle or a much larger 17oz bottle.
The formula is safe to use on a variety of household pets so makes a smart choice for mixed pet households where canines have feline companions. You can also use the spray on rabbits, guinea pigs, ferrets, or birds.
When you apply this spray to your furball, you'll find his coat is left soft and smooth. Regular use can even inhibit tangling.
Some users report the smell as being strong and chemical-tinged, so if you have a sensitive nose, you may want to explore some of the more subtle fragrances on our shortlist.
Things We Like
Recommended by vets
Leaves coat soft and silky
US-made
Things We Dislike
---
6. Earthbath All-Natural Deodorizing Spritz
Features
8oz
Spray
Colloidal oatmeal
Earthbath specialize in making sustainable and eco-friendly products for pet owners that don't force you to take out a bank loan. How does this all-natural perfume stand out in a crowded field?
The first key selling point are the all-natural ingredients. If your dog has sensitive skin, or if you have any allergies yourself, you'll want to avoid formulas packed with artificial fragrances and potentially irritating chemicals. You'll get none of these in this organic solution.
When you apply this spray, you'll find it works on your dog's coat and helps to remove tangles, while at the same time conditioning his fur and skin. The spray is also gently deodorizing. Kiss goodbye to that stench of wet dog and say hello to a mango sensation. If this doesn't sound to your liking, there are 3 other all-natural scents to choose from.
Expect colloidal oatmeal and aloe vera, both highly moisturizing, along with vitamin E and citric acid. Give your dog everything he needs and nothing he doesn't.
The 8oz bottle is available singly or in packs of 2 and 3 bottles for even greater value.
Things We Like
Detangles, conditions, and deodorizes
All-natural formula
Ideal for all dogs over 6 weeks old
Things We Dislike
---
7. Isle of Dogs Odor-Neutralizing Spray
Features
8oz
Spray
Violet and sea mist
Do you often take your dog out in the car? If so, you'll doubtless find the inside of your ride starting to smell unappetizing. Pop one of these Isle of Dogs odor-neutralizing sprays in your vehicle and you won't need to suffer that fate.
The small 8oz bottle is ideal for travel purposes. Although the pump-action spray seems quite efficient, a few users have complained about issues with this.
The smell is very understated, but for many pet owners, this is an advantage rather than a drawback. We have deliberately highlighted a variety of fragrances today, some strong and some subtle.
Applying this spray regularly will do more than make your pooch smell great. You'll impart a delicate violet fragrance while also ensuring his coat stays soft and smooth.
As an added bonus, this natural formula is safe to use on a regular and ongoing basis. What are you waiting for?
Things We Like
Safe to use anywhere, including car
Helps soften coat
Gentle but appetizing smell
Things We Dislike
Some issues with spray pump
---
8. Nature's Miracle Spring Water Spray
Features
Nature's Miracle has a deep bench of pet products for the discerning owner looking for organic solutions that don't stint on the performance front. This spring water spray is another winner from the ever-reliable stable.
This formula is designed for dog's prone to stinking the place out. Spritz Rover with this stuff and you'll soon be inviting him in for cuddles not banishing him to the yard.
The organic formula is free of dyes and parabens so you can liberally apply this spray with a clean conscience.
As you apply the spray, you'll find stubborn and strong smells neutralized neatly. The gentle fragrance is not too overpowering. Indeed, a few users have complained that this formula feels slightly watery and that they need to apply it with a heavy hand to get any real effect.
Another benefit of this spray is the way it's designed to work alongside tick and flea treatments.
For a great all-rounder from a brand you can trust, we can't recommend this spray highly enough.
Things We Like
Neutralizes and deodorizes
Promotes soft coat
No dyes and no parabens
Things We Dislike
---
9. Natural Rapport Dog Cologne
Features
Natural Rapport produces some outstanding and gender-specific dog cologne. This version is specifically intended for male dogs.
As the name hints, this is an organic and natural formula making a smooth fit for all canines with sensitive skin. Keep those potentially irritating chemicals away – well, almost all of them. The manufacturer states that 95% of ingredients are naturally-derived.
As you apply the spray, it does more than smell good. You'll also give Fido's coat and skin a shot of hydration and you'll help it stay softer for longer. With regular use, you may even find his coat becomes less tangled.
There's no alcohol in this cologne to dry out Fido's skin, and you'll find no parabens, sulfates, or phosphates either.
The only real downside, as with many natural formulas, is that the smell tends to fade quiet quickly. Chemicals in perfumes are not ideal, but they are there for a reason: they work!
Overall, you'll get a low-key fragrance that also helps keep your dog's coat looking immaculate.
Things We Like
Conditions and soften coat
Deodorizes
Made from naturally-derived ingredients
Things We Dislike
Not the most noticeable scent
---
10. SEAMUS Pet Cologne
Features
8oz
Spray
Sugar cookie scent
If you have multiple pets at home, this cologne from SEAMUS is multipurpose and suitable for all animals. Give your dogs and cats a treat without bankrupting yourself.
The 8oz spray bottle is travel-friendly and easy to slip in your bag. It's also small enough to meet TSA guidelines when you're flying.
As you spray this spritz all over Rover, it will gently neutralize bad smells and deodorize him. At the same time, the formula will detangle his coat and help it to stay soft and smooth.
The distinctive sugar cookie scent is not to everyone's liking. Some customers claim it smells good enough to eat, while others report a cloying smell that seems overpowering. The best option when you're buying dog perfume, just like when you're buying fragrance for yourself, is to head to a physical store and smell some. You can still make your purchase online if you prefer, but you'll do so with your eyes open.
Keep stinky dogs under control even if it's not quite time for a bath with this highly effective yet gentle cologne.
Things We Like
Deodorizes and spritzes
Conditions coat
Striking scent
Things We Dislike
Some find smell overpowering
---
Conclusion
You may have arrived here at BarkVA today without the first idea about how to find the best perfume and cologne for dogs. That should no longer be the case.
If you stick with any of our top 10, you can buy with your eyes wide open, fully apprised of the benefits and drawbacks of these sprays. Perhaps you find a canine cologne that's not on our list. In this case, we'd suggest you keep an eye out for the points to consider we raise above, and you should have no snags establishing if it makes the right fit for your pooch.
We bring you fresh content daily covering all the pain points faced by dog owners the world over. If you have any comments or feedback, please feel free to start a dialogue in the comments under any of our articles. Bookmark our blog and be sure to pop back soon!
As an Amazon Associate, we earn from qualifying purchases - at no cost to you, allowing us to continue our work.