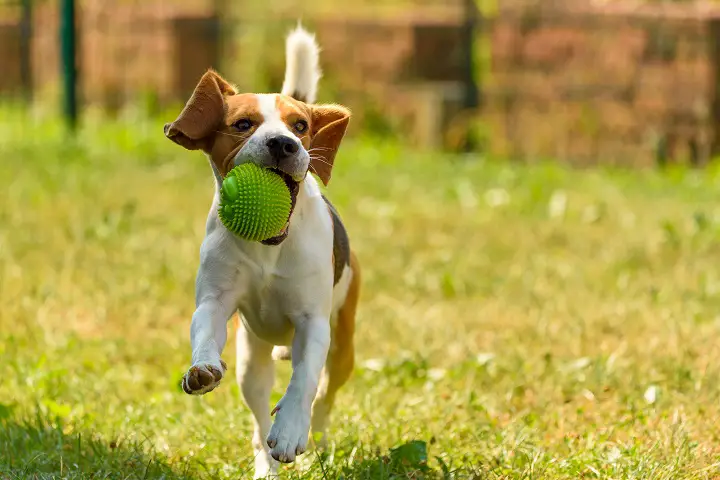 Dogs are easygoing animals and not exactly picky about what goes in their mouth.
From the TV remote to your new Nike or Adidas, it seems nothing is safe, not even your precious furniture!
Nothing is safe, that is, until you consider the best indestructible dog toys.
Before we go any further, a quick note. Dogs have incredibly sharp teeth and can bite down with remarkable pressure. This being the case, no toy is literally indestructible. We say this not to disappoint you, but rather to keep your expectations reasonable.
Beyond this, you'll also need to think about the size, breed, and temperament of your pooch.
If you're still unsure what you're looking for, focus on the following pointers when you're hunting for a new treat for your hound.
Your dog's personality: As well as the size of your pup, you should also factor in how your dog likes to play, whether or not he enjoys playing in the water, if he enjoys chasing and fetching – what dog doesn't, right? – since all these factors will dictate the most suitable type of toy. Don't rush this part of your buying decision or you're highly likely to get it wrong
Material: All the toys we review are made from robust, safe, and non-toxic material. If your dog tends to bite hard, avoid those toys with a reputation for splintering
Design and color: Any sharp edges are a recipe for disaster. Opt for lighter colored toys so you can more easily see when they pick up some dirt
Natural and organic options: If you're an eco-conscious shopper, you're spoiled for choice with natural and all-organic options
Price/performance ratio: We typically steer you toward great value products, but in the case of dog toys for pups that bite lots, you should dig deeper. A cheap dog toy is likely to let you down and could even end up breaking and injuring your furball
Now, with those basics sketched in, it's time for the main event. We've assembled a cross-section of the most durable toys you can find to keep even the most bite-prone dog in check.
BarkVA is reader-supported. When you buy via the links on our site, we may earn an affiliate commission at no cost to you.
I. The 8 Best Indestructible Dog Toys
1.

Our #1 Pick:

Kong Extreme Dog Toy
The Kong brand has a wide variety of great dog toys, but we're limiting ourselves to just one today in the form of this Extreme toy.
Sized from small through XXL, you should easily find something strong enough for the most aggressive canine chewers. This Extreme model is finished in black rubber and is specifically designed for power chewers.
It's not just giving your pup's jaws and teeth a workout where this toy excels, though. With Extreme, your dog will stay stimulated not bored. He can also sharpen his digging and hiding skills while the toy can even help if he's suffering from separation anxiety.
Now, to save repeating ourselves, you'll find user reviews from some disgruntled pet owners suggesting that their hound destroyed this toy just like most of the others we review. You know your dog's behavior better than anyone so bear this in mind: if he wrecks every other toy he touches, chances are he'll tear his way through this as well.
When your furball is done playing, just slip this toy in the dishwasher and you're good to go.
Things We Like:
Multipurpose toy your pooch will love chewing, chasing, and fetching
Dishwasher-friendly so no hassle with clean-up
Backed by vets worldwide as a healthy and safe dog toy
Things We Dislike:
The fiercest dogs might chew their way through eventually!
---
---
2.

Runner up:

West Paw Hurley Dog Toy
West Paw make some rock-solid pet toys capable of keeping your mutt occupied for hours. What's the deal with this floating bone, then?
If you frequently head down to the water with your pup, why not liven up his outing with this safe and dishwasher-friendly bone?
The Hurley is the most rugged of the wide line of toys. Suitable for even more aggressive breeds, choose from 3 sizes to suit.
Designed in tandem with Zogoflex, these chews are FDA-compliant so you can give them to your pups with a clear conscience.
When your dog has finally decimated this chew, you can send it back to the manufacturer for recycling. So, do your part for the environment while also giving your mutt a treat: what's not to love?
Things We Like:
Floating bone ideal for water play
A far safer alternative to your dog gnawing on sticks
Trio of sizes to suit most breeds
Things We Dislike:
A few complaints about lifespan from disgruntled users
---
3.

Best Natural Pick:

White Tail Naturals Water Buffalo Bully Horn
Have you been searching for a natural dog toy? If so, there's every chance you've burned through a number of useless options. Is this water buffalo horn worth your time or a waste of money?
For any dogs struggling with weight management, these treats are tailor-made. Packed with protein but super-low in fat, you'll give your pup everything he needs and nothing he doesn't. You won't get any nasty fillers, additives, or artificial colorings thrown in either.
Grain-free and totally organic, these bully horns make a neat fit for any pet owners concerned about chemicals and preferring an all-natural route to dog toys.
The strength of this horn is such that even more feisty pooches should meet their match. As with all these indestructible dog toys, it makes sense to monitor your dog the first few times he uses it. You can then quickly determine whether or not he's likely to splinter pieces off or not.
Things We Like:
All-natural treat laden with protein but low in fat
Organic and grain-free with no added preservatives or additives
Ideal for all life stages and breeds
Things We Dislike:
A few owners claim this treat is prone to splintering
---
4. Pet Qwerks BarkBone Stick
Coming in mint or peanut butter flavor, what makes this BarkBone stick from Pet Qwerks stand out?
Shaped just like a regular bone, give your hound a taste of the wild and a dental-friendly treat capable of scouring away plaque and minimizing the chance of your pup needing cavities.
Non-edible, your dog can chew away while stimulating and massaging his gums.
While we could unearth no complaints about this toy being damaged by dogs, a few unhappy owners stated that their dog's gums started to bleed after they used this bone. These risks apply to all sharp and bone-like objects, so we don't feel this is a particular slight on this stick.
If your mutt routinely shreds and destroys seemingly unbreakable toys, unleash him on this bad boy!
Things We Like:
Stick shaped just like a real bone
Bone is non-edible so serves to massage your pup's gums while scraping plaque from his teeth
Super-simple for your dog to grasp and hold
Things We Dislike:
Several owners suggest their dog experienced bleeding gums using this bone
---
5. Buck Bone Organic Elk's Antler
Next up we have an organic elk's antler from Buck Bone that comes in a nifty resealable pouch so you can contain the smell when it's not in use. We point this out since a handful of disgruntled users complained about the odor of this antler.
The all-natural flavor will remind your dog of life in the wild without forcing him to endure any hardship.
Choose from a variety of pack sizes to suit the number of dogs you have and your budget. If you're hoping to kiss goodbye to chemicals and give your dog a natural and completely organic toy that also happens to be nigh-indestructible, you can't go wrong here.
Things We Like:
Choose from a range of pack sizes to suit
All-natural to give your hound a taste of the wild
Resealable pouch bundled to keep antler fresh
Things We Dislike:
Some users complain of a smell developing after a few days
---
6. Goughnuts Original Medium Dog Chew
Goughnuts produce a range of indestructible dog toys capable of keeping dogs from 10 pounds to over 100 pounds happy, stimulated, and entertained.
These toys come in a dazzling array of sizes and strengths to suit the breed and temperament of dogs you have at home.
As with all these toys designed to withstand serious punishment, you might find your dog chews through this eventually. If you've previously disappointed by toys with a poor lifespan, you'll appreciate the lifetime warranty you get with this toy.
Things We Like:
Multiple grades available to suit the aggression of your dog
Toys available for dogs from 10 to 100+ pounds
Lifetime warranty for complete peace of mind
Things We Dislike:
Some dogs might manage to chew off parts of this toy
---
7. M.C. Works Pineapple Dog Chew
As we edge to the end of our indestructible dog toy reviews, a striking and heavyweight pineapple that should keep even the most aggressive biters happy all day long.
Whether you want to add another layer to your hound's dental hygiene routine, you need to keep him occupied while you're at work, or you just want to remind him of life in the wild, investing in this durable toy will make your dog remarkably happy.
Made by a family-owned and family-run company in the USA, you can buy with complete confidence. Not only is this one of the most robust toys you can find, it's also warrantied for life so what are you waiting for?
Things We Like:
Highly versatile toy that promotes chewing while also acting as a stress-reliever for your furball
Large and bulky chew that should withstand some serious punishment
Ongoing replacement offer for life of product
Things We Dislike:
Not cut out for really aggressive chewers
---
8. West Paw Zogoflex Tuck Tree Interactive Dog Chew
To round out, we have another Zogoflex gem from West Paw, but what differentiates this toy from the pack?
Well, unlike the other toys we review, this also serves double duty as a treat dispenser. Load in your pooch's favorite snacks and watch as he plays to get his reward.
Once you're done, all you need to do is pop this toy in the dishwasher to keep hygiene uppermost.
Choose from a bewildering range of colors schemes to keep your dog content and to ensure his teeth remain at their very best.
Things We Like:
Comes in an impressive array of colorways
Stimulating and interactive toy to keep your dog mentally engaged
Non-toxic, dishwasher-friendly and completely recyclable
Things We Dislike:
Opening for the treat is just too shallow
---
OK, just before we round out for the day, we've put together some answers to the most frequently asked questions about unbreakable dog toys.
II. FAQs
1) Are any dog toys really indestructible?
There are too many variables to offer a definitive answer. As we mentioned right at the start, you should be wary of toys marketed as unbreakable due to the mechanics of a dog's teeth and biting power. The best you can hope for is a toy that gives you a reasonable lifespan for the price. All the toys we review above should last for years.
2) Do very durable dog toys come with any drawbacks?
They sure do. No product is perfect. These super-rugged toys might be too heavy for some dogs. Depending on how your dog bites, he could end up destroying the toy quicker than you think.
3) Is it not best to have dog toys made from soft material?
No. Soft toys made from fabric might be easy on your dog's mouth, but they're not long-lasting.
4) Is it worth paying more for a great indestructible dog toy?
With these products, we would have to say it's a wise idea to spend out on a decent model and you should be rewarded with a toy that's built to stay the distance. We've included a worthwhile budget pick if you're tight for cash but not prepared to compromise on quality.
5) What's the single most indestructible dog toy on the market?
In our opinion, nothing comes close to the Kong Extreme dog toy. Not only is this particular toy practically unbreakable, but the manufacturer also produces a deep bench of rugged toys and supplies to keep your dog happy year-round even if he usually leaves his new toys in tatters within minutes.
---
III. Conclusion
We trust by now you have a solid understanding of the most durable and stimulating toys to keep your dog's teeth and gums on point while also keeping him occupied and stimulated.
If you frequently head down to the water with your hound, you can find plenty of suitable floating toys. The same applies if you want toys designed for your dog to chase and fetch. Throw in interactive dog toys and organic products that remind them of life in the wild, you have no shortage of options.
Stick with any of the indestructible dog toys we review and you're in totally safe hands. How about if you spot a toy not on our list? No problem. All you need to do is study our brief buying guide above and you should have no issue picking up an appropriate toy without too much time or trouble.
Bookmark BarkVA and be sure to head back soon.