When you're shopping for dog beds, you're spoiled for choice.
Cave beds offer Rover the chance to snuggle up in a cozy grotto while memory foam dog beds are orthopedically-designed to ensure your furball sleeps as well as you do. You can even find beds specifically designed for arthritic dogs.
While all of these canine beds are effective, they might be too delicate for your hound. If you have an aggressive chewer, you've doubtless experienced more than one shredded dog bed already. By the end of today, you'll have plenty of options to prevent this from happening again.
If you're finding that Rover frequently chews his bed, it's worth exploring the reasons why as well as investing in the best indestructible dog bed. Here are the most common reasons for canines attacking their bedding:
Hunger
Lack of stimulation
Teething
Improper training
What should you look for when you're trying to find a bed capable of withstanding your furball's frustrations?
Consider these pointers and you'll find the best indestructible bed the easy way:
Type of bed: A chew-proof bed is designed to cope with the rigors of aggressive canine chewers. The metal frames and tough lining get the job done, but they don't provide Fido with a comfy sleeping surface. Raised beds discourage dogs from chewing the tough material from which they're made. The elevated design promotes excellent airflow. Chew-resistant dog beds are designed to inhibit chewing while offering a little more comfort than some more extreme indestructible dog beds
Build quality: Look for well-made dog beds that are well finished and made from high-grade materials
Durability: Closely linked to build quality, read plenty of user reviews to establish the likely lifespan of any beds on your shortlist
Thickness: If your dog is prone to biting and chewing his bedding, look for a thick construction that will make things very difficult for him. The inbuilt bonus is that thick beds will be comfier, too
Ease of cleaning: Any good dog bed needs to be easy to clean. Dogs shed hair and dander continuously, and you'll need to keep Rover's bedding clean without any hassle on your part. Look for easy-care bed
Minimal edges and zippers: The more seams, buttons, edges, and zippers on the bed, the more possible points of attack are left open for Fido
OK, with those basics sketched in, you should be perfectly placed to determine the best dog bed for your power chewer.
We'll now review the 9 best indestructible dog beds so you can establish if any of them make the right fit for your furball.

Barkva.org is reader-supported. When you buy via the links on our site, we may earn an affiliate commission at no cost to you.
The 9 Best Indestructible Dog Bed
1.

Our #1 Pick:

Dogbed4less Memory Foam Dog Bed
Features
Cotton and denim
Memory foam
40 x 35 x 4 inches
Our overall favorite dog bed designed to cope with power chewers comes from the highly reputable Dogbed4less.
The intelligent design gives your dog closely-contouring memory foam so he'll get a supportive and orthopedic sleeping surface that inhibits chewing. He won't have anything to get his teeth amongst, here.
The mattress is covered with a removable denim material that's remarkably hard-wearing while also delivering a great lifespan. There's also a suede cover bundled giving you a backup if you need to dry your cover after popping it in the washing machine. The cover is also safe to machine dry.
This Extra-Large version is ideal for bigger breeds. There's a wide choice of alternative sizes if this doesn't make a good fit for your pooch.
Although claimed waterproof, we unearthed a few complaints from customers calling the effectiveness of this waterproofing into question.
If you're looking to provide your mutt with a comfortable yet super-supportive bed that won't end up in tatters, Dogbed4less delivers as promised.
Things We Like
Huge choice of sizes
Memory foam closely contours
Machine washable cover
Things We Dislike
Not as waterproof as claimed
---
2. K9 Ballistics Elevated Chew-Proof Dog Bed
Features
Canvas, metal, and fabric
Fits inside small crates
29 x 18 x 3.5 inches
Next up is another elevated bed ideal for inhibiting aggressive chewers from tearing up their bedding.
Available in a broad spread of size, this is the smallest model ideal for small and medium breeds prone to digging, nesting, scratching, and chewing.
If you've tried less robust beds and been disappointed when Rover rips them apart, this indestructible bed should do the trick.
This bed is designed to fit inside standard dog crates. It's designed to fit snugly inside with no potentially dangerous gaps left around the edges.
The frame is made from lightweight but rugged aluminum. Draped over this is a ripstop ballistic fabric offering first-class durability. As with all indestructible dog beds, this is not the comfiest sleeping surface, but that's a compromise you need to make with power chewers or extreme diggers.
The manufacturer offers a comprehensive warranty covering you for any damage sustained during the first 120 days of use. You'll qualify for a replacement bed giving you total peace of mind.
Things We Like
Ideal for smaller dogs
Chew-proof and indestructible
Elevated design
Things We Dislike
Not good for bigger breeds
---
3. Kuranda Chew-Proof Dog Bed
Features
Stainless steel, vinyl, and fabric
Aluminum frame
50 x 36 x 9 inches
Elevated dog beds are a great solution if you have an aggressive chewer in the house. Kuranda offers this platform in a wide array of sizings to suit just about any breed. This XXL iteration is sized at 50 x 36 x 9 inches, making a great bed for much larger dogs.
Choose from 4 colors to suit the temperament of your pup.
The aluminum frame is strong enough to withstand Fido's ravages, while the vinyl and fabric sleeping surface offer him no purchase for chewing or digging. The frame can bear up to 250 pounds making it a first-class structure for energetic hounds.
The bed is made in the USA by a company specializing in robust products to defy the most powerful chewers out there.
Guaranteed for 1 year, you can buy with complete confidence and solve the problem of wrecked pet bedding once and for all. Giving the commendable performance and indestructible nature of this bed, you'll be amazed at the low pricing, so what are you waiting for?
Things We Like
Durable vinyl finish
Super-strong frame
1-year limited warranty
Things We Dislike
---
4. Paws and Pals Elevated Dog Bed
Features
Metal and mesh
Waterproof
32 x 25 x 8 inches
If you have a smaller pup at home and you're looking to stop him from chewing through his bedding, this compact and lightweight example from Paws and Pals is well worth popping on your shortlist.
Before anything, this bed is only a good fit for smaller dogs, although there is a slightly larger model available. This model has a 35-pound upper weight limit. You can buy a replacement cover for either bed which is a nice touch.
If you frequently travel and take Fido on the road, this makes a superb travel bed. It folds down after use and you can store it away in a small space.
Some minor assembly is required, but all hardware is provided, and you won't need any tools for set-up.
The surface is easy to wipe down and keep clean. Given the waterproof design, this bed can also be safely used outside giving you enormous versatility at a bargain basement price.
Despite its limitations and relative flimsiness compared to the more robust beds on our shortlist, this makes a fine solution for owners of smaller dogs prone to destroying their bedding.
Things We Like
Trampoline-style fabric
Wipe down with soap or cleanser
Compact when disassembled
Things We Dislike
Quality control could be improved
---
5. AmazonBasics Elevated Dog Bed
Features
Fabric
Elevated design
3 x 31.5 x 7.6 inches
The mighty Bezos stable now offers the AmazonBasics line, pocket-friendly products designed to compete with the leading offerings at a fraction of the cost. Is this bed any good, though, and is it indestructible?
First of all, you'll need to negotiate assembling this bed. Instructions could be clearer and the process is awkward. If you dislike DIY, this is not the best choice of dog bed.
Once you're up and running, you'll give larger dogs a supportive raised bed that gives them very little scope for biting or chewing. The flip-side, as with most indestructible dog beds, is a fairly solid and uncomfy bed. Sadly, this is a price power chewers pay for their propensity to wreck bedding.
The raised design helps to encourage excellent airflow. This will keep your pup cool when the mercury rises.
With 5 sizes to choose from, you can cater for dogs of all shapes and sizes. This Large bed is intended for bigger breeds like German shepherds and boxers.
For a cost-efefctive and highly durable bed even large, aggressive chewers shouldn't tear apart, AmazonBasics hits a home run.
Things We Like
Breathable mesh
Ideal for larger breeds
Straightforward cleaning
Things We Dislike
Assembly is not straightforward
---
6. Frisco Steel-Framed Dog Bed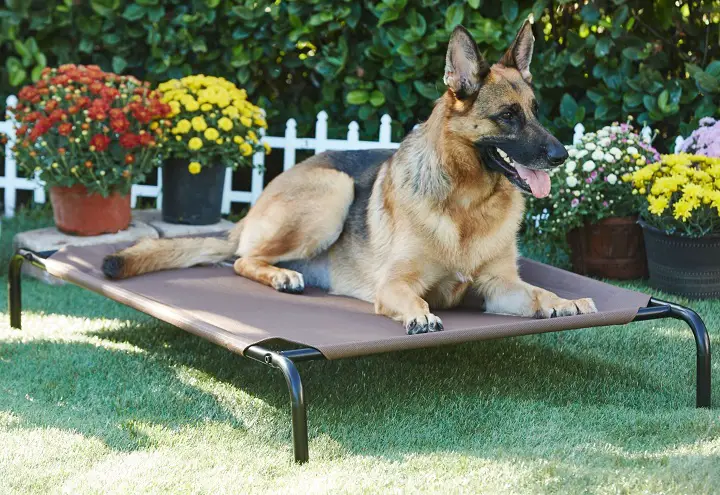 Features
Polyester and metal
Elevated design
6 x 31.8 x 7.75 inches
Frisco delivers a robust and affordable raised dog bed in a range of subtle colors to suit your pup.
There are 3 sizes up for grabs. This bed is the Large model and makes a smooth fit for most larger breeds.
How about the build, then? Well, the skid-resistant feet ensure the bed is firmly anchored to the floor and will present no problem even if you have a more mobile and energetic dog. You're free to use the bed indoors or outside. It's waterproof and weatherproof.
The powder-coated steel frame is solid and durable. Stretched over the top of this, you get a fabric sleeping surface that offers reasonable comfort considering its near-indestructible nature.
Assembly is straightforward making this a smart bet for anyone not practically-inclined.
The bed should resist sagging even if you have a heavier pooch. The only real negative feedback from users concerns longevity, but we feel you need to keep your expectations firmly pegged at this price point.
Things We Like
Breathable and comfortable
Hard-wearing
Quick and easy assembly
Things We Dislike
Lifespan could be improved
---
7. Coolaroo Steel-Framed Dog Bed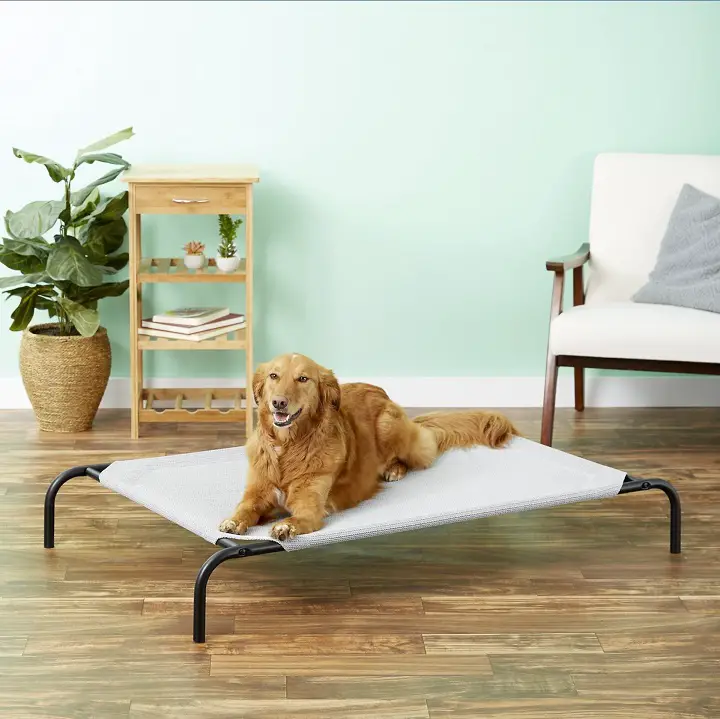 Features
Polyethylene
Elevated design
51 x 31.5 x 8 inches
Next up we have a superb steel-framed dog bed capable of preventing even the most powerful chewers from decimating it. How does this thing shape up, then?
Not only is the material – it's polyethylene – resistant to chewing, but it's also designed to discourage ticks and fleas, along with mold and mildew. This bed is ideal for use outdoors as well as inside the home.
The durable steel frame should return years of faithful service, but the frame is not usually the weak point of dog beds. Rather, it's the sleeping surface that Rover tends to nibble away at. Here, you'll have no concerns. The fabric is built to resist claws, paws, and sharp canine teeth.
Choose from 3 sizes depending on the breed of your dog. This is the largest of the beds, making a neat fit for most bigger breeds.
Things We Like
Resistant to mold, mildew, and fleas
Dense but breathable fabric
Elevated for great airflow
Things We Dislike
---
8. K & H Pet Products Elevated Dog Bed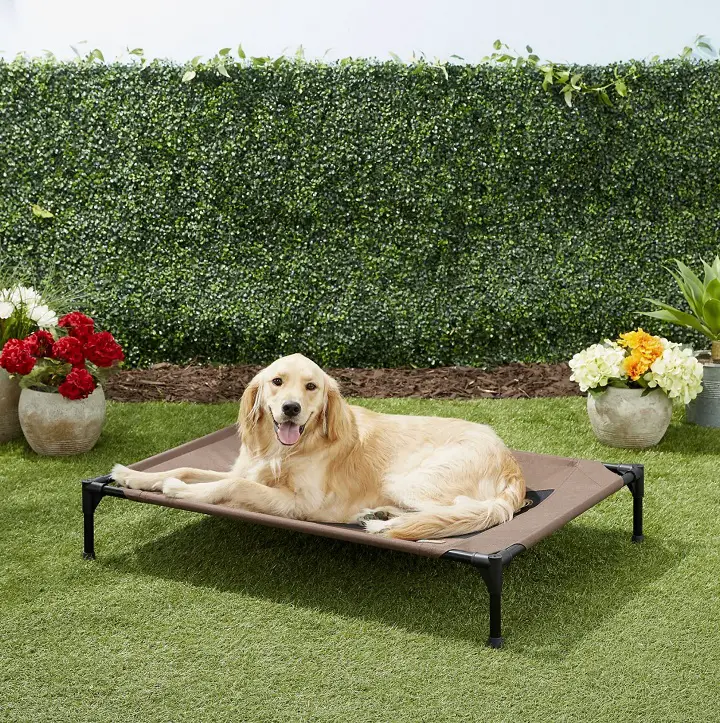 Features
Nylon and metal
Elevated design
30 x 42 x 7 inches
As we near the end of our search for the best indestructible dog beds, we've got another raised example, this time from K & H Pet Products.
As with all elevated beds, airflow is first-class and your pup should stay comfortable throughout the night, even if it gets hot and stuffy.
There are 4 sizings here, this bed the Large model near the upper end of the range. It's a good fit for medium breeds.
The rugged nylon is double-stitched for added reinforcement. That said, this is not the strongest option on our shortlist in terms of indestructibility. Several owners of dogs prone to digging and power chewing reported some damage.
Things We Like
Weatherproof and durable
Breathable fabric
Several sizes to suit
Things We Dislike
Not great for diggers or chewers
---
9. K9 Ballistics Tough Orthopedic Dog Bed
Features
Canvas and metal
Orthopedic construction
33 x 27 x 5 inches
The highly reputable K9 Ballistics serves up another excellent and remarkably durable pet bed perfect for energetic dogs that chew aggressively.
Choose from 4 colorways and 5 sizes to suit. This model is the black medium sized at 33 x 27 x 5 inches and ideal for smaller breeds.
Unlike many indestructible dog beds, K9 offers your pooch a supportive sleeping surface. The mattress is packed with CertiPUR-US. This means even heavier dogs won't sink too far into the bed. Give Fido orthopedic support with this rugged yet comfortable bed.
Hidden Velcro zippers close securely while also reducing the opportunities your dog has to pull the bedding away.
The cover is water-resistant but not waterproof so think twice if you have an elderly dog prone to accidents during the night.
You'll be covered during the first 120 days after purchase. If your furball chews his way through the bed, you'll be entitled to store credit for a free replacement. You can't ask for much more than that.
Things We Like
Multiple colorways
Completely indestructible
Huge spread of sizes to suit
Things We Dislike
Hard and unforgiving feel
---
Conclusion
Well, we hope today's guide to the best indestructible dog beds has given you plenty of food for thought.
Stick with any of the beds we highlight today and you can accurately determine which, if any, make the right fit for your dog. If you feel none of these beds is suitable, use our buying guide to help you choose the right one for your needs.
Remember, if you want a dog bed that's built to last for years, you'll need to dig a little deeper for the privilege.
Before you leave, take a moment to bookmark BarkVA. We've got another very busy month planned and we'll be bringing you more fresh content daily. We're here as your one-stop shop for all things dog-related. See you soon!
As an Amazon Associate, we earn from qualifying purchases - at no cost to you, allowing us to continue our work.