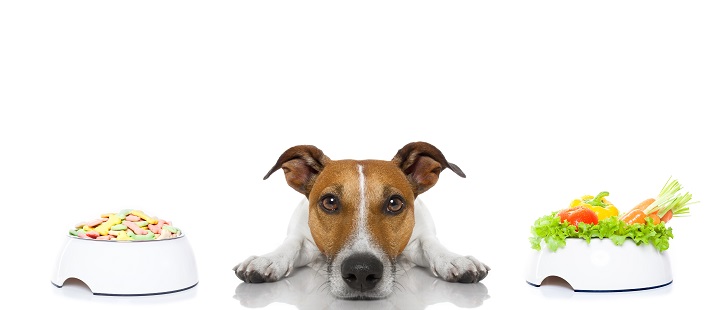 When you're choosing the most appropriate dog food for Rover, you should focus on giving him a complete and balanced diet.
As well as ensuring that protein, carbs, and fats are all present in the right proportions, you should also make certain your dog is getting enough fiber on board.
Why is this?
Well, fiber delivers valuable nutrients to the bacteria and cells in your dog's colon. Fiber also helps to stop some toxins from absorbing into the bloodstream.
Finding the best high-fiber dog food that your dog will wolf down can be tough, though.
If your dog is a picky eater, he might not find all high-fiber dog food to his liking.
With a bit of patience, you should find a food that's rich in fiber that your dog will relish. We review ten of these for you today, so you're spoiled for choice.
By providing your pooch with the right amount of fiber, you'll be delivering the following benefits:
Lowers the risk of colon cancer
Regulates Rover's bowel movements
Helps prevent constipation
Strengthens his immune system
Reduces risk of infections
Supports weight management
Stops canine bloating
Fiber can also help to improve diabetes, according to the AKC (American Kennel Club).
Not all fiber is created equal, though, so it pays to be aware of what kind works best for dog's whole body health.
You should always look closely at the labels on any dog foods you're considering. Ideally, look for food that's high in insoluble fiber. This type of fiber can relieve constipation, reduce bloating, and regulate bowel movements in your dog. Most vet's prescription diets for dogs will have elevated levels of insoluble fiber.
Even if you're brand new to dog ownership, you'll already be aware that dogs love eating. If they eat food that's laden with insoluble fiber, this expands their digestive systems. Resultantly, they will feel fuller more rapidly. This helps prevent overeating and obesity. By eating fiber-rich food, dogs will also feel fuller for longer.
There are many sources of insoluble fiber you could introduce into your furball's diet, including:
Pumpkin
Beet pulp
Ground flaxseed
Apples
Dark leafy greens
Brown rice
Carrots
Beyond adding these foods to your dog's diet, you could also consider any of the formulas on our shortlist, all ideal for dogs requiring a high-fiber diet.
Barkva.org is reader-supported. When you buy via the links on our site, we may earn an affiliate commission at no cost to you.
The 10 Best High Fiber Dog Food
1.

Our #1 Pick:

Nutro Natural Choice Dry Dog Food
Type: Dry non-GMO formula
Design: Adult dogs
First 3 ingredients: Deboned lamb, chicken meal, barley
Best for: For dogs aged 1+
Price: $$
Our overall favorite high-fiber dog food comes from Nutro with this dry formula packed with non-GMO ingredients from premium sources.
Protein comes from real meat as the first ingredient, lamb in this case.
There's no corn, wheat, or soy in this food, and there's no cheap filler either. There's no chicken by-product meal in this stuff either. The formula is composed of real and recognizable ingredients.
If you need to control your dog's weight, you'll find the perfect balance of protein and fiber in this high-fiber dog food. This helps streamline your dog's digestion, too.
Brown rice, pumpkin seed, and beet pulp are all great sources of dietary fiber, and this formula is packed with these and much more. In fact, the number of ingredients in this stuff is one of the only drawbacks. If your pooch has allergies, you may prefer a more limited ingredient formula. For most dogs, though, this clean and natural food makes a great choice.
The antioxidant formula will strengthen your furball's immune system, giving him everything he needs and nothing he doesn't.
---
2. Wellness CORE Dry Dog Food
Type: Dry grain-free formula
Design: Adult dogs
First 3 ingredients: Deboned beef, lamb meal, salmon meal
Best for: For all breeds
Price: $$
Wellness is famous the world over for producing first class dog food. How does the CORE range stand out?
Well, this formula is created with your dog's whole body health in mind. Things get off to a strong start with the protein content derived from real beef, the primary ingredient in this powerhouse formula.
This iteration of the formula is grain-free, but you can also find the food with grains if you prefer that type of diet for Fido.
This is a low-fat recipe promoting lean muscle growth.
Your mutt's fur and coat don't get overlooked here either. The food is laced with omega-3 and omega-6 fatty acids so Fido's coat will be gleaming once he transitions to Wellness CORE food.
The ingredients are all non-GMO, and you'll get balanced nutrition here with all the dietary fiber your dog needs for whole-body health.
A carefully chosen combination of prebiotics and probiotics serves to smooth your dog's digestive process, completing a powerful formula from a brand you can trust. As an added bonus, Wellness also offers a deep bench of dog food for special purposes beyond high-fiber formulas. Give your dog nothing but the best: he deserves it.
---
3. Blue Buffalo Wilderness High-Protein Dry Dog Food
Type: Dry formula
Design: Adult dogs
First 3 ingredients: Deboned chicken, chicken meal, pea protein
Best for: For all breeds
Price: $$
Blue Buffalo is a household name in the dog food space, and with formulas this strong, it's no surprise. How does the Wilderness line stand and fall, then?
Firstly, this recipe is designed to closely replicate foods your dog would eat in the world.
Real deboned chicken is the first ingredient and a prime source of protein for your furball. The chicken-laden food ensures that Rover's muscles develop without triggering weight issues. Remember, overfeeding your dog is unwise and irresponsible. You won't be doing him a favor if you load his bowl with too much food.
This formula will leave your hound full without relying on too much fat in the food. Instead, he'll be filled with nutrients and all the dietary fiber he needs for smooth digestion and bowel movements with no constipation blighting him.
As with all dog foods, what is not included is equally important as what's in this stuff. You get no corn, no wheat, and no soy here. There's no chicken by-product meal, and there are no artificial flavors and additives either. Introduce your dog to a taste of the wild and he'll never look back.
---
4. Instinct Raw Boost Dog Food
Type: Dry grain-free formula and freeze-dried raw pieces
Design: Adult dogs
First 3 ingredients: Chicken, turkey meal, peas
Best for: For all breeds
Price: $$$
As we near the midway point of our quest for the best high-fiber dog food, Instinct offers up this superb and innovative formula combining the best qualities of raw and dried ingredients. How does this formula stack up?
This is the first kibble boosted with raw ingredients that's intended for managing weight in dogs. The dry dog food is grain-free and studded with pieces of raw food toppers. When compared to the regular formula that's not meant for weight management, this food has 15% fewer calories and 25% less fat.
You certainly won't be depriving your dog of fiber either. You should notice your dog's stools are firmer and smaller. Digestion should also be improved thanks to the insoluble fiber in this stuff.
Beyond the fiber content, you'll also be maximizing the nutrients your dog takes on board. The raw food is minimally processed and retains all the vitamins, minerals, and amino acids to help your dog thrive.
---
5. The Missing Link All-Natural Dog Supplement
Type: Powder formula
Design: Adult dogs
First 3 ingredients: Flaxseed, molasses, rice bran
Best for: For all breeds
Price: $$
The Missing Link's superfood supplement is a great way of livening up your pooch's diet and introducing a fiber fest to reduce his risk of colon cancer while also smoothening the digestive process.
All you need to do is ladle in a spoonful of this supplement with your pup's regular food. The powdered formula is brimming with goodness and superfoods without containing any ingredients to irritate your dog.
When you're hunting for fiber-dense dog food, flaxseed is one of the best sources. This is listed as the first ingredient here serving up Fido with lashings of the right type of fiber. Followed up by molasses and rice bran, you'll be delivering a powerful shot of dietary fiber in a single spoonful of this supplement.
The cold-processed ingredients are entirely non-GMO.
Ideal for all life stages and all breeds, this is one of the most effective high-fiber dog foods you'll find, and you won't even need to switch from your dog's existing food. Sprinkle some of this stuff over the top of his food, and you'll hit his fiber requirements with interest. Let us know how he finds this supplement!
---
6. Solid Gold Grain-Free Dog Food
Type: Dry grain-free formula
Design: Adult dogs
First 3 ingredients: Pollack, pollack meal, pea fiber
Best for: For all breeds
Price: $$$
Solid Gold has a reputation for providing first-rate dog food formulas, even if you need to dig deep for the privilege.
The puffy hunks of kibble are low-fat and low in calories, while still providing your pooch with a filling meal that's packed with the right type of dietary fiber. Not only will you minimize his risk of colon cancer, but you'll also improve his digestion and the consistency of his stools.
Loaded with patented probiotics high in fiber, you'll be doing everything you can to enhance your dog's immune system while also promoting gut health.
Each Solid Gold formula is brimming with 20 superfoods, including the fiber-rich pumpkin.
The first ingredient here is Alaskan pollack, a premium source of protein that avoids chicken, something that not all dogs tolerate well. The omega-3s and omega-6s in this stuff help bring out the very best in your furball's coat.
For a fiber-sensation from a brand you can rely on, you can't go wrong here with Solid Gold.
---
7. Holistic Select Dry Dog Food
Type: Dry grain-free formula
Design: Adult dogs
First 3 ingredients: Chicken meal, potatoes, peas
Best for: For all breeds with weight-management issues
Price: $$
Holistic Select's dry dog food is a grain-free formula that's overflowing with goodness but contains no ingredients that are not beneficial to your furball.
Ideal for all adult dogs, especially those with weight management issues, how does Holistic Select food perform, then?
Firstly, this formula is a fiber-feast. You'll do your part and minimize your furry friend's chance of developing colon cancer, and you'll also keep him regular.
Flaxseed is not only a rich source of dietary fiber, but also promotes skin and coat health. Your dog will also benefit from plenty of fatty acids, too, giving his coat a resplendent sheen.
Prebiotics and probiotics crammed into this food help to regulate digestion further.
Not only is this food ideal for weigh maintenance, but your dog should also find it lip-smackingly tasty.
This food is made at a facility in the USA and you'll be giving your pooch some all-American goodness that takes advantage of the best ingredients worldwide to hit all your dog's nutritional needs.
---
8. Nutrisca Grain-Free Dog Food
Type: Dry grain-free formula
Design: Adult dogs
First 3 ingredients: Salmon, fish meal, peas
Best for: For all life stages
Price: $
As we near the end of our collection of the best high-fiber dog food, Nutrisca's grain-free formula gives you a pocket-friendly solution for ramping up the fiber content of Rover's diet.
Despite the keen pricing, all the ingredients here are real foods, leading off with salmon as the first ingredient.
Grain-free, you get no corn, no soy, and no wheat in this stuff. There are no artificial colors or additives spoiling the food either, so Fido gets an all-natural taste sensation.
This is a high-protein food ideal for helping your hound pack on plenty of lean muscle as he grows.
The high content of insoluble fiber in the formula brings about all the benefits associated with loading up on dietary fiber.
Ideal for all life stages, you'll be doing your part and delivering your beloved furball balanced nutrition with all the minerals, vitamins, and macronutrients he needs to enjoy a long and healthy life. The only caveat is the food doesn't work well for growth in larger dogs.
---
9. Fromm Gold Coast Grain-Free Dog Food
Type: Dry formula
Design: Adult dogs
First 3 ingredients: Whitefish, salmon meal, lentils
Best for: For all breeds
Price: $
Not all dogs are chicken lovers, so if you're finding your furball is turning his nose up at meat, why not try him out on a fish formula?
Fromm Gold Coast's grain-free food features whitefish and salmon meal as the first two ingredients.
The concept of this formula is to help manage your dog's weight without forcing him to miss out on any of the nutrients he needs for whole-body health.
There's a small 4-pound bag available, always useful if you're trying your dog with new food and you're not sure he'll like it. Once you discover he wolfs this stuff down, you can invest in a better-value 12-pound or 26-pound bag.
Fully 6% of the food is fiber, giving your dog absolutely everything he needs to stay strong and healthy while reducing the likelihood he'll be stricken by colon cancer.
The best thing? Not only will this food impart all the nutrients your furball requires, he'll also find it delicious, so what are you waiting for?
---
10. Royal Canin Fiber Response Dog Food
Type: Gastrointestinal response formula
Design: Adult
First 3 ingredients: Vegetable fibers, rice, animal fats
Best for: For all breeds
Price: $$$
To round out our quest for the best high-fiber dog food, we have an entry from the ever-reliable Royal Canin.
This veterinary diet formula is rich in fiber, ideal for preventing canine colitis and diarrhea. Vegetable fibers are listed as the primary ingredient, followed by rice. Both of these will supply your dog with a concentrated dose of the right type of insoluble fiber your furball needs.
If your dog has been suffering from intestinal swelling, this food is loaded with fatty acids, omega-3s in particular, that will help to soothe this swelling. The fatty acids also provide nourishment for your dog's GI tract.
Laced into this recipe are ingredients that will bolster your dog's intestinal flora.
All of these areas of your dog's health need your input and help, so don't leave him to suffer from stomach problems when you can invest in some outstanding fiber-rich food that also serves to strengthen his whole body. See how Fido takes to Royal Canin. We feel he'll be impressed.
---
FAQs
1) Why does my dog need dietary fiber in the first place?
Food with the right amount of fiber can help your dog in many ways. Not only does feeding your dog a fiber-rich diet improve his overall colon health, but you'll also be minimizing his chances of developing colon cancer. High-fiber dog food can also be beneficial for weight management purposes. Fiber goes some way toward stabilizing blood sugar levels in diabetic dogs. Fiber also serves to help control constipation and diarrhea.
2) How does fiber play a role in canine weight management and weight loss?
By feeding your dog high-fiber foods, it will increase the bulk in his diet. He'll feel fuller for longer without adding calories.
3) What are the best foods I can give my dog if I want to increase the amount of fiber he's consuming?
Firstly, consider a high-fiber dog food like the ones on our list today. That way, you won't need to worry about sourcing ingredients as the formula already contains ample fiber. Brown rice, oats, pumpkin seeds, flaxseed, vegetables like carrots and beet pulp, and apples all contain plenty if dietary fiber.
4) What's the difference between soluble fiber and insoluble fiber?
Fiber, then, is the element of plant-based foods that pass through your dog's digestive system without being broken down or digested. Soluble fiber (gums, plant pectins) dissolves in water. Insoluble fiber (plant cellulose, hemicellulose) doesn't dissolve in water. Broadly speaking, soluble fiber can help to improve digestion. This type of form can also reduce blood sugar levels, making it potentially useful as a component of managing diabetes. Insoluble fiber, by contrast, will attract water into your dog's stools. This softens the stools and makes it easier for your dog to poop. This type of fiber also promotes bowel health and keeps your pooch regular.
5) What happens if I feed my dog a diet containing too much fiber?
Too much fiber in your dog's diet can trigger bloating and gas, so avoid this.
6) How does fiber in dog food help to manage diarrhea?
Fiber in dog food absorbs moisture. At the same time, it has gelling and binding properties that mean high-fiber foods are worth introducing if your pup is suffering from a nasty bout of diarrhea.
7) I heard that fiber is not considered an essential nutrient.
This is technically correct, but the vast bulk of commercial dog food contains fiber, as it's certainly beneficial, even if it's not termed essential. Don't sell your furball short here.
8) How is it possible for fiber to reduce my dog's risk of developing colon cancer?
The way in which fiber accelerates elimination means your dog's exposure to carcinogens will be limited. As an unbuilt bonus, the fiber should also alleviate diarrhea and constipation symptoms.
9) How is fiber believed to help with managing diabetes?
Fiber slows down digestion in your dog. This alone may help prevent blood sugar levels from suddenly spiking. Some research also suggests that fiber can sometimes reduce sensitivity to insulin in dogs. The reason for this is not yet fully understood.
10) If I want to change my dog to a high-fiber dog food, how should I do this?
Make the change gradually over the course of a ten-day period. Begin by introducing 25% new food with 75% of his old food. Stick with this ratio for a few days to get him accustomed to the new food. Start mixing 50% old food and 50% new food for a few days. Add even more of his new food until, after ten days, he's wolfing down all-new high-fiber dog food.
---
Conclusion
We hope today's showcase of the best high-fiber dog foods has given you plenty of options for switching up Rover's diet.
Whenever you're changing your dog's food, you should do so gradually over the course of ten days. Start by mixing 25% new food with 75% of his old food. Then, increase the ratio so he's eating a 50/50 mix of old and new food. Push the new food up to 75% of his total ration, and then move on to all-new food after ten days.
We would always advise starting off with a small bag of food until you're sure it makes a good fit for Fido.
Before you head off, take a moment to bookmark BarkVA. We bring you fresh content daily covering all aspects of dog ownership, from feeding guides through to advice on choosing the best dog gear the easy way. We'll see you soon!