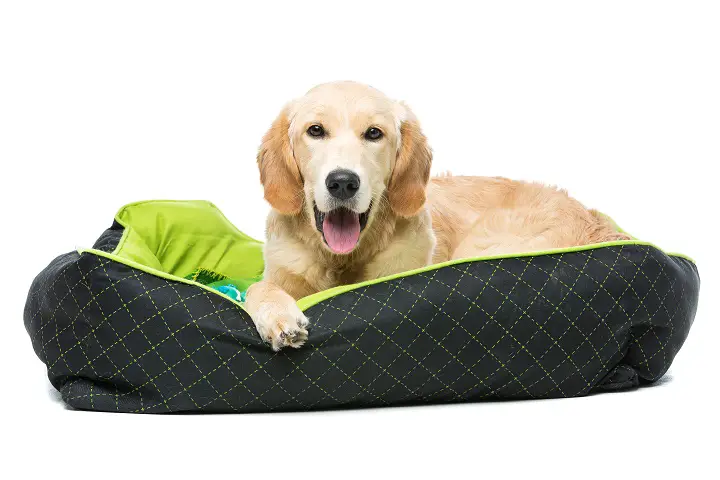 Old dogs, young dogs, and sick dogs have one thing in common: they are all highly sensitive to cold weather. While you can find plenty of clothing to keep your pooch warm, how about when it's time for sleep?
Well, heated dog beds perform the same role as an electric blanket you might use for your own bed.
When you're shopping for heated dog beds, you can choose from four main styles:
Bolster
Flat pads
Outdoor heated beds
Heated furniture covers
Now, buying a dog bed doesn't involve the same level of complexity as buying a bed for yourself. Nevertheless, there are a few simple pointers to bear in mind that will simplify your buying decision.
Here are some things to note when choosing to buy a heated dog bed.
Focus on high quality materials: As with just about anything you buy that comes into contact with your pet's fur and skin, you should focus on getting the best materials you can find. You wouldn't stint on your own bed, so why cut corners with your pet's sleeping quarters? Look for a combination of comfort and support. Durability is another important factor. Aim for a balance and you can't go wrong.
Consider the size and sleeping habits of your pooch: Many of these heated dog beds are designed purely for smaller dogs. If you have a much larger breed, you'll have sorely limited options. You should also think closely about your dog's sleeping habits. This will inform the type of bed that makes the best fit.
Colorways: Some of these heated beds come in a bare handful of color schemes while others allow you to choose from all the colors of the rainbow. This may or may not be important to you. If you are a fan of color coordinating your dog's gear with your own design scheme, opt for a heated pet bed with a wide choice. If your dog dislikes certain colors, steer clear of these. If you decide on a color similar to your dog's coat, this will hide the dirt and hair.
Electric or self-heating: Some heated dog beds require electricity and work like electric blankets. Others are made from highly insulated material and act as self-heating beds. Although electric-powered heated beds are extremely effective, there's always a chance your dog will bite his way through the power cable.
Portability: If you spend a lot of time on the road, look for a bed that's easy to take with you.
Washing and maintenance: Make sure the dog bed you're looking at is easy to clean and look after. Many of these beds are safe to pop in the washing machine, some are even OK to tumble dry. Make sure you buy a bed in line with your preferences for upkeep.
Price/performance ratio: Rather than becoming obsessed with the bottom line, examine the price of the dog beds you're considering set against performance. If you look for overall value rather than focusing purely on price, you'll have a much stronger chance of finding the best heated dog bed for your needs.
Is a Electric heated dog bed safe for my naughty dog?
All heated dog beds should come with an anti-bite layer on the power cord. As such, all heated beds intended for pet use should be perfectly safe. If your dog is prone to biting things and you're still concerned, consider opting for a self-heating bed. These come with highly insulated layers and your pup should be warm enough without any electrics involved.
BarkVA is reader-supported. When you buy via the links on our site, we may earn an affiliate commission at no cost to you.
I. The 10 Best Heated Dog Beds
1.

Our #1 Pick:

K & H Pet Products Self-Warming Crate Pad
First up in our quest for the best heated dog beds is a superb self-warming pad from the stellar K & H Pet Products.
With a broad spread of colors and sizes to choose from, you should find something suitable whatever type of hound you own. As you'll see, most of the other heated beds we review today are exclusively for smaller dogs.
This pet bed is super-simple to wash and look after so perfect if you have a busy lifestyle but you don't want to compromise on your pet's comfort.
The only real complaint we could find when scouring user reviews concerns the amount of heat generated. A few consumers were disappointed in this regard. In fairness, the vast bulk of feedback is overwhelmingly positive. This is our overall pick for best heated dog bed so why not give it a try?
Things We Like:
Self-warming functionality so heat radiates back to your dog
Choose from 3 colors and 6 sizes for the perfect pet bed
Couldn't be easier to wash and look after
Things We Dislike:
A few disgruntled users claim this doesn't kick out as much warmth as advertised
---
2. K&H Pet Products Outdoor Heated Dog Bed
If you need a dog bed for use in covered and sheltered outdoor areas like barns, sheds, or outbuildings, K&H Products is one of the most reputable brands providing them.
This is the largest of the 3 sizes on offer, measuring up at 25 x 36 inches.
There is a lengthy 5.5 feet cord that's wrapped in steel for your dog's safety. There's no chance even an inquisitive and aggressive chewer will work his way through this cord.
The pad is designed to slip inside a larger dog bed, or you can leave it freestanding on the floor. Your pup will appreciate the way it warms to his body's temperature, keeping him snug even when the temperature plummets.
Padded with soft orthopedic foam, you'll ensure your dog gets the support he needs when he's curled up resting.
Meeting all the relevant safety standards, you can use this heated dog bed for your furball with complete confidence. Watching his contented expression as he slumbers toasty warm makes the investment worthwhile.
Things We Like
Supremely padded orthopedic foam
Warms to your pet's body temperature
Meets all safety certification standards
Things We Dislike
Durability could be improved
---
3. AmazonBasics Warming Pet Bed
Are you shopping for cheap heated dog beds? If so, you should consider this pocket-friendly bed from AmazonBasics. What else do you get besides a bargain?
The impressive use of mylar harnesses the same tech you find in blankets designed for use in outer space. This will ensure your dog stays toasty even if the mercury tumbles. Despite keeping your dog so warm, you won't need any electricity to generate this heat thanks to that mylar construction.
Easy to spot clean, this self-warming dog bed is well worth popping on your shortlist and it won't blow your budget. You can't do much more than spot clean the bed, though. You can't machine wash it and it's too bulky to easily wash by hand in a sink.
Overall, this is by far the best cheap dog bed up for grabs.
Things We Like:
Outstanding price/performance ratio
Uses mylar for optimum self-warming
Does not need any electricity
Things We Dislike:
Washing and care is awkward
---
4. K&H Pet Products Snuggly Sleeper Bed
Next up is this cuddler-style bed, again from K&H Pet Products, that should keep Rover warm throughout the cooler months.
This pad is thermostatically controlled, so it responds to the body temperature of your dog, delivering a consistent 102F when your pet is in the bed.
There are 2 sizes available, with this Medium version measuring  20 x 26 inches.
The cover is removable and also machine-washable, keeping your upkeep to an absolute minimum.
Tested to comply with all relevant electrical safety regulations, you won't have any niggling worries about your furball coming to grief with this thing.
The power cord is well-reinforced, so you shouldn't find Fido nibbling away at it.
Overall, this is one of the best heated dog beds you'll find, and it's also reasonably priced compared to most of the opposition. The only real complaints we could unearth concern the generally flimsy feel of this pad. If you have an especially active or aggressive dog, he may make light of this pad. For most reasonable purposes, though, it provides welcome warmth and comfort for your fur baby.
Things We Like
Cuddler-style bed
Removable 6-watt heater
Only responds when your dog is in bed
Things We Dislike
---
5. RIOGOO Pet Heating Pad
This classic heating pad from RIOGOO is tailor-made for pets with arthritis, sickness, or injury. The pad also comes into own with senior dogs. What makes it so good, then?
Firstly, the choice of sizing means you should find a bed to fit your pooch whatever his breed. This is by no means always the case with most beds to keep your pup warm.
With deep layers of protection in this comfy yet supportive pet bed, keep your dog safe as well as warm.
The only real drawback we could unearth was a few disgruntled consumers suggesting this bed gets nowhere near as warm as advertised. If your furball feels the cold more than most, look elsewhere. For everyone else, this pad makes a neat choice for most dogs, big or small.
Things We Like:
Comes in a trio of sizes to suit most breeds
Heating automatically powers off
Multiple layers of protection to prevent your pooch being burned
Things We Dislike:
Some dissatisfied customers claim this bed doesn't get as hot as advertised
---
6. K & H Pet Products Original Lectro-Kennel
Next up we have another great pet bed from K & H Pet Products with the Lectro-Kennel. What does this thing do and why should you care?
You can choose between 3 sizes which should give you ample scope whatever the shape and size of your hound.
You won't draw down too much power with this heated bed yet your dog should feel the benefit.
A chew-resistant cable ensures your inquisitive pooch won't end up electrocuting himself.
Crowned with a 1-year limited guarantee, you can buy with peace of mind and rest assured your day will stay nice and warm year-round.
Things We Like:
Rated at just 80 watts yet kicks out a surprising amount of heat
Sized to suit most breeds of dogs with 3 options
1-year limited warranty for your peace of mind
Things We Dislike:
Some issues with quality control so check the contents of your package closely upon arrival
---
7. K&H Pet Products Outdoor Heated Dog Bed with Bolster
Yet another entry from the ever-reliable K&H Pet Products is up next with this superb outdoor heated dog bed.
This Large model measures up at 34.5 x 44.5 inches, making a neat fit for most bigger breeds.
As with all the best heated dog beds, this model will respond to your dog in the bed by delivering a consistent temperature to keep him snug and warm.
Rated at just 60 watts and meeting all relevant electrical regulations, you're treating your dog to a safe and sound sleeping environment, even if it's colder outside.
The bed works especially well if your dog spends time in outbuildings, sheds, or any other covered outdoor space.
Like all dog beds from this brand, you'll appreciate the attention to detail paid to strengthening the power cable. This is wrapped with steel to keep even power chewers away.
Comfortable, durable, and reasonably priced, you can rely on K&H Pet Products for performance without an excessive price tag.
Things We Like
Thermostatically-controlled
Works well in sheltered outdoor areas
Ideal for larger breeds
Things We Dislike
---
8. Pet Magasin Thermal Heated Bed
One of your cheapest options if you want to introduce a little more heat into your dog's life is to invest in this this heated bed.
Weaving in a layer of mylar, you'll find your dog will appreciate the thermal qualities while you'll enjoy delivering a shot of warmth without needing to pay a stiff electricity bill.
Buying the 2-pack gives you even better value than ever. When heated beds are this cheap, there's simply no excuse not to indulge your pup.
As if the bargain basement price wasn't enough, you'll even get a 2-year warranty, longer than the guarantee offered by any of the opposition.
Things We Like:
Includes a layer of mylar
Pack of 2 gives you even better value for money
Class-leading 2-year warranty so buy with confidence
Things We Dislike:
Not suitable for larger dogs
---
9. K & H Pet Products Thermo-Snuggly Sleeper
Yet another entry from the inimitable K & H Pet Products as we edge to the end of our heated dog bed reviews.
This time you get a supple and soft bed with foam walls to give your pooch all the support he needs for his back and his neck.
The velvet cover is hypoallergenic and you shouldn't experience any issues, even if your dog is sensitive and prone to outbreaks.
When pup's bed needs a wash, you can slip off the cover along with the heater and pillow to wash it fuss-free.
Safe to use and capable of keeping your pride and joy comfortable all year and whatever the weather, this is one of the finest heated dog beds we've seen.
Things We Like:
Soft foam walls offer both support and comfort
Pillow, heater, and cover all remove to streamline cleaning
Certified to meet all US/CA electrical standards
Things We Dislike:
A few customers have complained about a lack of padding
---
10. American Kennel Club Self-Heating Solid Pet Bed
To round out, we have a solid heated bed from the American Kennel Club.
With a wide palette of colors to choose from, you get a machine-washable bed that's backed with insulated foam. This is hard-wearing and will last the distance, but it's also comfortable and supportive giving your dog all he needs.
Spacious enough for larger dogs, this bed comes packing a non-skid bottom so you won't end up with it slipping all over your hard flooring.
This bed is self-warming, so you won't need to worry about your furball biting his way through a power cord.
Easy to care for and capable of keeping your bundle of joy warm all winter long, this self-heating solid bed is one of the smartest investments you could make alongside a winter coat.
Things We Like:
Pick from 7 striking colors to coordinate with your room
Backed with rugged yet comfy foam
Machine wash and tumble dry for your convenience
Things We Dislike:
Only useful for very small dogs
---
II. FAQs
1) Does my dog need to lie on these heated beds for the heat to be activated?
They don't, no. Most heated beds deliver heat whenever they are plugged in. The insulation provided by your pet's body helps when he lies on the pad, and when he gets up, the heat simply dissipates into the air. This means, then, that your dog gets heat whenever he steps inside this pad, as long as it's plugged in, of course.
2) How long can I leave my heated dog bed plugged in for?
Most heated beds for dogs are designed for continuous use. Indeed, many pads respond more favorably when left plugged in as this prevents the thermostat from resetting each time you plug the pad in. When you're looking at heated dog beds, you should always ensure the models on your shortlist are certified with all relevant authorities.
3) Is it safe to use an extension cord with a heated dog bed?
If you need to use an extension cord as a temporary measure, this should be OK, but it should not be a permanent solution. The reason many devices like this include warnings regarding extension cords is that devices are not tested with extension cords, meaning you can't proceed with the same confidence as when you're plugging it directly into the power outlet.
4) Where should I position my heated dog bed?
Heated dog beds are good to place on any flat and stable surface, as long as it's sheltered.
5) Is it possible to wash a heated dog bed?
Yes. Most of the best heated beds will come with removable covers. These can be taken off and washed then dried naturally. You should not attempt to put the main heated bed into the washing machine, of course, due to the electrical components. Check user reviews to make sure there are no reported complaints about difficulties with washing beds or removing covers. If the bed is a pain to keep clean, it won't end up getting much use.
6) Is a heated dog bed better than a heated blanket?
As with all decisions concerning your pet, the only thing that counts is what's right for him. In general, heated dog beds make a superior option to heated blankets. With blankets, you'll often find your dog gets tangled up in them. Quickly becoming too hot, and starting to get uncomfortable, your dog is likely to remove himself from the blanket, defeating the object completely. With a heated bed, by contrast, the heat should be distributed evenly, and it should be much more manageable for your pooch, keeping him warm without overheating him. Heated blankets are thinner than beds, and there are some concerns about them heating up too quickly. This can lead to dogs avoiding blankets as they feel too uncomfortable sleeping on them
7) Do I need a heated dog bed for my furball?
This depends on your dog and where you live. If you live somewhere with cold winters, a self-warming bed is extremely beneficial, while if you live somewhere with year-round sunshine, it's not quite so critical. If your dog has fine fur, heated beds are far more useful than if your dog has long, thick fur. Some dogs only feel comfortable sleeping on the floor, in which case it might be hard to tempt them into sleeping on a heated bed. You know your dog best, and if you feel he needs some extra warmth at times, the best heated dog bed provides that without forcing you to spend a fortune. Think carefully about whether you really need a heated dog bed before committing to purchase.
---
III. Conclusion
We trust today's guide to the best heated dog beds has given you plenty of food for thought. We tried to include beds at a wide range of price-points. We've also thrown in beds suitable for most breeds of dog, even if there's a focus on smaller dog beds.
Stick with any of the beds we review today and you're in safe hands. As always, we draw your attention to any flaws with all pet products so you can buy with your eyes wide open. Found a heated bed not on our list? Pay attention to our buying guide and you'll be able to buy with complete confidence.
Before you go, we'd suggest you bookmark BarkVA as your go-to resource for all things canine. We have an extremely busy content calendar over the coming months so watch this space and come back soon.
As an Amazon Associate, we earn from qualifying purchases - at no cost to you, allowing us to continue our work.