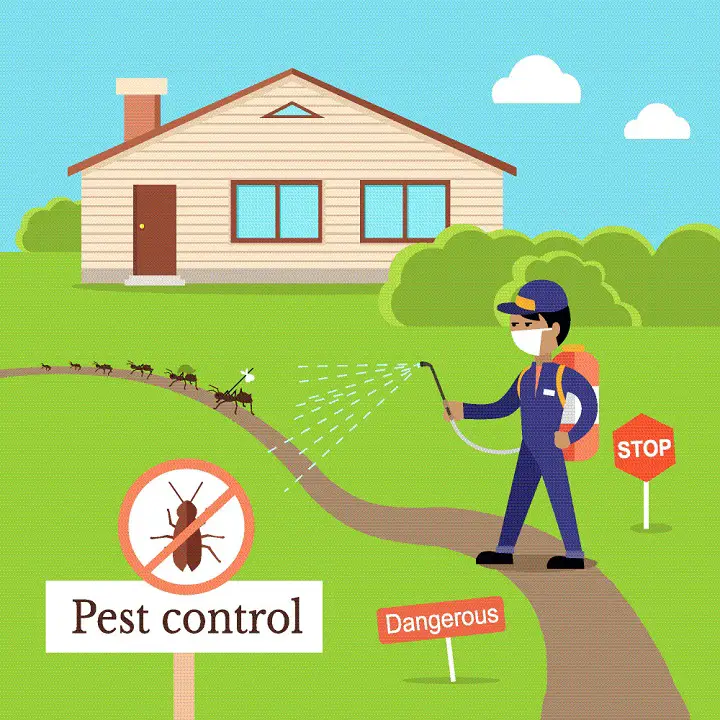 Fleas and ticks are pesky parasites that commonly plague dogs.
The good news is, you don't need to suffer in silence.
You need to act, though. If you don't deal with an infestation of fleas, the first thing that will happen is extreme discomfort for your dog. You'll also need to think about applying flea and tick medication.
Beyond this, the fleas will infest Fido's bedding, and they're likely to make their way into your carpets and furniture as well.
All of this can be avoided by addressing the root cause of the problem, though.
In today's guide to the best flea killer for yard, we'll present a range of solutions all capable of eliminating fleas, ticks, mosquitoes, and some other common bugs that menace dogs the world over.
Now, some home treatments can be mildly effective. A trap made using dish soap is one crude option that can work. Using salt or diatomaceous earth can also kill off some fleas and ticks.
Your best option by far, though, is to invest in a flea killer intended for outdoor use.
What should you consider when you're weighing up your various options, then?
Ingredients: The first thing you need to establish is what's in the stuff you're considering. Flea treatments can be chemical or organic. As a rule and as you would probably expect, chemical treatment are more effective. Only you know whether or not you're content to use any products with chemicals around your furball. We'll present you with plenty of both options today
Coverage area: Different formulas will be effective over different coverage areas. We list all these out for you so you can easily match the spray to your garden
Application: Most of these flea treatments come in the form of sprays. You attach the bottle to your garden hose, or you use a separate sprayer. Some treatments come in granule form. Use a lawn spreader to distribute these
IGR sprays: These sprays will get to work on flea larvae, so you'll really tackle the root cause of the infestation
Pyrethrins: If you spot this ingredient, don't be concerned. This is a common chemical used in households and it's not toxic to humans. Your dog shouldn't have any issues with this chemical either, and it's very effective at killing fleas. We understand this is not to everyone's liking, so we limited the number of products containing pyrethrins on our shortlist
With that framework in place, you should now see clearly what you need to look for when you're comparing flea killers and tick treatments. Whether you choose a chemical-based product or an organic and all-natural alternative is entirely down to you. What counts is keeping those pesky fleas away from Rover at all costs!
To make your life even easier, we'll now summarize the benefits and drawbacks of the 12 leading solutions at your disposal.
Dive in and kiss goodbye to your bug problem.
Barkva.org is reader-supported. When you buy via the links on our site, we may earn an affiliate commission at no cost to you.
The 12 Best Flea Killer for Yard
1.

Our #1 Pick:

Cutter Bug-Free Spray
Features
32oz
Lambda-cyhalothrin
Lasts up to 12 weeks
Our overall favorite flea and tick treatment for your yard comes from Spectrum Brands in the form of this 32oz bottle capable of covering up to 5000 square feet of outdoor space.
You won't need to mess around with any mixing, this spray is good to use undiluted right out the bottle. There's a quick-flip connector, so all you need to do is grip to activate the spray. This should streamline distribution and keeps things clean and safe in the yard. Attach the spray to your garden hose for the ultimate in efficiency.
This formula is fast-acting and should offer protection against bugs all summer long. Effects last up to 12 weeks.
You'll kill off a wide cross-section of bugs with this spray thanks to the chemical component. While you may prefer the idea of an all-natural formula, nothing exterminates bugs with the efficiency of chemicals. This spray comes up short against large ant infestations, though.
This brand also offers a range of other pet treatments well worth popping on your shortlist with this flea killer. Take action this summer and keep Fido flea-free all year round.
Things We Like
5000 square feet of coverage
Gets to work quickly
Kills a variety of common bugs
Things We Dislike
Doesn't work well on ants
---
2. Vet's Best Tick and Flea Spray
Features
32oz
Peppermint oil
Plant-based formula
The Vet's Best Store delivers as promised with a deep line of products to help keep Rover in peak condition. How does this flea and tick killer stand up, then?
Well, unlike the many sprays and treatments containing harsh chemicals, you get a completely natural and organic solution here. The formula is packed with essential oils including the fragrant peppermint oil. Kill bugs the organic way and with a clear conscience.
If you have a serious issue with bugs, we wouldn't recommend using a natural treatment. If, however, you have no excessive bug population to deal with, this spray is proven effective.
Coverage is fairly robust. This bottle gives you enough solution to cover 5000 square feet of outside space.
Given the lack of chemicals, you'll need to compensate by laying this stuff on thick. As long as you don't mind using a heavy hand, and as long as you don't have a severe flea or tick problem, you're in safe hands and so is your beloved furball.
Things We Like
Proven effective but no chemicals
Certified natural oils
5000 square feet of coverage
Things We Dislike
You'll need to use lots of spray
---
3. Ortho Home Defense Insect Killer
Features
10 pounds
Bifenthrin
Lasts 12 weeks
Among all these sprays, next up comes a cost-effective 10-pound bag of flea killer in granule form.
You can use a lawn spreader to distribute these granules with speed and precision and without fatiguing yourself.
Containing bifenthrin, the formula is equipped to deal with a broad spread of garden pests like fleas, ticks, and much, much more. These granules should also make light work of bugs, ants, and worms, keeping your yard free of all those common pests the easy way.
From lawns and ornamental flower beds through to vegetable gardens and the foundations of your home. If you need to go indoors, the company also makes treatments suitable for use inside.
Coverage is generous with the 10-pound bag giving you enough granules to deal with fully 10,000 square feet of yard. This should certainly be enough to keep you going all summer.
Once you've applied the granules, protection lasts for up to 3 months allowing you to enjoy playing with Rover without ever being concerned about flea infestations.
Things We Like
Great value bag
10,000-square feet of coverage
Kills a cross-section of bugs
Things We Dislike
Contains peanut byproducts
---
4. Wondercide Flea and Tick Spray
Features
32oz
Cedarwood oil
Works immediately
If you're a dog owner who likes to use as many natural and organic products as possible, Wondercide delivers a 100% natural solution to flea and tick control.
As with all treatments that don't contain any chemicals, you should keep your expectations reasonable. While they may not be the greenest approach to flea control, chemicals are proven effective at killing bugs. What do you get with this formula, then?
Well, the cedarwood oil and sesame oil serve to kill the full life cycle of fleas. While you may not get the same instant and dramatic results some chemical-laden formulas deliver, results are long-lasting.
Coverage extends to 5000 square feet, more than enough for a small to medium-sized yard.
Ideal for removing ticks, fleas, and mosquitoes from your yard, keep your dog spotless and free of bugs, and do so without needing to rely on any potentially harmful chemicals. One for green-friendly dog owners everywhere!
Things We Like
5000 square feet of coverage
Works for a variety of applications
Contains pure, natural essential oils
Things We Dislike
Smell attracts carpenter bees
---
5. Bayer Crop Science Complete Insect Killer
Features
32oz
Imidacloprid
Lasts 12 weeks
Bayer is a huge multinational with enormous experience producing chemicals. This treatment designed to kill bugs, fleas, and ticks is another highly effective product from their stable. How does it get to work then?
The active ingredients of imidacloprid might not be the most eco-conscious choice, but it will attack any pests in the yard head-on.
You should the solution makes light work of surface insects in next to no time. Any insects making their home in your soil should be killed off for up to 3 months. This is a serious advantage over non-chemical sprays that need regularly reapplying.
You can use this stuff on turf, lawns, and soil out in the yard.
A single bottle gives you coverage of up to 10,000 square feet of outdoor space making this a cost-effective method of keeping your furball flea-free.
Things We Like
10,0000 square feet of coverage
30 days of rainproof protection
Kills most common bugs
Things We Dislike
Not the most eco-conscious company
---
6. Black Flag Flea and Tick Yard Treatment
Features
32oz
Lambda-cyhalothrin
Lasts 12 weeks
Next up we have another spray bottle you can attach to your garden hose for seamless application without getting messy.
Covering just 5000 square feet of outdoor space, this is one of the more limited options so makes better sense if you have a smaller yard. If you need more coverage, we review plenty of flea killers today offering this.
The best thing about this spray is the way it kills the whole life cycle of the pests like fleas that blight your dog's life and make him miserable. Kiss goodbye to fleas, ticks, and other common pests. This is thanks to the nylar in the formula.
The money-back guarantee allows you to buy with complete confidence. If you're anything like us, you'll probably already have some bad experiences with ineffective flea killers, so it's always a minefield on the buying trail. You have nothing to worry about and nothing to lose here, so why not give this dog flea treatment a shot?
Things We Like
5000 square feet of coverage
Easily connects to garden hose
Breaks flea life cycle
Things We Dislike
Quite toxic to small animals
---
7. Adams Plus Yard Spray
Features
32oz
Permethrin
Lasts 4 weeks
Adams serves up this pocket-friendly and easy-to-use flea killer for your yard so there's no excuse not to deal with the issues of fleas and ticks even if you're on a tight budget.
Ideal for residential use, you'll have enough solution to cover up to 5000 square feet. If you have a larger yard, we'd suggest checking out some of the other flea killers we review. If this seems sufficient for your needs, how does this formula get to work?
Containing permethrin, you'll vigorously fights back against ants and mosquitoes as well as ticks and fleas. Your dog is helpless to protect himself against these common pests, so you need to take care of it for him.
Use this spray on shrubs and lawns, and also on any flowers or roses in the garden.
The formula gives results that last for up to 4 weeks. This puts it some way behind many of the other formulas on our shortlist in this regard.
Things We Like
5000 square feet of coverage
Kills adult fleas, ticks, mosquitoes, and ants
Great value for money 
Things We Dislike
---
8. Wondercide Flea and Tick Spray
Features
16oz
Cedarwood oil
Works immediately
Wondercide delivers a flea treatment and preventive rolled into one so you can fight back on all fronts against the common pests that menace Rover outdoors.
Coverage is excellent with a single bottle suitable for areas of up to 10,000 square feet.
Application is recommended once a month with year-round use promising superior results. Given the ease of application, once you get into a Wondercide routine, it's a remarkably set-and-forget solution to fleas, ticks, and bugs.
This formula is safe for humans, cats, and dogs, giving you stellar performance with any lingering headaches about safety.
Containing cedarwood rather than any harmful chemicals, you might not get the same speed of results or raw efficiency as chemical sprays provide, but you can buy this treatment with a clear conscience.
The added kicker is that this treatment will kill all life cycles of bugs, so once you've got the stuff working, the solution is long-lasting.
Things We Like
10,000 square feet of coverage
All-natural formula
Packed with essential oils
Things We Dislike
Not as effective as chemical sprays
---
9. Natural Yard and Kennel Flea and Tick Spray
Features
32oz
Cinnamon oil
Lasts 12 weeks
For any dog owners with smaller outside spaces, this flea and tick spray from Natural Yard is ideal for covering areas up to 4500 square feet. If that sounds like a good fit, what do you get for your money here?
The natural formula containing cinnamon oil is surprisingly effective at killing fleas and ticks. The same proviso applies as with all organic sprays, though. Pack a little patience as this treatment doesn't generate instant results. Apply liberally, and be prepared to regularly reapply the treatment. These drawbacks are the price you pay for the complete absence of chemicals.
As well as dispatching ticks and fleas, this solution is also designed to combat black flies and mosquitoes giving you a broad-spectrum approach to pest control in the yard.
This is certainly not the cheapest option at your disposal, but if you have deep pockets, exacting tastes, and a desire for an organic flea treatment, you can't go wrong with Natural Yard.
Things We Like
4500 square feet of coverage
No pyrethrins
Kills mosquitoes and black flies
Things We Dislike
---
10. Control Solutions Concentrate
Features
32oz
Pyriproxyfen 10%
Lasts 12 weeks
This IGR concentrate is designed to exterminate fleas and ticks. It serves as a long-lasting regulator against insect growth, meaning you have a much more robust solution than many brands offer. As you'd expect, this solution is correspondingly expensive.
This is an all-purpose spray that can be used indoors or outdoors.
Be aware that this formula contains 10% pyriproxyfen, so if you object to the use of chemicals like this, we'd direct you toward one of the all-natural formulas we review today. If you don't mind this, how does it work?
Well, all you need to do is attach this bottle to a sprayer and then apply liberally wherever you need to drive away ticks and fleas. The solution gets to work right away and delivers long-lasting results.
Another advantage of this spray is the way you can also fight back against flying insects.
If you have a more fluid budget and you want an effective chemical flea treatment from a brand you can trust, this is one of the finest examples at your disposal.
Things We Like
13,000 square feet of coverage
Photo-stable for lengthy lifespan
Kills flying insects
Things We Dislike
---
11. Zoecon ExciteR Solution
Features
16oz
Pyrethins
Fast-acting
As we edge to the end of our search for the best flea killer for yard, we've got another user-friendly solution, this time from Zoecon.
Containing pyrethrins, make sure you're OK with this chemical content before committing to purchase. If so, you'll benefit from a ruthlessly efficient flea and tick killer that can also make light work of any cockroaches lingering in your yard.
Choose to use this solution neat or diluted to taste. Use undiluted if you have a more severe bug infestation.
You can use this solution straight out the bottle, or you can pop it into a fogger or sprayer instead. As with all aspects of this product, you get huge versatility.
The only real drawback here is the fact effects are not especially long-lasting. The bottle isn't the cheapest either, so if you're shopping in a rigid budget, you have better and more affordable options.
Things We Like
Kills cockroaches
Mix or use undiluted
Broad-spectrum insect control
Things We Dislike
Effects don't last too long
---
12. Advantage Yard Spray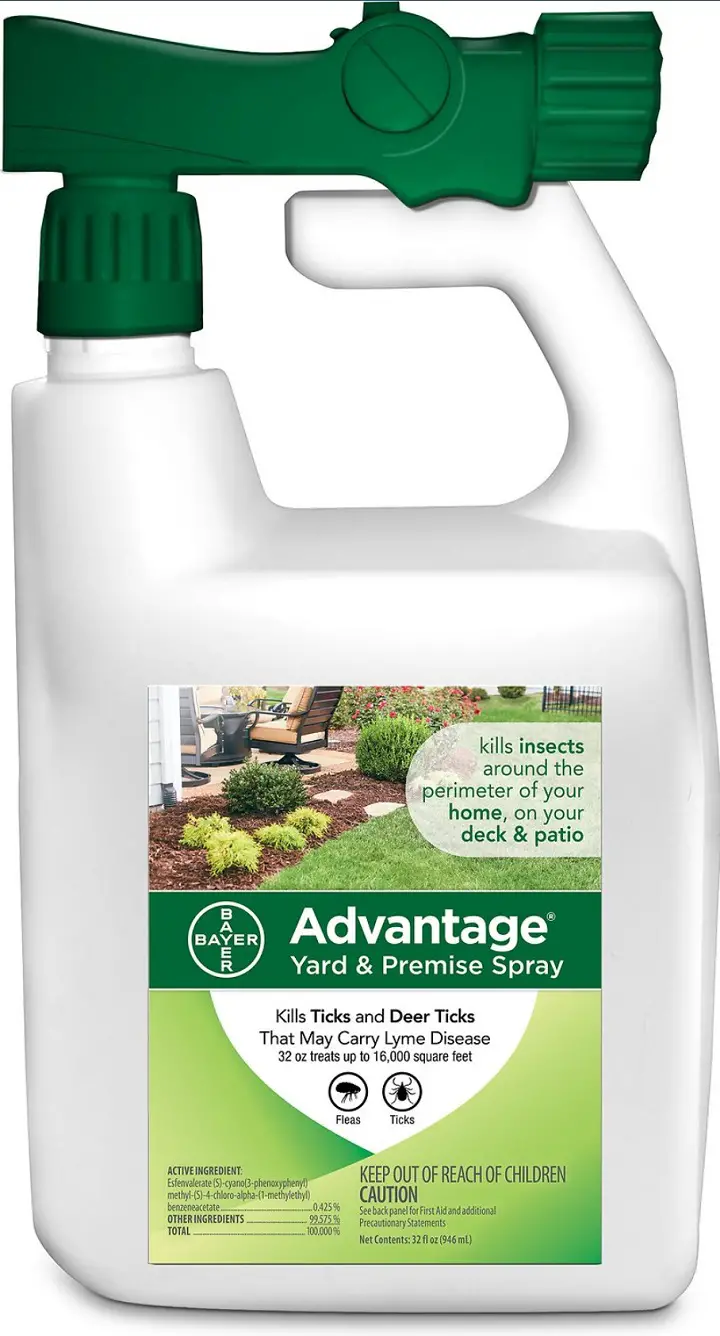 Features
32oz
Esfenvalerate (S)-cyano
Takes up to 30 days to work
Last but by no means least, we have another superb spray-based bottle from Advantage.
The core purpose of this spray is to kill ticks and deer ticks. EPA-registered, you may be getting a formula containing chemicals, but it's not toxic to humans or animals.
This is not the most rapid-acting of solutions. Expect the full effects to manifest after around 30 days.
Coverage is genuinely impressive. You'll be able to treat up to 16,000 square feet of your yard, patio, or any other outside space from a single bottle. Considering the very affordable pricing, the Advantage spray giving you outstanding overall value.
As with all chemical flea killers, you'll need to decide whether you're prepared to accept this in return for a solution that kills fleas for good. We're not here to tell you what to do, merely to present your various options and make your life easier.
You can attach this bottle to a regular garden use making application a breeze.
Things We Like
16000 square foot of coverage
EPA-registered spray
Kills deer ticks
Things We Dislike
Not the most eco-friendly solution
---
Conclusion
By now, you should have plenty of options to fight back against the menace of ticks and fleas that could infest Fido and ruin your summer.
Whether you choose a chemical-based formula or you prefer to go organic, you're spoiled for choice with treatments. As we mention throughout our reviews, you'll typically get stronger performance and longer-lasting results from a formula containing chemicals, as long as you don't mind the eco-footprint.
Before you head off today, take a moment to bookmark BarkVA. We bring you fresh content daily on all aspects of pet ownership, so pop back soon and you won't miss out!