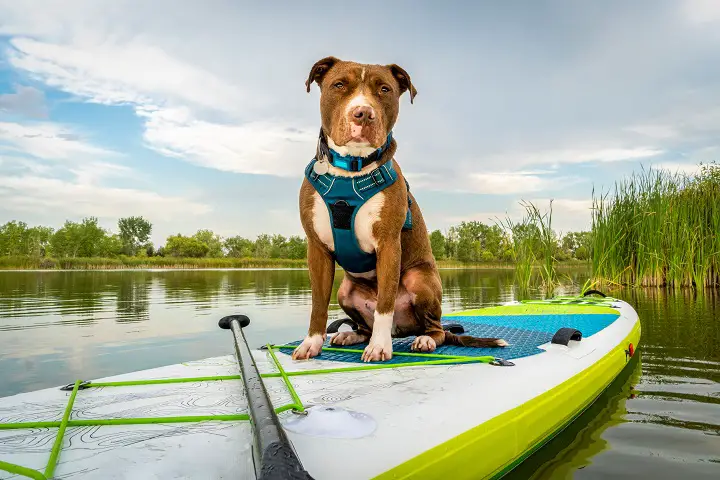 Are you a dog owner living in the city?
If so, you'll understand how hard it can be to keep your furball close at hand.
With constant noise, dogs in the city become even more restless. Also, deprived of their natural environment, they have an inbuilt need to escape and get back to nature.
All of this would be nothing but an inconvenience if it wasn't for the amount of traffic and the danger this presents if your dog decides to take a wander.
Luckily, escape-proof dog harnesses are an easy and affordable solution. None of the harnesses we review today costs more than fifty bucks so what should you look for when you're shopping dog harnesses, then?
While buying a harness your dog won't escape from is not rocket science, you can make your life easier by focusing on the following areas before whipping out your credit card.
High quality materials
As with anything you buy for your dog, you should focus on harnesses made from top-tier materials.
Most of these specialist harnesses are made from dense and robust nylon. This is rated in terms of denier (D) with 1050D giving you all the durability you need in a harness built to stay the distance.
Make sure that all hardware and attachments are made from metal. Plastic should not be making an appearance on escape-proof harnesses in any area where it counts.
The good news?
Even the best dog harnesses designed to stop yoru pooh escaping don't cost all that much so why compromise yourself or your dog's safety for the sake of a few bucks?
Appropriate size 
A poorly fitted dog harness is the main cause of escapes.
Luckily, this is very easy to remedy. All the harnesses we review today come in multiple sizes. You should have no issue at all finding a suitable size for your canine companion.
If you have an especially large or super-small pup, check closely before settling on any specific harness. It's worth taking the time to find a harness expressly designed for your dog.
Multiple points for attachment and adjustment
You should ensure the harness you're looking at has multiple points for you to attach leashes and other add-ons.
By altering the position at which you attach the leash, you can exercise more control over your dog, ideal if he is stubborn and resistant to training.
You should also make certain that the collar is adjustable enough to guarantee a snug fit. While you can get most of the job done by simply choosing the right size harness, fine-tuning will always allow for a closer fit while minimizing the chance of escape still further.
Bright, reflective colors
Do you often take your furball out for moonlit walks? Who doesn't enjoy doing that with their dog?
A pet owner fearful of their dog escaping, that's who!
Opt for a harness in brighter colors, or look for one with reflective strips. You should do all you can to keep yourself and your dog safe if you're out after dark.
Padding
Padding helps to keep your dog comfy at all times. Beyond this, if your dog started straining against an unpadded harness, he could easily hurt himself.
Be sure to prioritize your dog's comfort at all times.
OK then, with that basic groundwork laid, it's time for the main event. We'll be exploring a half dozen of the best escape-proof dog harnesses. We tried to include various sizes and various price-points so there's something for everyone.
Buckle up and enjoy!
BarkVA is reader-supported. When you buy via the links on our site, we may earn an affiliate commission at no cost to you.
I. The 6 Best Escape-Proof Dog Harnesses
1.

Our #1 Pick:

ICEFANG Tactical Dog Harness
First up is a neat and completely customizable dog harness from ICEFANG. 
This is a full working dog vest equipped with a handle and no-pulling front leash.
Made from dense 1050 denier nylon with reinforced webbing and metal componentry, this harness should return years of faithful service. You shouldn't find your dog slipping away and he won't be irritated by the harness either.
A hook-and-loop panel allows you to affix your dog's ID. Make sure he's safe and sound if he ever wanders astray.
The Molle system gives you all the onboard storage you need for your dog's essentials.
If pushed to find fault with this harness, we'd draw attention to the D-ring. This could certainly be a little stronger. This is something we hope ICEFANG address in future iterations of this escape-proof harness.
Setting aside that minor flaw, we are enormously impressed with this no-escape dog harness and it's our favorite of all the harnesses we reviewed. Add this to your arsenal and stop your dog wriggling free again.
You can pick up this harness to cater for dogs with necks from 14 inches to 28 inches and with chest sizes from 22 inches through to 39 inches at the upper end. Whatever shape, size, and breed of dog you own, there's an ICEFANG escape-proof harness to suit.
Things We Like:
Not only escape-proof but also designed not to rub or chafe your pooch
Customize fit by adjusting harness through 4 possible configurations
Rugged build with nylon webbing and metal hardware
Things We Dislike:
The D-ring attachment could be stronger
---
---
2. Rabbitgoo Tactical Dog Harness
If you're looking for a secure and comfortable harness that will keep your dog from harm if he's prone to running off, you're in luck with Rabbitgoo.
Choose from a black, tan, or gray color depending on your dog's character and your own color preferences.
Made from dense and highly durable 1050-denier nylon, you won't find any problems with this fabric wearing out over time.
This vest is described as suitable for working dogs and police dogs, so you should find your pet presents no problem for this harness.
The Molle system ensures you have pouches and pockets on both sides of this vest.  Slide in water bottles or any tactical gear you might need when you're out with your canine companion.
A few dissatisfied customers have complained about problems with this harness developing over time. We feel you need to be realistic with any product at this price-point. Under most conditions, though, you should get plenty of active service from this harness, and your dog won't end up slipping his leash or coming to any harm.
Things We Like:
Choose from a trio of muted colorways to suit
1050D military-grade nylon won't let you down
Hook-and-loop panels to stash your dog's ID
Things We Dislike:
A few complaints about build quality 
---
3. RUFFWEAR Multi-Use Dog Harness
RUFFWEAR has a great multipurpose dog harness ideal for most dogs. Sizing runs from XS through XL. If you have a teacup or toy breed, you might want to reconsider. A few users found problems fitting this harness to extremely small dogs.
For all other dog owners, this versatile harness is well worth popping on your shortlist. Choose from blue, red, or gray and, of course, choose the relevant size for your dog. Sizing charts are provided to make this easy for you.
With a full 5 adjustment points, you can completely customize positioning so the harness keeps your dog safely in check.
Despite all this attention on safety, comfort is not neglected. The thick and padded straps won't bite into your dog's shoulders, and the fabric won't itch him either.
Now, this harness is marketed at dogs of all sizes. When scouring through user reviews, we encountered more than one disgruntled customer who found the XS too small for chihuahuas and similar teacup breeds.
Things We Like:
Ideal for all sizes and breeds of dog
5 adjustment points allow you to fine-tune placement wonderfully
Straps padded with foam for complete comfort
Things We Dislike:
Despite the marketing literature, you might struggle containing very small dogs with this harness
---
4. OneTigris Tactical Dog Harness Vest
Next up in our search for the best dog tactical harness, this military-inspired rig is well worth your further attention.
As you'd expect from a harness like this, it works most effectively with larger dogs. Several users with medium breeds have complained about the harness feeling too roomy with mid-sized dogs.
Onboard storage gives you more than enough room for your dog's ID along with any supplies you might need when you head out for walkies.
The adjustable no-pull harness removes any stress from being outside with your dog in dangerous environments. You know that even if he gets spooked, he won't be running off into any danger.
Quick-release buckles streamline putting this harness on and they simplify removing it, too. When the harness is this easy to put on, there's no excuse not to take your dog out more often.
Crowned by a 1-year warranty, what's not to love about this top-notch harness? 
Things We Like:
Ergonomic handle for improved control
Military styling with straps, loops, and panels
Limited 1-year warranty allows you to buy with confidence
Things We Dislike:
Front and neck sections a little large for medium-sized dogs
---
5. ThinkPet No-Pull Harness
If you want a colorful yet functional escape-proof harness, ThinkPet smashes a home run with this superb no-pull option. This is one of the cheapest harnesses we look at today but you won't get stiffed in terms of quality or performance.
As you find with most escape-proof harnesses, the nylon build complemented by metal hardware gives you a cocoon from which your dog shouldn't slip out like Houdini at the slightest opportunity.
Whenever you're looking at safety gear for your furry friend, you need to pay equal attention to comfort so you don't end up disturbing your dog while attempting to keep him safe.
The ThinkPet comes in a wide spread of colors to suit your mood. A few consumers have stated that these colors don't always come out exactly as represented in the pictures so don't set your heart on a certain shade only to end up disappointed.
You also get a decent choice when it comes to sizings so you should have no problem at all finding something suitable for your pooch.
Things We Like:
Comes in a wide array of color schemes
Made from remarkably durable nylon
Padded and highly breathable
Things We Dislike:
Some complaints about colors not being faithfully reproduced in photos
---
6. Mihachi Secure Dog Harness
Last but not least in our escape-proof dog harness reviews comes a monochrome gem from Mihachi. What makes this stand out in a crowded field, then?
The configuration of this adjustable 5-point harness is comparable to most of the opposition. You're not looking for an escape-proof harness to reinvent the wheel. On the contrary, you need tried-and-true principles of engineering to keep your energetic pooch safely contained.
The handle on top comes into its own if you have a bigger dog. When you're walking on crowded streets, you can easily keep your furball at heel.
This harness is quite reasonably priced, too, so why not give it a try if your pup is continually giving you the slip?
Things We Like:
Guaranteed snug fit with 5-point adjustment
Plenty of support and ample padding, too
Handle works well if you have a larger breed dog
Things We Dislike:
Only available in medium or large
---
To finish up today, we have curated the answers to the most frequently asked questions about dog harnesses so you have all the information you need at your fingertips.
II. FAQs
1) What's the difference between an escape-proof dog harness and a normal dog harness?
With a traditional dog harness, it's simple for your pup to slip his shoulders out and head off into the distance. This doesn't happen with an escape-proof harness. Also, a regular harness often has weak straps your dog is able to chew through if he tries hard enough. Escape-proof harnesses ensure this weak point is addressed so your furball remains safe and sound.
2) What's the best material for an escape-proof harness?
The vast bulk of the best harnesses are made from dense nylon. This is comfortable for your dog, remarkably strong, and extremely hard-wearing.
3) Why do dog harnesses have a handle on top?
This gives you a little more maneuverability and makes it easier when you want to get your pooch in and out of the car.
---
III. Conclusion
As you need no telling as a pet owner, animals crave freedom. This is innate and there's nothing you should do to discourage this.
That said, you need to ensure your pooch stays safe, especially if he has a tendency to slip the leash and pull a vanishing act. After today's guide, you should be perfectly placed to buy the best escape-proof dog harness the easy way.
Stick with any of the models on our list and you're in completely safe hands. How about if you fancy a harness not reviewed here today? Well, just focus on the simple elements we outline in our dog harness buying guide and you should have no problems at all.
Before you hustle off today, why not bookmark BarkVA? Consider us your one-stop shop for all things canine and be sure to pop back soon.