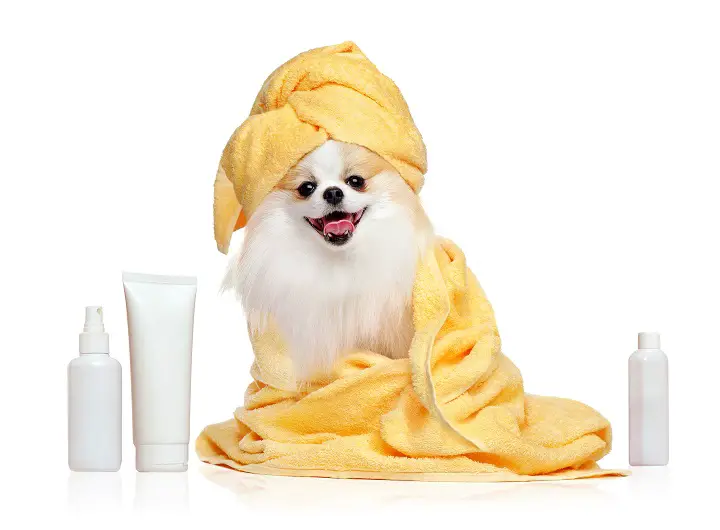 If you have dogs at home, we don't need to tell you how hard it can be to keep them constantly clean.
What can you do if your dog gets filthy and you're nowhere near a bath, though?
How about other situations where a dog might not want to be bathed the regular way?
Well, the best dry dog shampoos step in to neatly plug this gap. Today, we'll be highlighting the leading waterless pet shampoos so you can see what's up for grabs.
As usual, we'll also be serving up all the information you need to make your buying decision as easy as possible.
Before we get to those reviews, let's clear up a few common questions about this foamless shampoo starting with a basic definition.
What is dry shampoo?
As you might think, dry shampoo is something that helps you cleanse your dog without using water.
You can find dry shampoo in powder, gel, spray, and foam form.
Why does your dog need dry shampoo?
Dry shampoo is an essential product that should always be in your dog's supply kit.
This waterless shampoo is a neat solution for a lot of situations including when:
Your dog is injured and needs to stay out of the water, or is too sick to go in the tub
You take your dog to the park and need to clean him up before you all get back in the car
Your dog starts smelling quickly and needs frequent help to stay fragrant
Your dog is afraid of water or simply does not like water
How does dry shampoo work?
Dry shampoo is made with an oil-absorbing ingredient that works by helping to remove excess oil from the dog's skin and hair.
When dogs are active, a layer of oil gradually appears on their coat which will make it sticky. When the coat is in this condition, it easily picks up dirt and debris.
Dry shampoos work by absorbing these oils. When the oil layer is absorbed, the dirt on the dog's fur can be easily removed with some light brushing. There are also pH-altering agents in dry shampoo that help encourage the right bacteria and prevent those that make your dog smell unpleasant. Have him smelling like flowers instead!
OK, what should you look out for when shopping dry dog shampoo, then?
What to pay attention to when choosing best dry shampoo for dogs
Extraction ingredients: A lot of information about the ingredients of dry shampoo is not divulged by manufacturers. However, you'll be able to see clearly what the basic ingredients are. Give preference to products with natural, pet-friendly and environmentally sustainable ingredients
Suitable for your flea treatment: Make sure that the dry dog shampoo you're considering does not create a problem when used alongside any flea treatment you're using on your hound
The scent: Stay away from dry shampoo likely to irritate your dog. You know the kind of smells he likes and those he hates so make sure you choose your pet shampoo accordingly
Size: If your dog is extra-large, buy a slightly bigger size tub of dry shampoo so you'll get longer lifespan. Alternatively, buy multiple jars at the same time to save on hassle and shipping costs both
Sensitive skin: If your dog has sensitive skin, you should consider consulting a veterinarian. Many users say they often have to try 4 or 5 different types of shampoos before choosing a good one. Speak with your vet and you might be able to shortcut this process and end up getting it right first time instead of looking at a bag of partially-used shampoos.
Right, you're now perfectly placed to scope out the leading dry dog shampoos on the market.
Bear the above pointers in mind and check out our top 7 waterless shampoos for your precious pooch.

BarkVA is reader-supported. When you buy via the links on our site, we may earn an affiliate commission at no cost to you.
I. The 7 Best Dry Shampoo for Dogs
1.
Our #1 Pick:

Wahl Waterless No-Rinse Shampoo for Animals
Our overall favorite dry shampoo for dogs comes from the stellar Wahl. Perhaps best known for their hair clippers, you're buying into unbeatable brand heritage here.
If you use normally use bath time to  relax your furball at night, how about when you're not using any water? Well, this scented formula comes loaded with the soothing smells of lavender and chamomile to  relax your dog after a tough day.
The cleaning is as gentle as you'd expect from a no-rinse shampoo.
As with all dog shampoos, it makes sense to consider a patch test first. This will ensure you hound is not allergic to any of the ingredients before you douse his whole coat.
Things We Like:
pH balanced shampoo for effective but gentle cleaning
Formula packed with chamomile and lavender to calm your dog wonderfully
Impeccable brand trusted by vets the world over
Things We Dislike:
Some owners mention a greasy residue on their dog's coat after shampooing
---
---
2.

Runner-Up:

John Paul Pet Oatmeal Waterless Foam Shampoo
Whenever you're buying waterless dog shampoos, you need to keep your expectations reasonable. If you judge the level of cleansing against a regular bath with soapy water, you'll end up disappointed. If, on the other hand, you view this type of cleaning as a welcome addition to baths rather than a replacement, what do you get for your money?
The quality of ingredients is elevated above much of the opposition. This dry dog shampoo takes advantage of the same botanicals used in the bestselling Paul Mitchell line of hair products you might have in your own bathroom. You get an almond-scented and pH-balanced formula that's as safe as it is alluring.
You also benefit from part of each purchase being funneled toward wildlife organizations.
Things We Like:
Cleans your pooch effectively yet gently
Formulated from the same botanicals as the Paul Mitchell human brand
Full tested on humans and completely safe for your beloved pet
Things We Dislike:
Some users suggest cleaning is not as effective as claimed despite the delicious scent
---
3.

Budget Pick:

Bio-Groom Waterless Dog Bath
Bio-Groom's waterless shampoo suffers from the same issue as many of these alternative cleaning products: you might notice a slight oiliness to your dog's coat after use. To this, we would only reiterate what we mentioned above about this type of washing going alongside regular bathing.
The natural brightening agents in this tearless dog shampoo ensure that your hound's coat is always at its best.
As with all these shampoos, you won't get quite the same deep-clean as you could achieve with water, but you'll certainly see you pup looking shiny, happy, and sparkling clean. As crowning glory, you get a great value bumper bottle of this shampoo, too. What's not to love?
Things We Like:
Make your pup's coat sparkle with no tears and no harsh cleaning
Rinse-free formula for your complete convenience
Laced with natural brightening agents
Things We Dislike:
The usual complaints about oiliness after shampooing
---
4. Arm & Hammer Super-Deodorizing Shampoo for Dogs
Famous for their human toothpaste, Arm & Hammer also make some mean dry dog shampoo. What sets this stuff apart, then?
Choose from a range of options to suit with this dry shampoo spray being an especially effective and mess-free choice. You can also buy this shampoo in a range of sizes and multipacks if you're hunting for a bargain on dry dog shampoo.
The only meaningful complaint is not a dig at Arm & Hammer, but rather the usual issue experienced by some dog owner's noticing an oily coat appear after using this spray.
If you've bought this product before, note that the packaging has changed while the product remains the same great waterless pet shampoo.
Things We Like:
Massive choice of varieties and sizes
Suitable for all breeds of dog
Odor-eliminator baked in so perfect for stinky pooches
Things We Dislike:
Once again, watch out for that residue after washing
---
5. Paw Choice Dry Dog Shampoo
Paw Choice serves up a richly-scented tropical shampoo to your mutt is sure to love. You'll be eager to smell his newly washed coat, too.
If you're in any element of doubt about trying a waterless dog shampoo for the first time, this makes a smart choice since you benefit from a full 1-month guarantee. If you're not entirely satisfied, claim a no-quibbles refund. You have literally nothing to lose.
If your dog is prone to smelling, you should find this Paw Choice much more effective than most dry dog shampoos for removing the odors from your pet's coat.
Things We Like:
Delectable scent with mango and coconut
Managed to remove smells effectively for dry shampoo
30-day satisfaction guarantee
Things We Dislike:
Several dog owners stated their dog had an allergic reaction to this shampoo so try a patch test first
---
6. TropiClean Waterless Pet Shampoo
As we edge to the end of our quest for the best dry shampoo for dogs, we've got another delicious and waterless offering, this time from TropiClean.
Once you've got over that lip-smacking smell of papaya, you can clean your hound any time even if you're away from home and nowhere near any water.
Free of phosphates and containing no alcohol either, you'll impart a nice gentle clean while still leaving your pooch sparkling.
Things We Like:
Powerful botanical ingredients to soothe and clean
Fresh papaya smell will have you itching to cuddle your hound
Works well with the rest of this pet range
Things We Dislike:
While claimed to be waterless, this shampoo works best when rinsed out
---
7. Vet Recommended Waterless Dog Shampoo
Last up in our dry dog shampoo reviews is this superb line from the highly reputable brand Vet Recommended.
This is a spray and the packaging has changed while the contents remain the same.
Free of all artificial colorings, you'll ensure you clean that coat gently and without losing any of its natural luster.
Safe to use with all flea treatments and made in the US, you can buy with complete confidence and keep your beloved hound spotless at all times.
Things We Like:
Super-simple spray-and-wipe application with no water needed
No artificial colorings so won't strip your pup's coat
No contraindications with flea treatments
Things We Dislike:
Some users report a fairly strong chemical smell
---
II. How to use dry shampoo for dogs?
Our first suggestion is to closely study the manufacturer's manual. This should give you all the information you need specific to that particular shampoo.
The process is typically the same, though:
Apply a sufficient amount of dry shampoo to the hair of your dog. Less is more so don't go over the top here
Rub the dry dog shampoo evenly all over your dog's fur
Wait a few minutes for all the ingredients to fully activate and get to work
Once your dog is clean, rub his coat over once with a towel
Finish by brushing your dog's coat to remove any lingering debris
---
III. Conclusion
If you started out today unsure about whether dry shampoo can replace your dog's usual bath and shower, you should now see clearly that the answer is no. The way we look at it is this: you can eat a cookie when you're hungry, but it can't be a meal replacement, right?
Thinking of dry dog shampoo the same way and you're likely to get the best out of this convenient go-anywhere product rather than being disappointed by comparing it to regular shampoo you use with water.
So, whether you're out and about and need to give your mutt a freshen-up before heading home, or he simply doesn't tolerate water very well, there's no need to endure a reeking canine. Get the job done the waterless way and everyone is happy.
Before you take your pup to the bath, though, take a second to bookmark BarkVA. We strive to be your go-to resource for all things canine, and we have a very busy slate for the coming months so pop back soon!