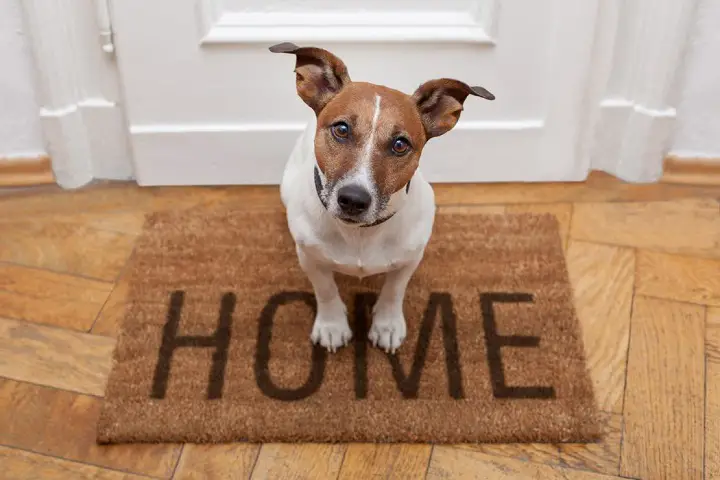 If you're a fan of BarkVA, chances are you have at least one messy hound at home.
While owning dogs is one of the most pleasure experiences imaginable, you can't escape the huge amount of mess and debris dogs bring along with them.
What can you do, then, if you want to prevent the floors of your home being splattered with filthy pawprints?
Well, investing in the best doormat for dogs will go at least some way toward minimizing the mess.
Now, even the most effective mat won't get rid of all the dirt on your dog. The thing is, you're much better off getting your dog mostly clean instead of allowing him to roam unchecked with muddy pawprints everywhere.
While most dogs will take to using these mats relatively easily, you might need to train your pooch for a short while. As with all aspects of dog training, don't forget to use positive reinforcement. Reward your pup with plenty of cuddles – and a treat, of course! – when he successfully wipes his feet before coming inside the house.
While buying a dog mat is not the most complex decision you'll face as a pet owner, if you focus on the following areas, you'll find the right mat for your needs with ease.
Material: Most dog mats are made of microfiber. This is highly durable yet also extremely easy to care for. With first-class absorbency, a microfiber mat will also dry very quickly after machine washing. While you can find dog mats made from other materials, why change a winning recipe?
Anti-slip bottom: You should ensure any dog mat on your shortlist comes with a non-slip rubber backing. All the mats we review fare well on this front
Easy to clean: Let's face it, if the mat you choose is awkward to clean, you won't end up using it. Look for a machine-washable mat to make your life easier. Microfiber mats will dry out rapidly, too.
Design: All the mats we review have fibrous, tasseled surfaces. This design helps to clean the paws of your dog, giving them a mini-pedicure as well as keeping your floors clean as a whistle
---
OK, with that foundation in place, explore the best dog doormats on the market.

BarkVA is reader-supported. When you buy via the links on our site, we may earn an affiliate commission at no cost to you.
I. The 6 Best Doormats for Dogs
1.

Our #1 Pick:

Gorilla Grip Original Indoor Mat
Available in a striking array of colors, the Gorilla Grip Original Indoor Mat gives you the best protection possible against muddy dog paws.
Measuring up at 36 x 24 inches, your pooch should have ample room on this mat even if he's a larger breed.
The chenille mat is low-pile and backed with rubber so you won't have any issues with this surface sliding even if you place it on hard flooring.
You won't be faced with any messy clean-up either. This mat is safe to pop in both the washing machine and dryer giving you a zero-maintenance solution to keeping your home immaculate even with dogs around.
As an added kicker, the Gorilla Grip mat is covered by a class-leading 10-year warranty. This shows the confidence the manufacturer places in this product and allows you to buy with total peace of mind.
---
2.

Runner-Up:

The Original Dirty Dog Doormat
A close runner-up in our quest for the best dog doormat, you can choose from a wide palette of colors to coordinate with your décor.
Made from microfiber, this mat is highly absorbent – the absorption rate of 3000 GSM is double that of most of the competition.
The precise stitching throughout serves to increase lifespan while the double basting further enhances durability.
This runner measures up at 60 x 30 inches.
Keep the mat spotless by throwing it in the washing machine then allowing it to dry. The microfiber will be dry in next to no time, up to five times quicker than most other materials in fact. The overall effect is a remarkably low-maintenance dog doormat that should return years of faithful service. What's not to love?
---
3.

Budget Pick:

Furhaven Self-Warming Mat
If you're hunting for a dog doormat on a budget, you can't go wrong with the Furhaven.
Colorways are muted and should give you plenty of choice. You'll also have ample options with sizes from small through XXXL.
Select the style of mat that best suits – this variant is the shammy rug – and you have everything you need to keep those muddy pawprints off your carpets.
The microfiber chenille is highly absorbent, a quality you need to look out for in the best dog doormats.
Machine washable and very quick-drying, you'll get a hassle-free method of keeping filthy dog pawprints in one place not smeared all over your flooring.
Although it works well outside the entrance to your home, the versatility of this mat means it also makes a neat travel rug.
The 90-day warranty could be lengthier, but you can't expect much more at this price point.
---
4. My Doggy Place Absorbent Microfiber Mat
Available in a broad spread of primary colors, you can also find this My Doggy Place mat in multiple configurations. This is the large mat measuring 36 x 26 inches, although there are many other options at your disposal.
The chenille microfiber used for this mat is smooth, thick, and high-pile. If you want to give your dog a shot of luxe, this is the best mat you can find.
With five times the GSM absorption rate of most regular mats, you'll find all messes are mopped up rather than trudged through your home.
The non-slip rubber backing keeps the mat firmly anchored to the floor even if you have energetic dogs sliding around.
The machine-washable mat keeps any upkeep to an absolute minimum and allows you to enjoy a clean home without chasing behind your dogs when it's rainy outside.
---
5. HOMEIDEAS Chenille Mat
The mid-priced HOMEIDEAS mat is made from super-soft chenille and is only available in dark gray, black, or brown. If you're looking for multiple colorways, this is not the mat for you. If you're happy with this muted mat, you won't be disappointed on the performance front.
As with all the best dog door mats, you'll get a rugged rubber backing that's designed to stay in place not slip all over the floor. While all the mats we review today boast this feature, many cheap and low-quality mats neglect this giving you a nightmare experience.
Microfiber is easy-care in the extreme. You just need to slip this mat in the washing machine on a regular basis and that's the extent of the maintenance required.
There's a money-back or exchange guarantee in place and responsive customer care. If you're looking for a great dog mat at a mid-range price point, think long and hard about this subtle and highly effective mat from HOMEIDEAS.
---
6. Soggy Doggy Doormat
Last but by no means least, the Soggy Doggy Doormat comes with a bulbous bone emblazoned across it to get your pooch salivating. If you don't like the idea of this garish logo, you can order this mat in a plain version, too.
Available in a clutch of colors and large or extra-large variants, there's something for everyone here.
Made from chenille, your dog will have a soft and smooth surface to sprawl on, while the rug is also built to stay the distance.
Care is super-simple. This mat is machine-washable, and will dry in a flash like all microfiber and chenille mats.
Thick and heavyweight, the mat weighs in at just over 2 pounds giving you a pleasing heft and bulk and a mat that should last for years.
OK, with our reviews in place, you should now be perfectly placed to choose the right dog doormat for your needs.
To finish off today, we've curated the answers to the most frequently asked questions about dog door mats.
---
II. FAQs
1) What's the best material if I want a dog doormat?
Chenille microfiber is arguably the most effective material. Rugged and built to endure, this fabric is also super-simple to care for. Microfiber mats are machine washable and dry up to five times quicker than most other materials. As an inbuilt benefit, this material is also very comfy for your dog.
2) Why is the absorption of a dog door mat important?
Think about the primary purpose of buying a mat. You want to stop all the dirt and debris your dog drags along with him from being taken into the house. Absorption rate is expressed in terms of GSM per minute. You should look for a rating of at least 1500 GSM if you want a mat to keep your floors clean.
3) How often do I need to clean my dog doormat?
This depends to some extent on the weather where you live and the habits of your pooch. When there's lots of rain and your dog often comes in filthy, you should ensure your mat is cleaned daily. For most normal purposes, you could get away with cleaning a mat weekly. If you buy a microfiber mat, all you need to do is slip it in the washing machine then allow it to dry naturally. Vacuuming the mat will get rid of any ingrained debris. If you see any stains on the mat, try using some baking soda and allowing it to sit for a few minutes. Wash off using some mild soap and you should have your dog doormat spotless again.
4) What happens if my dog falls asleep on the mat, is this dangerous?
Absolutely not! If you choose a mat made from comfy, dog-friendly materials, and you make sure the backing provides ample cushioning, your dog will quite possibly spend many afternoons relaxing or sleeping on the mat.
5) Are all dog doormats suitable for outdoor use?
Not all mats will cope with being left outside. If you know that the best place for your mat is directly outside the door, you should look for a rubber mat. Reserve the microfiber mat for indoors and then you can practically guarantee a floor completely free of those trademark muddy pawprints.
6) Can I damage my dog doormat by vacuuming it too frequently?
Yes. If you go over the top and start vacuuming your mat daily, you could damage both the absorption properties and the texture. The good news is, there's absolutely no need to do this. Wait at least three days between vacuuming your mat and you'll keep it in great shape for longer.
7) Is a dog door mat safe for kids?
The amount of germs and bacteria in a dog doormat means it's a smart idea to teach your children to steer well clear of it.
---
III. Conclusion
If you buy a nice doormat for your dog, there's every chance it will become one of his favorite spots to lie down.
You should look for tassels when you're buying a mat as this will clean between the toenails of your pup while also keeping mud off your floors. The tasseled design also provides your pooch with a comfortable place to relax. The only drawback with tassels is that some especially vigorous dogs might chew these off and possibly even swallow them. Avoid this by buying some indestructible dog toys instead.
We'd suggest you bookmark our blog before you head out. Here at BarkVA, we're here to bring you impartial product snapshots so you can easily compare the best dog equipment like-for-like and choose the right gear without any fanfare.
We have a busy content calendar in place for the upcoming holiday season, so we'd advise you to pop back soon if you want more inspiration for gift ideas, whether for your own furballs or for other pet lovers you want to give a treat this Christmas. We'll see you soon!