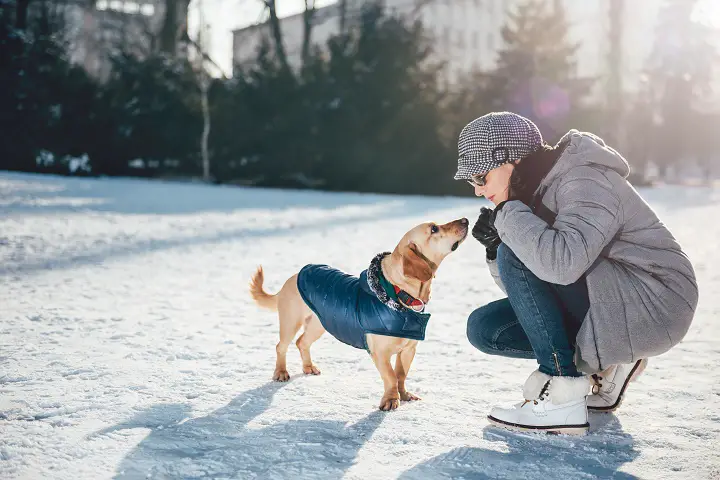 Some people have questioned the need to purchase winter coats for dogs. After all, dogs like huskies and German shepherds have coat thick enough to withstand the cold weather, right?
Fair enough. Clearly not all dog need the best dog winter coats but how about those that do?
Short-haired breeds like pit bulls, greyhounds, and chihuahuas all need a helping hand when it gets colder. Sick dogs also need some extra insulation during colder months.
It could be, too, that your dog just feels the cold more than average. Let's face it, our pets today are pampered. Over time, the dogs you raise have lost many of their wild traits. They don't have to go out for food. You keep your dog in cool rooms when it's hot. You take care of your dog just like you would take care of your children. 
Assuming your dog does need a winter coat, what should you look for when you're buying one?
Things to keep in mind when choosing to buy winter coats for dogs: 
Size 
Size matters and never more so than when choosing a winter coat for your dog. Get this right and your dog stays toasty all year long. Get it wrong and the jacket will end up gathering dust in the closet.
All the jackets we review come in a broad selection of sizings. Measure your dog carefully, both across the chest and around the neck.
Unfortunately, many of these jackets come with questionable sizing charts so you should really take your time over this part of your buying decision.
The good news?
Once you're certain the jacket you're looking at will snugly fit your pooch, the rest of your buying decision is super-simple.
Bright colors
Only you know the importance of color when it comes to your dog's wardrobe. It could be highly relevant or of no concern.
Several of the jackets we review today are available in a dazzling array of colors so if you are motivated by bright colors, you've got plenty of options at your disposal.
The condition of your dog
You should think about the life stage and overall condition of your dog.
Is he especially old or young? Does he have particularly long or short hair?
Personalize your buying decision and buy a winter coat for your dog in line with this.
The climate where you live
Now, the weather where you live is highly relevant and will inform the type of winter coat you buy for your dog.
If you have especially low temperatures, be certain to wrap your dog up just as surely as you keep yourself warm. Your dog can't help himself.
Material
The bulk of these winter dog coats are made from polyester. This is highly durable and won't get ripped up after a bit of rough and tumble.
If you dislike handwashing your dog's gear, look for a coat you can pop in the washing machine to keep your input to a minimum.
Waterproofing
Depending on the climate and whether or not your dog goes in the water when you're out for a walk, you might want to prioritize waterproofing. If so, you'll find no shortage of fully water-repellent winter coats.
Right, with that foundation in place, you should be clear what you're looking for in the best winter dog jacket.
We'll get right down to business now with our reviews.
BarkVA is reader-supported. When you buy via the links on our site, we may earn an affiliate commission at no cost to you.
I. The 8 Best Dog Winter Coats
1.

Our #1 Pick:

Kurgo Loft Jacket Reversible Dog Coat for Cold Weather
First up in our quest for the best dog winter coats is this neat reversible jacket from Kurgo. What do you get for your money, then?
If you want plenty of choice when it comes to colors and sizes, you're in safe hands here. This jacket runs from XS through to XL. As well as this loft jacket iteration, you can also pick up a fleece sweater or a base layer separately.
Reverse the jacket and your pooch can wear it indoors, too.
With leash access and a reflective stripe, this completely adjustable coat is our overall favorite winter coat for canines. Reasonably priced and built to give your dog plenty of service, treat your pooch today!
Things We Like:
Huge choice of colors and sizes
Reversible and adjustable for complete versatility
Buy with complete confidence thanks to money-back guarantee
Things We Dislike:
A few complaints about the finish of this jacket
---
---
2. Kuoser Waterproof and Windproof Reversible Dog Jacket
Starting at XXS (chest sizes 9.1 to 11.8 inches) and running right up to 4XL (chest sizes 37.8 to 47.2 inches), you're spoiled for choice whatever breed of dog you own.
A choice of 9 striking colorways ensures there's something for all dogs here. Each is neatly reversible with a variation on the same design.
A waterproof outer layer and polyester filler combine to deliver a year-round coat perfect for cold and wet weather. With hook-and-loop closures, you won't struggle to get your pup in or out of this jacket either.
For a jacket cut out for all winds and weathers, this Kuoser takes some beating. Why not give your pooch a treat?
Things We Like:
Massive spread of sizes to suit all breeds
Hook-and-loop closures simplifies putting jacket on
Lightweight yet fully windproof and waterproof
Things We Dislike:
No stitching around the hole for leash
---
3. RUFFWEAR Insulated Jacket for Dogs
RUFFWEAR is a household name in the dog vertical. If you need to keep your pooch warm in hostile weather, this insulated jacket is tailor-made.
Fashioned from polyester that's built to stay the distance, the jacket is emblazoned with reflective strips so you and your pooch stay safe at night.
Slipping your dog in and out of the jacket is a cinch thanks to the buckles on the sides. Available in a choice of 6 colorways, you should find something to suit your taste and your dog's temperament.
The only real drawback with this excellent insulated jacket is the fact a few disgruntled users have drawn attention to the speed at which the waterproof coating wears off. If you frequently take your dog out in wet weather or near the water, it might be worth reconsidering.
Things We Like:
Quick-release side buckles speed up getting ready for walkies
Reflective patches so your dog stays safe after dark
Made from rugged recycled polyester
Things We Dislike:
Water-repellent finish wears off quickly which is a disappointment
---
4. MIGOHI Reversible Dog Coat for Cold Weather
If you have several dogs at home, you should find a jacket to fit all of them from the deep MIGOHI bench. Sizes run from XXS to XXXL.
Choose from 7 colors in this water-resistant polyester jacket designed for both indoor and outdoor use.
A proprietary magic sticker design allows you to slip the coat on and off with absolute ease.
The only real snag with this jacket is that it's not the best insulated. If you live somewhere with extremely low temperatures, you might want to look at alternatives.
Things We Like:
Excellent cross-section of colors and sizes to suit
Velcro closures for no-nonsense dressing
Works indoors and outdoors for just about any breed
Things We Dislike:
Relatively lightweight jacket so not ideal for really cold climates
---
5. ThinkPet Reversible Winter Dog Coat
As we pass the midpoint of our winter dog coat reviews, we've got another reversible gem, this time from ThinkPet. Whether you need a jacket for indoor or outdoor use, why not get the best of both worlds?
Running from XS (chest size 12 inch) to XL (chest size 24 to 26 inches), you should find something to fit pretty much any breed of dog. The only niggle here is that, like many of these jackets, you might find some discrepancies with the size chart. It's worth taking your time here to avoid getting a coat that doesn't fit properly.
As with all the best winter dog coats, this model is a cinch to get your dog in and out of. The choice of colors is limited to just four. All come with reflective strips so your pooch stays safe around the clock.
Things We Like:
Choose from a large range of sizes
Hook-and-loop fastening expedites getting your dog in and out of this jacket
Reversible coat ideal for indoor and outdoor use
Things We Dislike:
Size listing is misleading
---
6. Zack & Zoey Dog Blanket Coat
Next up is this neat dog blanket coat from Zack & Zoey. You get a choice of 8 sizes and 8 colors meaning there should be something for most pet owners here.
Made from polyester and packing classic Velcro fastenings, you'll find no problem at all slipping your furball in and out of this jacket.
You won't need to worry about upkeep either. Pop this jacket in the washing machine, allow it to air dry and you're good to go.
While the coat itself is spot-on, if you run into any problems, you could find customer care lets you down. Plenty of dissatisfied customers complain about a lack of responsiveness and queries left unresolved.
Things We Like:
Easy-care machine-washable jacket
Tweak neck and belly enclosures for a super-snug fit
Reflective stripe for safety
Things We Dislike:
---
7. Gooby Dog Jacket
As we edge to the end of our hunt for the best dog winter coats, this Gooby Dog Jacket is a great choice if you want to keep your furball warm year-round even in cooler climates.
The innovative design ensures you never pinch your dog's fur and you never trap his skin. Once it's on, your furball will be cocooned in warmth.
With D-rings allowing you to attach your leash securely, once you're done with walkies you can just machine wash this jacket so you have no concerns about ongoing maintenance.
If you have a larger dog of 32 pounds or more, this is not the coat for you. For all smaller dogs below that weight, it makes a smart choice.
Things We Like:
Designed to never pinch your dog's skin
Secure D-rings for attaching your dog's leash
Safe to machine wash and tumble dry
Things We Dislike:
Won't fit dogs over 32 pounds
---
8. Petcee Waterproof Dog Jacket
Last but by no means least is this waterproof and windproof jacket from Petcee. What sets this apart from the competition, then?
Well, the dual-layer construction and robust fleece lining ensure your pooch stays toasty even when the mercury tumbles sharply.
As with all the best dog winter coats, you can reverse this beauty and get twice the mileage. Whether he's sporting it indoors or outside, your dog will look his best and feel warm at all times. What's not to love?
Things We Like:
Polyester jacket with warm fleece lining
Doubles up as an indoor jacket by reversing it
Dual-layers to keep the cold out
Things We Dislike:
As with many of these jackets, the sizing chart is weak
---
OK, with those reviews in place, it's time to tail off today with the most frequently asked questions about dog winter coats.
II. FAQs
1) Does my huskie need a winter coat?
Yes he does. Just because a dog has a longer coat, he'll still feel the cold in extremes of temperature. Unfortunately, he won't be able to tell you he's cold, so do him the service of investing in a great winter coat. Get this right and you should get years of faithful service from your coat.
2) Why do so many manufacturers of dog winter coats get the sizing wrong?
We don't know! It frustrates us so we try to point you toward user reviews where the specifics of these discrepancies in sizing are explained. We also urge you to carefully measure your dog before brandishing your credit card.
3) How can I keep my dog warm in really cold weather?
Just like when you're dressing yourself to deal with extremely cold temperatures, it's all about layering. Make sure you double up on your dog's clothing. You can also look at winter coats with multiple layers and fleece linings so you can make certain your pooch never suffers even if it's bitingly cold outside.
4) So these jackets are only any use outdoors, right?
No. Reversible, you can use these winter coats inside, too, if your dog finds things a little chilly in your home.
5) What's the best material for a winter dog coat?
Most of the best coats we encountered on our research are made of polyester. This is ruggedly hard-wearing and also comfortable enough not to itch and chafe your dog. After all, it's no use keeping him nice and warm if he ends up irritated by a scratchy and poor quality jacket.
6) I feel self-conscious walking my dog when he's wearing a jacket. What can I do?
Why do you feel this way? You're doing your dog a favor by dressing him up against the cold. Don't feel guilty about it. You're not parading him like it's a fashion show. And even if you were, so what? He's your pride and joy, so never feel bad about treating your dog that way.
---
III. Conclusion
We hope by now you have a solid overview of the best dog winter coats up for grabs. Most of the jackets we looked at today come in a wide array of sizes.
A general point about those sizes, though. For some reason, many manufacturers seem to mess up when it comes to the sizing charts. You should check out some user reviews pointing out where they get this wrong so you can maximize your chances of getting it right.
Bookmark BarkVA and be sure to come back soon. We're hard at work producing more value-packed informational guides so you can get the best dog equipment the easy way. See you soon!