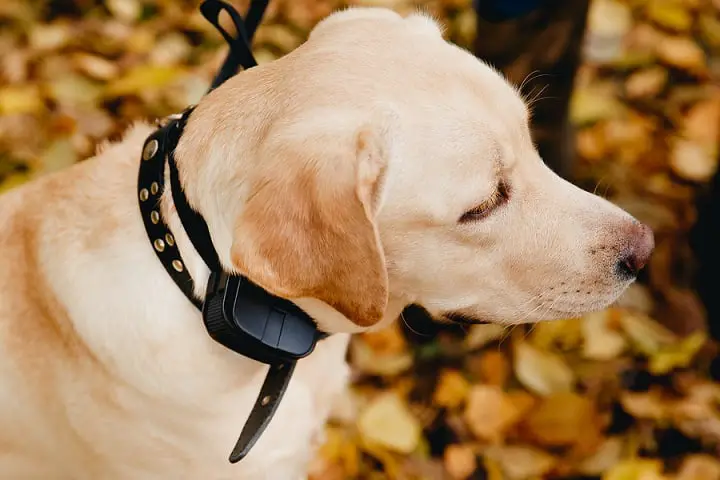 If you're looking for the best dog training collar, you're absolutely spoiled for choice.
Today, we're going to highlight a wide range of these training devices so you can start correcting your dog's behavior using the most appropriate method for his temperament and the type of behavior you're looking to alter.
Most of these devices allow you to use progressive levels of static shock but what does this mean for your dog? Well, put simply, he'll be administered a slight shock that's roughly comparable with the static shocks you get yourself from time to time. While typically considered the least humane of all training methods, not all dog owners want collars like this.
You can also find training collars that deliver correction by ultrasonic beeps, light, or vibration. Other devices use a spray that should dissuade your furball from playing up. Whether this is citronella or unscented, when your pup's snout gets wet, he'll start falling in line.
Here's a snapshot of the training collars we highlight today…

BarkVA is reader-supported. When you buy via the links on our site, we may earn an affiliate commission at no cost to you.
I. Our Picks for Dog-Training Collars
Products & Features
Image & Price

Dog Care Dog Training Collar Our #1 Pick

3 modes of correction
Benefit from 99 levels of static shock
900-foot wireless range
Train up to 9 dogs with a single unit
Rugged and weatherproofed

SportDOG 425X Remote Trainers

Train up to 3 dogs with 1 remote
1500-foot range is impressive
Works well on most sizes and breeds of dog
Fully waterproof and submersible
1-year limited warranty and US-based customer care

NBJU Rechargeable Training Collar

Last 12 - 15 days on a full charge
Water-resistant for all weathers
7 adjustable levels of correction
Rechargeable in 30 minutes

Dogtra Fieldmaster

27 levels of static correction
Use vibration with no static shock if you prefer
Crisp LCD you can read at a glance
Battery life clearly displayed
Class-leading 2500-foot range

Pet Union Premium Dog Training Collar

Unbeatable value for money
Wide range of colors to choose from
Oversized remote a cinch to use
100 levels of correction
Disengage static shock for more humane correction

Educator E-Collar Upgrade Pick

Huge number of configurations available
Outstanding ½ mile range
Vast spread of correction levels
Get a full charge in just 2 hours
Impressive build quality

PetSafe Remote Spray Trainer

Totally humane correction with no static shock
Use citronella or unscented cartridges
Fully waterproofed all-rounder
Lightweight so ideal for small dogs
Get a complete charge in 2 hours

Garmin Delta Dog Training Device

Interchangeable contact points
½-mile range great for parks and fields
18 levels of static correction
Use vibration or sound if you prefer
IPX71 waterproof rated

Petrainer Shock Collar

Remarkably good value
100 progressive levels of correction
Waterproof so all-weather aid
Works for most sizes and breeds
1000-foot range

Dogtra IQ-PLUS Remote Trainer

1200-foot range
Quick to charge in just 2 hours
Reasonable runtime
Fully waterproof collar and remote
Designed with small dogs in mind

Garmin Sport PRO Dog Training Collar Bundle

4 training buttons so a cinch to use
Easily adjustable levels
300-foot range
LED lights perfect for nighttime training
Solid build quality

Dogtra 1900S

Understated stealth design
¾-mile range great for wide open spaces
127 correction levels
Exceptional build quality
IPX9K waterproof rated

Petronics Rechargeable Dog Training Collar

Works with all dogs from small to large
Exceptional value
900-foot range for outdoor training
4 training modes to choose from
Rugged and durable build
---
II. Things You Should Consider When Choosing a Dog Training Collar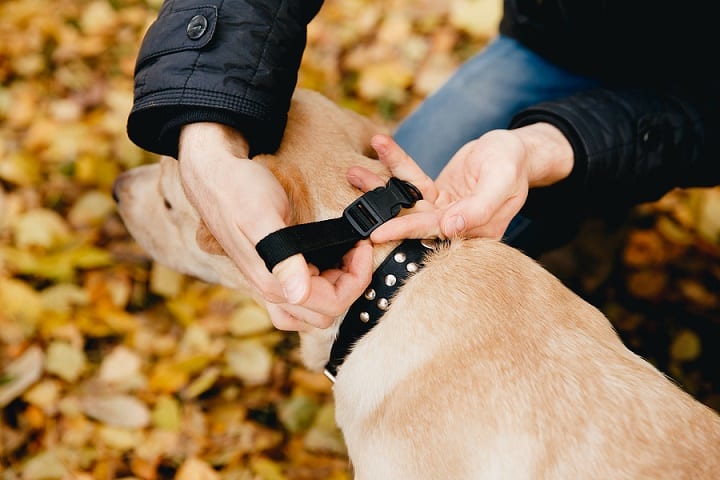 Fortunately, buying a dog training collar is really pretty simple.
That said, there are some key factors that can simplify your decision further. Focus on the following areas and you'll the best dog training collar without spending too much time or money…
Type of Dog Training Collar
Remote Control or Always-On?
Range of Intensity Settings
Wireless Range
Size Matters
Can You Train Multiple Dogs with One Remote?
Display
Waterproofing
Durability and Comfort
1. Type of Dog Training Collar
If you're looking to train your dog not to bark inappropriately or you need help with leash-training or other forms of obedience training, here are the main type of collar you can use:
Ultrasonic Device
Vibration Collar
Static Shock Collar
Spray Collar
Ultrasonic Device
You can find handheld devices or collars that emit piercing ultrasonic beeps undetectable to the human ear but intensely irritating to dogs.
This form of training device won't annoy your or the neighbors but should certainly pull your dog up when he starts raising Cain.
Vibration Collar
Vibration collars are designed with sensors studded in to determine when your dog is barking too much.
A vibration collar is totally humane and pain-free but you might struggle with this form of correction if you have a stubborn or particularly aggressive dog.
Static Shock Collar
By far the most popular type of collar, static shock no-bark collars are no use if you don't like the idea of subjecting your pooch to any discomfort.
This kind of collar kicks out correction similar to the static shocks you'll have experienced yourself. If you don't like the idea of inflicting that level of pain on your dog, these collars are not for you and you have plenty of other options at your disposal.
Spray Collar
A spray collar emits a metered spray of liquid, typically tinged with citronella. Dogs despise the smell of citrus and this should arrest any aberrant behavior.
If, for any reason, you don't like the idea of a citronella spray, you can opt for unscented cartridges. Your dog won't be too happy if you spray his snout with anything so you might well find results using this kind of collar.
Make sure you take the cost of cartridges into account when you're budgeting. You should also make certain you can easily access an ongoing supply.
All of these forms of correction work differently so what can do you if you're not sure which your dog will respond to?
Well, many collars are multipurpose so you can try various methods before settling on the one that pays dividends.
Once you've decided on the method of correction you'd like to use, you've got another decision to make…
2. Remote Control or Always-On?
If you need a device you can use when you're proactively training your dog, a remote-controlled collar is the way forward. You'll get a handheld device that's usually small enough to slip easily into your pocket. Your dog wears a collar then you enjoy varying degrees of wireless range depending on the collar you've chosen.
An always-on collar, as the name suggests, remains in place. Correction is automatically administered when the collar picks up on excessive barking. This type of collar is perfect if your dog is prone to barking when you're away from home. These collars are safe to leave on for up to 12 hours at a stretch.
3. Range of Intensity Settings
Not all dogs respond in the same way to correction.
If you have a large and stubborn dog at home, you'll know he often needs a firmer hand if you need to encourage him to behave.
Equally, if you have a smaller and very timid dog, you might be concerned about delivering too much correction.
Look for collars offering broad bands of intensity levels. Many collars allow you to progressively push through up to 100 settings. You don't necessarily need this range as long as you have enough of a difference to fine-tune things.
4. Wireless Range
You can find collars perfect for training at close range and these will have limited reach. This sort of collar is also ideal if you're planning to train your dog primarily indoors.
If you're heading out into wide open spaces, look for collars offering ranges up anywhere from 300 to 4000 feet. Choose in line with your needs here rather than obsessing over which collar has the longest range if you're unlikely to take advantage of it.
5. Size Matters
You should check closely that the collar you're considering is designed to fit your size and breed of dog.
Most collars have a minimum weight limit of 8 to 10 pounds. Upper weight limits vary considerably.
You'll also need to measure your dog's neck and check that the sizing band is suitable. Most work well with a broad spread of dogs.
6. Can You Train Multiple Dogs with One Remote?
Do you have several pets?
If so, you're unlikely to want to spend out on complete kits for all your furballs.
Luckily, you don't need to. Many of the collars we showcase today allow you to use a single remote so you won't be juggling appliances. You then just need separate collars and you can train your whole kennel without breaking the bank.
7. Display
The display and interface should be easy to read and use even in dim conditions.
Most of the best collar remotes come with crisp LEDs or LCDs so you can see everything you need at a glance.
8. Waterproofing
Collars are normally waterproofed and submersible.
Whether you often train your dog in the rain or you go for a walk along by the ocean or river, protect yourself by making certain you get an appropriately waterproofed unit.
9. Durability and Comfort
You should make sure the collar you're looking at is rugged enough that it won't give up the ghost a few months down the line.
Equally as important as durability, ensure the collar is comfy and compact enough for your dog so he can wear it without feeling burdened or irritated.
---
III. Reviews of 13 Best Dog Training Collars
1.

Our #1 Pick:

Dog Care Dog Training Collar
First up in our quest for the bed dog shock collar is this powerful option from Dog Care but what makes it stand out?
To kick off, you can choose from 3 training modes to suit. Whether you prefer using static shock, ultrasonic beeps, or vibration, choose what works best for your pooch and stick with it.
If you find static correction most effective, you'll be able to flick through a full 99 progressive levels delivering increasingly intense shocks to deal with stubborn dogs.
Totally waterproof, this collar is ideal for training in all weathers. With 9 channels up for grabs, add extra collars so you can train multiple dogs with a single remote.
Range is an impressive 900 feet so you'll be free to roam around the park without losing control.
A neat security lock prevents accidental mis-operation and keeps your dog safe from inappropriate correction.
These collars fit dogs from 15 pounds right through to 100 pounds so you've got a highly versatile training solution coming in at a reasonable price point: what's not to love?
Pros: A single controller allows you to train up to 9 dogs. 3 training modes. 99 levels of static correction. Ideal for use in all winds and weathers. Up to 900 feet wireless range.
Cons: Battery life doesn't quite live up to manufacturer's claims.
Bottom Line: For a versatile and affordable training solution ideal for owners of several dogs, Dog Care's collar is a must.
---
2. SportDOG 425X Remote Trainers
Do you frequently take your dog out in wide open spaces? If so, the 1500-foot range this collar from SportDOG serves up allows you to stay in total control from a distance.
You can press the same remote into commission to train up to 3 dogs saving you money and cutting down on the amount of gear you'll need to take out.
The 425X comes in several variants to suit all needs. Price-wise, you'll need to dig a little deeper so make sure this collar sits nicely with your budget before you probe too much further.
Like most of the best dog training collars, you can grab a quick blast of charge in as little as 2 hours if the batteries are flat are you're heading out for walkies.
Completely waterproof so ideal for training un all winds and weathers, the SportDOG isn't cheap but you'll get exceptional value for money.
Pros: Huge 1500-foot range ideal for training outdoors. Use a single remote for up to 3 dogs if you invest in extra collars. Submersible to 25 feet. Get a quick burst of charge in just 2 hours.
Cons: Certainly not the cheapest option at your disposal.
Bottom Line: If you're looking for a top-notch training collar you can use with more than one dog, the SportDOG 425X isn't cheap but then the best things in life seldom are.
---
3. Runner-Up: NBJU Rechargable Training Collar
NBJU has a hard-earned reputation in the dog accessories space. This rechargeable training collar helps you to stop your furball from barking excessively. You can also use the collar to help address a range of other behavior issues.
The water-resistant design gives you complete freedom to train your pooch in huge spaces without losing control.
A versatile collar fitting all neck sizes from 8 to 25 inches, this is a multipurpose gem.
If you run into any issues, there's a robust customer care wing in place to deal with all your queries expediently.
Rugged and durable, enjoy using multiple levels of correction to fine-tune things for the temperament of your pooch.
Pros: Recharges in 30 minutes and will last around 12 – 15 days. Fits all dogs to neck sizes from 8 to 25 inches.
Cons: A few reported issues with quality control so check the contents of your package closely upon receipt.
Bottom Line: If you want a versatile training collar offering multiple levels of progressive correction you can tailor to dogs up to 25-inch neck size.
---
4. Also Great: Dogtra Fieldmaster
If you're looking for a training collar with the largest range possible, it's got to be the Dogtra Fieldmaster. Control aberrant behavior at colossal distances of 2500 feet. What else makes this collar stand out, though?
A broad choice of static correction levels helps you keep your pooch on his toes. Ratchet up the intensity through 27 levels so you can match the shock to the behavior and temperament of your canine.
See the precise level of correction at a glance even in the dark. The LCD is crisp and easy to read. You'll also benefit from a battery indicator so you won't be caught short.
If you don't like the idea of using static shocks to correct your dog, you can opt for vibration instead. This method of correction won't work with all dogs but feel free to experiment.
Rechargeable batteries cut down on running costs and make your life much more convenient.
The only real downside of this collar is that you might initially find it a little awkward to use. Once you're accustomed to the control, though, you'll be delighted you made the investment.
Pros: Huge wireless range of 2500 feet. Rugged and durable collar ideal for feisty dogs. 27 levels of static correction. Switch to vibration-only mode for more humane correction. All components fully waterproofed.
Cons: Remote control can be temperamental.
Bottom Line: If you want a wide-reaching collar giving you the scope to train more than one dog at a time, the Dogtra Fieldmaster is a must.
---
5. Best Budget: Pet Union Premium Dog Training Collar
Choose from a wide array of colors to find the perfect training collar for your furball.
It's not just choice of colors you get but an even greater range of static correction to choose from. 100 levels of shock allow you to gradually ramp up correction if your dog doesn't seem to get the message.
You can also opt to train your dog with vibration or audible beeps. This is a superb and totally humane alternative to static shocks and makes this a highly versatile training device.
The oversized remote is easy to use even if it's gloomy outside. The backlit screen lets you see the level of correction with ease. The large buttons are equally easy to use even if you're training at night.
Comfortable for your dog, this lightweight collar should suit most sizes and breeds.
Battery life is reasonably impressive and you won't need more than 2 to 3 hours to deliver a full burst of charge.
If you're still struggling to get your dog to obey, why not call in the free email-driven training on offer? Learn some more tips to stop your dog from creating mayhem direct from the experts.
Crowned with a lifetime replacement guarantee, you can buy with complete confidence.
Pros: Unbeatable price/performance ratio. Easy to use with free email training available. Plenty of runtime from battery.  100 levels of correction so ideal for even stubborn pooches.
Cons: Build quality could be improved but you need to keep your expectations reasonable at this price point.
Bottom Line: If you're looking for a dog training collar on a budget, the Pet Union Premium is hard to beat giving you enormous flexibility at rock bottom prices.
---
6. Upgrade Pick: Educator E-Collar
If you have deep pockets and you're hunting for a top-notch dog training collar that will last for years, we bring you the Educator E-Collar.
Coming in a variety of colorways, you can easily find something to suit the temperament and style of your beloved furball.
This unit works well for all dog from 5 pounds and up.
100 baseline levels of correction are complemented by another 60 boost options giving you unparalleled versatility when training. Be certain to interweave plenty of positive reinforcement, though. If you skip the reward, you won't get long-term gains.
The remote is designed much like a traditional stopwatch and it's a compact, lightweight unit that won't burden you when you're out on a walk.
The dual-charger thrown in can return a complete charge in as little as 2 hours so you'll never be caught without your collar and remote when it's time for walkies.
Whether you want to correct excessive barking or you're trying to leash-train your pooch, these training collars have multiple use cases. The E-Collar is one of the finest options up for grabs even if it's not especially cheap.
Pros: Dependable build. Everything you need bundled. Class-leading choice of correction levels allowing you excellent latitude when you're training. Intense tapping correction can help persuade stubborn dogs.
Cons: Certainly not the cheapest collar at your disposal.
Bottom Line: If you have a flexible budget and you're looking for a training collar with a broad range of levels, the Educator E-Collar is well worth popping on your shortlist.
---
7. PetSafe Remote Spray Trainer
Not everyone wants the directness of a static shock training collar. While many pet owners have no objection to using mild static correction, for many others, the idea is unthinkable. Where does that leave you if you're looking to train your dog, though?
One of the most effective alternatives is to use a spray collar so aberrant behavior results in your dog being sprayed all over the snout. Like most spray collars, you can opt for citronella cartridges or unscented spray. Dogs loathe the smell of citrus and dislike their snouts getting wet so take advantage of that with this little diamond from PetSafe.
The 900-foot range is ideal if you take your pooch on meandering walks but he can't always behave himself properly.
Waterproof and lightweight, you can go just about anywhere without worrying about your collar letting you down.
The Spray Trainer is designed to let you train a couple of days from the same remote saving you money and hassle.
For anyone disinclined to use static shock correction, a spray collar is a highly effective alternative and 100% humane.
Pros: Sharp bursts of citronella or unscented spray should correct your dog from barking excessively. 900-foot range. Add a second collar and train more than one dog.
Cons: You'll need to factor in ongoing cost of cartridges and also remember to keep a supply on hand.
Bottom Line: If you don't like the idea of static correction and your dog doesn't respond well to ultrasonic beeps or vibration, this spray collar is the obvious and completely humane solution.
---
8. Garmin Delta Dog Training Device
Garmin are famous the world over for their pioneering GPS. How do they fare with dog training collars, then?
Build quality is precisely as you'd expect. IPX71 waterproof rated, you'll be able to head in whatever the weather. The collar will also stand up to the occasional dip if you're walking by the ocean and your dog likes to dive in.
You can rotate through 18 levels of static correction which should give you enough leeway to prod even stubborn dogs into behaving.
For anyone who doesn't like the idea of static shock, there's ultrasonic beeps or vibration to choose from instead.
The collar itself is light and compact enough that it won't irritate your dog. The remote is also easy to carry when you're out and about and it's ergonomically designed to sit in your hand.
While some disgruntled customers have pointed out this collar let them down, we feel build quality is strong.
Pros: IPX71 waterproof rated. Impressive range suitable for outdoor training. Choose from static shock, vibration, or ultrasonic beeps. Lightweight and comfy for your pooch. Rugged and built to last.
Cons: Pretty pricey. A handful of complaints about lifespan.
Bottom Line: Place your trust in the GPS specialist and guide your dog with the Garmin Delta. Lightweight yet durable and packing an impressive range, what's not to love?
---
9. Petrainer Shock Collar
Petrainer serves up another affordable and efficient dog training collar that's ideal for pretty much any shape and size of dog.
Superlight and totally waterproof, you can head anywhere with this collar without worrying about a few drops of water.
4 buttons make operation a cinch even if you've never used one of these collars before.
The collar fits a wide range of sizing from neck sizes of 14 through 25 inches. Slip it on and your pooch should find the compact unit comfy enough to wear for extended periods.
100 progressive levels of correction allow you to start slowly and work things up as necessary. Whether you choose static shock, vibration, or audible beeps, you should be able to find something that works for even stubborn pooches.
Lightweight, waterproof, and built to last, you're getting great overall value.
Despite delivering all this functionality, this collar is priced keenly so what are you waiting for?
Pros: Exceptional price/performance ratio. Easy to use. Works for most sizes and breeds. Comfy, lightweight and 100% waterproof. Variety of training modes and intensity levels.
Cons: Several complaints about problems developing over time.
Bottom Line: If you're looking for a pocket-friendly dog training collar from a brand you can trust, the Petrainer Shock Collar is a solid choice.
---
10. Dogtra IQ-PLUS Remote Trainer
The Dogtra IQ-PLUS makes a great choice if you have a small but stubborn dog and you need to train him effectively. As with all collars, you should always use plenty of positive reinforcement when you're correcting behavior. The carrot is equally as effective as the stick.
The 1200-foot range is ideal if you frequently head out into wide open with your dog but you'd still like to remain in charge.
Tweak stimulation up through 100 levels. This means there's no excuse not to correct your dog's behavior even if he is initially resistant. Gradually step up through the various levels until you can grab his attention fully. You can then dial this in for future reference.
The collar is light enough without being flimsy. You should find your furball wears it without it any real resistance.
Both collar and remote are fully waterproofed giving you a flexible outdoor training aid.
Pros: The IQ-PLUS is perfect for small dogs. Choose from a variety of modes of progressive correction. Ideal for use in all winds and weathers. Decent build. Lengthy runtime and quick charging.
Cons: A few issues with customer care.
Bottom Line: For a flexible, affordable, and highly capable training collar from an industry legend, give the IQ-PLUS a shot and bring your dog to heel.
---
11. Garmin Sport PRO Dog Training Collar Bundle
Another entry from Garmin as we edge to the close of our dog training collar reviews, the Sport PRO is a hard-hitter if you've got a fluid budget. What makes it stand out?
You can pick up this kit in multiple configurations and you'll get everything you need to get going right out the box.
The menu is a cinch to manipulate and you can easily access a suite of correction methods so you can bring even stubborn dogs into line.
If you want to disengage static correction, rely instead on the completely humane ultrasonic beep or pulsing vibration. You should be aware that this type of gentler correction won't necessarily work on all dogs.
10 stimulation levels give you ample choice without confusing or overwhelming you. For many dog owners, the simplicity of fewer options is a benefit not a drawback.
For a powerful and versatile training collar from a highly reputable brand, the Sport PRO is a must.
Pros: Easily navigable menu. Multiple options with training programs to suit various temperaments and breeds. Handy LEDs great for nighttime training. Rugged unit built to last.
Cons: Ruthlessly expensive so certainly not for everyone.
Bottom Line: If you're looking for a bargain, the Garmin Sport PRO is not for you. If you're hunting for the best collar regardless of budget, this should definitely be on your shortlist.
---
12. Dogtra 1900S
Another superb and completely waterproof training collar from Dogtra, the 1900S continues to fly off the shelves with just cause.
127 correction levels ensure you have a huge range of intensity at which you can shock your dog into towing the line. If he doesn't respond well to static shocks or you would prefer not to use this form of training, use beeps or vibration instead. You shouldn't have too much trouble finding the most appropriate method of correction. For this reason, the 1900S is a neat choice if you've never tried training your dog before and you don't know how he'll respond.
The exceptional 4000-feet range lets you and your dog roam free while still remaining connected.
Pros: Fully waterproofed unit for all-weather training. Remarkable range of 3/4 mile. Huge choice of correction levels. Muted camo design. Multiple types of correction at your disposal.
Cons: Not a pocket-friendly training solution.
Bottom Line: If you're prepared to dig deep, Dogtra 1900S is a powerful and adaptable training solution giving you great range and a choice of correction methods.
---
13. Petronics Rechargeable Dog Training Collar
Last but certainly not least in our hunt for the best dog training collar, the Petronics lets you flick between 4 different training modes until you find one your dog responds to.
If you dislike the idea of shocking your dog into behaving, use vibration, light, or audible beeps instead. You might very well find that he complies with these non-intrusive training methods.
This collar will fit dogs with necks from 14 through 23 inches so you get plenty of versatility.
900-foot range is more than enough for most outdoor training purposes. If you need more coverage area than this, we've highlighted many collars today that deliver.
Lightweight yet pleasingly durable, you'll get great value for money from an industry legend. What are you waiting for?
Pros: Lightweight yet remarkably durable. Choose from 4 training modes. Disengage static shock for totally humane correction. Quick sync in just 10 seconds.
Cons: Customer care leaves something to be desired.
Bottom Line: If you're searching for a cheap and cheerful training collar that doesn't stiff you on the performance front, road test the Petronics today.
OK…
With our reviews put to bed, you should now be able to see clearly which type of collar would work best for your dog.
If you're a complete beginner to training and you're not entirely sure how your dog will respond to various methods of correction, we'd recommend getting a multipurpose collar offering you the choice of ultrasonic beeps, pulsing vibration, and static shock. That way, you can determine which method yields best results. If you have no joy whatsoever, you could try a spray collar. Failing that, it's worth calling in a professional dog trainer, even if you only have a couple of sessions so you can become more confident handling your pooch.
Right, once you have your collar in place, how can you go about safely training your bundle of joy? We'll walk you through that right now…
---
IV. Guide to Using a Dog Training Collar Safely and Effectively
Here are 6 simple guidelines to help you use your new dog training collar with ease without causing any harm to your beloved pooch.
Fail to Plan, Plan to Fail
Use Positive Reinforcement At All Times
Make The Most of Progressive Correction
Get The Right Training Collar For Your Dog
Resist Over-Correction
Don't Use Static Shock Collars with Aggressive Dogs
Fail to Plan, Plan to Fail
One of the most discouraging elements of training a stubborn dog who is starting to behave poorly is just getting started in the first place.
Once you have isolated a specific problem – barking inappropriately, for example – you should reprimand your dog verbally. This gets him accustomed to the fact his behavior has not gone unnoticed.
Does he comply?
If so, don't forget to reward him! Every step of the way, you should include plenty of positive reinforcement. This should start before you even place a collar around your dog's neck. Indeed, this is a core part of being a loving pet owner.
Use Positive Reinforcement At All Times
A quick reminder that positive reinforcement is not a question of weakening your position and pandering to your pooch.
There's little doubt you can use punitive measures to stop animals from acting a certain way but the change won't be meaningful or long-lasting.
Try instead interweaving loads of love and treats so your dog clearly sees the benefits of behaving and the drawbacks of stepping out of line. They'll soon be doing what's in their own best interests!
Make The Most of Progressive Correction
If you're opting for a collar with static shock correction, there's a reason these come with so many different levels…
There's no need at all to weigh in right at the upper end of the range of correction. You risk unnecessarily shocking your dog when a far less intense buzz might do the trick.
Start slowly and work your way up gradually from the lower end. Use only as much intensity as you need and no more.
Get The Right Training Collar For Your Dog
Dog training collars administer correction in the following ways:
Ultrasonic beeps
Vibration
Lights
Spray
Static shock
You might need to experiment by trying more than one method to find something that pulls your pooch into line. You could choose a multipurpose collar if you're not certain and you're reluctant to invest in something that might not work.
Training collars come as either:
Remote-controlled
Always-on
Think closely about the type of behavior you're looking to correct so you can get the safest and most efficient form of training collar fuss-free.
Resist Over-Correction
If you find the training method you're using fails to deliver the results you hoped for, don't get frustrated.
And certainly do not start amping up the intensity since you're highly unlikely to get results this way if your dog is not playing ball.
Over-correcting your dog can lead to behavior worsening so exercise a light touch at all times.
Don't Use Static Shock Collars with Aggressive Dogs
Do you have an aggressive dog?
If so, do not use a static shock collar.
While you might feel tempted to shock your obstinate and feisty canine into action, you'll end up making the problem even worse.
With this type of dog, there really is no substitute for a few sessions with a professional dog trainer to get you started down the right path with confidence.
OK…
To round out today, we've collected and answered the most frequently asked questions about dog training collars so you have all the information you need in one place…
---
V. FAQs
1) What is a dog training collar?
Dog training collars come sold as anti-bark collars or shock collars among other names. These collars come in many different varieties but the purpose is the same: to correct your dog from barking excessively. Collars can also be used to remedy other aberrant behavior allowing you to use them for leash training and general obedience training, too. Correction is delivered by static shock, vibrations, ultrasonic beeps or sprays of liquid, often citronella since dogs despise the smell of citrus.
2) Are static shocks safe?
In a word, yes. There is no danger to your dog if you decide to use a shock collar. The level of shock doled out is roughly comparable to the static shocks you get when touching metal after walking on carpet. The shock is designed to get your dog's attention without causing any lasting pain. That said, there are still plenty of pet owners who feel uncomfortable using these collars. If you are among them, that's totally OK and we would never try to persuade you to use any method you're not completely comfortable with. If you are intent on using static correction, start at the low end of the scale and slowly work your way upward. You can do so safe in the knowledge there's no overt danger to your dog. All that remains is whether or not this method sits with you or not.
3) Is it possible to train more than one dog with my device?
Absolutely but this is not possible with all models. Many training bundles allow you to buy separate collars and train anywhere up to 9 dogs using a single remote. This cuts back on the amount of gear you'll need to take out from walkies. You'll also obviously save money since you don't need to buy complete units for each dog.
4) Does ultrasonic sound really work to stop dogs from barking?
It can be effective although not with all dogs. These devices are typically handheld and they only work at short range. You won't be able to hear the noise emitted but it should be annoying enough to your dog that he'll mend his ways. You can also find static shock collars that allow you to disengage the shock correction and rely instead on ultrasonic beeps.
5) Does a spray collar work?
Again, with reservations. Most dogs find it unappetizing if their nose gets wet. Spray collars take advantage of this by administering a burst of metered citronella spray every time your dog barks when he shouldn't. These collars run on cartridges so you'll need to factor the cost of these into yoru budgeting. If you find that static shock, beeps, and vibration are all failing to get results, we'd strongly recommend road testing a spray collar as a last resort.
6) It seems like my dog's neck is irritated from the collar. What should I do?
Sometimes, you'll find your dog might be sensitive to the metal prongs on a training collar. You won't find out until it's too late. As standard practice, you should keep these prongs spotless and disinfected ta all times. Regularly check up on the skin surrounding the collar. Watch out, too, to see if your dog itches or scratches excessively. If you find your dog is in any way irritated by the collar you've chosen, you should immediately discontinue use.
7) What is positive reinforcement?
When you're training a dog, if you use punishment without any form of reward, you simply won't get long-term results. You might temporarily scare your dog into submission but the underlying behavioral issue will not be fixed. Instead, use positive reinforcement. Reward your dog when he behaves just as surely as you correct poor behavior. Lavish your pooch with love and feed him up with treats whenever he does well. Combining these approaches should pay dividends where correction alone will ultimately fail.
8) What's an always-on collar?
With a remote control collar, you proactively train your dog and manually take control if he starts playing up. An always-on collar stays in place with correction administered automatically. These collars pick up on the sound of your dog barking as well as the movement in his throat then deliver correction correspondingly. Auto shut-off comes as standard so there's no danger for your canine. These collars work well if your dog tend to bark a lot when you're out at work. You should not leave this type of collar in place for more than 12 hours straight.
9) Can I use a training collar on my new puppy?
No. Don't try training your dog in this way until he hits 6 months.
10) What's the best dog training collar?
Put simply, the collar that best meets your needs. You need to establish which type of correction you want first. Static shock, vibration, and ultrasonic beeps can all be effective, it's just a case of finding out what works for your dog. How about if none of these training methods works? Well, you can always try a spray collar before you end up calling in the professionals out of frustration.
---
VI. Conclusion
We hope by now you've got a clear idea of exactly what type of training collar would make the best fit for you and your dog. By no means all dogs respond to all methods of correction. Don't be afraid to experiment.
Equally, if you find that static shock collars are not working on your canine, don't get frustrated and start ramping up the intensity level. It might be that your dog just won't react the way he should to this type of correction. Often, extremely stubborn and aggressive dogs respond negatively to this kind of stimulus.
If you pay close attention to our brief guide above, you should have no problems choosing the best dog training collar and you should also be confident that you can use the equipment safely.
In closing, we'd just like to reiterate once more the crucial role of positive reinforcement when you're trying to teach your dog right from wrong. As with any type of discipline, unless it's mixed in with plenty of positive reinforcement like hugs and treats, you're unlikely to generate long-term results. Using the stick might yield a few quick wins but if you're after long-lasting improvements, don't skip the carrot.
Bookmark BarkVA for all your pet-related needs. We've just lined up an ambitious content calendar and we're hard at work to bring you everything you need to get your dog all the best equipment without taking too much time or trouble. See you soon!
As an Amazon Associate, we earn from qualifying purchases - at no cost to you, allowing us to continue our work.