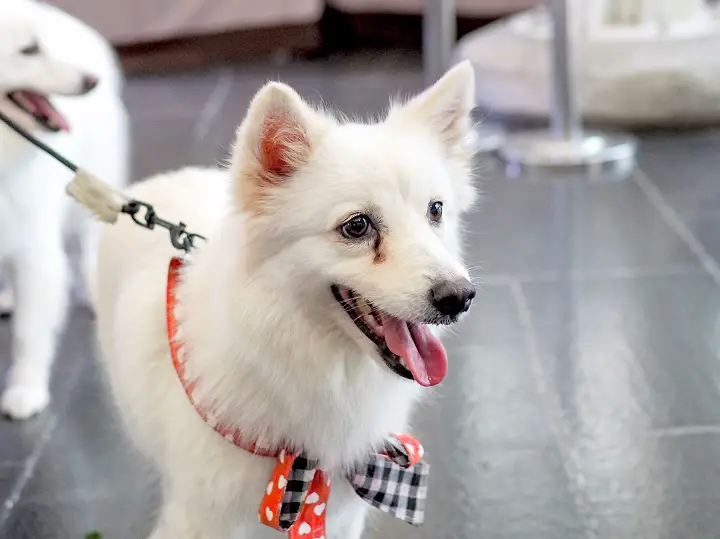 Dogs are just like us humans: tears form in their eyes.
Now, the tears are not a problem in and of themselves. The snag arises when the accumulation of moisture and gunk ends up staining Fido's fur.
Not only do these tear stains spoil the appearance of your dog's coat, but they can also harbor bacteria, and even cause skin infections.
If you've tried attacking these tear stains with water, you'll have found them impossible to shift.
Luckily, you don't need to allow that soiled coat to get the upper hand. With the best dog tear stain removers, you'll remove those unsightly stains while preventing new stains from forming.
We'll walk you through all aspects of buying the right tear stain removers the easy way, and we'll get started with a breakdown of the different types of solution at your disposal.
I. What Kind of Dog Tear Stain Removers Are There?
You can find dog tear stain removers in the following formulations:
Liquid
Wipes
Powder
Paste
Liquid
The most common type of canine tear stain remover comes in liquid form.
While these tear stain removers are easy enough to use, things can get messy unless your dog is docile and compliant.
You'll need to use a cotton pad or a wipe to apply the liquid. It's typically highly concentrated, so a little goes a long way.
Wipes
If you're looking for ease of application, you can't beat wipes for removing canine tear stains.
These wipes all come pre-moistened, so you need to do nothing beyond grabbing one and gently scouring all around Rover's eyes.
Due to the mildness of the formula, you may find you need to use multiple wipes meaning this is not the most cost-effective option. As always in life, you'll pay a surcharge for convenience.
Powder
Powders are not the most effective option for combating tear signs. Nevertheless, it can be useful to have in your arsenal.
You'll harness the core benefit of powder when you use it in combination with other treatments. It will make the other stain remover even more effective. For this reason, we don't recommend powder for standalone use.
The other key advantage of powder is the way it inhibits moisture, so mitigating the problem of future tears stains.
Paste
A paste is not quite as messy to apply as a liquid solution as it's much less prone to dripping.
If you have a dog that tends to squirm around all the time, you might find a paste is awkward to apply.
Pastes are best for wrinkled dogs, and for any pups with sensitive skin.
OK, with those styles in place, you should be able to assess which would make the smoothest fit for your hound.
Now, if you have no idea what else to look for on the buying trail, we'll walk you through that next.
Barkva.org is reader-supported. When you buy via the links on our site, we may earn an affiliate commission at no cost to you.
The 11 Best Dog Tear Stain Removers
1.

Our #1 Pick:

 Burt's Bees Natural Tear Stain Remover
Features
4oz
Chamomile
5 x 1.5 x 5.5 inches
Burt's Bees produces a line of natural products designed with your pup's welfare in mind. The company has been in business since 1984 bringing you great solutions for a range of common pet problems.
If you need to keep your pup's eyes free of stains, discoloration, and gunk, you need a natural tear stain remover that attacks the root cause without irritating Fido. This 99.9% natural solution works wonderfully.
Now, as with all products used on sensitive areas of your dog, you could find some irritation. A handful of users found their dogs showed slight redness after this product was applied. Always try a small amount first to establish there's no issue with Rover.
This formula is designed to work alongside any flea and tick treatments so you can keep your furball protected on all fronts.
If you're expecting immediate results, you'll be disappointed. This stuff takes from 2 weeks to a month to kick in properly. From that point, keep using this solution and ensure your dog has bright, clean eyes the safe way.
Things We Like
Works in 15 to 30 days
Smooth fit with flea treatments
9% natural formula
Things We Dislike
Some users report redness
---
2. Nutri-Vet Eye Rinse
Features
4oz
Boric acid
5 x 5.9 x 1.4 inches
Boric acid is proven effective for helping manage tear stains while also minimizing any irritation. This formula from Nutri-Vet comes loaded with this highly effective ingredient, so what else do you get for your money?
The small 4oz bottle is travel-friendly while still giving you ample solution for months of use.
As with all these treatments, you should continue applying it regularly for best results.
Despite the powerful formula, this liquid is also completely safe to use on your dog's sensitive eye area. The soothing and gentle solution shouldn't cause any redness, and there's no strong or unpleasant smell as we found with some treatments.
This bottle also comes in handy if your dog suffers from seasonal allergies.
Aside from some isolated issues from pet owners claiming their dog found this solution stinging and unpalatable, the vast majority of user testimony is overwhelmingly positive.
Things We Like
Liquid solution for easy application
Soothing and gentle
Works for seasonal allergies
Things We Dislike
Some owners claim product stings
---
3. Miracle Care Eye Clear
Features
90 x pads
Pre-soaked
5 x 2.5 x 2.25 inches
Maybe you've seen some of these solutions and feel you need something easier to apply. If you have an energetic dog or a breed that always seems to be wriggling around, these eye pads make a great choice.
You get a pack of 90 pads, and all come pre-soaked to make your life easier. Now, some users feel these pads could be loaded with more moisture, but you find they efficiently clean all around your furball's eyes without stinging and without triggering any redness or inflammation.
If you prefer the idea of eye drops, the same formula is available in that format.
The manufacturer lists all ingredients, something we can't say for all the solutions on our shortlist. We appreciate this transparency. You can also rest secure knowing the formula contains boric acid, an ingredient proven effective for removing tear stains.
Supported by grooming professionals the world over, you're in safe hands with this contender for the best dog tear stain remover.
Things We Like
Backed by grooming professionals
Non-stinging formula
Made in the US
Things We Dislike
---
4. Arava Tear Stain Remover
Features
4oz
Euphrasia, wild yam, sophora
6 x 1.6 x 6.1 inches
Arava produces an organic and all-natural solution perfect for keeping tear stains at bay and canine eyes fresh year-round.
The first thing you should do is pack plenty of patience. This formula takes anywhere from 4 to 8 weeks to start working properly. This is normal and much better than falling for rash promises of treatments that get to work right away with supposedly miraculous results. This stuff takes time to work, but it's highly effective once it does.
The only real drawback with Arava's solution is a very strong smell that's not to everyone's liking. This set aside, you're getting a gentle but long-lasting treatment for tear-stained canine eyes.
The manufacturer is so confident in this product that they offer an unconditional money-back guarantee during the first month after purchase. If you notice absolutely nothing happening, just call in for a no-quibbles refund. What have you got to lose?
Things We Like
All-natural formula
Stops saliva stains
30-day money-back guarantee
Things We Dislike
---
5. Squishface Wrinkle Face
Features
2oz
Plant-based ingredients
2 x 0.75 x 5 inches
Do you have a bulldog, Shar Pei, or any other wrinkled dog? If so, you'll appreciate the difficulty of keeping the area around the eyes free of gunk and tears. Squishface serves up this plant-based formula so you can address that problem head-on, but without causing your pup any tears, redness, or irritation.
The paste is designed to work well on tear stains, wrinkles, and tail pockets making it a multipurpose cleaning product ideal for all wrinkled dog owners.
Unlike some formulas, you can expect pretty rapid results from this paste. Some pet owners report noticing a marked improvement after just a few days. The manufacturer recommends using it daily for up to 10 days for best results.
Once applied, there will be a thick barrier in place preventing new tear stains from ravaging your dog's eye area.
If you're looking for dog tear stain removers made in the US by a brand you can trust, this gentle yet effective formula from Squishface is well worth popping on your shortlist.
Things We Like
Great for tear stains
Also works on tail pockets
Creates water-repellent barrier
Things We Dislike
---
6. Angel's Eyes Natural Tear Stain Chews
Features
5oz
Chicken chews
4 x 4 x 1.5 inches
If you've tried tear stain solutions with no luck, how about investigating some tear stain chews instead? Many dogs dislike wipes, liquid, or anything else in and around their eyes. These lip-smacking chicken chews, on the other hand, should meet with no canine resistance.
Safe for use with dogs of all life stages from 6 weeks old, you can introduce your pup to these chews early and you should inhibit tear stains from forming in the first place. This is a superior strategy to treating the problem once it develops.
You'll already have more than enough on your hands feeding and caring for Fido, so these chews come in single doses to streamline things nicely. No fiddling around, simply slip your furball a chew and you're good to go.
These tablets get to work on the whole canine coat, eliminating the stains that make Rover look grubby.
The all-natural formula is gentle and should trigger no adverse side effects. The flip-side of these organic ingredients is that a handful of customers claim they noticed very little benefit after using these chews.
Things We Like
Totally natural ingredients
Tasty chew form
Helps brighten coat
Things We Dislike
Some owners report minimal effects
---
7. Eye Envy Tear Stain Remover
Features
8oz
Natural
25 x 2.25 x 5.25 inches
Eye Envy hits a home run with this tear stain remover for dogs containing colloidal silver. How does it perform, then?
Firstly, this treatment is stage 2 of a 3-stage treatment. Use the whole system for best results.
The aim of this remover is to address the root cause. Not only will existing tear stains be removed within a week or so, but you should also find the problem becomes less intense over time and with regular application.
There's no peroxide or parebens, no bleach or steroids. The organic formula gives you the confidence of treating Rover's eyes gently but effectively and making his life better.
The formula is especially effective with wrinkled dogs. If you own one of these alluring but demanding breeds, you'll need to put in some extra effort when it comes to eye care. This all-natural solution is a great way to achieve that without straining yourself or irritating your furball.
Throw in the cleanser and the paste so you have the whole tear stain removal system you need for wrinkled dogs of all descriptions.
Things We Like
Natural formula
Part of multi-stage treatment
Works on wrinkled dogs
Things We Dislike
---
8. Always Bright Eyes Tear Stain Remover
Features
4oz (liquid), 2oz (powder)
Natural
7 x 4.5 x 2.4 inches
Always Bright Eyes delivers a robust set of tear stain remover giving you everything you need to keep those canine eyes gleaming and gunk-free.
You get a 4oz tear stain remover liquid. This allows you to tackle any of the debris around your dog's eyes that's causing his skin problems. Alongside, you get a dinky 2oz pot of powder and a pair of application brushes to simplify application.
How does this stuff work, then? Well, the all-natural formula attacks yeast and bacteria at the source. In this way, you should reduce the tears accumulating and staining your pooch's coat.
The herbal ingredients are antibacterial, antifungal and antibiotic giving you a full-spectrum solution for dog tear stains.
This formula is targeted at dog owners who have pups with light coats. Tear stains look especially unattractive on pale fur, so why not solve the problem once and for all?
Things We Like
Powder and liquid combination
No peroxide, bleach, or cornstarch
Safe and gentle formula
Things We Dislike
---
9. MOKAI Tear Stain Remover
Features
70 wipes
Unscented
7 x 3.3 x 3.3 inches
MOKAI make some first-class pet products that don't blow the budget. These pet wipes are another gem from a deep bench of impressive gear.
The unscented wipes are easy to apply and they come pre-moistened so you'll minimize any hassle with application. You get a pack of 70 wipes that's large enough to last a few weeks but small enough to pop in your bag when you're out and about.
If you use these wipes on Fido regularly, you'll do more than blitz the stains plaguing his coat. You should also discourage new stains from working as the organic formula inhibits the yeast and bacteria responsible for these stains.
Backed by groomers and vets the world over, you're getting outstanding value, all-natural ingredients, and enviable ease of use. What's not to love?
Things We Like
Favored by vets and groomers
Easy to apply
Gentle yet effective formula
Things We Dislike
Some dogs dislike formula
---
10. Petpost Tear Stain Remover
Features
90 chews
Chicken
6 x 3.5 x 9 inches
All dogs love chewing, and most of them love chicken: combine these two elements like with these tear stain remover chews and you have a winning recipe.
If you need super-swift results and your dog has heavy tear stains, you should consider one of the other options on our shortlist. If you have the patience to wait a couple months, though, you'll deal with this issue once and for all.
The 7oz tub contains 90 chicken chews so you'll have enough for 3 months if you administer the chews daily. While they're not exactly cheap, if you calculate the cost over this period, they work out pretty good value.
Free of Tylosin and toxins, you'll help your dog stay free of tear stains without causing him any distress or irritation in the process.
As a final kicker, if you're not entirely satisfied with these chews, you can get a no-questions-asked refund. What more can you ask for?
Things We Like
Works within 2 months
US-made
Satisfaction guarantee
Things We Dislike
Some issues with dry eyes
---
11. Vet Classics Tear Stain Supplements
Features
5oz
Cranberry and marshmallow root
5 x 4.2 x 1.7 inches
Last but by no means least in our collection of the best dog tear stain removers we have some first-class supplements from Vet Classics. How do they shape up, then?
This formula performs two roles. Not only will you effectively remove any tear stains plaguing your pooch, but this stuff also helps stop new tears from forming.
Choose from this pack of 65 chews, or opt for a small tub of powder to suit.
Recommended for use on dogs or cats over 12 weeks of age, this is a multipurpose anti-tear stain solution any dog owner should have on hand.
As with all these treatments, you'll find some reviews from users claiming they noticed no meaningful results. None of these options is guaranteed to be effective for all dogs, so you may need to experiment if you don't find the chews work as well as you expected. We should add that most users find these chews work well once they kick in.
Things We Like
Ideal for dogs over 12 weeks old
Supports immune system
Tasty chews
Things We Dislike
---
II. Things You Should Consider
Once you have the type of dog tear stain remover that makes the best fit in place, there are 3 main points to consider:
Ingredients
Ease of Application
Value for Money
Ingredients
You have two jobs when you're checking ingredients:
Does it contain ingredients proven effective for removing tears stains?
Are these ingredients safe for your dog to use without irritation?
Keep these questions in mind at all times when comparing ingredients. Some of the most common ingredients you find include:
Water: Water is routinely used as a base for canine tear stain removers
Boric acid: This antiseptic acid is an effective stain remover, but it will not irritate your dog's eyes
Minerals: Gentle and natural, some minerals can remove stains
Glycerin: Glycerin makes the stain remover easier to apply and loosens dried residue beneath the eyes
Plant-based oils: These soothe your dog's skin and help condition his coat
Ease of Application
You'll find ease of application varies mainly depending on the type of formula you choose.
Liquids call for a separate cloth or pad so you can more cleanly and easily apply the solution.
Pastes and powders can be applied using your fingers. Some come with an application brush bundled.
As outlined above, wipes are by far the easiest option if you're shopping based primarily on ease of application.
Value for Money
The price of dog tear stain removers varies substantially. You need to look at more than the bottom line, though.
Wipes might seem fairly cheap, but you'll often need to use several wipes in one sitting.
A solution, on the other hand, may seem costlier, but it's highly economical due to its concentration.
All that counts here is closely considering your circumstances and looking at the solution to tear stains that you feel represents best overall value.
Now, before we get down to business with our reviews, some more things to consider before whipping out your credit card.
Firstly, when you're trying to deal with a problem, it pays to know why that problem is happening.
Why Do Some Dogs Experience Excessive Tearing?
Dogs are just like humans in many ways, and their tears work in the same way as ours, namely by forming part of the eyes' defense system.
If anything becomes lodges in the eye, tears help flush out these rogue particles. In the event of this being unsuccessful, more tears are generated. This excessive tearing often leads to stains and discoloration on your dog's coat.
There are other reasons underpinning tearing, including:
Teething in puppies
Blockage in tear ducts
Allergies
Ear infections
The shape of your dog's eye
Wrinkles in some breeds
Beyond this, tearing could point to a causal health issue unrelated to the eyes. If you find your dog suddenly starting to tear more than usual, always consult your vet before using a stain remover. The added benefit of this approach is that you can ask your veterinarian for advice on how to best treat the problem.
Luckily, this isn't too tough!
---
How To Stop Tear Stains
You should be breathing easier once you've ruled out any underlying heath conditions, so how can you fight back against those tear stains?
Maintain regular checkups: Maybe the tearing was triggered by a health condition. If so, make sure you maintain regular checkups to stay on top of the issue
Keep an eye on food quality: If your dog is low in minerals, nutrients, or protein, this can inhibit the way he fights infection. Make sure Rover is eating well and getting all the nutrients he needs
Groom your dog regularly: Check your dog daily, especially around his eye area. Bacteria thrives in damp environments, so make sure to always keep Rover's eye area dry. Flush your dog's eyes if he comes into contact with any allergens
Beyond these simple pointers, you can also consider buying a dog tear stain remover to restore his coat to its former glory.
With those basics in place, then, you should be clear on why you should use tear stain removers, and why you should not leave this issue unaddressed.
Beyond this, you should also now have a sound understanding of the various types of tear stain remover, and you should be able to see which best meshes with your needs.
Armed with all that knowledge, you should easily compare the best dog tear stain removers like-for-like. See which of these, if any, makes the right choice for you.
---
Conclusion
If you came here today frustrated with tear-stained dog coats, you should see clearly that there's no need to tolerate that any longer.
Not only do tear stains look unsightly and make your dog appear grubby, they can also harbor bacteria and trigger skin infection. With so many effective treatments on the market, though, there's no need to allow that to happen.
If you have no idea what you're looking for when comparing these products, refer to our buying guide. Stick with any of the models we review and you can see clearly what you're getting for your money. If you encounter some tear stain remover not on our shortlist, pay attention to our buying guide and you can easily determine whether it's a good fit.
Before you head off today, bookmark BarkVA. We bring you fresh canine content daily addressing all pain points of dog ownership. Whether you want advice on the best dog gear, some training tips, or guidance on feeding your dog, we've got you covered. So, bookmark our blog and we'll hoepfully see you soon!
As an Amazon Associate, we earn from qualifying purchases - at no cost to you, allowing us to continue our work.